Ring in the New Year with Changemaker Week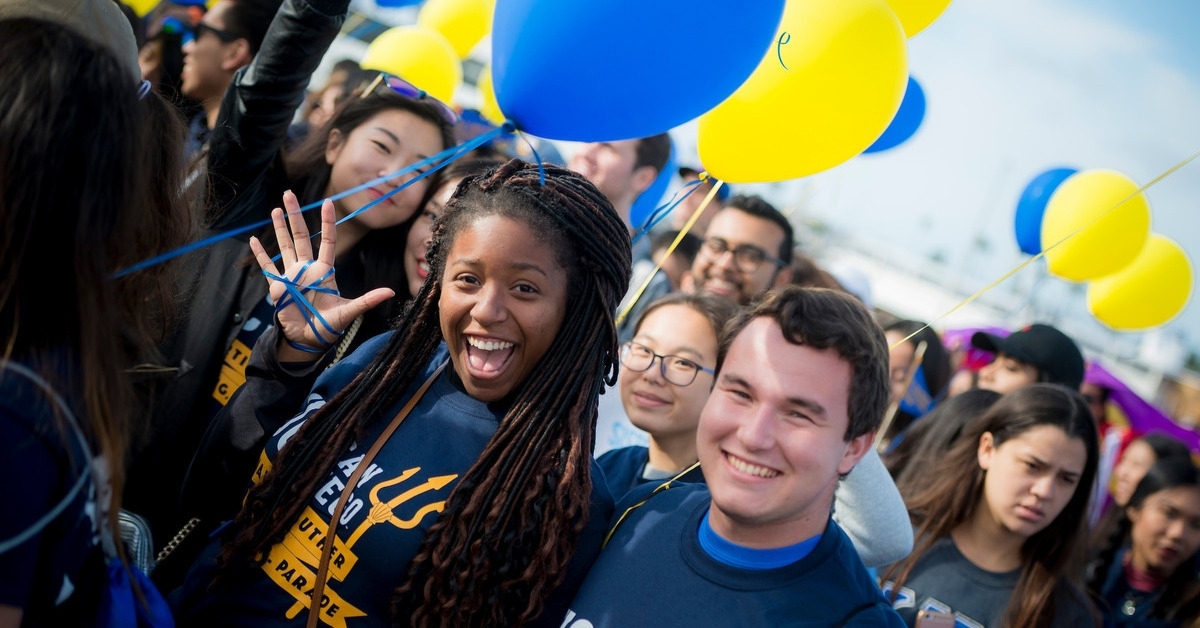 Published Date
By:
Share This:
Article Content
From volunteering in a beach cleanup to learning new ways to promote equity, the start of a new year is the perfect time to take steps to help spark positive change. UC San Diego's Changemaker Kickoff Week showcases various ways to foster this changemaking spirit, where campus community members can jump into opportunities to continue building the knowledge and skills needed to make the world a better place.
Led by the Changemaker Institute at UC San Diego, Changemaker Kickoff Week features a lineup of engaging and meaningful programs hosted by units across the university. The weeklong celebration spans from Jan. 14–20, plus includes a special kick-off event on Jan. 11 for new and returning students to meet like-minded Tritons, connect to changemaker opportunities through student organizations and build community.
"Changemaker Kickoff Week is an important way UC San Diego continues to demonstrate our long tradition of fostering innovation that contributes to the greater good," said Chancellor Pradeep K. Khosla. "We are pleased that this annual week of service enables our campus community to gather, share knowledge and drive positive change in our regional community and beyond. From cutting-edge research to public service that addresses our most pressing societal issues, our students, faculty and staff have a deep understanding that real change cannot be achieved alone."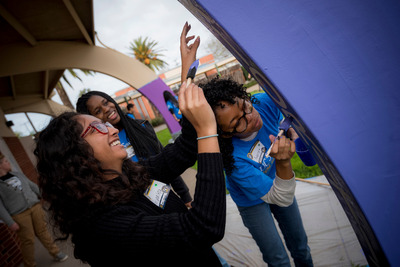 Changemaker Kickoff Week is held in conjunction with Martin Luther King, Jr. Day, a holiday dedicated to honoring the civil rights leader's life and legacy. On Jan. 14, the Center for Student Involvement (CSI), in partnership with the Changemaker Institute, presents an opportunity to give back to the local community with the 22nd Annual Martin Luther King, Jr. Day of Service. The following day, CSI invites students, staff, faculty and alumni to participate in another beloved tradition: marching in the city's 41st annual Martin Luther King, Jr. Parade.
"We see this week as a celebratory start to all the wonderful changemaking achievements and initiatives that will happen in 2023," said Audra Buck-Coleman, associate director for the Changemaker Institute. "We hope participants come away inspired by the stories they have heard about the UC San Diego community's changemaker achievements and gain a better understanding of the many ways to engage in changemaking, which is intentional activity that leads to a more just, inclusive and sustainable world."
2023 will also welcome in the university's first cohort of Changemaker Student Ambassadors. Hired by the Changemaker Institute and CSI, the group of six students will work to plan changemaker programming that is authentic and meaningful to UC San Diego's student population. The ambassadors will foster collaborations and partnerships, facilitate workshops, gather event feedback and more.
"These six new Changemaker Student Ambassadors will serve as a sounding board for the Institute as we establish programs and priorities," said Buck-Coleman. "Our ambassadors are stepping into their roles as the inaugural team, and we are excited for changemaker ideas and opportunities they will help shape."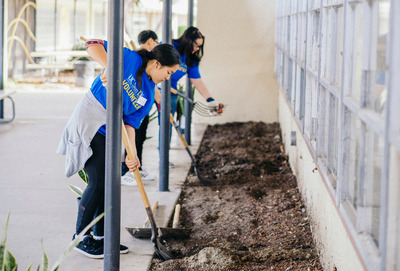 While Changemaker Kickoff Week is designed to jump start the new year through public and community service, social entrepreneurship and more, UC San Diego offers plenty of ongoing opportunities throughout the year to drive positive change. There are more than 70 service and changemaking organizations registered with the Center for Student Involvement, such as Engineering World Health, Houselessness Service Club at UC San Diego and San Diego Tutoring Tree. UC San Diego's colleges have changemaker opportunities as well, including the Muir Environmental Corps, Roosevelt's Mxntorship at Raza and Warren Grow! Community Garden Organization.
All Changemaker Kickoff Week 2023 events are free to register and participate. To view the full lineup, please visit the online calendar. Here is a sampling of this year's events:
Jan. 11
Changemaker Hot Cocoa Happy Hour
The Changemaker Hot Cocoa Happy Hour invites new and returning students to meet like-minded Tritons, build community and find changemaker opportunities that fit their passions. Kicking off at 4 p.m. at Price Center's East Ballroom, the free event will showcase the greater UC San Diego community to various student organizations and on-campus resources. Students will enjoy a hot chocolate bar, desserts, giveaway prizes, music and more. There will also be a raffle to win one of 30 free 30 Squishmallows.
Jan. 14
21st Annual Martin Luther King, Jr. Day of Service
This annual tradition was established in 2002 as a way for the UC San Diego community to give back. This year, join as fellow Tritons return to Mission Bay High School for a day of community building and connection to honor the life and legacy of Dr. Martin Luther King, Jr. To participate, sign up at the online registration form.
Jan. 14
MRSEC Beach Clean-Up
Meet near Ellen Browning Scripps Memorial Pier at 9 a.m. for this beach clean-up with the UC San Diego Materials Research Science and Engineering Center (MRSEC), where attendees can learn about the problem with existing plastics and their impact on our environment. The morning activity is coordinated with "I Love A Clean San Diego" and gloves, buckets and trash pickers will be provided to all participants. Sign up to participate at the online registration form.
Jan. 15
41st Annual Martin Luther King, Jr. Parade: A Campus Tradition
Join UC San Diego's students, staff, and faculty and alumni as they march in San Diego's Martin Luther King, Jr. Parade from 2-4 p.m. The UC San Diego contingent will be led by a large "UC San Diego" banner, followed by the UC San Diego Pep Band, the seven Colleges and members of the campus community.
Jan. 15
UC San Diego Campus Clean-Up
Love to teach, serve the community and enjoy working with kids? Sign up online to join in a short hike and campus cleanup while learning about San Diego Tutor Tree, an organization that provides free tutoring for K-12 students in need of assistance. Participants will meet at the Price Center and then head to the hiking trails near the Challenge Course.
Jan. 17
Changemaker 101
In this virtual workshop beginning at noon, all students are invited to learn about the Changemaker 101 curriculum while understanding new ways to make a positive social, environmental and restorative impact in their community. Hosted by the Changemaker Institute, this session will also allow students to discover where they stand on the changemaker continuum and learn how to get involved in community efforts on campus. Students can register to attend the Zoom webinar online.
Jan. 17
Changemaking with College Corps
This year, more than 100 Tritons have undertaken a year of service as part of the inaugural #CaliforniansForAll College Corps program. These undergraduates are gaining valuable skills and meaningful experiences, in addition to $10,000 in financial compensation. Their work focuses on K-12 education, food insecurity and climate change. Beginning at 2 p.m., the Changemaker Institute will host a panel discussion with current fellows who will talk about their experiences in the Dolores Huerta—Philip Vera Cruz Room in the original Student Union. Attendees will hear stories about being a College Corps fellow and learn how to apply for next year's cohort.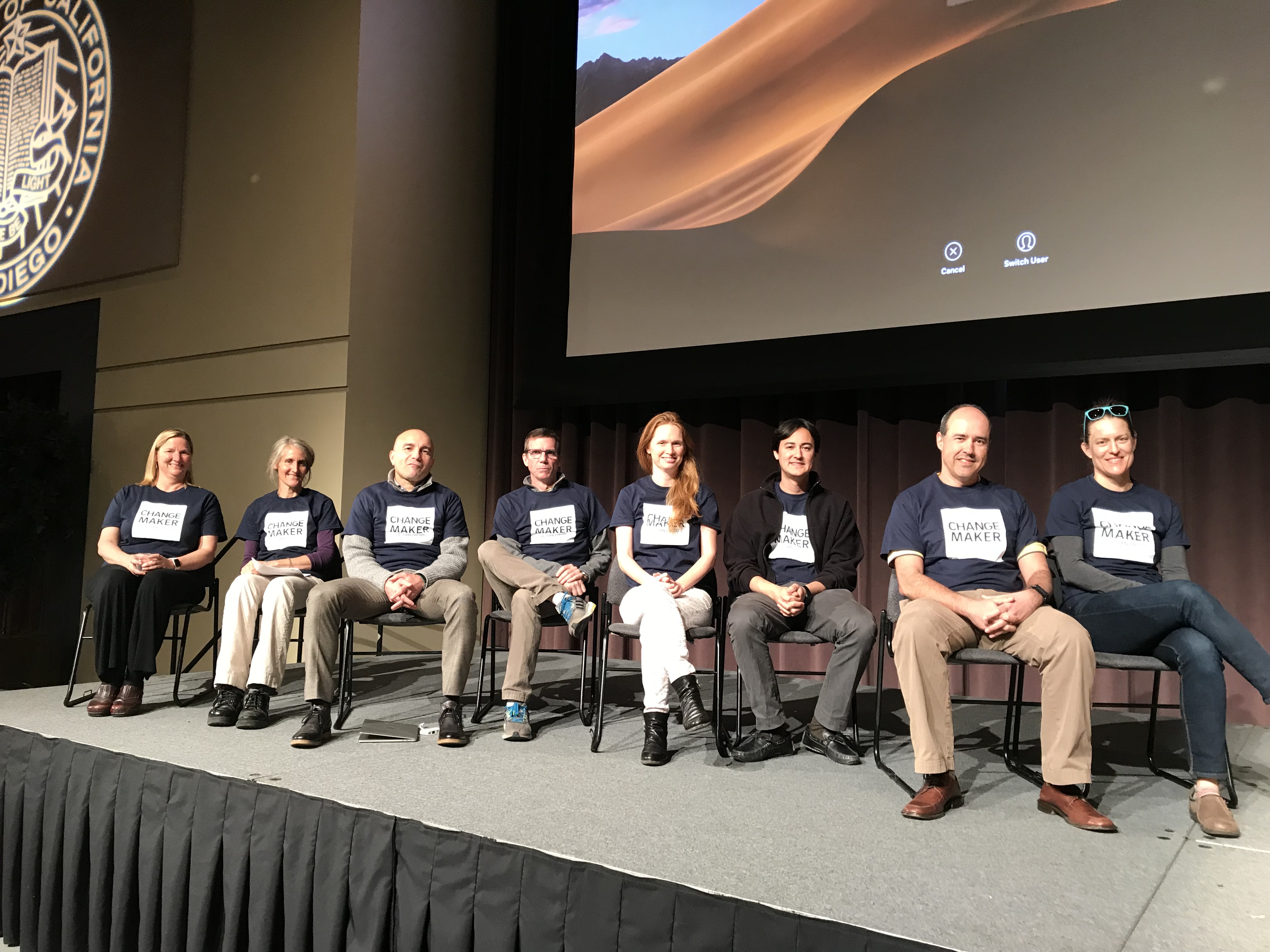 Jan. 18
Pathways to Leadership: Social Change Model: From Me to We
Building leadership skills is not just about boosting a résumé, but can serve as a means to impact the world around us. During this 1 p.m. virtual session hosted by Muir College, attendees can broaden their perspective of leadership and move towards being a driving force for positive change. An online registration form is now available to sign up.
Jan. 19
Global Seminars Changemaker Panel
In this virtual event at noon, a panel of Global Seminars faculty leaders will share the way that their summer programs abroad inspire participants to make change. Most of these professors are Changemaker Faculty Fellows, and their programs focus on topics such as community engagement, global health, social justice and sustainable development. Registration is now open to attend the session.
Jan. 19
Restorative Practices in Education: Learn About EducationCorps
Led by UC San Diego EducationCorps student representatives, this virtual workshop will explore the inequities in educational systems and share how to navigate these structural cycles using a restorative lens. Beginning at 6 p.m., attendees will have the opportunity to reflect on how structural inequalities impact our education system and learn new ways to support equity and anti-racism in K-12 schools. Sign up on the online registration form to attend.
Jan. 20
New Year's Resolutions
Do you feel pressure to completely transform your life starting Jan. 1? Come visit the Women's Center to discuss how diet culture, beauty standards, and more affect the popularity of New Year's Resolutions. Attendees can also set some positive intentions for your year. The workshop begins at noon; snacks and beverages will be provided.
Stay in the Know
Keep up with all the latest from UC San Diego. Subscribe to the newsletter today.