RIMAC Arena is Named LionTree Arena in Honor of Scholarship Gift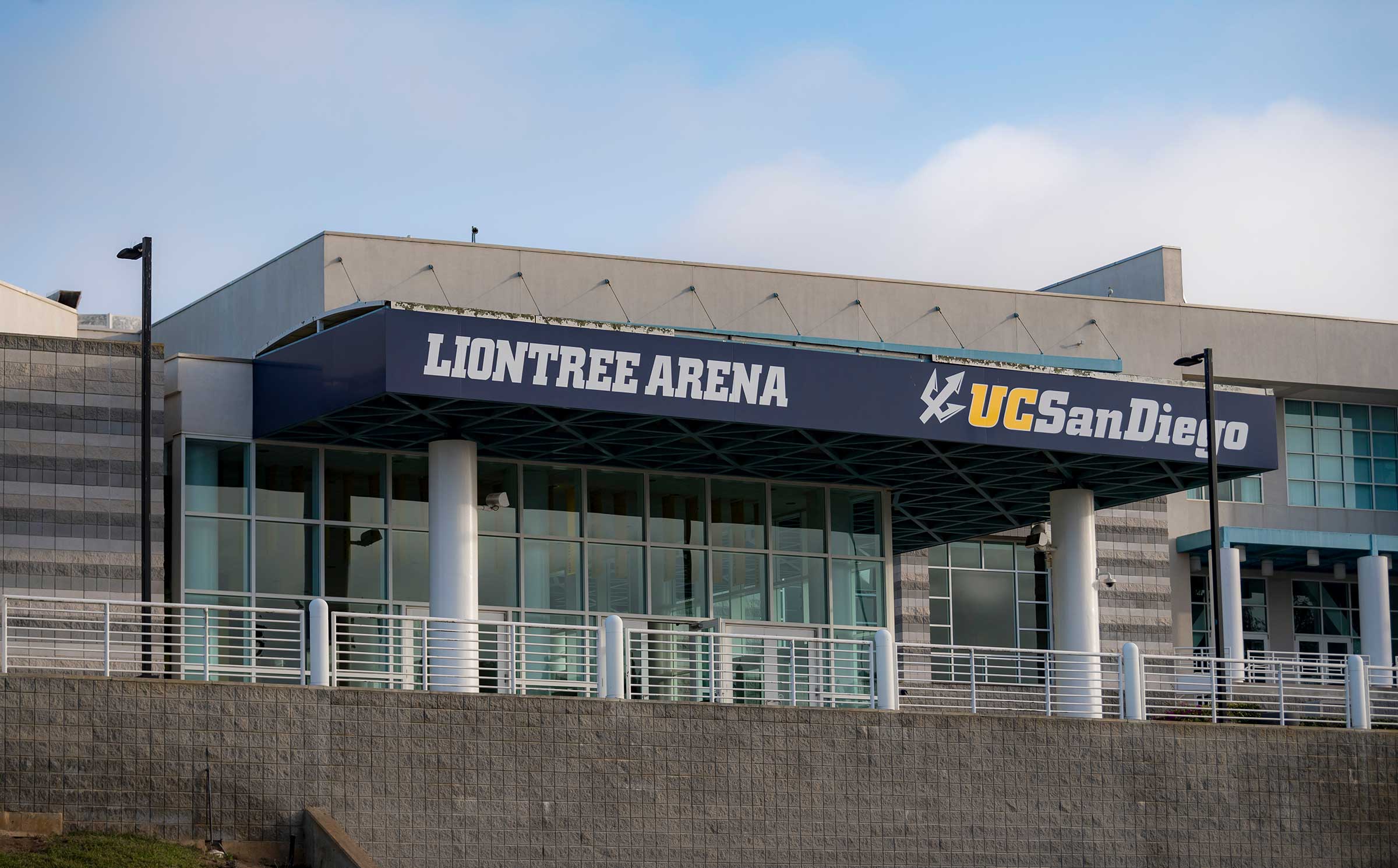 $5M gift from LionTree, founded by alumnus Aryeh B. Bourkoff '95, is the largest gift to scholarships for Triton scholar-athletes
Since it was established nearly three decades ago, the University of California San Diego's RIMAC (Recreation, Intramural and Athletic Complex) Arena has been home to countless athletic competitions, graduations, concerts and other events that are imprinted on the memories of thousands of UC San Diego alumni, students, friends and visitors.
UC San Diego announced today that RIMAC Arena has been named LionTree Arena in recognition of a $5 million gift for scholar-athletes from LionTree, an independent investment and merchant bank with expertise in technology, media and the digital economy. LionTree was founded by UC San Diego alumnus Aryeh B. Bourkoff, who also serves as the firm's CEO. LionTree's gift is the largest ever received by UC San Diego Athletics, establishing the LionTree Endowed Scholarship Fund to support scholar-athletes. The gift total contributes to the Campaign for UC San Diego, which will conclude on June 30, 2022. Bourkoff also serves as co-chair of the Campaign for UC San Diego Cabinet.
"We are proud that RIMAC Arena will be named in honor of LionTree, a forward-thinking organization founded by alumnus Aryeh Bourkoff," said UC San Diego Chancellor Pradeep K. Khosla. "With Aryeh and LionTree's generosity, we are able to recruit and retain outstanding scholar-athletes, build strong teams, enrich campus life and elevate our reputation as an academic and athletic powerhouse. This generous support comes at a particularly exciting time during UC San Diego's transition to NCAA Division I and as we conclude of our 10-year Campaign for UC San Diego."
"UC San Diego has been on a remarkable journey since my days on campus, and it is an honor to invest in its continued success at this pivotal moment for the university and its athletics program. Elevation to NCAA Division I will further enhance UC San Diego's prominence and reputation as a top public university, which in turn attracts outstanding scholar-athletes, students and faculty, and strengthens the bonds of Triton alumni," said Bourkoff, founder and CEO of LionTree. "Education is not just about building a foundation of knowledge and problem-solving, but about developing meaningful relationships and a sense of community that will last a lifetime. In addition to supporting scholar-athletes and the success of UC San Diego's Division I program, my hope is that this gift will deepen that sense of community and that LionTree Arena will be home to many memorable moments both on and off the court."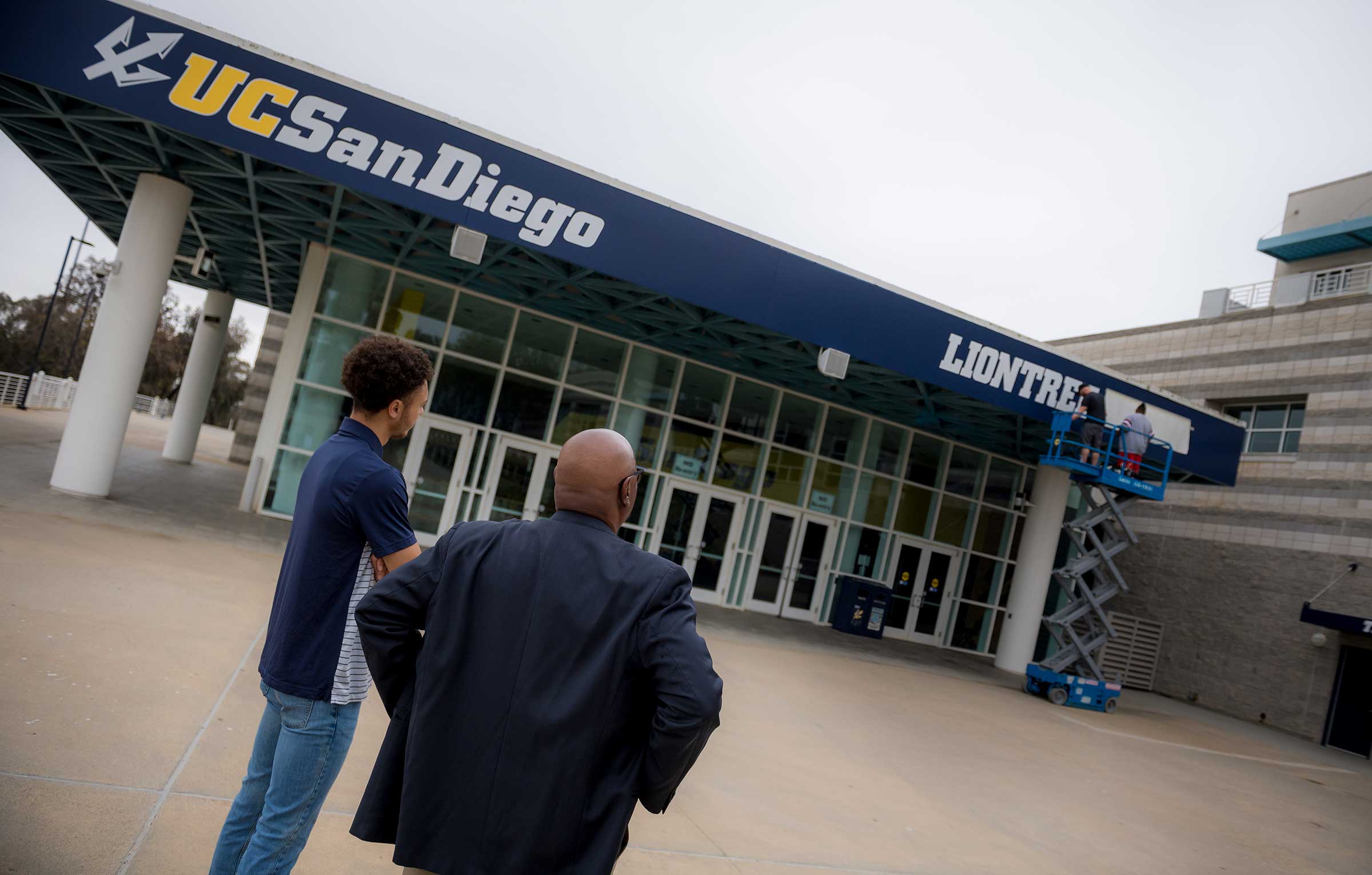 RIMAC Arena will be named LionTree Arena for a period of up to seven years. A student-driven athletic and event complex that is supported with student fees, RIMAC opened in 1995. The multi-use facility was designed based on student input and hosts a range of large spectator events for up to 5,000 people. Recent renovations have included a skybox overlooking the court for 125 guests, the addition of a 50-foot video display screen and a production studio where games are filmed and broadcast live on ESPN+ and other digital and linear broadcast channels.
Bourkoff is regarded as an expert in guiding growth strategies for some of the most influential media and technology companies in the world. He graduated from UC San Diego in 1995 with a degree in economics and founded LionTree in 2012 following successful career chapters in equity research and investment banking at UBS. Since its founding, LionTree has established a preeminent reputation as a sought-after advisor focused on creative industries and the digital economy. LionTree has advised on more than 250 prominent transactions, including the recent spin-off of WarnerMedia from AT&T to form Warner Bros. Discovery, Take-Two Interactive's acquisition of Zynga and the sale of MGM to Amazon.
Increasing access for athletes
Bourkoff recognized the immense growth that the university's athletic program is set to achieve. With his support, LionTree's philanthropy of $5 million toward scholarships will enhance UC San Diego's efforts to recruit talented scholar-athletes.
"LionTree's scholarship endowment will provide us with long-term, sustainable funding for our scholar-athletes and enhance our growth as a Division I program," said Athletic Director Earl W. Edwards. "We are grateful for the philanthropic contributions of our alumni, whose support allows us to continue to attract the best and brightest scholar-athletes, enrich campus life, strengthen alumni and community engagement and launch our athletics program into the national and international spotlight."
Scholarships will support scholar-athletes who play basketball, which has historically been the highest profile sport on campus. While he was not a scholar-athlete himself, basketball is also one of Bourkoff's passions. Athletic scholarships were first awarded at UC San Diego in 2014 to provide opportunity and access for scholar-athletes from all backgrounds. The support also helps the campus recruit high-level scholar-athletes who may receive multiple offers from competing universities.
"The ability to provide young women with scholarships enables us to expand our recruitment reach," said Heidi VanDerveer, head coach of women's basketball. "There are no boundaries and no limits in recruiting the best individuals who can thrive in this environment of academic and athletic excellence."
A new era in Division I
After two decades as one of the most successful programs in NCAA Division II, the UC San Diego intercollegiate athletics program began a new era in 2020 as a member of the Big West Conference in NCAA Division I. The conference includes four other UC members—UC Santa Barbara, UC Irvine, UC Davis and UC Riverside—as well as California Polytechnic State University, San Luis Obispo; Long Beach State University; California State University, Fullerton; California State University, Northridge; California State University, Bakersfield; and the University of Hawai'i, Manoa.
Bourkoff has been a key proponent of the shift to Division I athletics. In 2016, UC San Diego students voted in favor of moving the campus's intercollegiate athletics program to NCAA Division I and to accept an invitation to join the Big West Conference. Bourkoff's advocacy for the movement was demonstrated in a letter to the editor of the UC San Diego Guardian Newspaper two weeks before the election.
"A Division I athletics program broadens the campus experience, bringing with it increased campus pride, a healthy rivalry with neighboring schools and a greater sense of belonging in the community…" wrote Bourkoff in the article. "The prestige that comes with an NCAA Division I sports program will help increase awareness of UC San Diego's excellence to the broader community."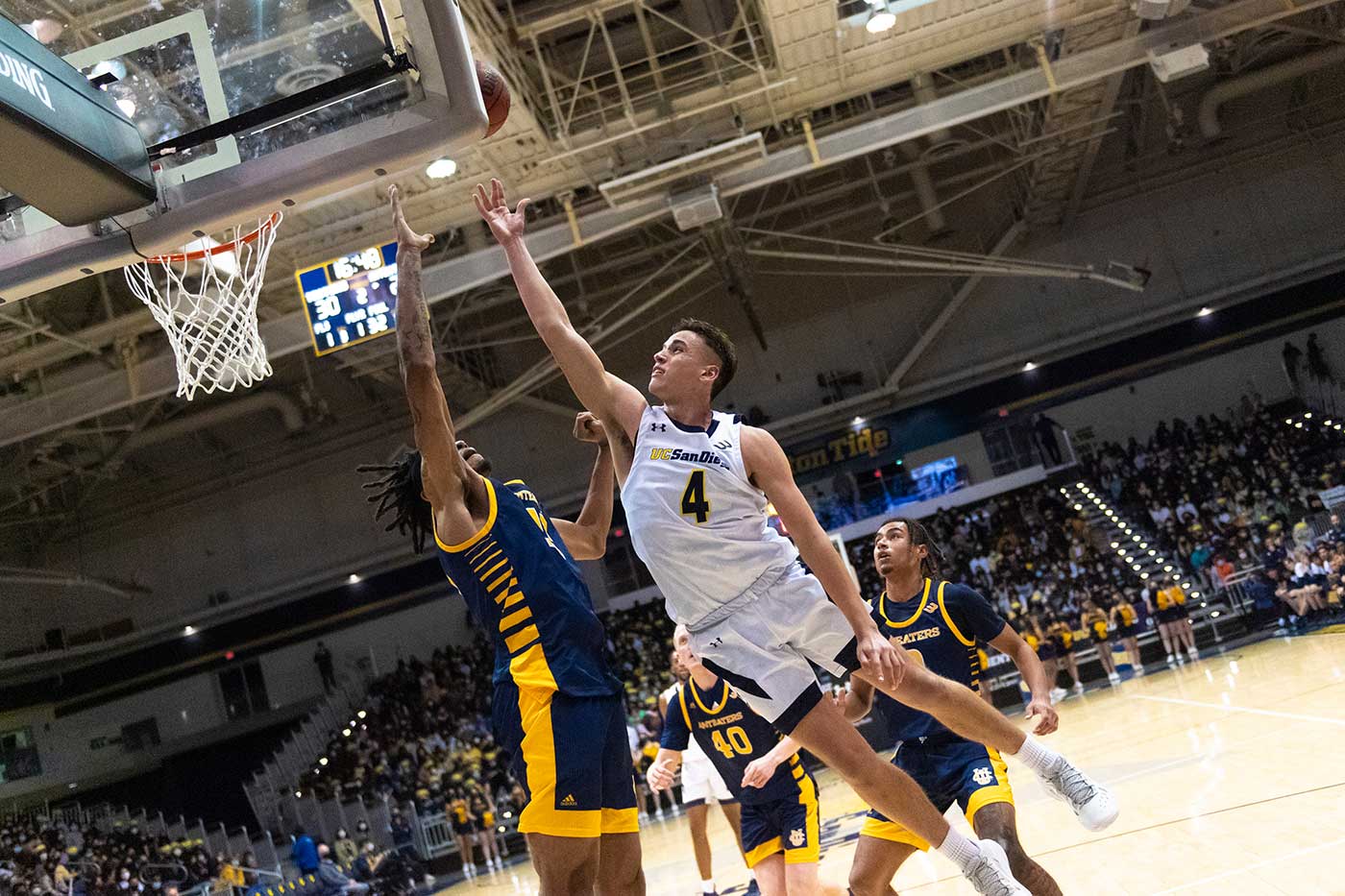 The 23-sport Triton Athletics program earned 30 team championships and nearly 150 individual national championships during its time in Divisions II and III and helped guide more than 1,300 scholar-athletes to All-America honors. A total of 83 Tritons have earned Academic All-America honors, while 37 have earned prestigious NCAA Post Graduate Scholarships. UC San Diego student-athletes exemplify the academic ideals of one of the world's preeminent institutions, graduating at an average rate of 90%, the highest rate among all public institutions in NCAA Divisions I and II.
The move to Division I is a source of pride for UC San Diego—but also creates a critical need to raise scholarship funds for recruitment efforts. Per NCAA rules, a full scholarship may be calculated as the student's total cost of attendance at UC San Diego, estimated currently at $31,887 for California residents ($61,641 for non-California residents). The Big West Conference requires an institution to fund NCAA scholarship maximum limits for seven specific sports: Men's and Women's Basketball, Men's and Women's Soccer, Baseball, Softball and Women's Volleyball.
Philanthropic support, including this generous gift of $5 million from LionTree, contributes to the Campaign for UC San Diego—a university-wide comprehensive fundraising effort concluding in June 2022. Alongside UC San Diego's philanthropic partners, the university is continuing its nontraditional path toward revolutionary ideas, unexpected answers, lifesaving discoveries and planet-changing impact. To learn how to support promising scholar-athletes, visit the Athletic giving website.
Stay in the Know
Keep up with all the latest from UC San Diego. Subscribe to the newsletter today.