Real-life Toy Story
Toy manufacturer WowWee and UC San Diego engineers create unique, self-balancing toy robot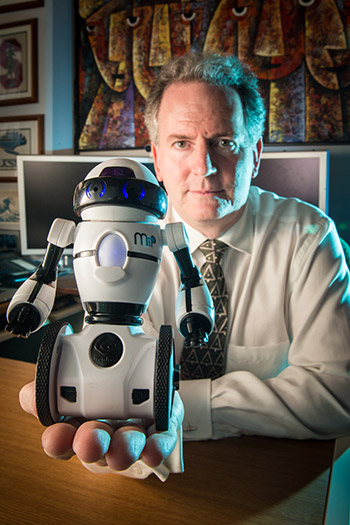 Thomas Bewley, a professor of mechanical engineering at UC San Diego, with MiP, the toy robot he helped develop.
The industry's top tech reporters and bloggers, including Popular Science, Engadget and many more, as well as tens of thousands of consumers mobbed the WowWee booth for four days to get a peek at the next generation of robotic toys. This was the scene at the Consumer Electronics Show (CES) in Las Vegas earlier this month, where WowWee and their collaborators from the UC San Diego Coordinated Robotics Lab unveiled MiP, the first in a one-of-a-kind new line of self-balancing vehicles. At CES, MiP was named a Product of the Future by Popular Science, earned an Innovation and Design award from ShowStoppers, was a highly popular finalist in CES's Last Gadget Standing competition and received critical acclaim from many in the industry.
MiP also got to interact with some of the most exciting names in music at the official gift lounge for the GRAMMY awards in Los Angeles last week—and the reactions to the robot were quite astounding.
MiP, short for Mobile Inverted Pendulum, can balance itself and drive around on two wheels. "Its organic nature is particularly engaging: when it stands, it gently sways back and forth; when pushed, it takes a step back to regain its balance. In a very real way, the dynamics of MiP mimic life," said Professor Thomas Bewley, director of the Coordinated Robotics Lab at the Jacobs School of Engineering at UC San Diego, who worked closely with WowWee to bring MiP to market.
Users can play with MiP right out of the box in several engaging modes of play. You can interact with MiP immediately using intuitive hand gestures. Install the tray that MiP can carry and test your skill at stacking games. Or, put a full soda can on MiP's tray, and drive it to a friend across the room via Bluetooth and a free smart phone app. And, of course, MiP can dance—either to the beat of its own (built-in) tunes, or to any tunes on the user's smartphone or tablet.
Want one? MiP will be available broadly, for $99, this summer, starting with Best Buy in May.
"This is the biggest consumer product we've dealt with by far," said Dave Gibbons, the UC San Diego licensing officer who connected researchers here on campus with the creative team at WowWee, and launched the collaboration that brought MiP to life.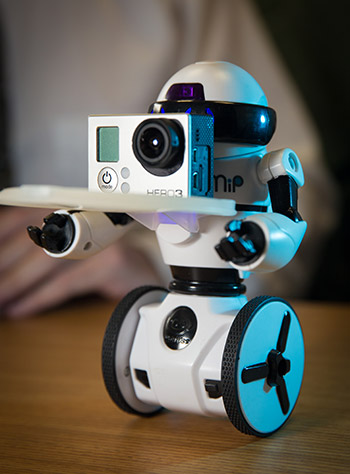 MiP, made by toymaker WowWee, balances a GoPro camera on its tray, while moving around.
Researchers in the UCSD Coordinated Robotics Lab designed the algorithms that balance MiP, and helped to select and calibrate the various cellphone-grade and toy-grade components that make it all work. WowWee designed the robot's body and its user interface, including the smartphone app, and endowed MiP with its personality, which it expresses through sound and bright LED eyes.
"The partnership between WowWee and UC San Diego is going to yield some amazing and dynamic product in the years to come," said WowWee USA president Peter Yanofsky. "We are very excited to be on the cutting edge of this ideation and execution, beginning with the amazing MiP."
"The chemistry within the team is what made this project work," said Bewley, the mechanical engineering professor who leads the Coordinated Robotics Lab. "We feel like we've become part of the WowWee family."
Saam Ostovari, the Ph.D. student on the UC San Diego side who led the effort to make MiP a viable consumer product, talked himself hoarse over the show's four days. "It was a bit overwhelming at first, but an exciting experience, at least for me personally, to be a part of the release and to help promote MiP at the WowWee booth," said Ostovari. "It was a non-stop flux of press, suppliers, and consumers wanting to learn about MiP."
The unveiling at CES was the culmination of six years of close interactions between the UC San Diego Technology Transfer Office and WowWee. The partnership really took off three years ago, when Bewley and his graduate students were able to reduce the costs of their robots while upping their "fun factor." The partnership is set to yield a solid revenue stream of royalties for the university over the next few years.
The first prototypes that Bewley and his team brought to WowWee were expensive, unreliable, and not suited to commercial use. Little by little, the professor and his graduate students were able to work with the company to begin creating commercially viable toy prototypes. "They were blown away by Tom and his team," Gibbons said of WowWee. The feeling is mutual. "WowWee did a stellar job, from design, to manufacturing, to MiP's playspec, to marketing and promotion," Bewley said.
One of the biggest challenges the project faced was the incorporation of toy-grade components such as the sensors and motors required to reach a target retail price of $99. The team deliberated for weeks about the right combination of inexpensive motors and gearboxes to get the job done. Ph.D. student Nick Morozovsky developed a tool combining hardware and software to evaluate various motors to balance MiP. "I'm excited to see the balancing technology developed in our lab come of age in a consumer product," Morozovsky said. "I'm even more excited about the future products still in the pipeline."
From left, UC San Diego graduate student Nick Morozovsky, WowWee co-founder Peter Yanofsky, director of the Coordinated Robotics Lab Thomas Bewley, WowWee CTO Davin Sufer and WowWee co-founder Richard Yanofsky at the Fall Toy Preview organized by the Toy Industry Association.
Indeed, the UC San Diego Coordinated Robotics Lab and WowWee are today collaborating closer than ever on an incredible lineup of follow-up toys for 2015 and beyond.
In addition to promoting their forthcoming products with WowWee, Bewley and Ph.D. student James Strawson also had a strong presence at the Texas Instruments—TI—booth at CES. They discussed their ongoing efforts to bring educational robotics platforms to market leveraging the BeagleBone Black, a remarkable Linux-based embedded open-source computer based on TI's Sitara™ AM335x processor and available for only $45. The inexpensive educational kits that Bewley and coworkers are in the process of developing, designed to be owned, tweaked, and extended by individual students, would empower aspiring roboticists in high-school STEM programs, as well as researchers at the university level and beyond, to build and program a large variety of robots themselves, including Mobile Inverted Pendulums (MIPs), quad copters, and advanced rovers implementing four-wheel steering. Bewley's fall-quarter Embedded Control & Robotics course at UC San Diego, MAE143c, is a highly popular prototype of this educational program.
"Unlike microcontroller development platforms, like existing Arduinos, Linux brains like BeagleBone Black are fundamentally built for multitasking and sensor fusion, which is essential in advanced robotics applications," Bewley said. "Emerging consumer-grade 3D printing technology is about to turn the field of design and robotics on its head, which is incredibly exciting. We look forward to empowering end users to achieve their own unique visions, and helping to inspire them to do something new, to use emerging technologies to make the world a better place. At its core, that is what this effort is all about."
Stay in the Know
Keep up with all the latest from UC San Diego. Subscribe to the newsletter today.