Reaching New Heights at UC San Diego Medical Center in Hillcrest
The final steel beam for the new outpatient pavilion was positioned while team members looked on in admiration and pride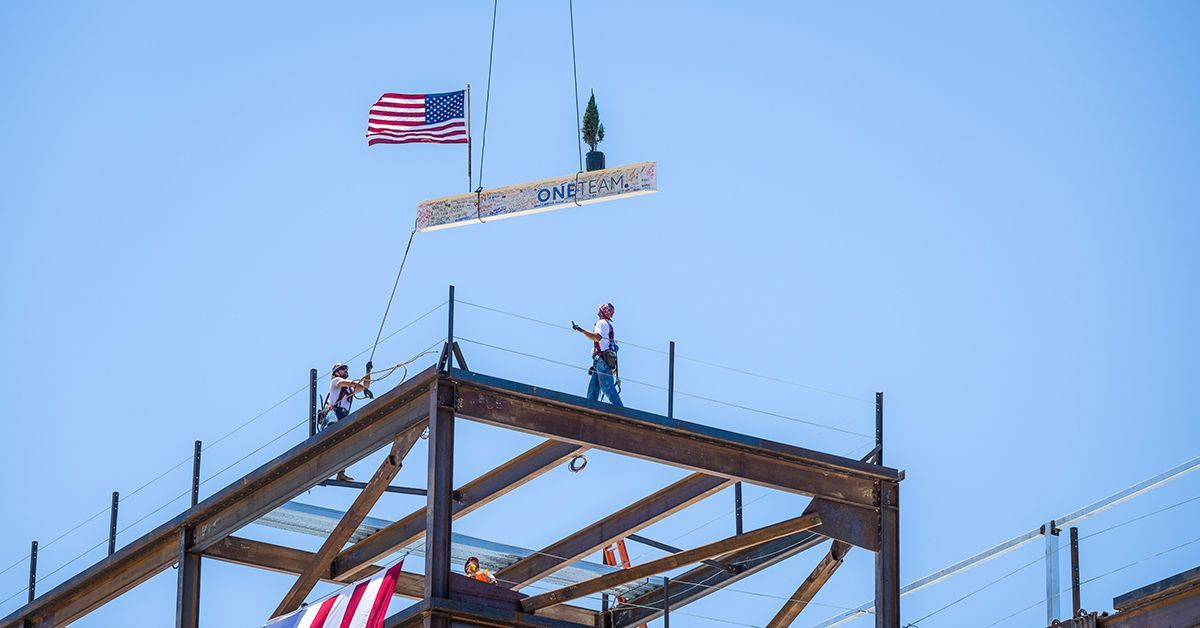 Published Date
By:
Topics:
Share This:
Article Content
A celebratory Topping Out ceremony at UC San Diego Medical Center in Hillcrest has marked the approximate halfway point for construction of a new outpatient pavilion, part of the first phase of a comprehensive revitalization project for the medical campus.
The event — held June 23, 2023 — provided an opportunity for UC San Diego Health staff, as well as construction team members, to sign the final steel beam before it was raised 100 feet in the air and placed in the structural frame of the building, forever part of its lifespan.
"Now that the final steel beam for the outpatient pavilion has been placed, we are one step closer to opening this modern medical center as a regional destination for patients," said UC San Diego Chancellor Pradeep K. Khosla. "This facility will boost access to our top-quality medical education, drive development and delivery of innovative treatments and cures, and expand access to our exceptional patient care experience – improving health outcomes in our region and worldwide."
The 250,000-square-foot outpatient pavilion is anticipated to open in 2025 and will house specialty clinical programs, including oncology, neurosurgery, urology, otolaryngology and orthopedics, as well as ambulatory surgery operating rooms, gastroenterology procedure rooms, advanced imaging, infusion and radiation oncology.
"This historic milestone is a visible representation of not only the progress made, but also the number of people involved in expanding access to the region's No. 1 health care provider," said Patty Maysent, CEO of UC San Diego Health. "The new outpatient pavilion greatly increases our capacity to serve our community and provide life-saving, novel and compassionate care to patients and their loved ones."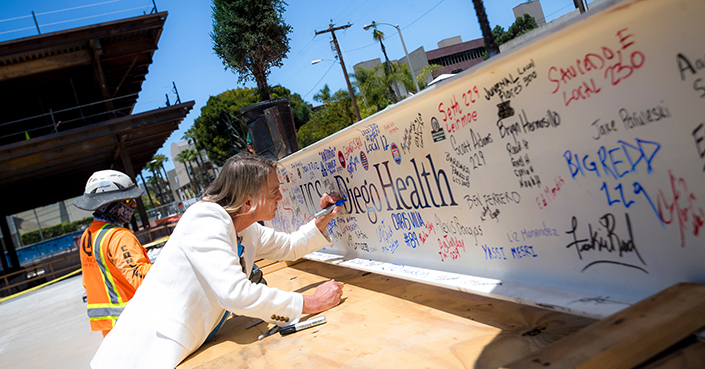 The project is part of the UC San Diego Long Range Development Plan, which encompasses approximately 60 acres and the redevelopment of the more than 50-year-old Hillcrest campus. Complementing the new academic medical facilities and services will be new housing and fitness facilities.
The outpatient pavilion will address the growing demand for specialized diagnostic, treatment and surgical services. More specifically, new and significant space for multispecialty cancer clinics and infusion centers will allow UC San Diego Health and Moores Cancer Center, its National Cancer Institute-designated Comprehensive Cancer Center, to greatly increase access to cancer care for patients throughout the region.
"We will improve quality of lives in the new outpatient pavilion — ranging from regular checkups for orthopedic care, to infusion therapy for cancer treatment," said Lisa Rhodes, chief administrative officer for the Hillcrest redevelopment plan at UC San Diego Health. "Our multi-disciplinary teams will provide support services and the highest quality of care for San Diegans during their most vulnerable moments and throughout their health care journeys."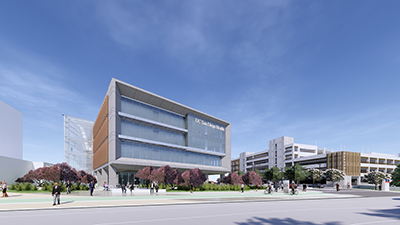 John M. Carethers, MD, has seen the transformation from the inside out. He completed a fellowship and trained at UC San Diego Medical Center at Hillcrest in 1995. He stayed at UC San Diego School of Medicine, eventually serving as chief of the Division of Gastroenterology before moving to the University of Michigan to take on the role of the chair of the Department of Internal Medicine. In January, Carethers returned to UC San Diego as its vice chancellor for Health Sciences, where he leads the overarching strategy for all of Health Sciences by fostering research collaboration, expanding the health care system, enhancing educational opportunities, and bolstering philanthropic support.
"Over the last two decades, there has been spectacular growth at UC San Diego Health, and I'm so proud of the impressive national reputation our institution has received for its leading-edge medicine," said Carethers. "This new facility provides space for more of our top-rated physician-scientists to deliver state-of-the-art therapies, treatments, and cures, while also training the next generation of physicians and care givers."
The first phase of construction for the overall project also includes a new parking structure to provide approximately 1,850 spaces for employees, patients and visitors, plus related road and utility infrastructure.
More than 1,000 local construction workers from a variety of trades worked 305,000 hours to bring the project to this point.
Adorned with an American Flag and a symbolic tree — which is traditionally included in these ceremonies — the final steel beam for the outpatient pavilion was positioned while approximately 400 crewmembers looked on in admiration and pride of their achievements thus far.
Once placed in the building's frame, two team members with DPR Construction, contractor for the project, hugged in celebration while the crowd below erupted in cheers and applause.
"Everyone on our site knows that what we're building is going to affect the lives of people in the community, and the joy that knowledge brings was truly palpable during the Topping Out ceremony," said Ian Pyka, DPR project executive. "In some cases, that's people they don't know, but it could also be our own families who come here for care.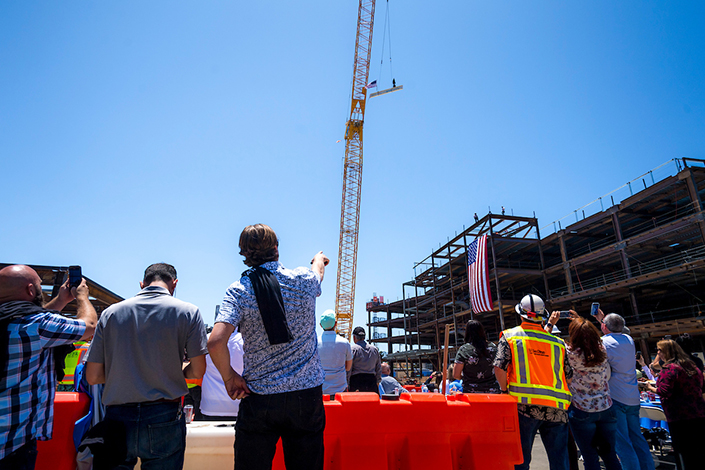 "Everyone who is part of this project has a deep understanding and appreciation of how all the efforts underway are creating a place for remarkable health care."
The $2.5 to $3 billion revitalization project is expected to continue over approximately 15 years. The project is necessary to comply with 2030 seismic safety provisions of the California Hospital Code.
Planned upgrades for UC San Diego's Hillcrest campus will be synchronized to reduce impact on the surrounding community while ensuring current, critical campus functions remain operational.
Topics:
Share This:
Stay in the Know
Keep up with all the latest from UC San Diego. Subscribe to the newsletter today.