"Quiet Heroes": Get to Know the 2022 UC San Diego Veterans of the Year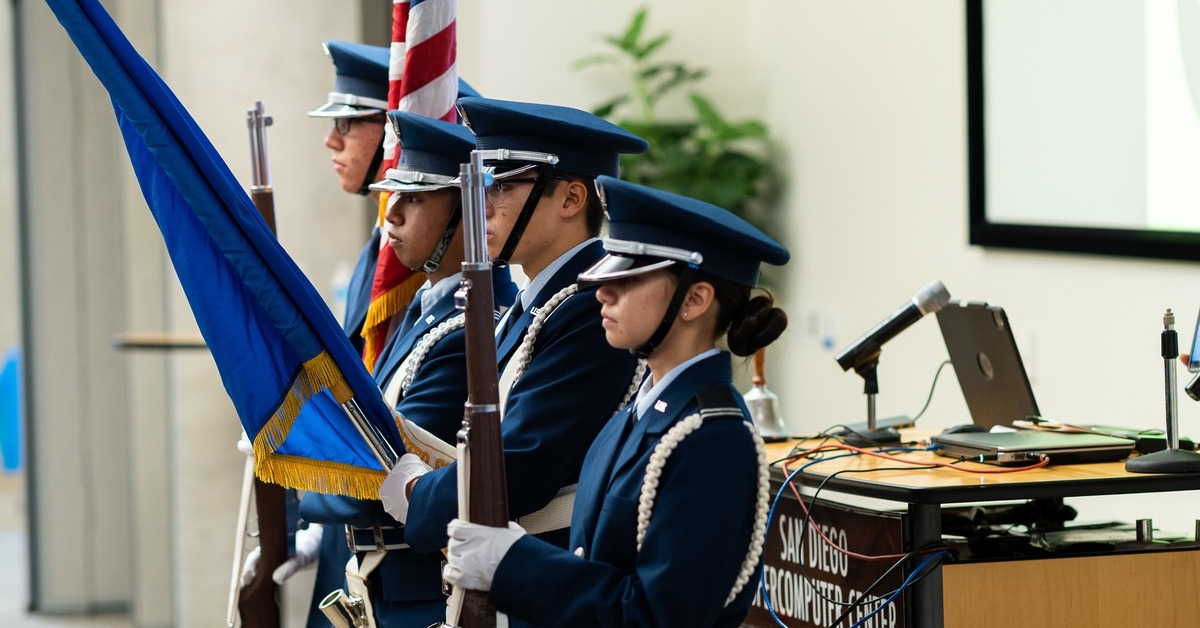 Published Date
By:
Share This:
Article Content
UC San Diego is honoring those who have served our country during Veterans Week, which is celebrated across campus from Nov. 7 through Nov. 11. The weeklong series of events honors our military-affiliated campus community members and helps connect veterans to opportunities and campus resources.
From coffee and donuts with the Veteran Staff Association to a military-connected student support forum, the campus-wide awareness and appreciation campaign is designed to recognize veterans and celebrate their contributions to our campus and community. As part of the annual celebration, the university also held its 23rd Annual UC San Diego Veterans Staff Association Veteran Recognition Ceremony on Nov. 8.
The theme of this year's recognition ceremony was "Quiet Heroes: Veterans Who Make a Difference in Our Community." During the event, Carlos Martinez was honored as UC San Diego Veteran of the Year and Hillary Gnirk was honored as Student Veteran of the Year.
We spoke to the 2022 award recipients to learn more about their experience in the U.S. armed forces, their involvement in the campus community, and more.
Carlos Martinez | UC San Diego Veteran of the Year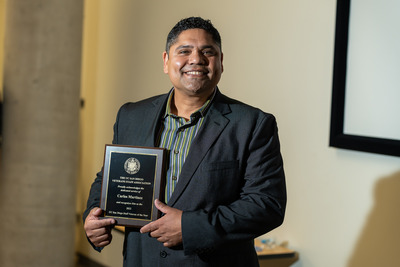 Carlos Martinez began his first day of boot camp on his 21st birthday. Having grown up in a rough neighborhood in the North Side of Chicago without parental direction, he was inspired to join the Marine Corps as a way to find purpose.
"The Marine Corps taught me to be a contributing member of society … It provided me with what I needed in order to be a productive person in society, and to just be more mature and responsible," shares Martinez.
Martinez ultimately worked his way to the rank of Corporal in his five years of enlistment, serving his country from destinations including Japan and the Middle East. Once he completed his service, he earned his associate's degree with honors distinction while working multiple part-time jobs.
His educational journey led him to UC San Diego, where he was awarded a Pell Grant to receive a bachelor's degree in Third World Studies (now the Global South Studies Program). At that time, in addition to being a full-time student, Martinez was also a dedicated husband and father who worked on campus supporting the university's Business & Financial Services department. Today, he is an Information Technology Support Supervisor within UC San Diego's School of Social Sciences. In total, Martinez has served the university for a combined 15 years.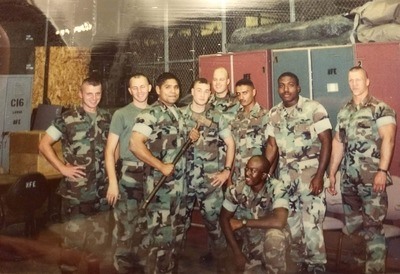 From supporting his staff to volunteering at food pantries, Martinez holds the act of serving his community close to heart. "Just a little bit of kindness goes a long way," he says.
He is an active member of campus organizations such as the Pan-Asian Staff Association, Black Staff Association, Chicanx/Latinx Staff Association and Veterans Staff Association. During his time as an undergraduate, Martinez also joined Lambda Chi Alpha as a way to mentor others and give back. He found great value in the brotherhood and still keeps in touch with some of the members he met as an undergraduate.
When asked about how it feels to be awarded UC San Diego Veteran of the Year, Martinez said: "As someone who has come from a poor, first-generation college graduate, Latino-Asian-Black background—and to overcome everything that I've kind of had to deal with—this nomination is an honor." Martinez said he hopes the recognition can serve as an example for his seven children and one grandchild. He also expresses gratitude to Director of Chancellor Community Relations Roberta Camarena for the nomination.
Hillary Gnirk | UC San Diego Student Veteran of the Year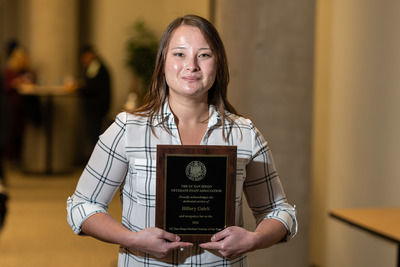 First-generation college student Hillary Gnirk has always been motivated to break down barriers and not accept limitations. While she was unable to attend a four-year university right out of high school, she was determined to find a way to pay for her education through hard work.
Gnirk was a 20-year-old community college student studying biology when she got the feeling that it was time to do some soul-searching. This wave of inspiration led her to join the Navy, where she served from 2014 to 2019.
Stationed in Lemoore, Calif., Gnirk became an aircraft mechanic who focused on environmental control systems, aircraft ejection seat systems and more. "It was definitely a big culture shock," she says, acknowledging the male-dominated mechanic industry that she became a part of. During this time, she gained valuable skills such as a sense of discipline and a strong work ethos.
After her service, Gnirk was accepted to UC San Diego and became the first person in her family to attend college. At her dream school, she was able to apply the new skills she learned in the Navy to help conquer the self-doubt she felt during her first year on campus.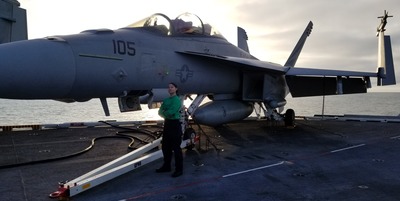 Today, as an employee at the Student Veterans Resource Center (SVRC), Gnirk is able to take her own military experience and translate it to guide other veterans on campus. "I'd like to help other vets feel welcome in this environment," says Gnirk, acknowledging how imposter syndrome can be common for students to experience when transferring to a four-year university.
Gnirk shares that working at the SVRC has positively impacted her university experience. "Being surrounded by people in my similar situation, I realize that we have this sense of resiliency in our camaraderie and that really helped me find my place here," she says.
Gnirk is now a fourth-year student in the urban studies and planning program. After graduating in Spring 2023, her ultimate goal is to work in the field of environmental planning. "I really want to do something that is involved in environmental conservation and also climate action," she says.
When asked to shine a light on one aspect of veteran student experience, Gnirk says: "As veterans coming into a younger environment, we do have a lot of life experience. But, ultimately, we just want to fit in and make a difference. We are all here to learn about something we are interested in and passionate about."
Stay in the Know
Keep up with all the latest from UC San Diego. Subscribe to the newsletter today.