Q&A: Wastewater Monitoring with Professor Rob Knight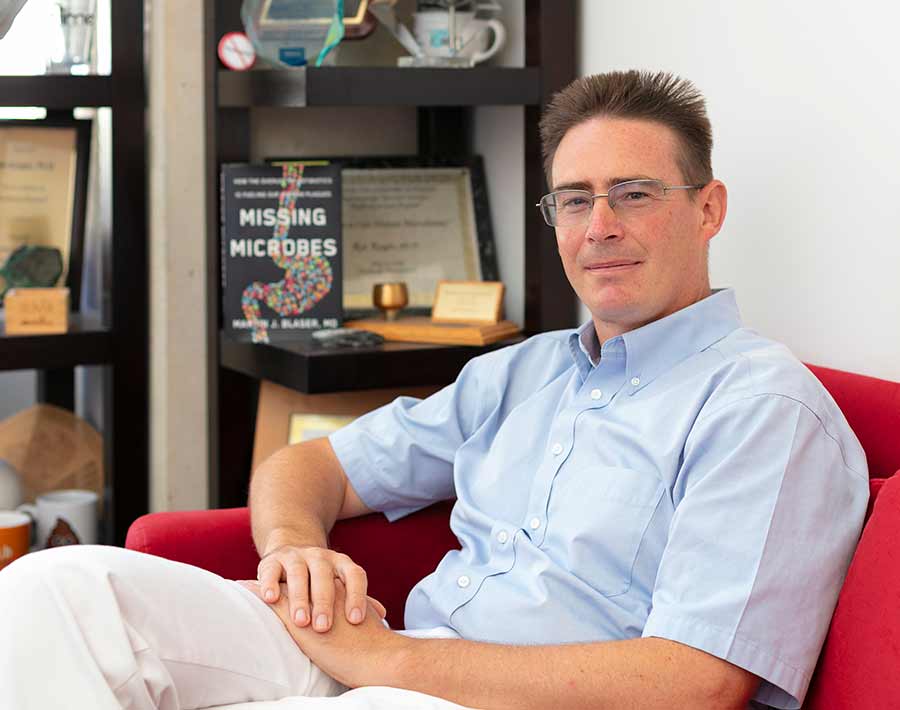 UC San Diego's fall plan continues to evolve, informed by the university's Return to Learn program. We invited students, faculty and staff to submit their questions about the importance of testing wastewater for SARS-CoV-2—the virus that causes COVID-19—and what happens when trace amounts are found. To address these important topics, we spoke with Rob Knight, professor and director of the Center for Microbiome Innovation.
Q. Why is wastewater monitoring important?
A: Wastewater testing is part of our Return to Learn strategy of monitoring viral activity on campus to detect outbreaks early. This involves testing the water and sewage that originate from toilets, showers and other plumbing systems from housing, dining and other facilities across campus.
We have found that we can discover trace amounts of the SARS-CoV-2 virus this way even before a person suspects they have been infected, often several days before symptoms appear. Wastewater testing may even be able to catch infections that are missed by saliva or nasal swabs. We have been sampling for more than a month, from two clinical sites where we know there are patients with COVID-19 and from a research building and residential areas.
Wastewater testing is just one component of the larger Return to Learn plan, which includes risk mitigation tactics like masking, sanitation and physical distancing; viral detection, which involves symptomatic and asymptomatic testing; as well as public health interventions such as contact tracing and case isolation.
Q. What does this testing look for?
A: The SARS-CoV-2 virus can replicate in the gut lining and travels into stool from there. Our testing is designed to detect genes specific to the coronavirus, using a technique called RT-qPCR (real-time quantitative polymerase chain reaction). The Microbiome Core, part of the Center for Microbiome Innovation at UC San Diego and run by Jack Gilbert, possesses the advanced technologies to conduct these tests on a large scale.
Q. Where is the testing conducted and what is the frequency?
A: The campus plans to scale up wastewater testing considerably in the coming months. We are in the process of expanding to dozens more sampling sites in the next few weeks to narrow monitoring to individual buildings.
This workflow is led by Smruthi Karthikeyan, a postdoctoral researcher in my lab in the Department of Pediatrics, with another part of the workflow run on equipment in Jack Gilbert's Microbiome Core. The setup for the project was supported by a team of other researchers in my lab and by UC San Diego Facilities Management, Environmental Health and Safety, and the Office of Strategic Initiatives.
Q. What happens if a wastewater sample tests positive?
A: If we identify viral activity in the wastewater of a certain area of campus, for example a residential building, the Return to Learn plan is to notify building occupants that they should be tested for COVID-19 as soon as possible. This will allow us to identify who is infected and conduct appropriate contact tracing and quarantine of contacts. The resulting data is incorporated into campus infection models to further refine our plans.
Q. Have any positive test results been found thus far?
A: Yes, in early September we identified the first trace amounts of active virus in the wastewater outflow in the Revelle College. The campus community was notified within 14 hours and targeted messages were sent to members in and around the Revelle community indicating they should be tested for the virus as soon as possible out of an abundance of caution. More than 657 people tested over that weekend, and we were able to identify and isolate two people who tested positive for COVID-19. As a result, a potential outbreak was avoided.
What made the response so successful was our ability to quickly replicate samples to confirm the positive result, as well as the immediate action of leadership to communicate to those who may be impacted.
Have more questions? We invite the campus community to submit your inquiries online. A new Q&A with a Return to Learn expert will be published each Thursday in This Week @ UC San Diego for the next several weeks.
Stay in the Know
Keep up with all the latest from UC San Diego. Subscribe to the newsletter today.