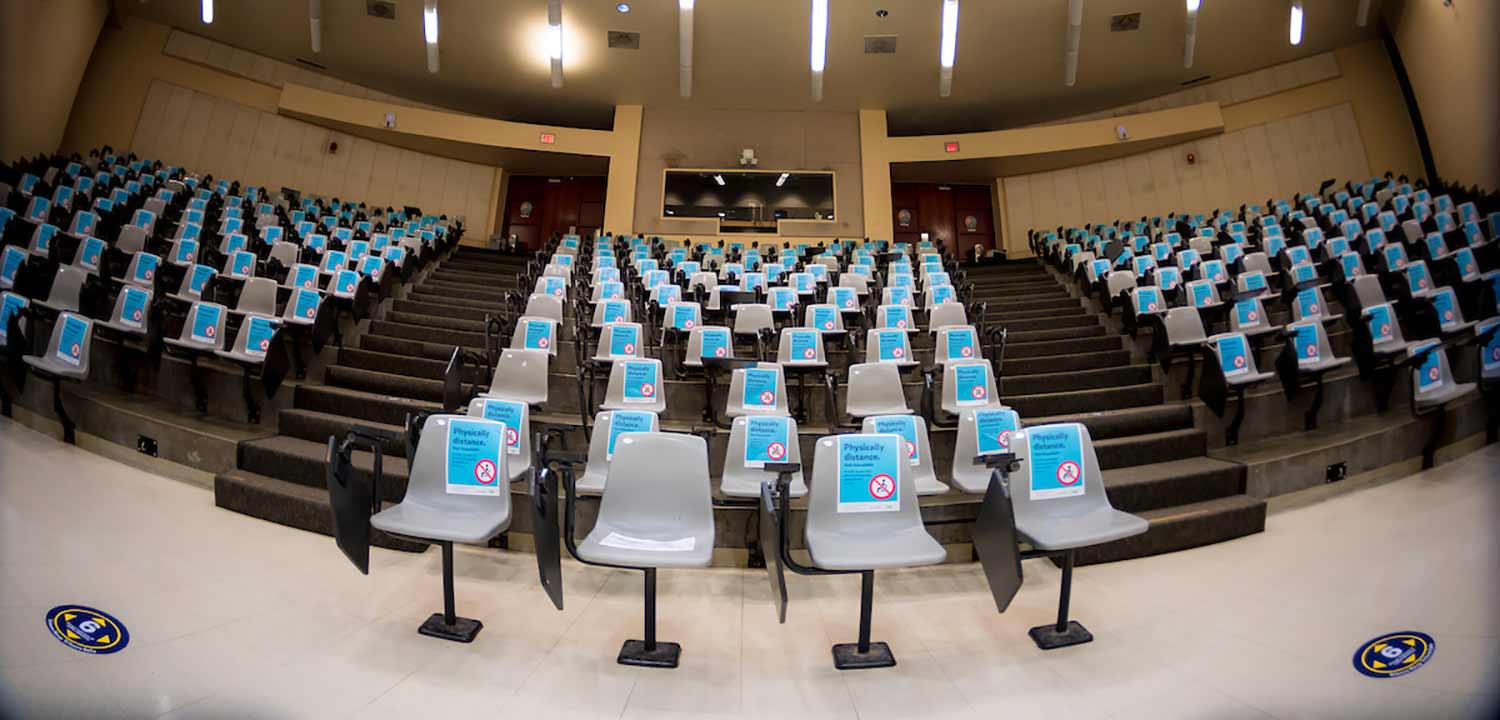 Q&A: The Science Behind In-Person Learning
UC San Diego's fall plan continues to evolve, informed by the university's Return to Learn program. We invited students, faculty and staff to submit their questions about safety mechanisms in place for in-person learning, what data inform decisions about class offerings, how classrooms are sanitized, ways the campus is supporting equal access to resources for students learning remotely and more.
Q. What are the triggers that would prompt a reduction or elimination of in-person instruction and on-campus presence at UC San Diego?
A. We are monitoring a wide range of data: health, behavior, feedback from those living and working on campus. Daily, based on trends, we adjust the way the campus is operating: new messaging to students, new cleaning methods, etc. There are many small, targeted adjustments that can be used to improve how campus is functioning and how we preserve health and well-being. Thus far, positivity rates are extremely low, and there is no evidence of transmission in teaching or research spaces. A significant reduction or elimination of in-person instruction and/or on-campus presence would happen if there were a big shift away from what we are now seeing, if there were clear public health concerns evident from the data.
Q. Have any positive cases been traced back to in-person classes?
A. Thus far, our positivity rates are extremely low, and we haven't seen any evidence of transmission in teaching and research spaces. Each day, we review a wide variety of data, including the number of new cases on campus; the number of students in quarantine or isolation housing; wastewater testing results; outbreaks on campus (none so far); and success of contact tracing efforts. You can stay informed by visiting our public COVID-19 Daily Dashboard.
Q. If a student in an in-person class tests positive, will the class be moved to remote format?
A. Instructors may, at any time, choose to change the mode in which they are teaching their class. However, a class does not need to move to a remote format solely because a student tests positive, assuming there was adherence to the distancing, masking and cleaning practices. If a class were to experience a significant transmission event, or the scientific understanding of transmission were to evolve to rule out certain in-person activities, instructors would be notified by the public health and contact tracing team and instructed about whether a remote model was necessary for the class.
Q. How are indoor and outdoor classrooms being sanitized?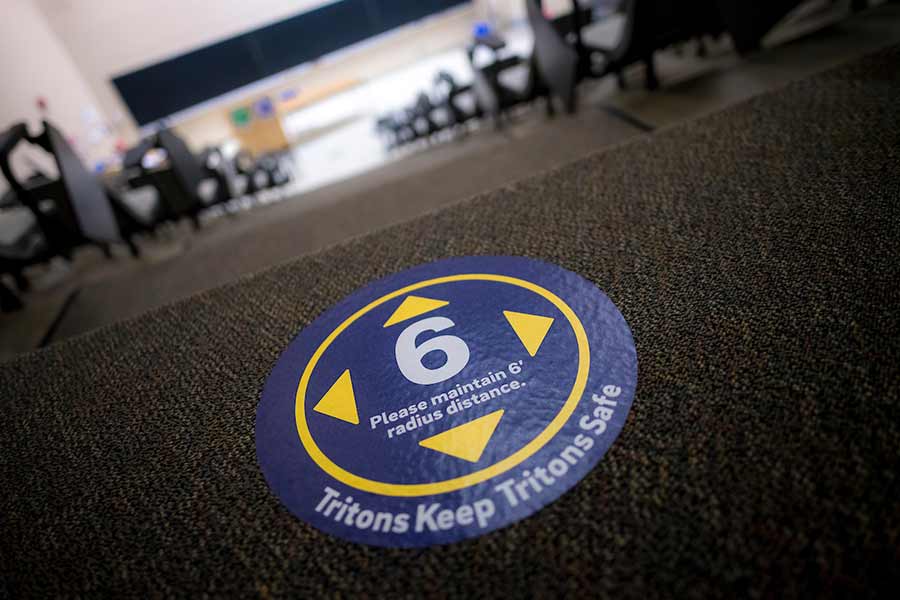 A. Building Services is adhering to guidelines from the U.S. Centers for Disease Control and Prevention (CDC) with increased cleaning frequencies and disinfecting of high-touch surfaces in all common areas. Eighty hydrostatic disinfection sprayers have been purchased to disinfect classrooms at least twice a day. Sanitation stations also have been placed at all of the main entrances, seats have been marked off to ensure social distancing and doors are kept open as much as possible, including the installation of automatic doors for high traffic classrooms.
If a student or faculty member in an in-person class tests positive for the virus, the COVID Cleaning Team will be dispatched, working in full protective equipment, to complete a complete disinfection of the space. This process usually takes two to three hours. There have been 46 decontamination cleanings completed since the pandemic began, with no safety issues for Facilities Management staff who conduct them.
Q. Can instructors ask students to show proof of their symptom screening and testing compliance?
A. Yes, any university official (faculty and TAs included) can ask a student to provide evidence of compliance with safety regulations (e.g., using the screening app). However, they are not required to do this; it is their choice. Student Health Services and Student Affairs are monitoring compliance and working to ensure all students comply with campus safety regulations.
Q. How is student safety compliance being monitored?
A. UC San Diego has recruited nearly 400 Triton Health Ambassadors. These undergraduate and graduate students traverse the campus between 7 a.m. and 8 p.m. in pairs to distribute masks—and on occasion gift cards for good behavior—in support of compliance. In addition, faculty and staff can learn more about how to work with students of concern, including how to approach and provide resources. And for those who would like further support, the COVID-19 Monitoring Team is available for consultations (email vcsa@ucsd.edu for more information).
We are proud of the efforts of our students, staff and faculty to protect each other. In the event that a student does not follow campus safety guidelines, our approach is to first provide education. However, if there are continued acts of noncompliance, such as hosting gatherings, there will be progressive consequences—from probation to suspension or in very serious circumstances, dismissal from the university.
Q. Can a faculty member use their campus office to conduct remote instruction sessions?
A. In order to maintain compliance with state and county health orders, the campus must maintain building occupancy below 25% at all times. Therefore, anyone wishing to use their office for teaching or other work must first gain written approval through their department's Return to Campus plan. Instructors should contact their department chair, dean, or provost for more information. As an alternative, the campus has equipped four specially prepared classrooms for faculty who need a quiet place to teach, either to pre-record lectures or to conduct live Zoom sessions. Allocation is on a first come first serve basis. We ask that faculty only book as much time as they need. For reservation details, contact the AVC-EI Office at ei@ucsd.edu.
Q. How is UC San Diego addressing equal access to resources such as technology for students learning remotely?
A. We recognize that each of our students is navigating the remote environment differently. Some lack access to technology such as laptops or WiFi access or may not have a quiet and private workspace to study. Other students have reported competing demands and responsibilities at home that prevent them from being fully engaged in learning. Importantly, these challenges are not felt equally amongst students, but rather heighten existing resource inequalities. In addition, international students who attend from their home countries have to contend with time zone differences that make synchronous content challenging; some internet platforms (e.g. YouTube) may be restricted by their governments; and some controversial course content may make classroom participation uncomfortable for them due to their remote learning situation.
We have addressed as many of these concerns as possible, including establishing a Laptop Loaner Program to lend laptops and WiFi hotspots to students who need them and a Computer Lab Lookup page to enable students to use campus computer labs for remote instruction. We are encouraging faculty members to consider access limitations in mind when planning and delivering their courses and to remain open to providing flexibility with deadlines.
Have more questions? We invite the campus community to submit your inquiries online. A new Q&A with a Return to Learn expert will be published each Thursday in This Week @ UC San Diego for the next several weeks.
Stay in the Know
Keep up with all the latest from UC San Diego. Subscribe to the newsletter today.