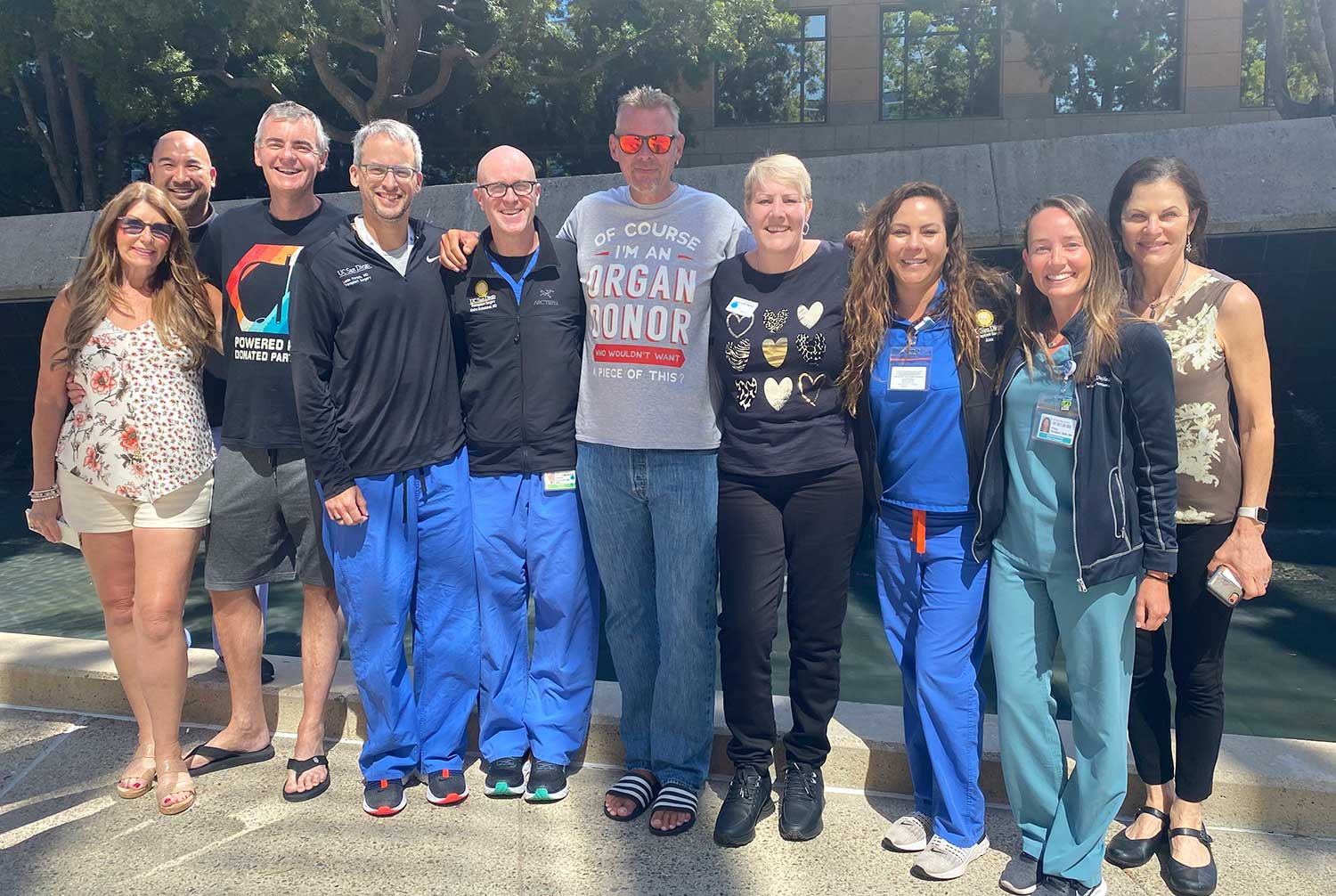 Powered by Donated Parts
After becoming severely ill, a father of four receives lifesaving liver transplant from his brother through UC San Diego Health's live liver donation program
The Partridge brothers have spent the past 20 years living thousands of miles apart—Mike in Kidderminster, England where they both grew up, and Andy in the United States, now residing in San Diego. Then came Andy's diagnosis.
A husband and father of four, Andy, age 53, was diagnosed in 2018 with primary sclerosing cholangitis (PSC).
The disease effects the bile ducts, which transports bile from the liver to the small intestine, where the liquid aids digestion. Inflammation produces scarring within the bile ducts, hardening and narrowing them and eventually resulting in serious liver damage. Most people with PSC also experience inflammatory bowel disease, such as ulcerative colitis. Andy did.
After diagnosis, Andy became progressively more ill. He was admitted into different hospitals and underwent a variety of medical evaluations. In time, doctors determined Andy had developed cirrhosis, an irreversible late stage of liver disease.
"That was a total shock," said Andy. "I felt really overwhelmed."
Still grappling with the news, Andy accepted a new job offer that relocated his family to San Diego, where he transferred his care to UC San Diego Health. A multi-disciplinary medical team there determined Andy needed a liver transplant.
UC San Diego Health's live liver donation program is unique in San Diego County; and one of only two in Southern California. A living-donor liver transplant involves surgically removing a portion of liver from a healthy person and transplanting it into a patient whose liver is failing.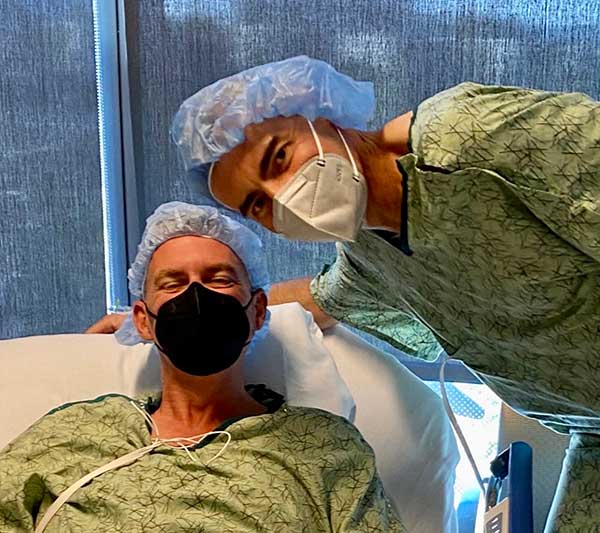 The liver is the only organ in the human body that can regrow tissue. Regeneration of the liver in both donor and recipient begins immediately, with the organs returning to 80 percent of original size within six weeks and up to 90 percent after one year.
Like most transplantable organs, there is a national shortage of donor organs. Patients waiting for a liver from a deceased donor often wait years. Live liver donations can cut into that wait.
Patients most likely to benefit from a living donation are those who require listing for transplantation, but whose Model for End-Stage Liver Disease, or MELD score, is not high enough that a liver will be allocated. MELD is a scoring system for assessing the severity of liver disease with livers allocated by federal policy to those who are the sickest.
"With live liver donation, we can control the timing of transplant, which means the recipient can be transplanted much sooner and before they become severely ill. This allows patients to better manage the demanding process of liver transplantation," said Dr. Justin Parekh, transplant and hepatobiliary surgeon at UC San Diego Health.
Andy admitted he initially felt guilty about asking friends and family to get tested to see if they might be a match. "I just didn't want to put a loved one through anything risky. However, I knew if the tables were turned, I would immediately do the same for them."
Many family members and one of Andy's best friends were tested. None proved a match.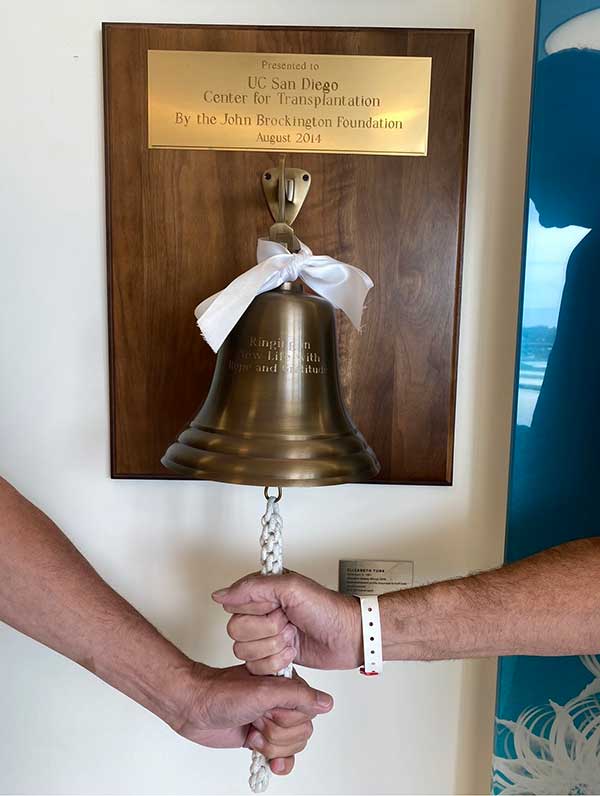 "Not only did the donor have to be the right blood type with the right anatomy, the size of the liver was crucial in this case," said Dr. Gabriel Schnickel, surgical director of liver transplant at UC San Diego Health.
Standing at 6 feet, 5 inches, Andy needed a large liver.
"I am 6-foot-7, so I knew I would be a strong candidate," said Mike, age 51, who flew to San Diego to go through the testing process. "I would do anything to help my brother."
Mike was not only a perfect match, but he also stopped drinking, smoking, changed his diet and started exercising in anticipation of the transplant. "I wanted to be in the best shape possible before we underwent this incredible procedure."
"I have never seen him so fit," said Andy. "There have been many silver linings to the clouds, and this was one of them."
On March 2, 2022, the brothers prepared for the surgery.
"I vividly remember looking at us in our surgical caps and gowns waiting to be wheeled into the operating room. It was nerve-wracking to know what was about to happen," said Andy.
During a live liver transplant, the patients are in adjacent operating rooms undergoing simultaneous procedures. Schnickel removed the right side of Mike's liver, which was then placed into Andy by Parekh. The donor and recipient portions of the surgery took approximately five and six hours, respectively. Proper timing is important. Donor and recipient surgical teams are in constant communication.
"It went smoothly on both sides," said Schnickel.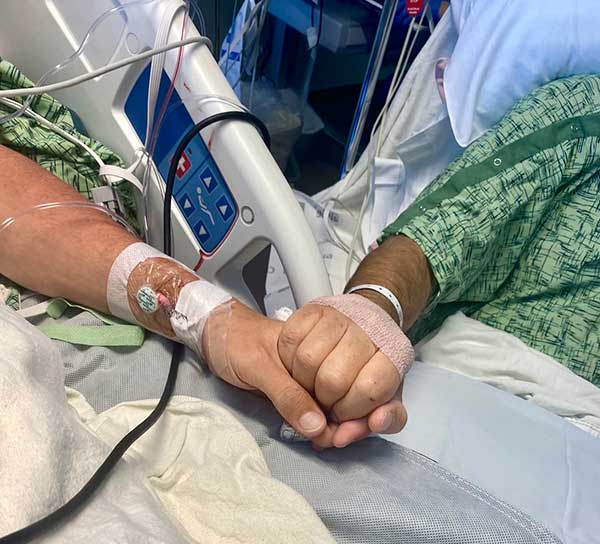 For Andy, there was only one thing on his mind the second he woke up post-surgery.
"I asked how my brother was doing. It was a relief when I heard he was doing great."
"It was a bit of a blur when I woke up, but I was up and walking around the room soon after the transplant," said Mike. "I cannot thank the health care team enough for what they did for me and Andy."
Six days after the transplant, Mike was discharged, with Andy following two weeks later. Michael spent the next six weeks recovering at Andy's house.
"We have spent two decades apart and have not really been able to visit each other with our busy work lives and family commitments, so to spend that much time together was a godsend," said Mike. "I will treasure that time. It reconnected our whole family. This entire experience was life-changing in every way."
During a follow-up appointment, Mike and Andy took a photo with Schnickel and Parekh. Andy is wearing a shirt that says, 'Powered by Donated Parts.'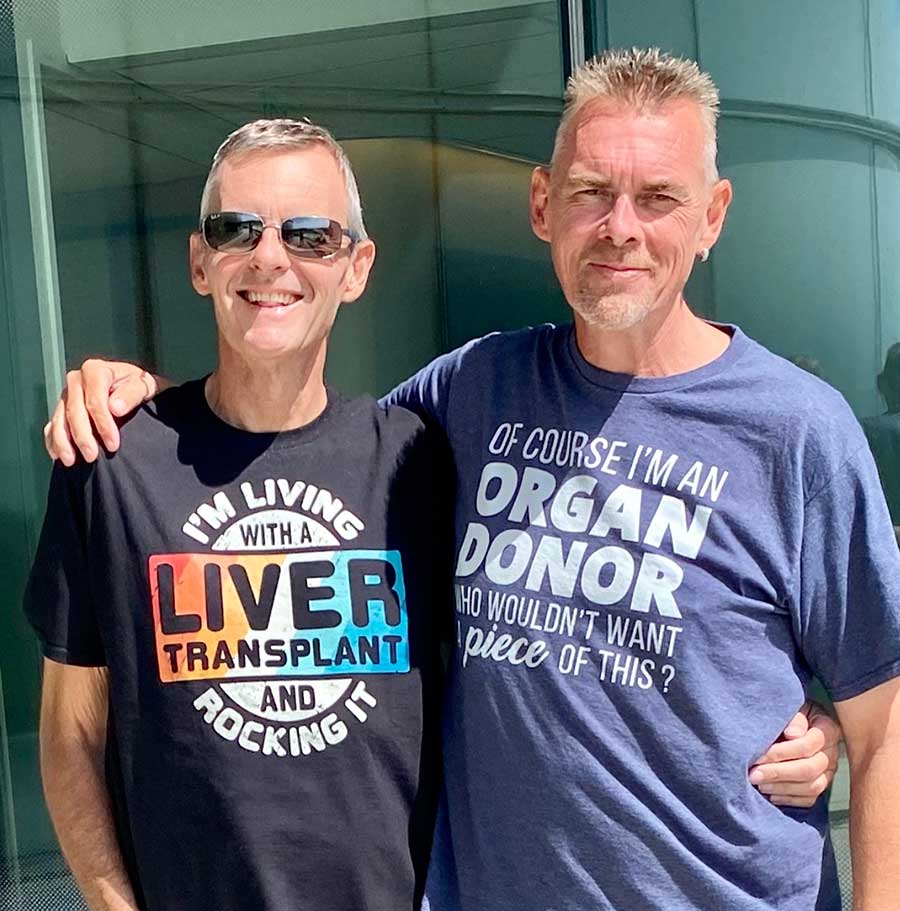 "That's how I feel. I have new energy," said Andy. "I owe an immense amount of gratitude to my brother and the entire medical team—the surgeons, nurses, nutrition staff, everyone we came into contact with was brilliant."
Mike is now back home in England continuing to recover and back to doing what he loves, walking and gardening. Andy says he feels great and continues to build his strength. He recently went on a hike with an elevation of 6,000 feet.
"I am back to work and my life is returning to normal. I didn't realize how sick I was until after the transplant," said Andy. "What Mike did for me was a true gift."
The liver transplant program at UC San Diego Health performed 82 transplants in 2021 and is No. 3 in the nation for both patient and graft outcomes in the volume category between 100-150 transplants.
Stay in the Know
Keep up with all the latest from UC San Diego. Subscribe to the newsletter today.