Pioneering Scientist and Innovator Larry Smarr Retires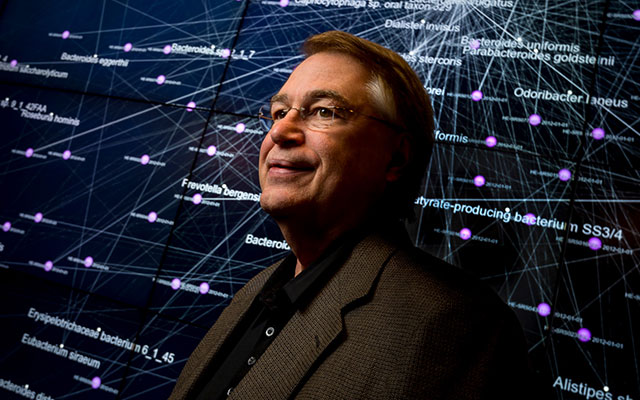 Published Date
Article Content
After 20 years at UC San Diego, Larry Smarr will step down as the director of the California Institute for Telecommunications and Information Technology (Calit2) and retire as a distinguished professor from the Jacobs School of Engineering's Computer Science and Engineering Department at the end of this month. Dr. Ramesh Rao, professor of electrical and computer engineering at the Jacobs School of Engineering, will serve as interim director of Calit2, in addition to his current position as the director of the Qualcomm Institute.
During these two decades, Smarr grew the two-campus Calit2 into a collaborative discovery system that engaged hundreds of faculty, staff, students and companies.
"As a pioneer in scientific computing, supercomputer applications, and Internet infrastructure, Larry's work helped shape the modern world," said Chancellor Pradeep K. Khosla. "His commitment to interdisciplinary collaboration, unique vision on how information technology can enhance life science research, and leadership of Calit2 propelled research to new heights at UC San Diego and beyond."
Pioneering a Path of Discovery
Smarr joined UC San Diego in 2000 and later that year was appointed the founding director of Calit2, an interdisciplinary research and education institute with two divisions — the Qualcomm Institute at UC San Diego and Calit2@UC Irvine.
Smarr worked closely with the Calit2 division directors, as well as countless collaborators, to develop a wide range of Calit2 multidisciplinary research efforts in health, energy, environment, and culture, all driven by exponential advances in information technologies, telecommunications, nanotechnology and biomedical technologies.
"Larry has been a great source of inspiration for me," said Rao, who has served as the director of the Qualcomm Institute since its inception. "I feel fortunate to be one of the many faculty and researchers from numerous disciplines who Larry was able to deeply influence with his knowledge, understanding and intellectual sensibility."
"I am honored to have had the opportunity to collaborate with Larry, a leader, mentor and visionary in multiple fields of science and technology, and to advance many successful joint research programs between our two campuses," said G.P. Li, the director of Calit2@UC Irvine since 2007.
With 20 years of National Science Foundation funding, Smarr and his colleagues at Calit2 and the San Diego Supercomputer Center demonstrated how to use optical fiber networks to create distributed computer, storage, and visualization systems to empower data-intensive research, not only on the UC San Diego and UC Irvine campuses, but then extending to connect campuses across California and outward to campuses around the world.
Over the last decade, Smarr has become a pioneer in the quantified-self movement, including personalized surgery. He has developed a unique, multi-year time series of over 100 biomarkers and gut microbiome genomics, using his own body as a laboratory, which is now being analyzed by many UC San Diego faculty, staff and students. He is also currently a lead investigator on research supported by the Helmsley Charitable Trust on a 3D Medical Imaging Pilot to Improve Surgical Outcomes for Patients with Crohn's Disease.
"Larry is a true engineering leader, pioneer and visionary. He has made many contributions in both the development of new technologies and the application of engineering and computing advances for the good of humanity," said Albert P. Pisano, Dean of the UC San Diego Jacobs School of Engineering. "At the same time, Larry is a role model for how to collaborate across disciplines and how to communicate the work to key constituents in government and industry and to the general public."
"Larry Smarr is an innovator in every sense of the word." said Dean Tullsen, Chair of the Computer Science and Engineering Department at UC San Diego. "His commitment to building strong, lasting scientific collaborations coupled with his dedication to education and public service have led to numerous scientific and technological advances that touch a variety of fields - from health and medicine to art and culture. It has been an honor to work with him."
Smarr received his BA and MS from the University of Missouri and earned his PhD at the University of Texas at Austin in 1975. He then completed postdoctoral research at Princeton, Harvard and Yale. Prior to joining UC San Diego, Smarr was a professor of Physics and of Astronomy at the University of Illinois at Urbana-Champaign (UIUC) for 20 years where he conducted observational, theoretical and computational-based research in relativistic astrophysics. During that time, he served as the founding director of the UIUC National Center for Supercomputing Applications and later the National Computational Science Alliance, headquartered on the UIUC campus.
Dedication to Science and Public Service
Smarr has been a strong believer in public service throughout his career. For eight years he was a member of the NIH Advisory Committee to the NIH Director, serving three directors. Smarr served on the NASA Advisory Council to four NASA Administrators, was chair of the NASA Information Technology Infrastructure Committee and the NSF Advisory Committee on Cyberinfrastructure. He also served on Governor Schwarzenegger's California Broadband Task Force in 2007. He currently serves on the Advisory Board to the Director of the Lawrence Berkeley National Laboratory.
Smarr was elected a Fellow of the American Physical Society in 1988, received the Franklin Institute's Delmer S. Fahrney Gold Medal for Leadership in Science or Technology in 1990, was named a Fellow of the American Academy of Arts and Sciences in 1994, was elected a member of the National Academy of Engineering in 1995, and a Fellow of the American Association for the Advancement of Science in 2017. In 2002, he was named the Harry E. Gruber Professor of Computer Science and Information Technologies at the UC San Diego Jacobs School of Engineering. In 2006, he received the IEEE Computer Society Tsutomu Kanai Award for his lifetime achievements in distributed computing systems and in 2014 the Golden Goose Award. In May 2008 he was awarded an honorary Ph.D. by his alma mater, the University of Missouri-Columbia.
Stay in the Know
Keep up with all the latest from UC San Diego. Subscribe to the newsletter today.