Philanthropists and Foodies Unite at Celebrity Chefs Cook Gala May 5
Black-tie fete features award-winning chefs, benefits cancer research at UC San Diego Moores Cancer Center
Published Date
Article Content
Celebrity Chefs Cook Gala event co-chairs, Bobbi Warren (left) and Tamara LaFarga
When Bobbi Warren was diagnosed with stage 1 breast cancer a year and a half ago, she was not surprised. Cancer was an all too familiar figure in her family—her father and sister had both died from cancer and her son is a survivor of Hodgkin's Lymphoma.
"With my family history I was basically waiting for them to find cancer each time I went for a mammogram," she said. "When they actually did find cancer, I was scared and in shock. But the one thing I knew I needed to do was to find the right people and the right place to get treatment."
Warren found the right people at the UC San Diego Moores Cancer Center. With their help and expertise, she successfully beat breast cancer. Today, she is healthy and determined to give back to the place that gave her another chance at life. Warren is co-chairing the 31st annual Celebrity Chefs Cook Gala at the Sheraton San Diego Hotel and Marina. The black-tie fete will be held Saturday, May 5 and features award-winning chefs preparing signature hors d'oeuvres paired with fine wine, all to benefit the UC San Diego Moores Cancer Center.
"Being involved is my way of saying thanks," said Warren, who is also a member of the Moores Cancer Center Advisory Board. "This event is about raising money to get the best people conducting the best research to find the best cures for cancer. It's a lot of fun, too."
The gala, themed "Epicurean Elegance," will support the cancer center's most urgent needs. To date the event has raised nearly $9 million to help fuel basic and clinical cancer research, advanced patient care, and community outreach and education programs at the Moores Cancer Center.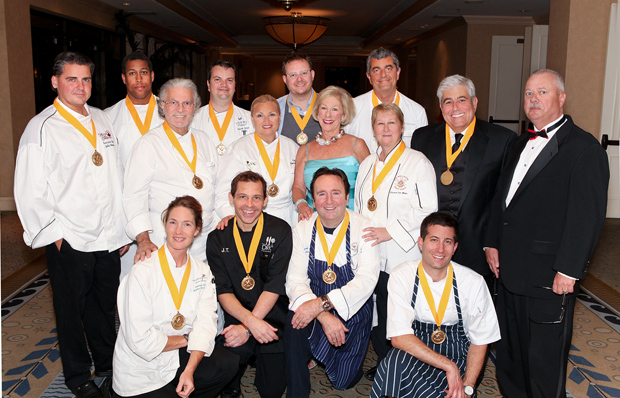 Celebrity chefs with committee members Marie Kelley, George Karetas and David Nelson at the 2010 gala
"The annual Celebrity Chefs Cook Gala is an important tradition that illustrates the community's longstanding support of the UC San Diego Moores Cancer Center," said Thomas Kipps, MD, PhD, interim director of the Moores Cancer Center, the region's only comprehensive cancer center designated by the National Cancer Institute. "The gala provides essential funding for our efforts to translate promising scientific discoveries into new and better treatments for patients with cancer."
The evening begins with a reception at 6 p.m. featuring hors d'oeuvres by celebrity chefs. The roster of top chefs includes:
James Boyce – Cotton Row, Huntsville, AL
Mario Cassini – BICE, San Diego, CA
Jean Michel Diot – Tapenade, La Jolla, CA
Kevin Gillespie – Woodfire Grill, Atlanta, GA
Bernard Guillas – The Marine Room, La Jolla, CA
Chris Karetas – Carriage Trade Catering, San Diego, CA
Jason Knibb – NINE-TEN, La Jolla, CA
Patrick Ponsaty – Mistral Restaurant at Loews Coronado Bay Resort, Coronado, CA
Chad White – Gabardine, San Diego, CA
Martin Woesle – Mille Fleurs, Rancho Santa Fe, CA
Providing a selection of wines for the evening will be wineries including: Banfi Vintners, Daou Vineyards and Winery, X Winery & Amicus Cellars, Maddalena Winery, Witch Creek Winery, Ramey Wine Cellars and Handley Cellars.
The reception will be followed by dinner and dancing to the music of the Soultones. Tamara LaFarga will co-chair the event with Warren. Marie Kelley and George Karetas will serve as food and wine chairs, respectively. 10News anchor and cancer survivor, Bill Griffith will emcee the event.
Tickets are $350 and $500. Sponsorship opportunities are available. For details and reservations, call (858) 534-6797 or visit www.celebritychefscook.org. More information on the UC San Diego Moores Cancer Center can be found at www.cancer.ucsd.edu.
Stay in the Know
Keep up with all the latest from UC San Diego. Subscribe to the newsletter today.