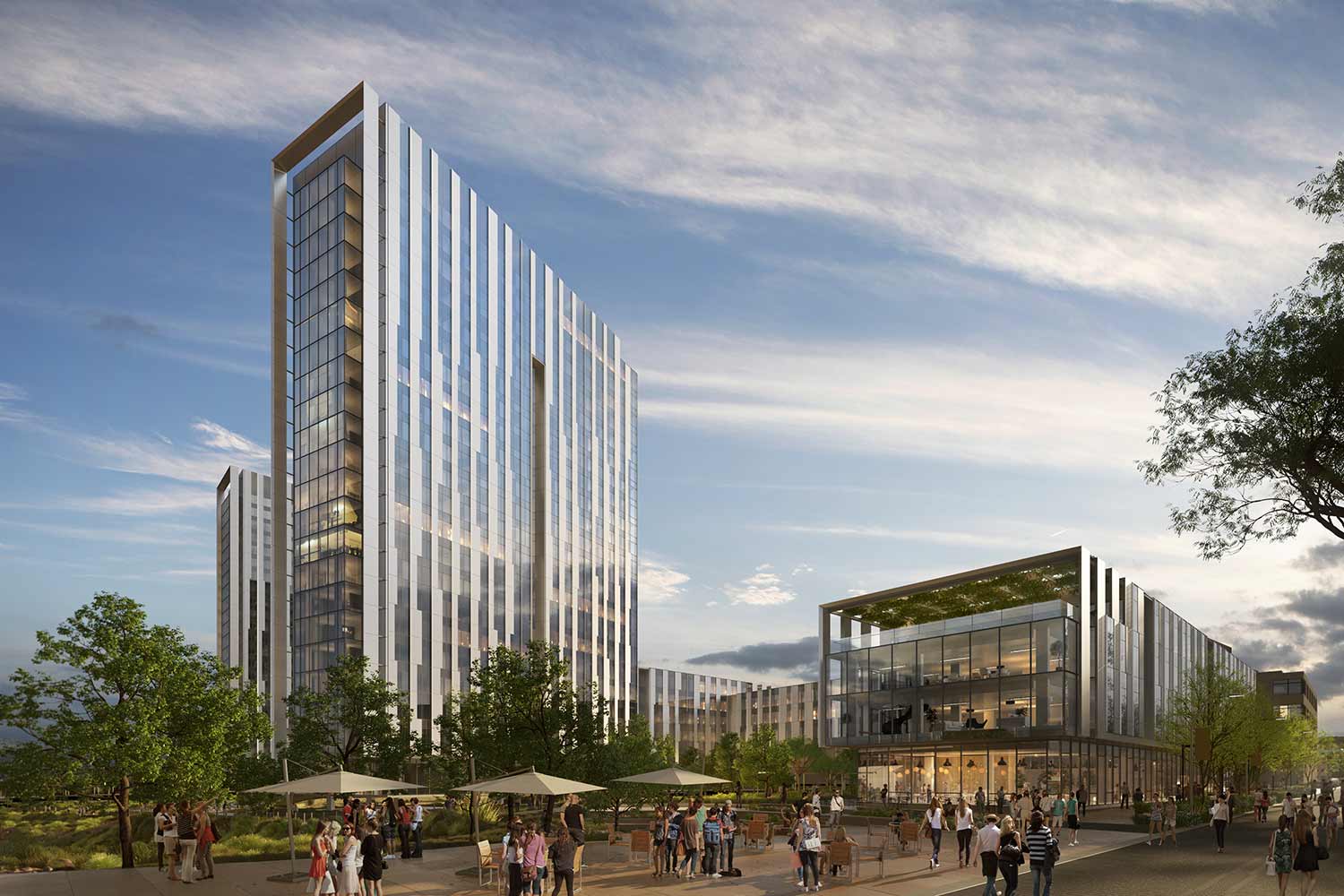 Pepper Canyon West Housing Construction to Start This Summer
The University of California Regents approved much-needed housing for 1,300 transfer and upper-division undergraduate students at their January meeting. Construction of the Pepper Canyon West student housing is anticipated to start this summer, with the goal of opening in the fall of 2024.
"The Pepper Canyon project is an illustration of innovation, sustainability and building community," said Chancellor Pradeep K. Khosla. "UC San Diego invests in building accessible housing because we know how important and impactful it is for our students to live on our vibrant campus."
Adjacent to the Central Campus station of the UC San Diego Blue Line trolley, Pepper Canyon West features single-occupancy rooms in two 22- and 23-story towers connected to five-story buildings with outdoor terrace seating. The project also includes retail, open spaces in two large courtyards and access to canyon trails.
Pepper Canyon West aims to achieve LEED Gold certification with a full range of sustainability practices in design and operations. Low-flow fixtures and drought tolerant landscaping will save water, while green roofs will increase efficiency by removing heat from the air and reducing temperatures on the roof surfaces. The project also optimizes natural ventilation and daylight to reduce demand for mechanical ventilation and electricity, and construction waste is reduced by fabricating some building elements off-site.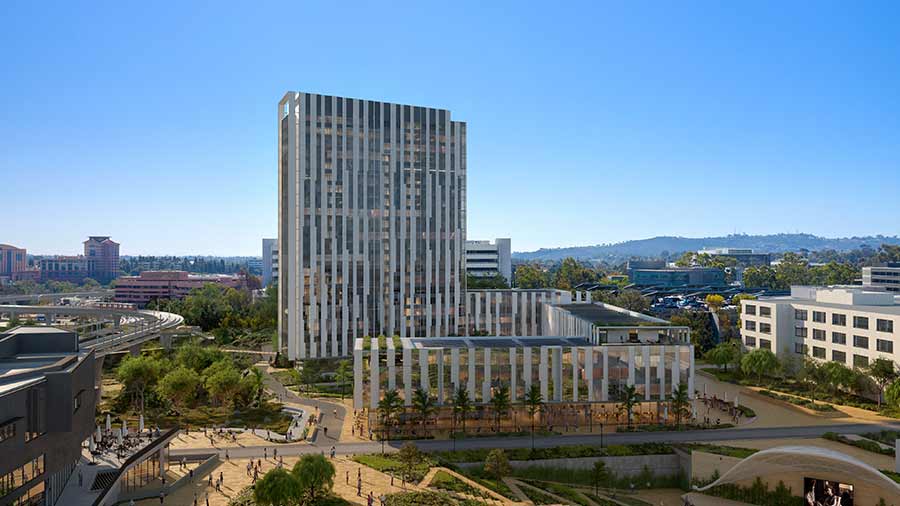 A new campus destination
While this new student housing is a key addition to the campus, the Pepper Canyon neighborhood also features art installations, the Epstein Family Amphitheater, the Design and Innovation Building and Rupertus Walk, which connects this lively destination to the rest of the campus.
The Epstein Family Amphitheater is still on track to open this fall. Once the frame for the amphitheater is complete, it will next be wrapped in a translucent material that lets natural light filter through and reflects colorful stage lighting. The open-air amphitheater will showcase performing arts, featuring local and international talent in more than 300 performances a year—everything from large-scale rock concerts to classical quartets and theatrical dance.
The university has selected artists to create a new, 10,000-square-foot mural planned for the exterior of the Visual Arts Facility facing the amphitheater. The work will depict authentic wild-style and contemporary graffiti styles that are rooted in Southern California, and was developed with the guidance of a committee comprised of Department of Visual Arts faculty and representatives of the campus community. The project brings together graffiti artists and muralists from a wide range of backgrounds with UC San Diego Master of Fine Arts alumnus Oscar Magallanes and 3B Collective featured on one of the buildings, and another UC San Diego graduate, Reinhart Selvik, as a project coordinator as well as one of the artists. UC San Diego students will have the opportunity to assist the artists and create a video documentary of the project.
Magallanes shared how the mural is like an art collection in that it features several important artists from Southern California in one major piece. The work is inspired by one of the most famous and influential graffiti artists on the West Coast—and arguably the world—Chaz Bojórquez.
"I can't express how important it is to me that Chancellor Khosla chose to feature this art, and the culture it represents, at our campus entrance," said Magallanes of the opportunity to create this prominent mural with a collective of other artists. "Southern California has an aesthetic that is worldwide. It is a piece that people can enjoy, discover and decode for years to come."
In addition, the Stuart Collection's 22nd installation, CONCORDANCE, will provide a poetic and engaging welcome to the campus. It is partially installed in the area directly underneath the trolley station, and will continue to expand west throughout the summer. The artwork by Ann Hamilton—a MacArthur Fellow and recipient of the National Medal of the Arts—is experienced by walking along a wide path in Pepper Canyon stretching from the new trolley station all the way to Russell Lane. It is made from basalt blocks hewn with words and phrases drawn from the writings of authors from many disciplines, all associated with UC San Diego and the history of the site. The texts, organized along a central spine poem, can be read in both directions. Hamilton has long been interested in the movement of people and saw the project as an opportunity to create an immersive space and shared experience, weaving literature, movement and the intersection of the two into a new and profound entrance into the university.
Transformative student housing solutions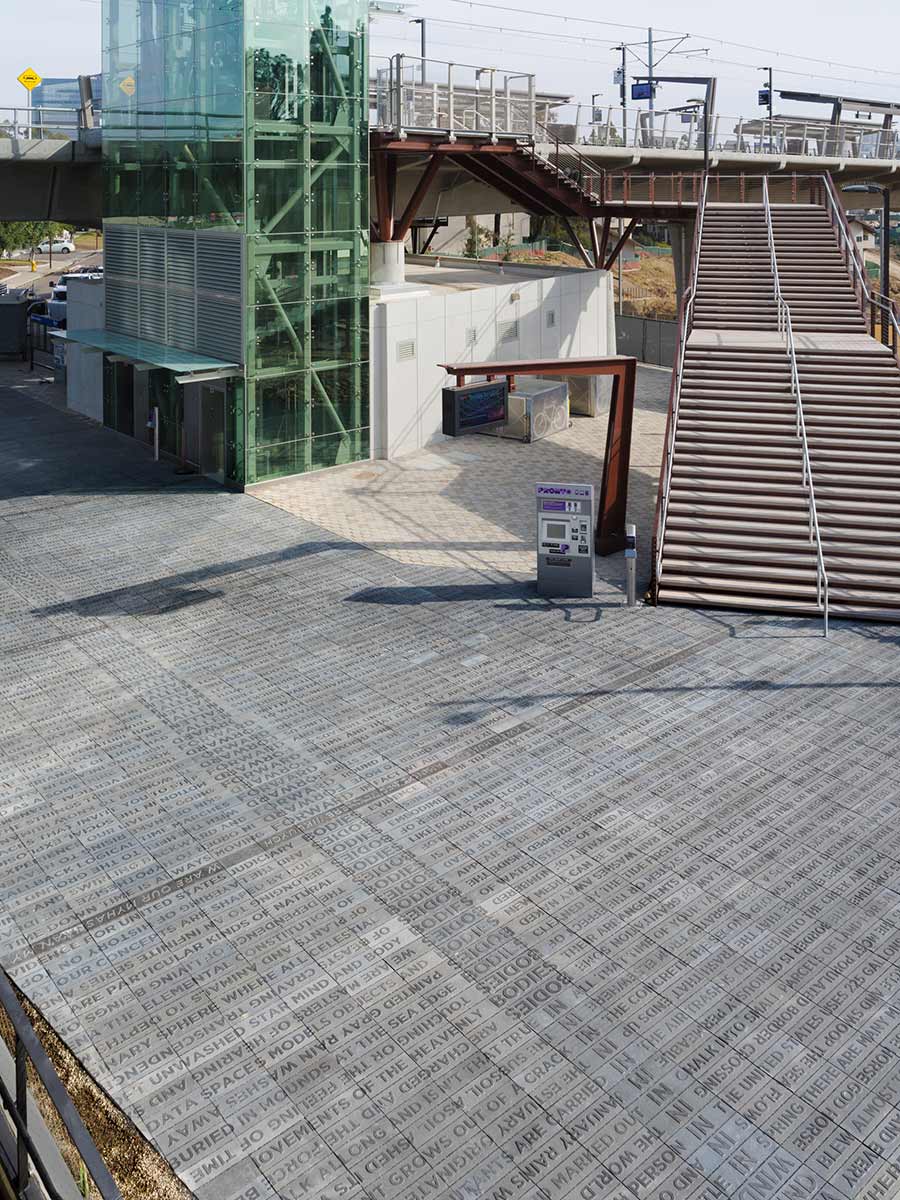 The campus transformation doesn't end with Pepper Canyon West. When it opens in 2023, the Theatre District Living and Learning Neighborhood will provide housing for an additional 2,000 undergraduate students as well as new dining options, parking, outdoor gathering areas and an enhanced theatre patron valet/drop-off area.
The neighborhood is being built on parking lots adjacent to UC San Diego's Joan and Irwin Jacobs Theatre District—home to multiple performance spaces used by both the Department of Theatre and Dance and La Jolla Playhouse. Primarily consisting of undergraduate housing, the neighborhood is designed to bring enhancements to students while supporting the university's goal of improving the visitor experience for theatre patrons and highlighting UC San Diego's arts presence in the community. The project earned a Design Award in 2020 from American Institute of Architects (AIA) San Diego.
During the January meeting, the Regents also approved the funding of preliminary plans for the proposed Thurgood Marshall College undergraduate student housing. The project, which would give more students access to the living and learning neighborhood model, would provide housing for approximately 2,000 undergraduate students.
"Living on campus within neighborhoods designed to create community and interdisciplinary learning opportunities greatly enhances the student experience," said UC San Diego Vice Chancellor for Student Affairs Alysson Satterlund. "The new living and learning communities are an ideal setting for students to blend academic and research pursuits with social support, interpersonal engagement and recreation."
UC San Diego increased its undergraduate housing capacity by more than 72 percent (more than 5,000 beds) since the fall of 2010, but there is still tremendous demand for student housing. The university continues to invest in the construction of additional student housing at rates that are more favorable than the local rental market.
In addition to building more on-campus housing, the university advocates for innovative housing solutions. In 2021, Chancellor Khosla provided testimony to the California State Assembly subcommittee on education finance on how the state could further support affordable student housing. Khosla proposed a permanent revolving loan fund with a zero percent interest rate, which would allow UC San Diego to build even more on-campus housing and to provide additional financial support.
As an example, the Chancellor noted that every $100 million UC San Diego receives at zero percent interest as part of this proposed revolving loan fund would generate an annual debt savings of $2.1 million, which could be distributed to approximately 1,000 of our neediest California resident students.
This funding would not just construct new student housing, but it would allow the campus to reinvest the savings into a fund to provide upwards of $75 million in housing aid to eligible California resident students over the 35-year term of repayment. UC San Diego already offers student housing at 20 percent below market rates, but, in this example, the university would be able to offer an additional 18 percent discount to the neediest students, at rates nearly 38 percent below market or an additional cost savings of $2,143 per student per year.
At the end of 2021, UC San Diego requested additional state funding for the Pepper Canyon West undergraduate housing project, similarly distributed from a zero percent interest loan to decrease housing rates for our students.
"By working together, legislators and higher education institutions are advancing effective solutions to move California forward," said Khosla.
Stay in the Know
Keep up with all the latest from UC San Diego. Subscribe to the newsletter today.