Opening Doors for Health Care Providers of the Future
Health Sciences Scholarship Challenge launched to support students in medicine, pharmacy and public health
Published Date
Article Content
Since he was a small boy, Serajh Esmail knew he wanted to be a doctor. But it wasn't until fifth grade, when his mother suggested that he read Dr. Ben Carson's autobiography, that his future career path was confirmed.
"Reading the story of a young Black boy, raised by a single mother in a very hard part of Detroit, to then become one of the most renowned neurosurgeons in the world was inspiring," said Esmail. "From then on, I knew that I wanted to be a neurosurgeon."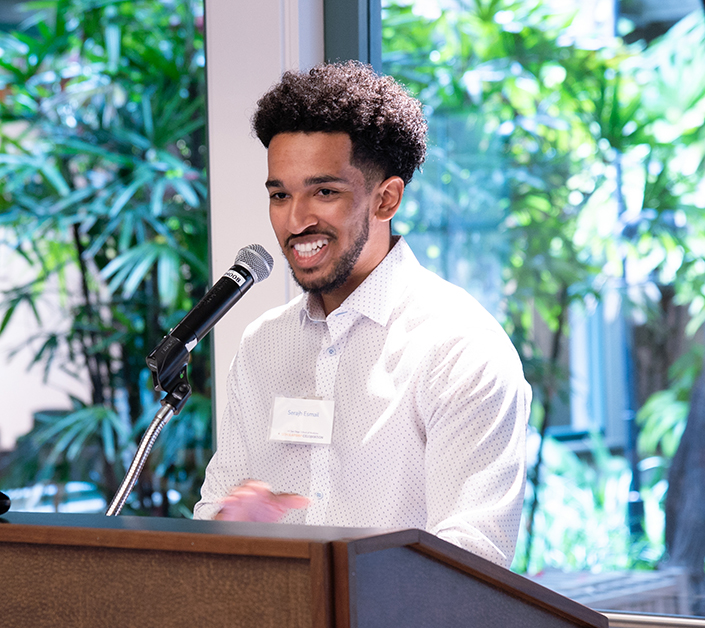 Esmail, now a student at UC San Diego School of Medicine, recently spoke about his experiences growing up at a special Scholarship Celebration that brought together scholarship recipients and the donors who have helped make them possible. Esmail shared his story and expressed his gratitude for his scholarship. He credits the support with allowing him to mentor young students from disadvantaged backgrounds, while pursuing his medical degree.
"Without my scholarship support, I wouldn't be here doing the things I'm doing and pushing the things I'm pushing for," said Esmail. "The gifts donors provide have opened – and continue to open – so many doors for me, and I wish that no student must feel the burden of finances either preventing them from applying to medical school or coming to UC San Diego."
Currently, the U.S. is experiencing a shortage of health care professionals, making health sciences scholarships more essential than ever. The average cost of four years of medical or pharmacy school totals $322,000 and the average debt for a four-year medical education is $170,000.
To address the need for scholarships to help make health education accessible to individuals from all backgrounds, Vice Chancellor for Health Sciences John M. Carethers, MD, announced at the Scholarship Celebration a commitment of $12 million from Chancellor Pradeep K. Khosla to establish the Health Sciences Scholarship Challenge at UC San Diego.
Together, Khosla and Carethers are challenging alumni, friends and supporters to raise an additional $12 million over the next four years, effectively doubling the impact for our students at the UC San Diego School of Medicine, Skaggs School of Pharmacy and Pharmaceutical Sciences, and Herbert Wertheim School of Public Health and Human Longevity Science.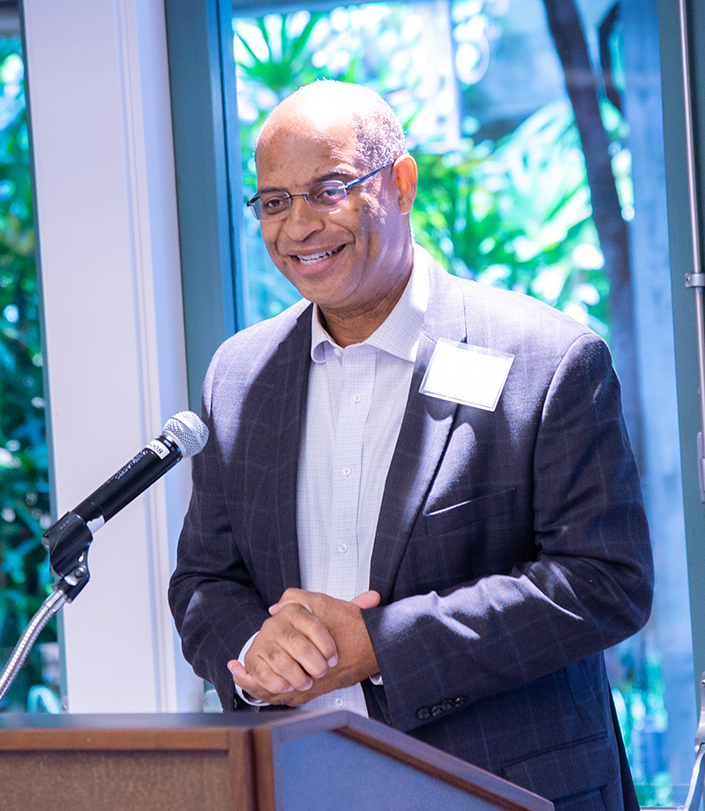 "We are thrilled to launch the Health Sciences Scholarship Challenge," said Carethers. "Scholarships help make dreams a reality for our student recipients. As our scholars each move forward in their medical careers, the number of lives they serve and care for is exponential. Our scholars will be the faces of the future of health care."
During the event, Esmail shared how grateful he was for his family, teachers and mentors who encouraged him to pursue a medical degree. But as he got older, Esmail realized that such a support system is not always common in the communities he came from in the Sacramento area. He went on to attend UC Berkeley for his undergraduate degree and dedicated himself to mentoring youth nearby.
"I coached basketball and track for kids who lacked access to sports, and the health benefits and life skills that it offers," said Esmail. "I also got to serve as a mentor to children of color who didn't have male role models in their lives."
Understanding that within the communities he was serving, many had distrust for the medical system, Esmail incorporated health-related talks into his practices.
"I come from a community where mothers are afraid of childbirth; they're afraid of going to hospitals in fear of never making it back home," said Esmail. "So, one of my missions is to resew ties between the medical system and communities of color and those who are underserved."
Since coming to UC San Diego, Esmail has helped establish an organization called SCORE, or Students of Color Opportunity and Resource Education, which is partnering with San Diego Unified School District. The group is striving to bridge the gap in health care disparities by offering educational opportunities, hands-on dissections, mentorship and community advocacy to youth throughout San Diego. Esmail also co-founded a podcast called Brains & Bones on YouTube that aims to share unique, untold stories in medicine, and reshape how the field is understood.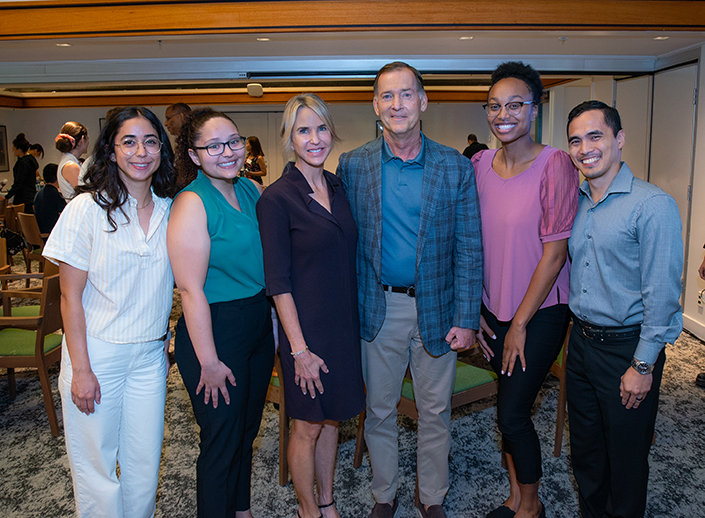 Following Esmail's talk and the announcement of the Health Sciences Scholarship Challenge, event attendees and scholarship supporters Bill and Amy Koman were immediately up to the challenge of supporting health sciences students, committing $100,000 to health scholarships. This augments an existing endowed scholarship fund that the couple established in 2014. The fund currently supports 11 scholars on an annual basis.
"Every time Amy and I get to meet UC San Diego medical students, we can't help but be inspired by their energy, passion and eagerness to make a difference," said Bill Koman. "We know the world needs great doctors, and we are confident about the quality and drive that each of these students possess. We can't wait to see where it takes them."
Esmail expressed his gratitude for donors, like the Komans, who choose to support health sciences scholarships for more students.
"One of the main reasons I chose UC San Diego is not only because it is at the forefront of medical research and innovation, but because it is paving the way for compassionate, systems-level community care and educating students to serve all populations, especially those who are disenfranchised," said Esmail. "Thank you so much to our donors who are making a health education at UC San Diego possible for deserving students from all backgrounds to continue this tradition."
To learn more about the Health Sciences Scholarship Challenge or to make a gift, please visit the Scholarship Challenge website. For more information on health sciences programs at UC San Diego, please visit the UC San Diego School of Medicine website, the Skaggs School of Pharmacy and Pharmaceutical Sciences website and Herbert Wertheim School of Public Health and Human Longevity Science website.

Stay in the Know
Keep up with all the latest from UC San Diego. Subscribe to the newsletter today.