Published Date

Nobel Laureate Mario Molina Awarded UCSD Medal
Award caps day celebrating acclaimed scientist's career
UC San Diego Chancellor Pradeep K. Khosla presented Distinguished Professor of Chemistry and Biochemistry Mario Molina with the UCSD Medal, the highest honor the university bestows and one that has only been presented 10 times, mostly to visiting heads of state.
Khosla cited Margaret Mead's aphorism that a small group of committed people can change the world in presenting Molina with the medal at a May 12 dinner ceremony that included a strolling serenade of selections from "La Traviata " and "Gianni Schicchi." In true San Diego fashion, the celebration was paused so attendees could walk outside to catch a glimpse of a "green flash" at sunset.
The day was an acknowledgement that Molina is owed a thank you not just from this generation but those of the future. Molina, a Nobel laureate, was honored at the Seaside Forum at Scripps Institution of Oceanography for work that let society avoid environmental disaster and that made inroads in one of the toughest aspects of climate change science. He was also lauded for breaching the walls of science and making climate change a matter of social justice.
Khosla's staff had arranged for a surprise appearance by performers from the Tijuana company Opera Ambulante since opera is Molina's favorite music.
"You have changed the world," Khosla said. "You have changed it for us, our children, and our grandchildren."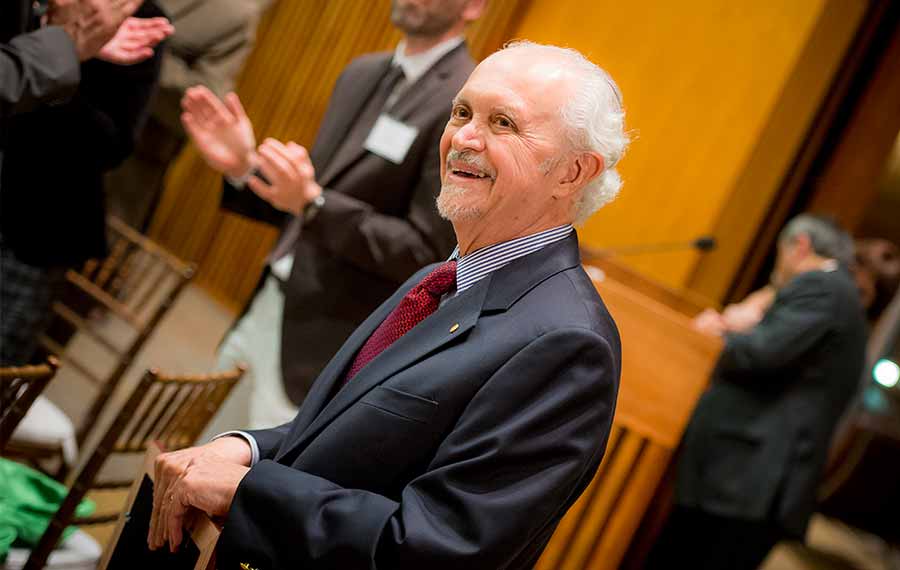 Molina won the Nobel Prize in chemistry in 1995, sharing it with the late F. Sherwood Rowland, and Scripps Oceanography Emeritus Professor Paul Crutzen for work demonstrating that the use of chlorofluorocarbons (CFCs) in spray cans was destroying Earth's protective ozone layer. The prize was for work the trio presented in a landmark 1974 paper that took another 10 years to be verified by surveys of the stratosphere.
Their work had set about one of the largest consumer market changes in history in response to an environmental hazard, as companies quickly removed CFC-containing products from hair spray to refrigerants with safer alternatives. The shift was codified in 1990 by the Montreal Protocol, which remains today a model of international agreement on climate that countries have not been able to replicate since. Ralph Cicerone, president of the National Academy of Sciences and Molina's friend, related this history as a testament to Molina's stature.
"The entire protocol was enacted before there was evidence of harm," said Cicerone, one of the symposium's first speakers. "Unbelievable…in context of the present time."
Symposium co-organizer Kimberly Prather, distinguished chair in atmospheric chemistry at UC San Diego, spoke of the profound impact Molina had on her own career. Prather now heads the Center for Aerosol Impacts on Climate and the Environment, which in 2013 received a $20 million National Science Foundation grant, the largest ever received by the UC San Diego department of chemistry and biochemistry. Molina is on the CAICE research team.
"I love saying I have the same science advisor as Obama," Prather told the symposium audience. "It is inspired by the way he does things, which is from fundamental science all the way to solutions. He's done it once, and now he's part of doing it again with our next big environmental challenge that we're facing, which is the aerosol effect on climate."
For the past 10 years, Molina has been a distinguished professor at UC San Diego, with joint appointments in the department of chemistry and biochemistry as well as Scripps. He also serves as the president of Centro Mario Molina in Mexico City, a non-profit organization dedicated to finding solutions to the challenges of environmental protection, energy use, and climate change.
Born in Mexico City, Molina received a bachelor's degree in chemical engineering from the Universidad Autónoma de México in 1965, a postgraduate degree in 1967 from the University of Freiburg in West Germany and a doctorate in physical chemistry in 1972 from UC Berkeley.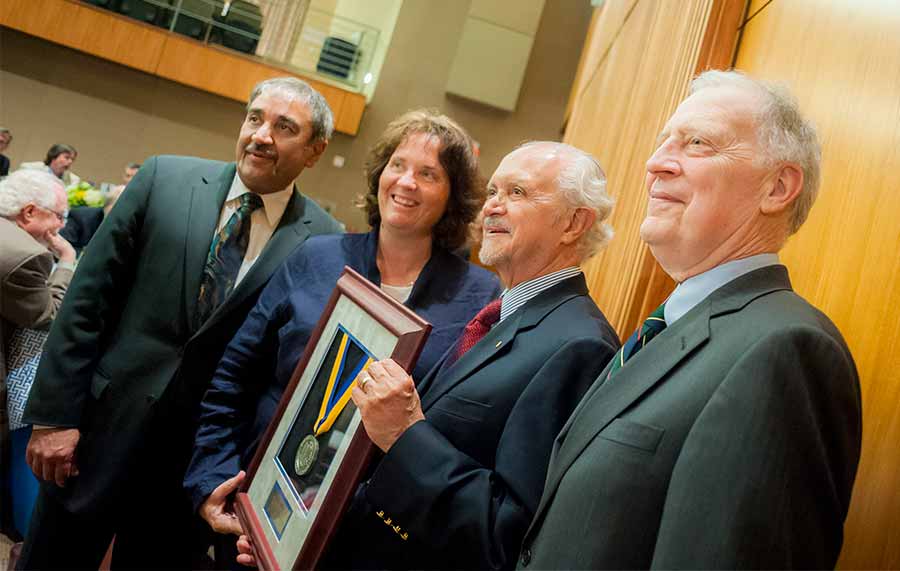 By the time he joined UC San Diego, Molina was a member of the U.S. National Academy of Sciences and the Institute of Medicine, the Mexican Academy of Sciences and Academy of Engineering, and the Pontifical Academy of Sciences. He has served on the U.S. President's Committee of Advisors in Science and Technology for Presidents Obama and Clinton, the Secretary of Energy Advisory Board, National Research Council Board on Environmental Studies and Toxicology and on the boards of U.S.-Mexico Foundation of Science and other non-profit environmental organizations.
In 2013, he was awarded the presidential Medal of Freedom along with the late Sally Ride, who was also a UC San Diego professor. In April 2014, French President François Hollande presented Molina with the Order of the Legion of Honor, the highest civilian honor bestowed by the French government.
And he has his own postage stamp in Mexico.
"Mario has been an inspirational mentor and colleague to so many atmospheric chemists," said Faye McNeill, a Columbia University professor and former student in Molina's research group at MIT who helped organize the symposium with Prather. "The foundation of his work is truly visionary, elegant chemistry. But beyond this, Mario is a master science communicator. This has enabled him to translate atmospheric chemistry fundamentals into policy realities."
For his own part, Molina said he was humbled by the proceedings. He said he did some quick calculations on his cell phone when the dinner party assembled in his honor failed to see a green flash, a brief burst of green light produced sometimes when the sun dips below the horizon and atmospheric conditions are just right.
"It was too early in the evening," he said. "And we hadn't had enough drinks."
Molina said he saw his work as merely a part of an ensemble effort, one that continues today by the colleagues and former students who came to La Jolla to honor him.
"It's something we all did together," he said, "so we all deserve these recognitions."
Stay in the Know
Keep up with all the latest from UC San Diego. Subscribe to the newsletter today.