New UC San Diego Chapter Sends LGBT+ Delegates to oSTEM Conference
Five undergrads, two faculty attend meeting to promote LGBT+ diversity in STEM fields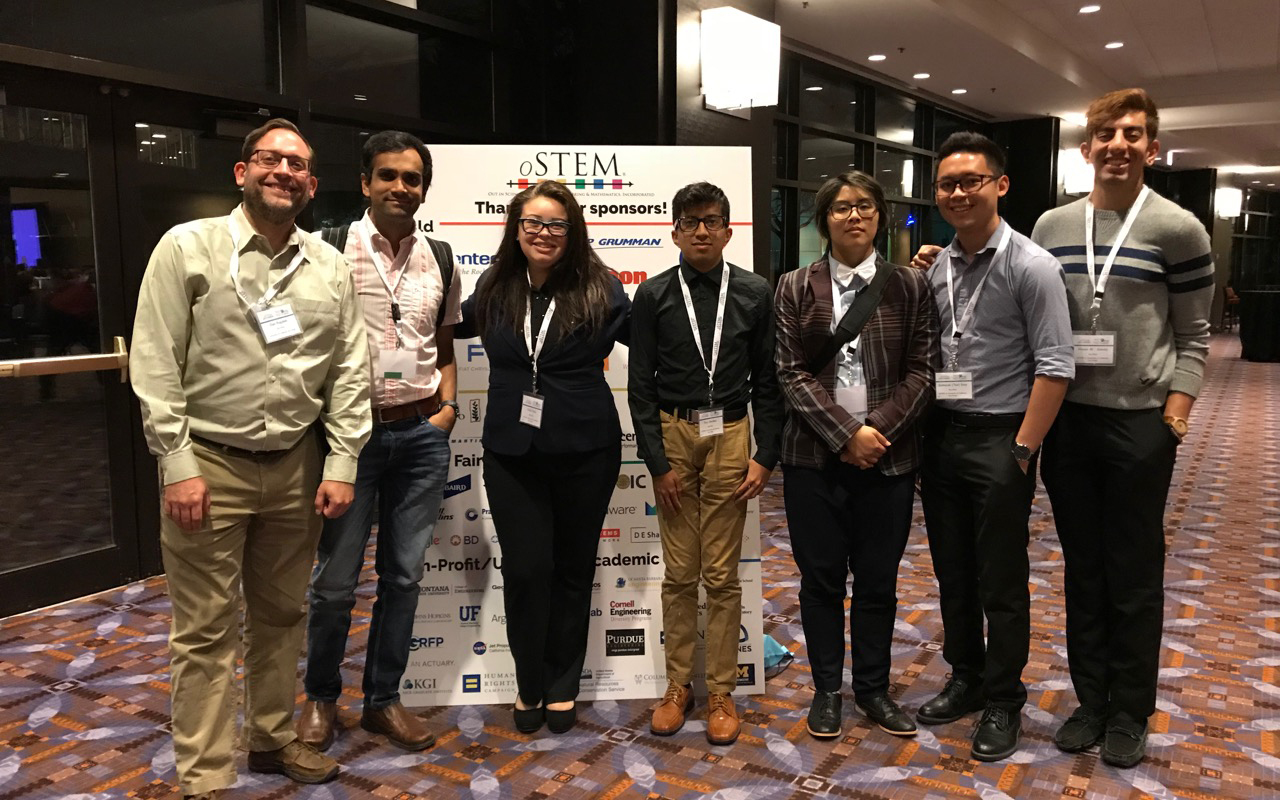 Published Date
Article Content
For the first time, a delegation of faculty and students from the University of California San Diego attended the annual Out in Science, Technology, Engineering and Mathematics (oSTEM) National Conference. The four-day conference took place November 16-19 in Chicago, IL.
Over 800 attendees participated in the 7th oSTEM conference to discuss topics and challenges faced by members of the LGBT+ community in STEM fields (including computer science), and to celebrate the community and help ensure student success in school – and when those students start looking for a job.
The national event coincided with the inaugural year of the new oSTEM Chapter at UC San Diego. Financial support from sponsors allowed the new chapter to send five undergraduate students to the conference: Kayla Ortiz, Terry Worlikar, Joyce (Jun) Lor, Sothyrak (Tee) Srey, and Hasan Al-Jamaly.
"Being part of the conference was an exhilarating experience that opened my eyes to a community I never knew existed," said Computer Science junior Hasan Al-Jamaly. "More importantly, it's a community I truly belong to and feel part of." Other attendees also reinforced the importance of solidarity with other oSTEM participants as an integral part of their experience at the conference.
Two UC San Diego faculty members accompanied the student delegation to Chicago: Computer Science and Engineering (CSE) professor Arun Kumar, and Mathematics professor Daniel Rogalski. UC San Diego faculty participation in the conference was made possible by campus units: CSE in the case of professor Kumar, and the Office of the Dean of Physical Sciences in the case of professor Rogalski.
The new oSTEM chapter at UC San Diego also benefited from support provided by corporate sponsors Northrop Grumman, Boeing and Door of Clubs (a startup that matches college clubs with potential partners in industry). Funding from UC San Diego academic units came from the Jacobs School of Engineering, Division of Biological Sciences, and Division of Physical Sciences. Aid was also forthcoming from the national oSTEM organization.
The conference featured an extensive span of corporate site tours, workshops, research presentations, networking opportunities, and a career and graduate student expo where oSTEM students could meet with potential future employers. In addition to sponsors Northrop Grumman and Boeing, organizations with booths this year included NASA, Raytheon, Google, Genentech, Accenture, Lockheed Martin, and the nonprofit Human Rights Campaign. A number of elite graduate programs also had booths, including Columbia Engineering, John Hopkins, Cornell Engineering, UC Berkeley, University of Michigan, New York University, Purdue, and Georgia Tech.
Topics on the agenda ranged from "Ending Police Violence with Artificial Intelligence," "An Introduction to Leadership: Motivating People to Believe and Achieve," community breakouts featuring Queer/Pan/Ace/Middle Sexualities, Faith, Trans/Non-Binary, as well as panels such as "It's Okay to Not Be Okay: Managing Your Mental Health," and "Dear White People: Intersection of Race/Ethnicity & LGBTQIA Identity."
During the conference, oSTEM also organized a Chapter Leadership Summit to discuss the fundamentals of executive board management, an issue that pervades many student organizations. A major topic at this year's summit was the open-mindedness necessary to run an infant organization, as well as effective planning and project management tools based on setting goals that are specific, measurable, attainable, relevant, and timely.
Computer Science senior Sothyrak (Tee) Srey – current holder of the Center for Networked Systems (CNS) Alan Turing Memorial Scholarship at UCSD – participated in the summit. "This is our first official year and our first time attending the oSTEM National Conference, and I was really hoping to leave the conference with concrete ideas that I could implement as an officer," said Srey, Secretary of the oSTEM chapter at UC San Diego. "After hearing from other chapters, I feel a sense of relief because of how well our chapter is doing so far. We typically draw about 30 people to oSTEM meetings at UC San Diego, which is roughly similar to the number of active participants at longer-established oSTEM chapters around the country. This shows that we are making an impact in LGBT visibility on campus."
According to CSE professor Arun Kumar, more UC San Diego LGBT+ faculty would benefit from establishing a community similar to the students' oSTEM chapter on campus. "There was almost no other faculty from computer science at the national conference this year," noted Kumar. "An organized network of LGBT+ faculty could promote useful community-building within academia."
Looking ahead to the 2018 8th oSTEM national conference, which will take place in Texas, the UC San Diego chapter is planning to send more students and faculty than they did this year. Professors Kumar and Rogalski leveraged their presence at oSTEM 2017 to collect relevant information from staff and students from other schools with booths or other presence at the conference -- information that could guide UC San Diego as it ramps up its presence at the 2018 conference. CSE's Kumar believes UC San Diego should be able to join the ranks of graduate schools with booths at the oSTEM expo next year in Texas. A UC San Diego booth would particularly focus on recruiting future graduate students in STEM topics from among the ranks of oSTEM's (mostly) undergraduate student delegates. (Assuming that support is forthcoming from graduate schools and divisions at UC San Diego, the oSTEM chapter would staff a booth to hand out graduate-school materials and represent the graduate divisions and schools to encourage greater diversity throughout UC San Diego.)
"Overall, UC San Diego's participation in its first oSTEM national conference was a great success," added student Tee Srey. "It proved to be beneficial in enabling our oSTEM chapter's ability to continue building community – and enabling our members to succeed."
The growing presence of UC San Diego at future oSTEM events reflects the greater awareness on campus of the need to attract and retain a diverse student body, especially in technology and the sciences. Last June a 2017 report by College Choice named UC San Diego the 9th best public university in the U.S. for LGBTQ students, and 19th among all public and private universities for LGBTQ students.
Stay in the Know
Keep up with all the latest from UC San Diego. Subscribe to the newsletter today.