New Gallery Exhibition at the UC San Diego Qualcomm Institute Turns Warfare into Art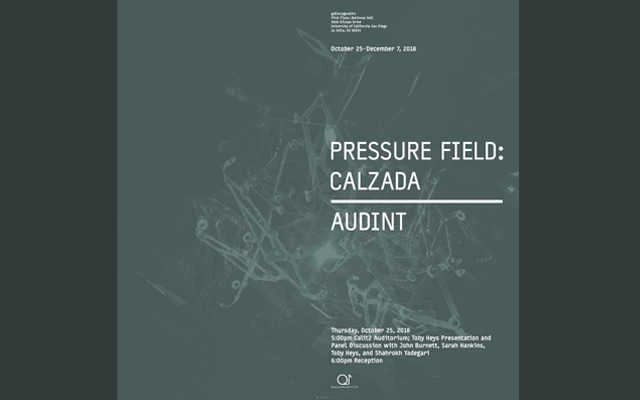 By:
Molly Wofford

Trisha Kholiya
Media Contact:
Published Date
Article Content
The art of warfare is now warfare as art as the gallery@calit2 opens its fall season with "Pressure Field: Calzada," an exhibition by the artist collective AUDINT. The exhibition reconstructs perplexing sounds reported by the U.S. State Department as being used in several mysterious sonic attacks on diplomats at the U.S. embassy in Havana, Cuba in 2017.
A wave of conspiracy theories tried to explain the attacks, leading AUDINT to recreate the sonic weapon with the use of artificial intelligence. "Pressure Field: Calzada" presents the contained recreation and its array of spectral acoustics for the public to experience and explore firsthand at the gallery@calit2, located at the Qualcomm Institute in Atkinson Hall on the UC San Diego campus from October 25–December 7, 2018.
"AUDINT's exhibition provides a historical backdrop to this episode, providing an overview of the groups almost 80-year research into non-standard deployments of sound at the threshold of detectability and the clouds of uncertainty that shroud them," said Toby Heys, exhibition organizer and research lead for the School of Digital Arts at the Manchester School of Art.
The gallery@calit2 will hold its fall 2018 opening event on October 25, 2018 from 5–7 p.m. It will feature a presentation and panel discussion with Toby Heys, along with San Diego-based multimedia artist and Qualcomm Institute sonic arts researcher John Burnet, Sarah Hankins, an assistant professor of sound studies in UC San Diego's Department of Music, and Qualcomm Institute researcher and UC San Diego Professor of Music Shahrokh Yadegari.
AUDINT, an abbreviation of audio intelligence, was formed in 1945 and has spent the last nine years researching the weaponization of vibration and mapping frequencies. They use this research across a wide range of published platforms, including audio recordings, books and films.
"AUDINT's experience from within the crisis, the evolving history of sound as a 'haunting' tool of war and the potent weaponization of ideas inspired the new multi-media installation at the Qualcomm Institute gallery in San Diego," Heys said.
PRESSURE FIELD: CALZADA by AUDINT opening event details
When: Thursday, October 25, 2018 from 5:00 p.m. to 7:00 p.m. RSVP to Trish Stone, gallery coordinator, at tstone@ucsd.edu.
Where: UC San Diego, Qualcomm Institute Auditorium and the gallery@calit2, Atkinson Hall, 1st Floor
Fall 2018 gallery@calit2 hours: Open to the public from Oct. 25–Dec. 7, 2018, 12:00 p.m. to 5:00 p.m. Monday through Friday.
All gallery@calit2 events are free.
Stay in the Know
Keep up with all the latest from UC San Diego. Subscribe to the newsletter today.