Published Date
New Campus Memorial Honors Protesters for Peace
The May 1970 Peace Memorial is located adjacent to the Revelle Plaza Fountain and features a marble plaque complete with a light installation. A bench was added to the space, as was a newly planted coral tree, to give students a place to remember and commemorate the campus's protests for peace. Photos by Erika Johnson/University Communications
A memorial to honor student activism for peace was recently unveiled at Revelle College. The idea for the memorial was spurred by a group of students in Thurgood Marshall College's Dimensions of Culture (DOC) program after they learned about the history of UC San Diego student activism during the Vietnam War.
Niall Twohig, a Ph.D. student in the department of literature and a DOC teaching assistant, said students in his course were surprised to learn about the level of activism on the UC San Diego campus during the late 1960s and early '70s and wanted to find a way to commemorate this era.
Student activism at UC San Diego directed against U.S. military intervention abroad began as early as the invasion of the Dominican Republic in 1965. It intensified as the country became more heavily involved in Vietnam. Sentiments against the war exploded after the invasion of Cambodia at the end of April 1970. As a way of showing their opposition to what they considered an unjust and widening war, students at UC San Diego joined nationwide student protests. Their actions expressed their desire for an end to the violence.
It was during this time that George Winne, Jr., a graduating senior in history, chose to self-immolate in Revelle Plaza on May 10. Winne's act came just days after the infamous Kent State killings, during the largest wave of protests in the history of American higher education.
For decades, faculty and students have held vigils in Revelle Plaza to help remember the students who protested for peace in May of 1970, including Winne.
"My discussions with students about these events taught me that it's crucial to have a site of memory like the May 1970 Peace Memorial," Twohig said. "These sites remind us of the desires that connect individuals and communities across time and across space. They remind us that we can't bury that history, and that we have to continually confront it as a community."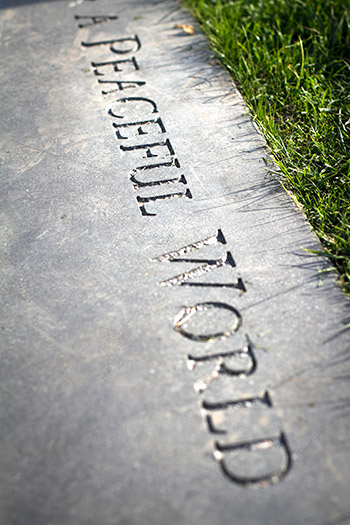 The May 1970 Peace Memorial is designed to promote peace and is part of the revitalization of Revelle College's Plaza.
The May 1970 Peace Memorial is located adjacent to the Revelle Plaza Fountain and features a marble plaque complete with a light installation. A bench was added to the space, as was a newly planted coral tree, to give students a place to remember and commemorate the protests for peace since May 1970.
According to Twohig, the May 1970 Peace Memorial was made possible through the collaborative efforts of students, staff, faculty, former campus activists, Winne's surviving family, and campus leadership.
Students worked closely with staff in Resource Management and Planning on the design of the memorial and selection of its location.
"The memorial is a wonderful opportunity to infuse UC San Diego's past activism into the fabric of our future," said Gary Matthews, vice chancellor of Resource Management and Planning.
Jorge Mariscal, a professor in the literature department and director of the DOC program, has been a strong supporter of the creation of the memorial.
"The May 1970 Peace Memorial opens a window to a past moment when hundreds of UC San Diego students rallied in Revelle Plaza to protest what they considered to be an immoral war," said Mariscal. "At the same time, it alerts us to the fact that young people around the world continue to struggle for peace and justice."
An inscription on the memorial reads "For George Winne, Jr., the student activists of May 1970, and all those who continue the struggle for a peaceful world."
Gracy Uriarte is an undergraduate who was enrolled in Twohig's course and has been involved in the planning of the May 1970 Peace Memorial.
"The memorial helps honor Winne's spirit and helps create and foster a dialogue of ways to persevere for a more peaceful world," Uriarte said.
The light installation was added to the plaque to reflect a constellation of stars, a visual concept that pays homage to history, according to Twohig.
"What we find is often not what we expected because, like light from old stars, those histories shed light on the present and illuminate what a just world might look like," he said.
The memorial is part of the revitalization of Revelle College's Plaza. Blake Hall was recently renovated and the Plaza Café's construction is in progress.
In addition, a new 417-seat lecture hall in Galbraith Hall has opened its doors, as did the refurbished new student study space (formerly CLICS library). All of the new building reflects a mid-20th century modern quality that is consistent with the original design of Revelle's campus.
Stay in the Know
Keep up with all the latest from UC San Diego. Subscribe to the newsletter today.