New Mandeville Art Gallery Director Ceci Moss Takes UC San Diego Into the Next Era
The historic campus location opens March 4 with a show featuring work by Visual Arts faculty
Published Date
By:
Topics:
Share This:
Article Content
With renovations complete, the UC San Diego Mandeville Art Gallery will open its doors to the community under the guidance and direction of a new, dynamic leader: Ceci Moss, who joins the university poised to take arts education and outreach to new heights, building on the gallery's expansive, 57-year history.
"Historically, the Mandeville Art Gallery operated similarly to a groundbreaking and ambitious artist-run space, one that has been in deep dialogue with the specificity of Southern California and its art movements," Moss said. "As someone who has a background in non-traditional, contemporary arts organizations, I hope to continue this visionary and thoroughly artist-centered spirit."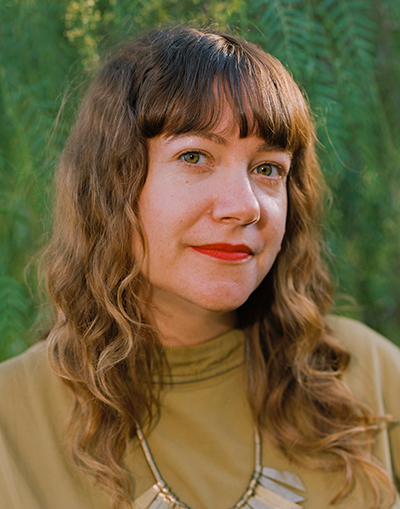 As Gallery Director and Chief Curator, Moss brings nearly 20 years of experience organizing solo, group, touring and online exhibitions, as well as public programs, performances and screenings, in museums, galleries and artist-run spaces. She is the founder and director of Gas, a mobile, autonomous, experimental and networked platform for contemporary art located in a truck gallery and online that was named "one of LA's most interesting" galleries.
Prior to UC San Diego, she was Assistant Curator of Visual Arts at Yerba Buena Center for the Arts, Senior Editor at the art and technology nonprofit Rhizome, and special projects coordinator at the New Museum of Contemporary Art in New York City. Moss's writing has appeared in numerous national arts publications, and she is the author of "Expanded Internet Art: Twenty-First Century Artistic Practice and the Informational Milieu."
"What strikes me most about Ceci Moss is her deep respect for art and its potential impact on bettering society. I am eager to watch her vision for the UC San Diego Mandeville Art Gallery unfold, and I'm confident our students have much to learn from her, both in the classroom and in the gallery" said School of Arts and Humanities Dean Cristina Della Coletta. Moss is a professor of practice in the Department of Visual Arts, located in the School of Arts and Humanities.
Developing a teaching gallery space
In a dual role as gallery director and faculty member, Moss will teach courses in museum and curatorial studies. She has a strong history developing and teaching graduate and undergraduate courses at California College of the Arts, University of Southern California, Scripps College, the San Francisco Art Institute and New York University (NYU). Moss holds a Ph.D. in comparative literature from NYU, and a bachelor's degree in history and sociology from UC Berkeley.
"As an alum of both the UC system and California K-12 public schools, I'm personally aware of the transformative role of public education and, specifically, the value of public research universities like UC San Diego in generating new knowledge, creating pathways for advancement, and societal betterment as a whole," Moss said. "The arts, and particularly contemporary art, is absolutely essential in that undertaking, and I'm eager to realize a program that positions art as a means for social change and new ideas."
Moss said she envisions the Mandeville Art Gallery — previously named the University Art Gallery — as a "teaching gallery" and laboratory that will promote "technologically innovative, democratic, accessible and socially engaged means" of both production and presentation. She will organize group exhibitions and invite leading artists to develop new projects that maximize the gallery space and deepen collaboration across UC San Diego.
"Pedagogically informed, and often nimble in size, university art galleries allow for an enormous degree of experimentation. The Mandeville Art Gallery's history speaks to this fact," she said. "Due to its unique role within a larger educational institution, and its general freedom from the pressures of the commercial art market, university art galleries provide a rare avenue for artistic autonomy, research and discovery."
Laying the groundwork
Moss's first undergraduate seminar class "University Art Galleries" is currently underway, and plans are set for the new director's first exhibition, which will be the first Department of Visual Arts faculty-focused show since 2015. Titled "ARE WE NOT DRAWN ONWARD TO NEW ERA," the exhibition inaugurates the grand re-opening of the Mandeville Art Gallery after extensive renovation.
The show will highlight recent projects by new faculty who have joined the department over the past eight years: Memo Akten, Danielle Dean, dean erdmann, Malik Gaines, Mariah Garnett, Janelle Iglesias, Lorena Mostajo, Alexandro Segade, Paul Mpagi Sepuya and Pinar Yoldas.
The photographs, moving images, paintings, sculptures and performances that will be included address both the possibilities and the complexities of this new era, Moss wrote, and offer a distinct sense of hope for the future. The title is a reference to a poster by Las Hermanas Iglesias, a collaborative project by assistant professor Janelle Iglesias and her sister Lisa Iglesias, copies of which are free for visitors to take away during the run of the show. The exhibition will be open March 4 – June 18.
"Coming into this role, at this time, I'm keenly aware of the many ways in which art practice provides a space of respite, genuine connection, empathy and survival," Moss said. "My hope is that the program at the Mandeville Art Gallery, as well as my courses at UC San Diego, will help students conceive of the world they want to see, and aid them in actualizing those dreams."
Topics:
Share This:
Stay in the Know
Keep up with all the latest from UC San Diego. Subscribe to the newsletter today.