Neurobiology Professor Gentry Patrick Named to Endowed Chair
Patrick now holds the Kavli and Dr. William and Marisa Rastetter Chancellor's Endowed Chair in Neurobiology, established to support the research of a neurobiology faculty member who is committed to furthering equity, diversity and inclusion
Published Date
By:
Share This:
Article Content
Gentry Patrick, a professor of neurobiology and director of the Center for Empathy and Social Justice in Human Health at the University of California San Diego, has been named as the inaugural holder of the Kavli and Dr. William and Marisa Rastetter Chancellor's Endowed Chair in Neurobiology.
The chair was established by biotechnology leader and philanthropist William Rastetter, PhD, and his wife Marisa, to support an outstanding tenured faculty member in the UC San Diego School of Biological Sciences' Department of Neurobiology, who also shows a commitment to equity, diversity and inclusion.
"Marisa and I are honored to participate in the funding of an endowed chair for Dr. Patrick," said Rastetter. "Gentry exemplifies excellence in neuroscience at the interface with human disease, as well as in his efforts to clear paths for students from underrepresented communities to seek education and careers in STEM disciplines."
The Rastetters' support was matched by The Kavli Foundation as well as with funds from the Chancellor's Endowed Chair Challenge during the Campaign for UC San Diego, which concluded on June 30, 2022.
As one of the most prestigious honors bestowed upon faculty, endowed chairs recognize professors whose innovative work leads their field, impacts our dynamic campus community and transforms our world.
"I'm deeply grateful to Bill and Marisa Rastetter and The Kavli Foundation for their generous philanthropy that established this chair and the positive outcomes that certainly will follow from it," said School of Biological Sciences Dean Kit Pogliano. "Gentry Patrick is highly deserving of this honor, both from the perspective of his scientific pursuits as well as his game-changing efforts in supporting underrepresented students in STEM. Gentry is an iconic role model who channeled his own experiences into positive change and an inspiration to countless science leaders from diverse backgrounds."
The chair will provide support for Patrick's research, scholarly activities, teaching and related needs as he continues to promote student support and systemic change for the advanced wellbeing, success and representation of marginalized students in STEM.
Patrick's research focuses on how the molecular makeup of synapses is modified in health and disease, which may lead to breakthroughs in understanding and treating disorders including Alzheimer's disease, Parkinson's disease and others. He is also a member of the advisory board for the Kavli Institute for Brain and Mind.
Patrick also created and leads the PATHways to STEM through Enhanced Access and Mentorship program at UC San Diego, which is designed to increase the number, persistence and success of underrepresented students in STEM.
He also serves as director of the Center for Empathy and Social Justice in Human Health within the T. Denny Sanford Institute for Empathy and Compassion, which is dedicated to bringing empathy and compassion to the work of addressing health injustice through research, communication and advancing representation of marginalized communities in the STEM and healthcare profession pipeline.
"I am sincerely honored to be named the inaugural holder of this chair, especially as it recognizes both my achievements in science and my career-long efforts to increase the number of underrepresented and minorities in STEM," said Patrick. "In essence, it supports the notion that academic excellence and diversity are not divergent. I am most grateful for the financial support this endowment provides my science and by proxy all aspects of my contributions to society."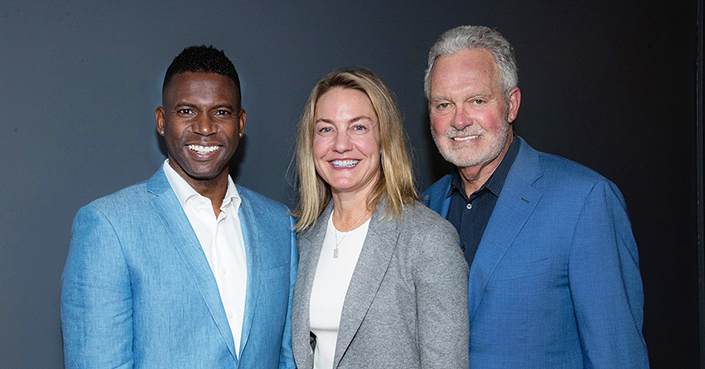 Stay in the Know
Keep up with all the latest from UC San Diego. Subscribe to the newsletter today.