Movin' On Up
UC San Diego Invited to Division I Big West Conference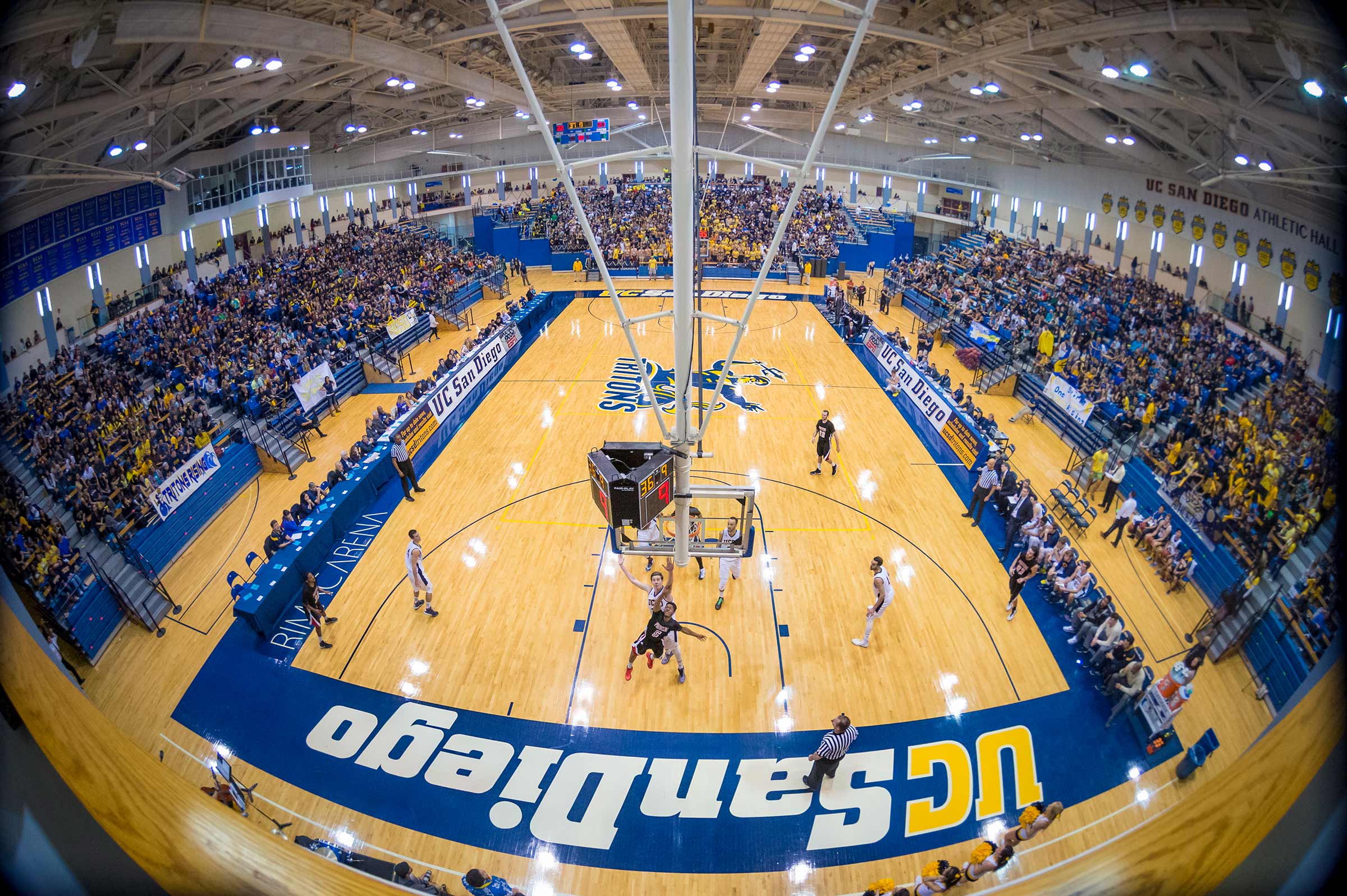 Photos by Erik Jepsen/UC San Diego
UC San Diego celebrated a landmark announcement on Monday—the campus' move to NCAA Division I Athletics. Community leaders including Mayor Kevin Faulconer and San Diego Regional Chamber of Commerce President and CEO Jerry Sanders joined Chancellor Pradeep K. Khosla in announcing that the Division I Big West Conference has invited UC San Diego to join its ranks.
"We are pleased and honored to accept the Big West Conference invitation," said UC San Diego Chancellor Pradeep K. Khosla. "This has been a long time coming and it means a lot to us. It will enhance the overall student experience at UC San Diego and heighten our sense of community and school pride. This move demonstrates UC San Diego's continued growth and trajectory as one of the globe's leading universities."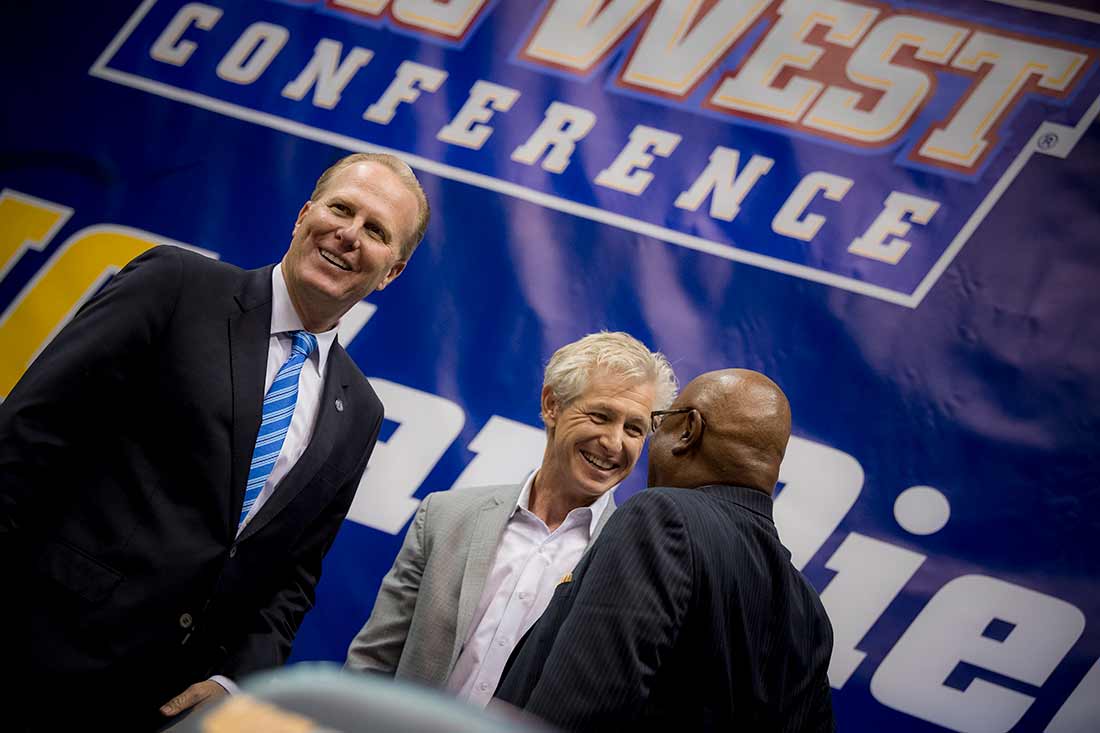 Triton alumni and friends, student-athletes, cheerleaders and the campus Pep Band were on hand to celebrate the news. Mayor Faulconer and former San Diego Mayor Sanders both highlighted the positive impact that the move will make, not only for the campus, but also on the wider San Diego region.
"What a great day for the university and a great day for San Diego," said Faulconer. "The continued growth and transformation … as this institution continues to reach for new heights is incredible. Today is about taking that reputation of excellence to the next level."
Sanders agreed, "This is a win for not just UC San Diego, but it's a win for our entire region. Now, with recognition as a NCAA Division I university, this is another feather in your cap and it brings even more positive attention to UC San Diego and our region. As I look around this gymnasium and see all the awards and championships, this is absolutely the best secret in San Diego and now everyone in the nation will get to know about it."
The transition from Division II to Division I athletics was initiated by the UC San Diego student body, which voted for a Division I referendum in 2016. The move was also endorsed by UC San Diego's Academic Senate.
"Elevation to NCAA Division I athletics is a reflection of UC San Diego's culture of risk-taking, collaboration and innovation," said Director of Athletics Earl W. Edwards. "Aligning with peer institutions and competing at the highest levels in all endeavors is one of the reasons for the transition to Division I. We are extremely excited to be joining the Big West Conference with their strong history of success in a broad base of sports."
The Big West Conference includes four other UC members—UC Santa Barbara, UC Irvine, UC Davis and UC Riverside—as well as California Polytechnic State University, San Luis Obispo; Long Beach State University; California State University, Fullerton; California State University, Northridge; and the University of Hawai'i, Manoa. California State University, Bakersfield also received an invitation to join the Big West Conference.
The Tritons will begin a full Big West competitive slate in the 2020-21 academic year. Two sports will join the Conference early, beginning with Men's Volleyball starting its first full season of Big West participation this year (2017-18). Women's Water Polo will commence Conference play in 2019-20.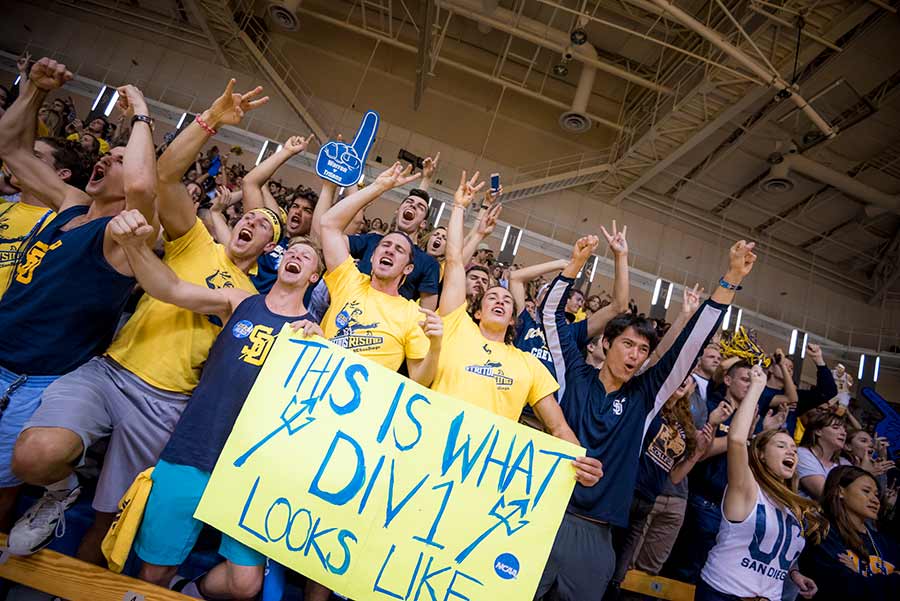 Following an NCAA-mandated 4-year reclassification period, UC San Diego will be a full member of the Big West Conference and eligible for all Big West Championships in NCAA Division I sports in Fall 2024. National Collegiate Sports (NCAA sports with only one combined division) remain eligible for Big West and NCAA Championships during the four-year reclassification process. Triton National Collegiate Sports include men's volleyball, men's and women's water polo, and fencing.
Michael Palos, a biology major on the Triton baseball team, was thrilled with the news. After graduation, he plans to enroll in a program to become a physical therapist—hopefully for a professional baseball organization.
"I'm excited for our future students," said Palos, who will graduate before the transition takes full effect. "UC San Diego is going to be a great place to compete and get a great education at the same time. Also, speaking as a soon-to-be alumnus, it will be exciting to come back and see the teams grow."
Stay in the Know
Keep up with all the latest from UC San Diego. Subscribe to the newsletter today.