UC San Diego Physician, Alumni Partner to Provide Prosthetic Limbs for Ukrainian Amputees
University and LIMBER Prosthetics aim to provide 100 3D-printed prostheses throughout the world
A young man gets fitted with a prosthetic lower leg and begins to walk without crutches within a few minutes. An older man first walks on crutches, then without, shortly after being fitted with his prosthesis. A younger double amputee was able to walk on crutches within minutes as well.
These are three scenes from a video showcasing success stories from a pilot program organized in Ukraine by LIMBER Prosthetics and Orthotics, a company co-founded by two alumni of the UC San Diego Jacobs School of Engineering.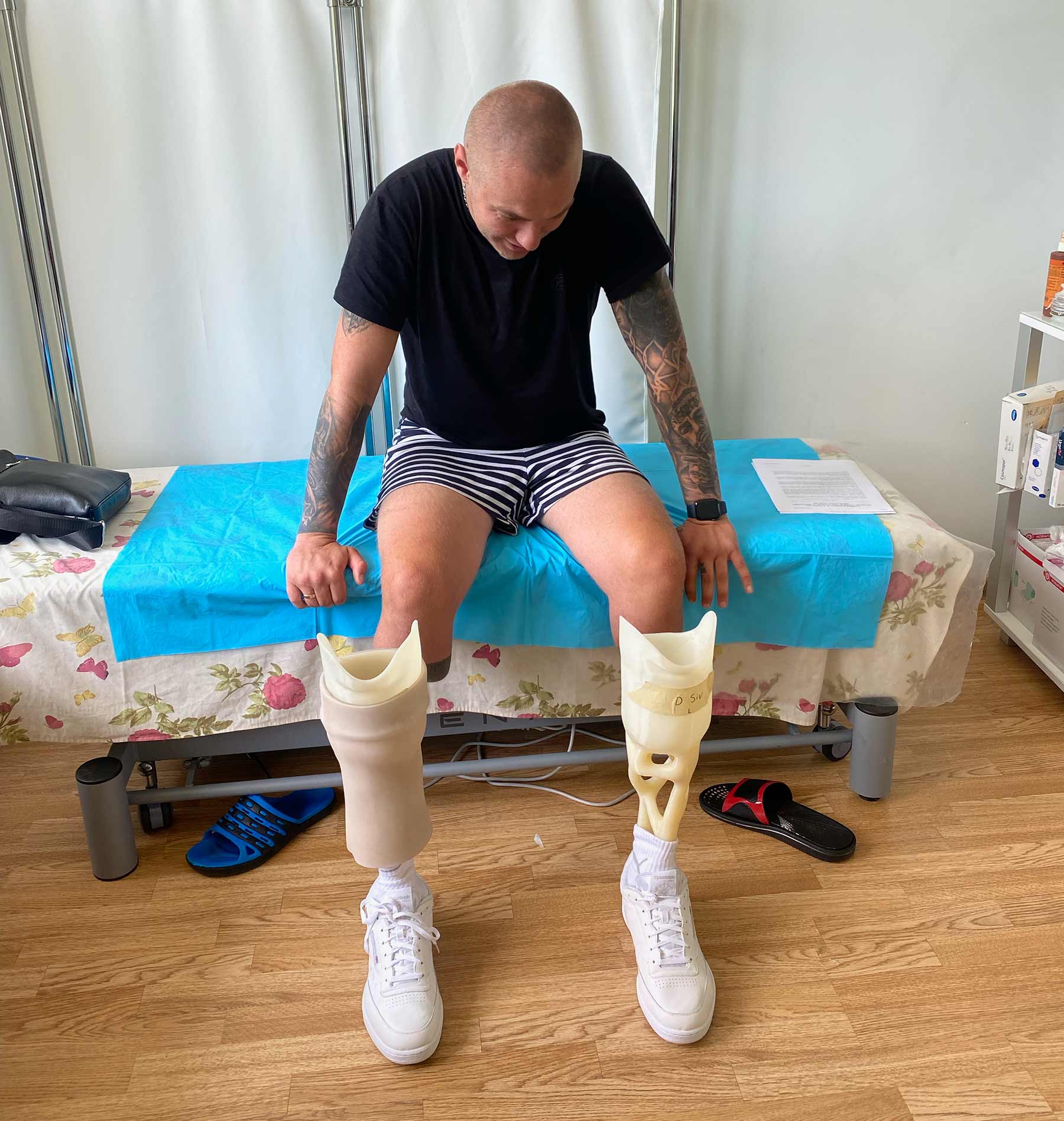 The pilot project in Ukraine was a first step in a much more ambitious endeavor: providing 100 custom, 3D-printed prostheses to people around the world, including victims of the war in Ukraine. LIMBER is working hand-in-hand with UC San Diego to raise funds for this proof-of-concept project, known as Mission 100.
Joshua Pelz and Luca De Vivo partnered with certified prosthetist Herb Barrack to co-found LIMBER. For the pilot project in Ukraine, they partnered with Dr. Manoj Monga, chair of the Department of Urology at UC San Diego Health.
The funds raised for Mission 100 will go towards building 10 more custom 3D printers, buying materials for the prosthetic limbs and hiring additional staff to help build the prostheses.
LIMBER will revolutionize access to prostheses for amputees, said Diana Zambrano, a San Diego resident who is herself an amputee and has helped the company test its devices.
"Mobility is a necessity," Zambrano said. "LIMBER can print out a leg in a day, and right away, you have a leg to walk on. It's amazing."
The idea to help Ukrainian amputees originated with Dr. Monga, who spent one week in April working in Poland providing urgent care for Ukrainian refugees who were crossing the border. "I felt there was much more to do," he said.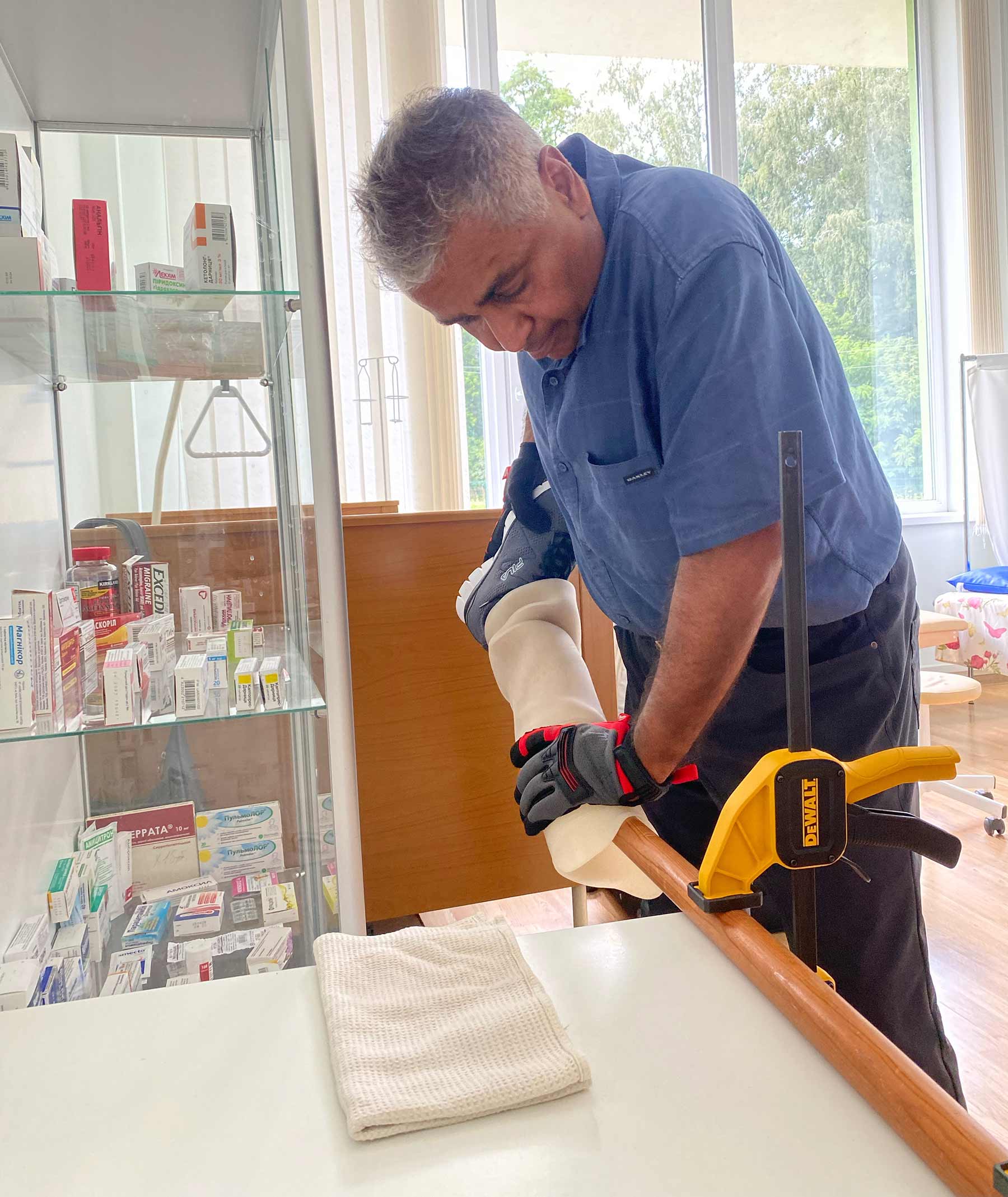 When he came back to San Diego, he read a news story about LIMBER Prosthetics and immediately realized the company could help meet amputees' needs in the field. Dr. Monga then connected with Dr. Laura Bukavina, a urology fellow in Philadelphia, who is of Ukrainian origin and was in touch with a hospital near Lviv, one of Ukraine's major cities.
Dr. Monga also connected with LIMBER, and all three cofounders were immediately eager to help. They trained Dr. Monga in how to scan residual limbs using a smartphone app and how to adjust the prostheses in the field.
"I was very aware and appreciative of this being a skill that takes a lifetime to learn," Dr. Monga said. "Herb [Barrack] took his time and I appreciated his patience."
Gathering data in Ukraine
Dr. Monga flew to Warsaw, then drove to the border between Poland and Ukraine with a group of physicians. The border can only be crossed on foot, so the team put $10,000 worth of medications in two wheelbarrows and walked to the Ukrainian side. The medications were obtained through the Cleveland Maidan Association. Bukavina's relatives met them there and drove them to Lviv. "Lviv is a vibrant city," Dr. Monga said. "Like many European cities, in other times, it would be a wonderful place to visit. The juxtaposition of war and peace in the city now is heartbreaking."
Over the next week, Dr. Monga, Pelz, De Vivo and Barrack spoke by FaceTime, late into the night here in San Diego, as the physician scanned patients in a rehabilitation clinic in Lviv. The scans were sent to the cloud and then retrieved by the LIMBER team working in the Design and Innovation Building at UC San Diego.
Manufacturing and delivering the prostheses
Pelz and De Vivo used the scans to design custom prostheses, which then were manufactured on the company's custom 3D printer. The prostheses are made from a mix of materials, which allow the prostheses to have a stiffness gradient—stiffer in the foot, for example, but softer in the socket that connects with the residual limb. The prostheses' structures are inspired by the cholla cactus, which is both flexible and resistant to strong winds. Barrack inspected the prostheses and also helped find foot-shaped covers, as well as socks and shoes.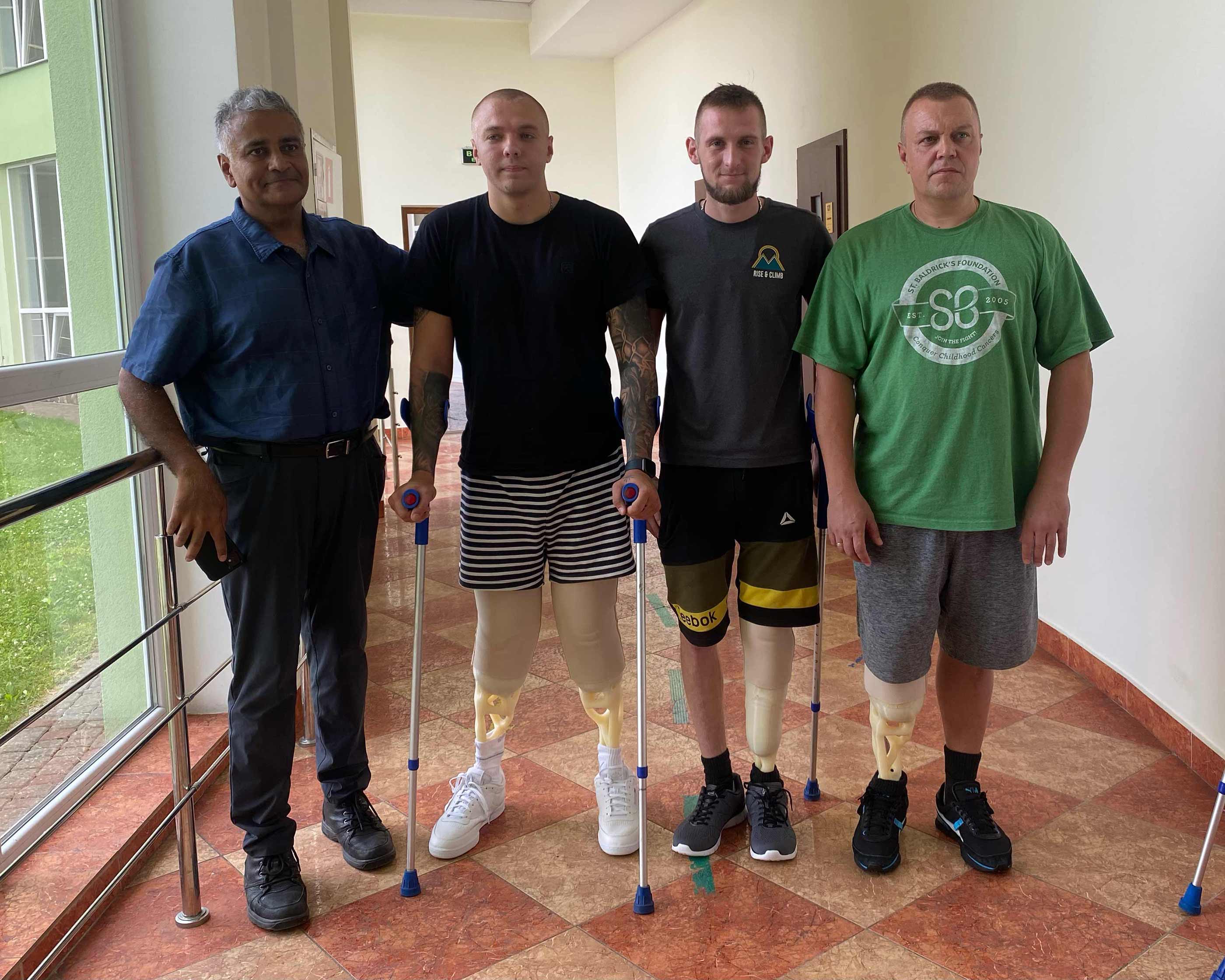 One challenge was finding someone who would be able to fly to Poland on short notice to deliver the prostheses. San Diego teacher Viktoria Ladygina, also of Ukrainian origin and fluent in the language, flew from Los Angeles International Airport to Warsaw, where Dr. Monga met her. He then took the prosthesis back to Lviv.
"The team is so appreciative for all these volunteers with huge hearts, who have supported us throughout this endeavor," Pelz said.
More late-night calls between Dr. Monga and the LIMBER team followed, as the prostheses were being fitted. The results were fairly remarkable. One young man was able to walk unattended within minutes of getting fitted with his prosthesis. An older patient was able to walk with crutches immediately after being fitted and without crutches soon after. A patient who had both legs amputated also was able to walk with crutches within minutes.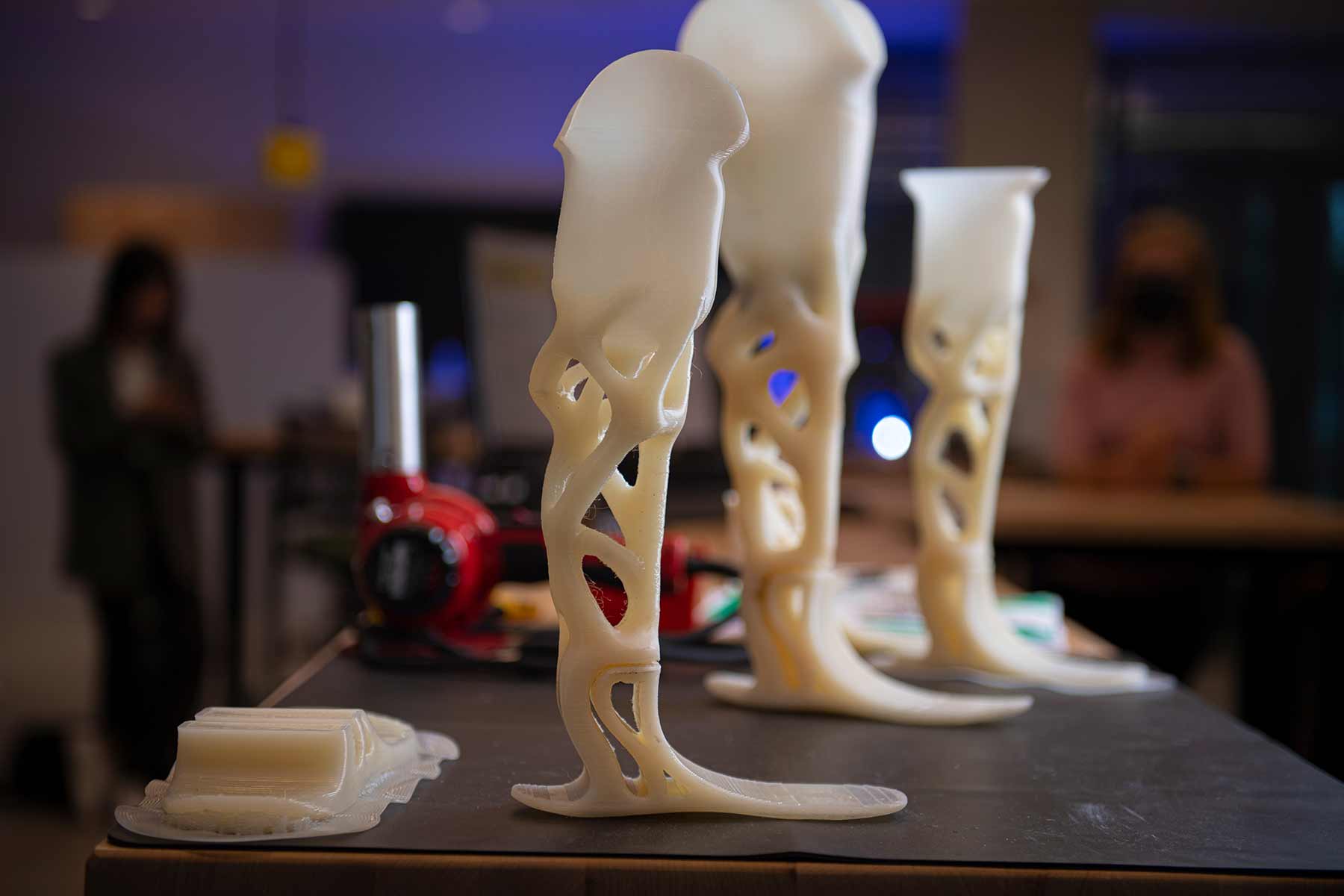 The LIMBER team and Dr. Monga made sure that the patients would get rehabilitation services. The prostheses work for daily life, but not for more strenuous activities, including sports and combat.
The Mission 100 project
The LIMBER team considers the pilot program a success but also learned some lessons that they plan to apply to the Mission 100 project.
One goal is to find the right partners for a long-term relationship not just in Ukraine but also Ethiopia, Mexico and here in the United States. LIMBER wants to train people in country to scan patients' residual limbs and upload the data to the cloud. They also want to make sure that patients will have access to rehabilitation after they get their prosthesis.
LIMBER is also evaluating whether manufacturing the prostheses should happen in the country where the patients are. "We create jobs, training the local workforce," Pelz said.
Broader aims
Either way, the company will need to scale up manufacturing. With one 3D printer, they can make one leg a day, if everything goes smoothly. Making 100 legs would take upwards of three months. With 10 3D printers, LIMBER could easily manufacture 200 prosthetic legs a month, but that would also require hiring more employees. This will require raising $850,000, in partnership with UC San Diego.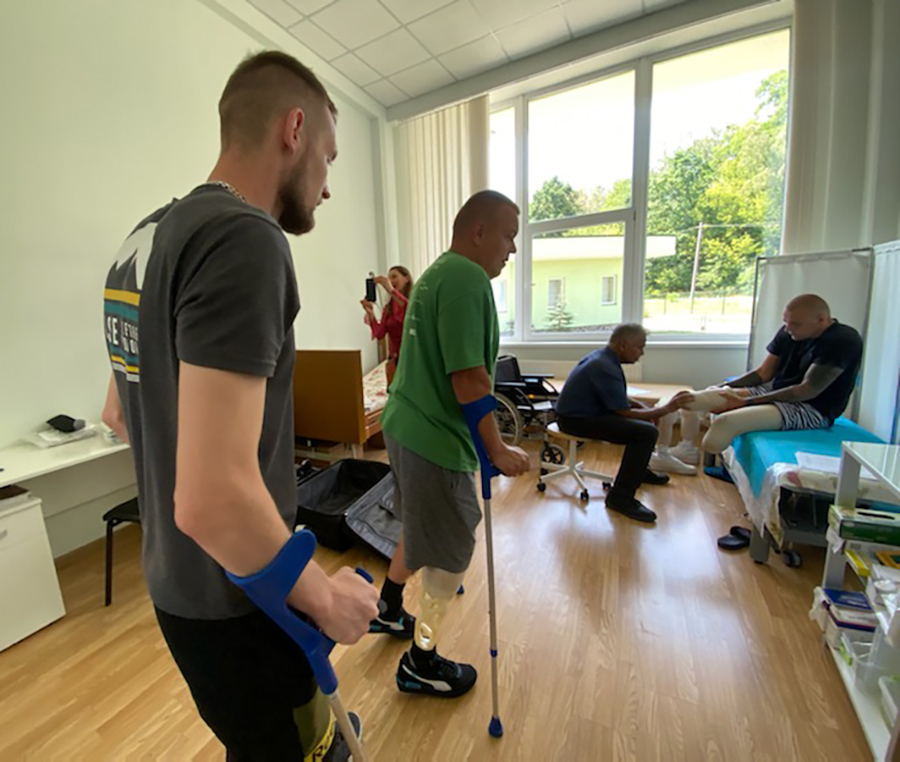 LIMBER's business plan is twofold. The company plans to sell its personalized prostheses in developed countries while providing its services for developing countries at discounted prices or for free.
The World Health Organization estimates that there are 40 million amputees in developing countries, 95% of whom have to make do without a prosthetic limb. This is because prosthetic limbs are expensive and time-consuming to manufacture. Patients have to undergo repeated visits to doctor's offices and need to have access to specialists.
If you are interested in donating to support teams like Limber, Inc that are actively being incubated at UC San Diego, donations can be directed to the Institute for the Global Entrepreneur Founders Fund (6719), which is part of the UC San Diego Foundation Fund. You can also contact Adrienne Bolli at abolli@eng.ucsd.edu or Laura Lothian at llothian@eng.ucsd.edu.
Stay in the Know
Keep up with all the latest from UC San Diego. Subscribe to the newsletter today.