Martin Luther King III Shares the Power of Gratitude with Preuss Students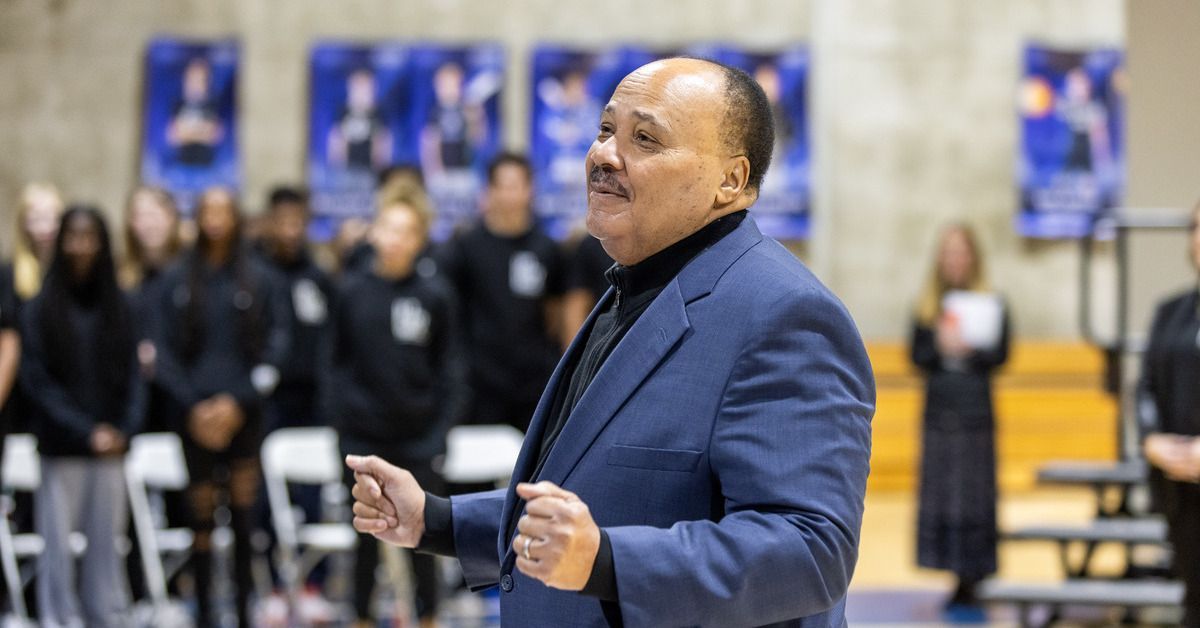 Published Date
By:
Share This:
Article Content
Retain a sense of gratitude. Give people their flowers while they are still here. Be grateful to those who have helped you along the way.
These were just a few of the lessons imparted by Martin Luther King III to students from The Preuss School UC San Diego, a charter middle and high school for low-income scholars who strive to become the first in their families to graduate from college. Over a thousand K-12 students, faculty and staff united at La Jolla Country Day for the event, which was centered on the power of paying tribute to those who have impacted our lives.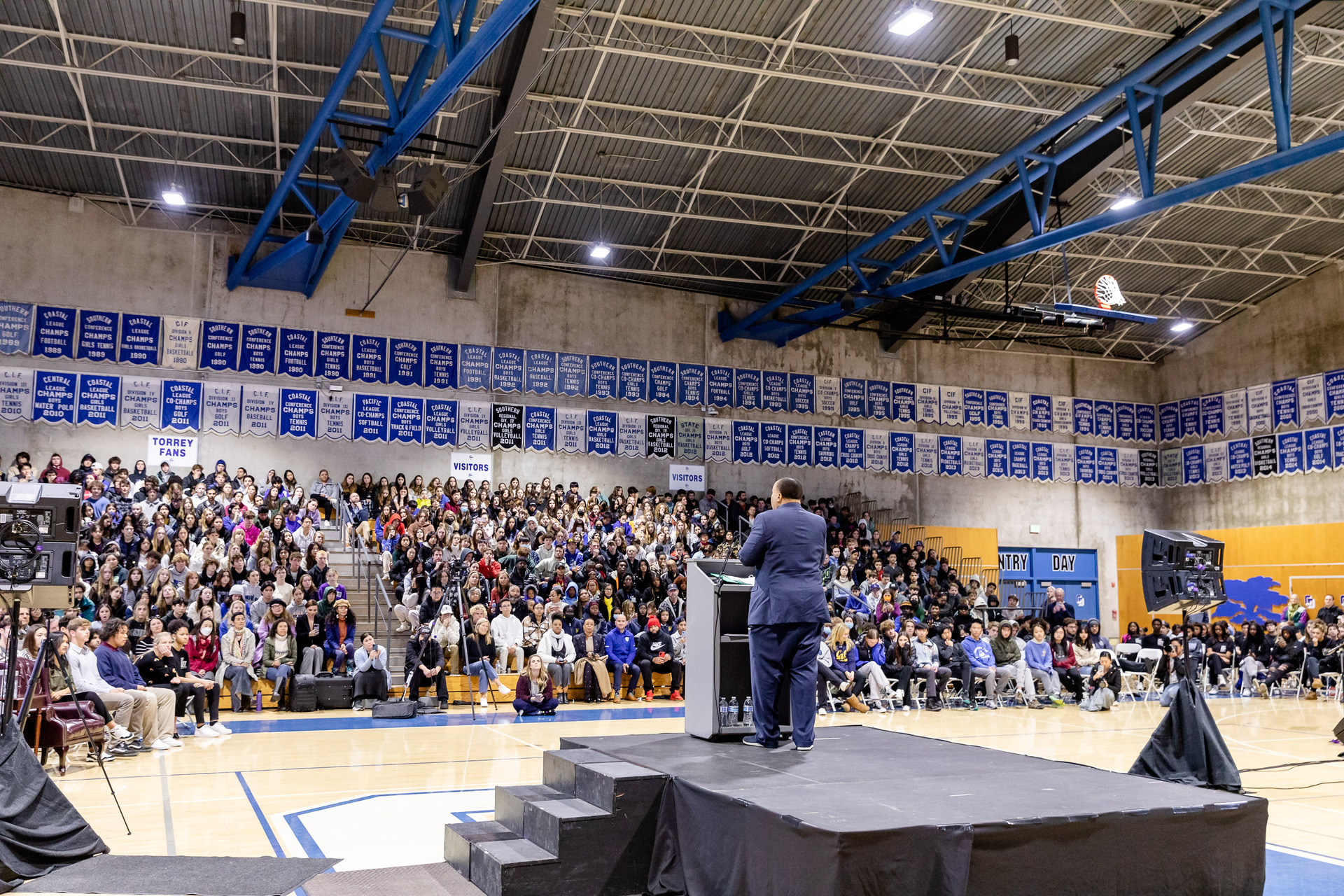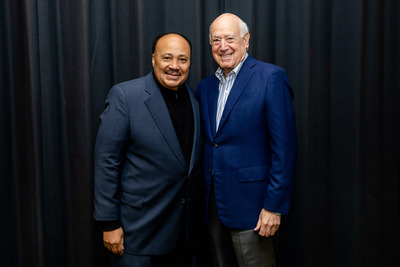 The event—organized as part of Say It Now—invited young scholars to join in a global effort to empower people to express gratitude to others. Alongside students from The Preuss School and La Jolla Country Day, the audience also included students from The Monarch School. The morning kicked off with a choir performance, followed by remarks from Say It Now founder Walter Green, student-led moments of gratitude and a keynote from the son of Martin Luther King Jr.
Say It Now was inspired by Green's yearlong journey across the country in which he set out to thank 44 individuals who significantly impacted his life. He captured this pivotal experience in his book "This is The Moment," outlining the significance of expressing gratitude for others while they are around to hear it. Green spoke during the event, encouraging the gymnasium full of students to join in the movement.
"Say It Now is a movement to inspire you to express gratitude to people who've been important to you while they're alive and well," said Green. As he shared his personal journey and origins of Say It Now with the audience, he emphasized how no one is self-made. "We have been shaped by the people who have been important in our lives."
As part of the event, a few students from The Preuss School and La Jolla Country Day took to the podium to surprise loved ones and mentors with speeches of appreciation. Among these student speakers was Preuss School sophomore Fabian Garcia, who expressed gratitude to his counselor Allyson Cobbs.
"Some students may only see you as a student guidance counselor, but in my eyes, you're one of the reasons our school is advancing for the better and I'm glad to be a part of that," said Garcia, thanking Cobbs who tuned into the event via livestream.
Garcia, who is biracial, shared with the audience his experiences with racism and bullying. Thanks to the support and guidance of Cobbs, who identifies as an African American woman, Garcia joined the school's Black Student Union, going on to become its vice president.
"She is one of the most trusting adults that I can even think of on this campus," said Garcia.
When King took to the stage to deliver his keynote address, he also spoke about how he navigated racism and hardships in his youth. He also reflected on the work of his father, highlighting how it has been 60 years since he delivered his "I Have a Dream" speech at the March on Washington. King invited the audience to recommit and rededicate themselves to that same dream, "because it's not realized yet."
"What I know is that it only takes a few good women and men to bring about change," said King.
He then challenged the assembly of students to be their best selves.
"You've just got to be the best of what you are," said King. "We must become a better nation. And we become even better by saying it now."
For Jasmine Matthews, a senior at The Preuss School, the assembly was different than anything she had ever attended. "Just hearing Walter [Green] speak about his movement and also just getting to see the son of MLK Jr. speak, that's insane," said Matthews. "It was a once-in-a-lifetime event."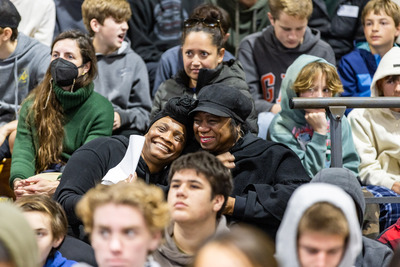 The lessons shared by both Green and King during the event struck a chord in Matthews, who reflected on all those who have supported her, especially during her childhood where she had to move often with her mother to find housing.
"I think it is very important to share who you're grateful for today. I mean, there are so many people that I wish I could have thanked along the way," said Matthews. "At the different elementary schools that I went to growing up, I've made a lot of good connections with friends and teachers and I wish I could thank a lot of them that I don't see today."
All are invited to join in the Say It Now movement, which has just launched a yearlong initiative to empower one million expressions of gratitude. To learn more and access a suite of free resources, visit the Say it Now website.
Stay in the Know
Keep up with all the latest from UC San Diego. Subscribe to the newsletter today.