Mars Rover Team Shines in Utah Desert
UC San Diego engineering undergraduates build and test a realistic Mars rover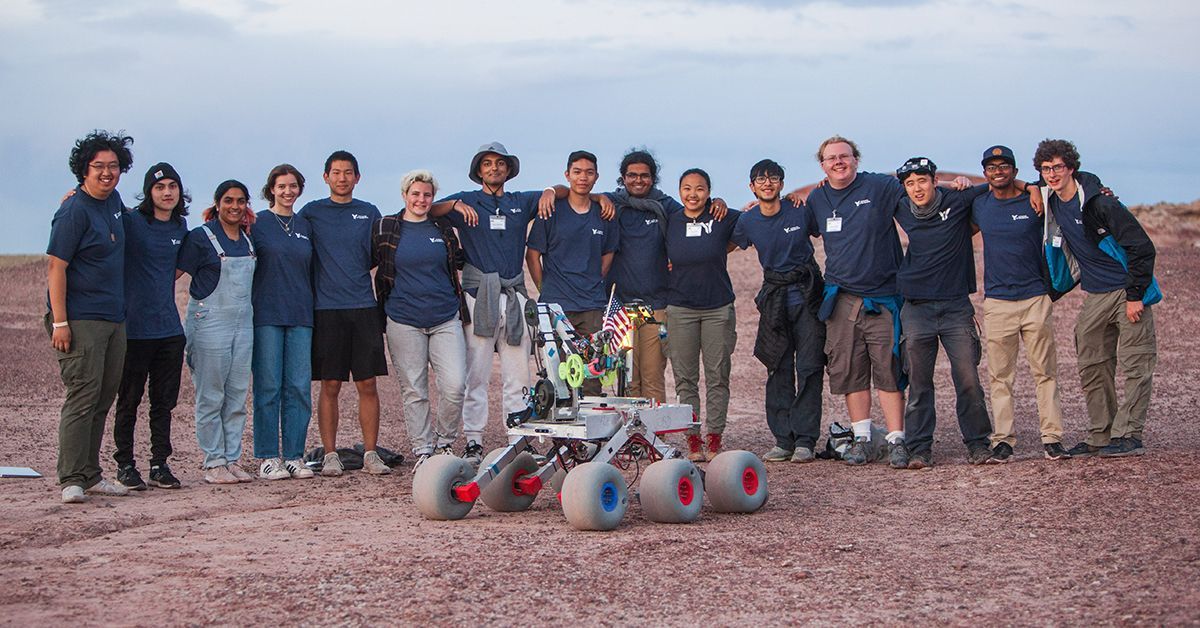 Published Date
By:
Topics:
Share This:
Article Content
The Mars rover built by undergraduate students at the University of California San Diego rocketed to 5th place at the University Rover Challenge this summer in the Utah desert.
Out of 31 teams from 11 countries, the UC San Diego Yonder Dynamics student robotics team placed 2nd in the autonomous category, and 5th overall. This was a bump from their 8th place overall finish in 2022.
The University Rover Challenge (URC), hosted by the Mars Society, has four mission challenges that the student-built rovers must complete:
testing for signs of life and storing a soil cache to be delivered to judges

roving over difficult terrain to deliver a specific rock to judges

using fine arm movements to manipulate switches, a USB stick, latches, and buttons on a mock lander

and autonomously navigating to set locations.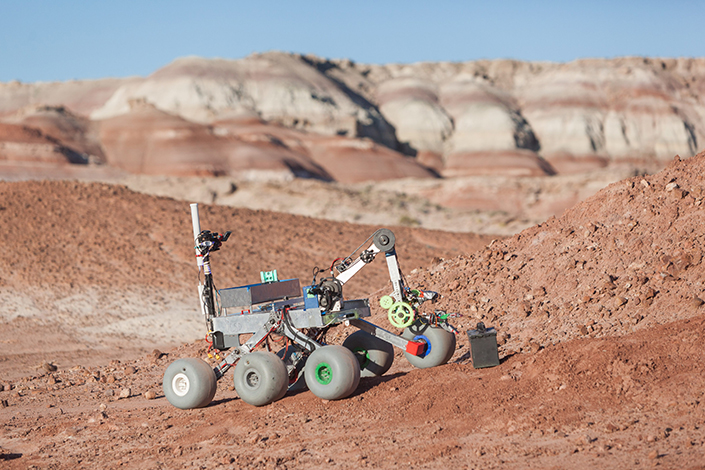 "Our autonomous abilities greatly improved this year, given more focus on navigation, AR tag detection, and a Controller Area Network (CAN) bus driving system," said Claire Wang, a mechanical engineering student at the UC San Diego Jacobs School of Engineering, and Yonder Dynamics project manager.
In addition to a focus on autonomy, the 30-member team including students from across the Jacobs School of Engineering and majors across the whole UC San Diego campus, also designed and built a completely new drivetrain – an aluminum tig-welded chassis and rocker-bogie suspension balanced by a differential bar – using the makerspace facilities in UC San Diego's new Design and Innovation Building.
Not all of the team's newly implemented ideas were a success.
"We tried to implement Finite Element Analysis to optimize our rover, but after seeing one of our designs fail for the differential bar, we realized that there was much about force analysis that we did not understand," said Wang. "We pursued advice from materials and solid mechanics professors at UC San Diego, and have learned much that our new Mechanical Co-leads will be applying this year when designing a new arm for the rover."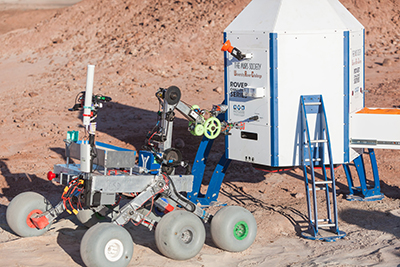 On the non-technical side, the team also confirmed that while the skills they're learning are important, it's actually the people that are the real key.
"It was particularly impactful seeing how intra-team connections develop between subteams both from project collaboration and social events, and we have learned that members are often retained not just from interest in the project but sometimes primarily from the friendships they make and how at home they feel with the team."
The Yonder Dynamics team's sense of humor was on display yet again with the naming of this year's rover: Lethargy now joins Complacency and Apathy in the ranks of award winning and not-so-aptly named rovers.
To get involved and learn more about the student robotics team: https://yonderdynamics.org/#/
Stay in the Know
Keep up with all the latest from UC San Diego. Subscribe to the newsletter today.