Marko Wolfinger Surfboard Shaping Studio Named in Memory of Local Surfer
Family donates a total of $3M to UC San Diego in honor of son and brother to name surfboard shaping studio and support ocean research at Scripps Institution of Oceanography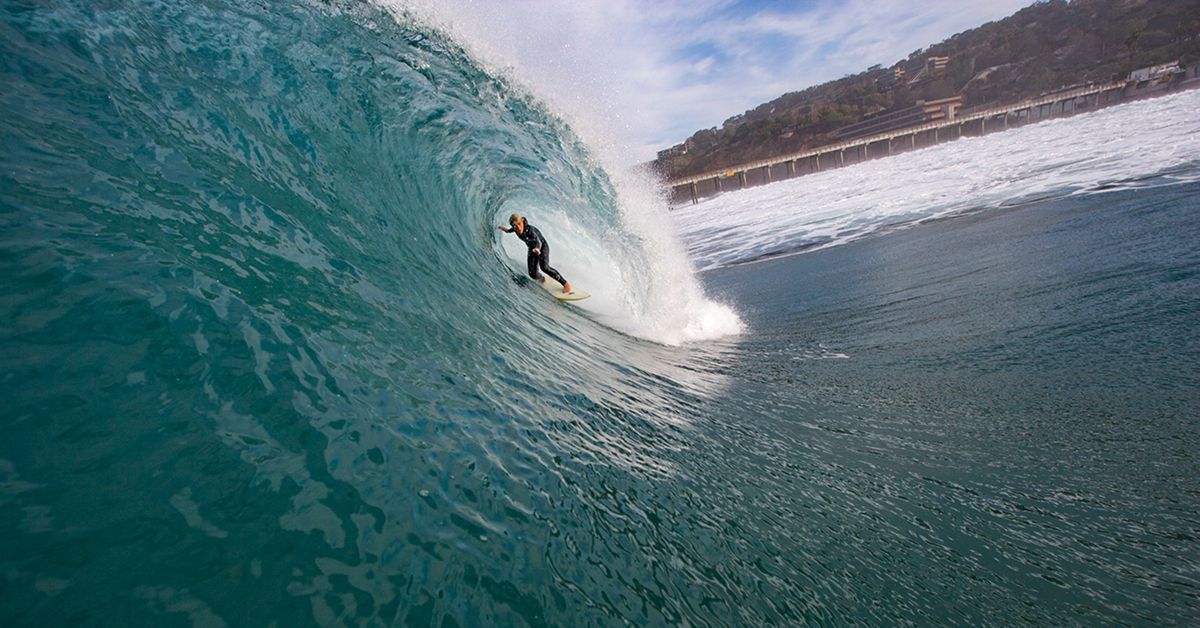 Published Date
By:
Share This:
Article Content
Mark "Marko" Wolfinger was a La Jolla surfing legend. He rode many of the world's most famous surf spots and dominated surfing competitions from a young age. But his passion for the sport extended beyond winning.
Deepening his connection to surfing, Marko wanted to shape his own surfboards. He commandeered his parents' garage to build a shaping bay with guidance from local surfboard shapers, including Bob Mitsven. He went on to create more than 50 surfboards from start to finish, before his death in 2015.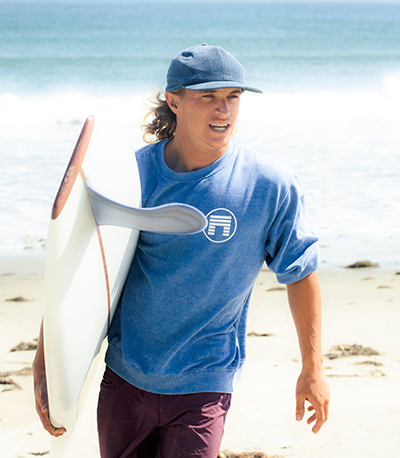 When Marko's family learned about a new surfboard shaping studio at the UC San Diego Craft Center, they felt it was the ideal way to honor Marko. His parents, Charlie Wolfinger and Cynthia Walk, and brother, Eric Wolfinger, donated $1 million to name the space the "Marko Wolfinger Surfboard Shaping Studio" and to create an endowment to support the annual operations of the facility.
"When this opportunity came along, it seemed like the perfect way to honor Marko," said Charlie Wolfinger. "When Marko was about 15 years old, he was winning every surf competition, but eventually he said, 'I don't surf for the trophies. I do it because I love the sport.'
"He received many surfboards from sponsors, but that's when he decided he wanted to begin shaping his own boards. He built the surfboard shaping studio all by himself—and we lost half of our garage."
Marko's mother, Cynthia added that Marko "was very deliberate and careful about the space he created."
The studio features five shaping bays and caters to everyone from beginners—with guidance from experienced instructors—to more advanced shapers who can work independently. The studio's five shaping bays are named after Marko's favorite surf spots: Windansea in La Jolla; Jeffreys Bay in South Africa; Puerto Escondido in Oaxaca, Mexico; Shelas in Baja California, Mexico; and Wally World in Tahiti. The space will also feature a surfboard shaped by Marko on display and images of him surfing around the world.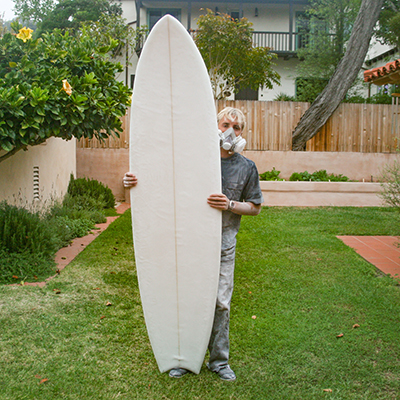 "We wanted to bring a vibe inspired by Marko's personality to the studio," said Eric. "Building a surfboard was a way for Marko to dig further into the art of surfing. When you are trying to explain to a surfboard shaper what you want the board to do, you are one step removed, but when you are there, scrubbing out a surfboard and keyed into the tool itself, it takes it to a new level of connection and growth."
UC San Diego is regularly ranked among the world's top colleges for surfing. With the campus' proximity to Black's Beach, a world-renowned surf break, many UC San Diego students and faculty can be seen walking to the beach with a surfboard under their arm. In addition, UC San Diego's recreation department offers surf classes throughout the year. Students can also join the surf club on campus, or the surf team, which is one of the most competitive in the country, holding six national titles.
"With our campus surf team growing and now our shaping program taking root, we are contributing to efforts to change the culture of campus and reflect the heart and soul (and cool factor) of this coastal community," said Annika Nelson, manager of the UC San Diego Craft Center. "Through our shaping program, we are embracing our local culture and creating bridges between the community and campus in exciting and authentic ways. The gift from the Wolfinger family means the world to us. Their support will help our shaping team recruit and train other instructors to grow the program and to find ways to make our program accessible to all."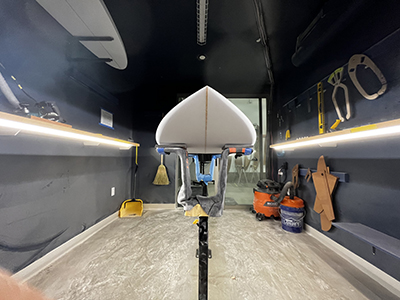 Historically, the surfboard shaping community has been small because the craft is so challenging to learn and due to lack of access to the equipment needed. The UC San Diego program offers training from experienced surfboard shaping instructors from the community who are dedicated to democratizing the shaping process. Classes range from a two-hour overview of the process to a more expansive course with 24 total hours of personal instruction tailored to the experience level and goals of each participant. Access to the bays and mentoring from instructors allows participants to continue shaping independently to master the process.
"The Wolfinger donation to the UC San Diego Craft Center not only helps with opening up the surfboard building craftsmanship to an increasing and passionate audience, but also contributes to perpetuating this unique surf culture heritage to the new generation," said shaping instructor Valerie Duprat.
Supporting coastal research
In honor of Marko's deep love for surfing and the ocean, the family is also supporting research at Scripps Institution of Oceanography taking place under Falk Feddersen's leadership, with a gift of $2 million. The contribution supports basic research that will enable the development of coastal resilience structures.
"The support from the Wolfinger family in memory of Marko has been transformative for my research," said Feddersen, a Scripps Oceanography coastal physical oceanographer.
A team led by Feddersen recently published a paper in the Journal of Fluid Mechanics on the effects of onshore and offshore wind on wave shape using data from the Kelly Slater Surf Ranch.
Scientists at Scripps and colleagues found that offshore wind (blowing from land to sea) tends to encourage development of the tubular barrel waves favored by advanced surfers. Onshore winds, those blowing from the ocean onto land, instead tend to contribute to "spilling" breaking waves in which whitewater cascades down the faces of waves resulting in lower levels of turbulence generation.
"Surfers know when wind is offshore, the surf is generally better than onshore," Feddersen said. "This is common surfing wisdom, but it has not been something that has been scientifically studied."
Bringing his connection with the Wolfinger family full circle, Feddersen, who is a surfer himself, took UC San Diego's surfboard shaping course.
"Taking the class fulfilled a longtime dream of myself and many other surfers: to make a good surfboard (or at least try!)," said Feddersen. "This combined my interest in waves and water flow with my passion for surfing. Shaping is challenging and requires a lot of time and patience to master, and the course gave me a new eye to looking at surfboards and how boards flow on waves."
Creating a challenge
With the goal of encouraging others to support the exceptional community resource for shaping, the Wolfinger family also established the Marko Wolfinger Surfboard Shaping Studio Inspiration Challenge. The goal is to increase the permanent endowment to maintain the studio, support broad student participation and recruit renowned shaping mentors who will train the next generation of instructors. To learn more or make a gift, visit the Challenge webpage here.
"Building your own board and surfing on your own board gives you a different connection with the water and the sport," said Eric. "The personal joy and sense of owning your own surfing journey is very meaningful."

Stay in the Know
Keep up with all the latest from UC San Diego. Subscribe to the newsletter today.