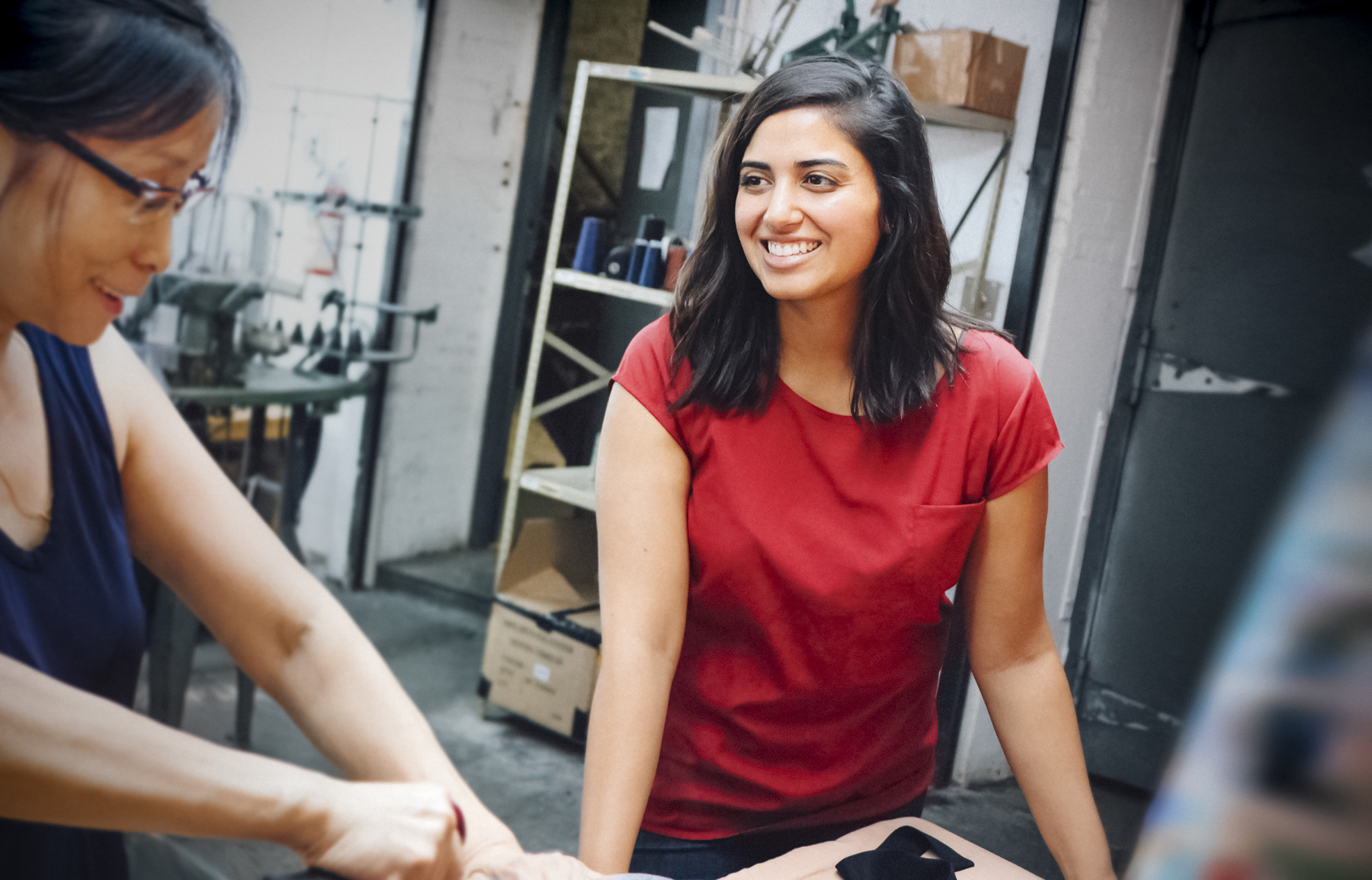 Manufacturing Matchmaker
Alumna co-founds Maker's Row to make it easier for DIY artists to connect with American manufacturers
UC San Diego alumna Tanya Menendez is revolutionizing manufacturing. The online company Maker's Row, founded in 2012 by Menendez and partner Matthew Burnett, quickly became a go-to source for the maker movement, connecting DIY artists to professional manufacturers throughout the United States. Design, materials, samples, production, packaging … Maker's Row includes it all, giving entrepreneurs­—like Menendez herself—a safe place to start.
You could say Maker's Row came about out of sheer frustration. Menendez, a 2009 Department of Sociology graduate in the Division of Social Sciences, left a job at Goldman Sachs to help Burnett manage sales and operations for The Brooklyn Bakery, a leather goods line Burnett was getting off the ground.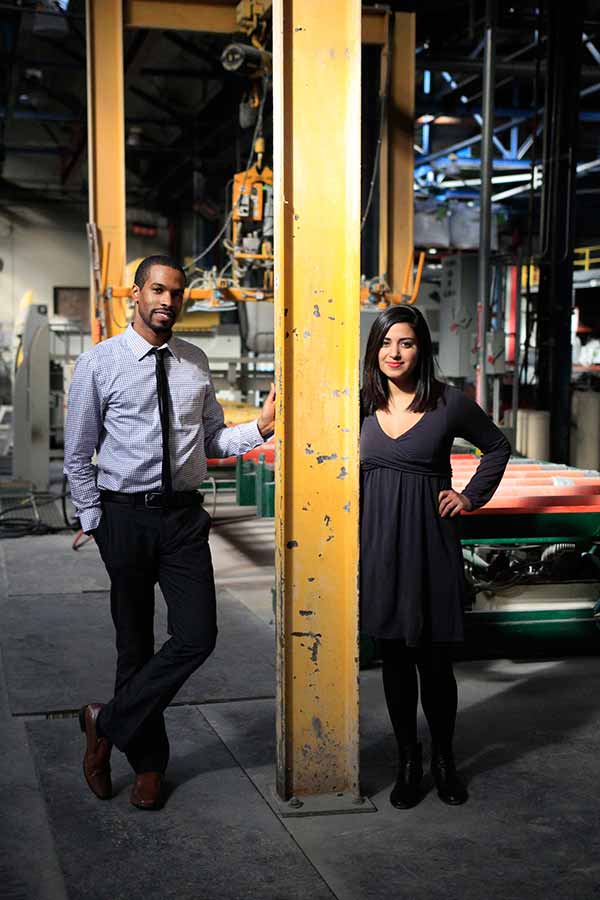 A hit with retailers, the business needed to expand, but the pair couldn't find the manufacturers that fit their needs. Here they were, a small startup with big potential but no way to connect with the right companies to make that vision a reality.
"The biggest setback we had," Menendez wrote in a blog post explaining the start of Maker's Row, "was that the process of finding a factory in the USA was really challenging. We literally walked up and down the garment district in Manhattan and knocked on doors. … It would take months to find the right factory."
The epiphany for starting Maker's Row came to them on the subway after a particularly long day. Fed up with going door to door, they realized there was no one-stop online site where they could look up manufacturers, let alone get a sense of which ones were more reputable than others. What if they started one? They found a need and in fulfilling that need for themselves, they did it for thousands of others.
"We want to break down the barriers to entry for those who want to manufacture items in the USA," Menendez wrote. "Access to domestic manufacturing should not be this difficult."
The premise of Maker's Row is simple: U.S. manufacturers are listed in a website directory, available to search by paying "makers" who have their own product ideas. Dedicated profiles include description, contact information, photos, messaging services and ratings, allowing entrepreneurs the opportunity to match themselves with, say, the best supplier of denim based on location, cost or quality. Or any other number of needs.
"As a factory, you can set up a profile and publish it, allowing you to get hits on the internal website and a way to promote your business," Menendez said in a recent interview. "We also have guest blog options, giving experts a way to contribute and teach to the [larger] community." Recent blog posts range from "What is 'Apparel Grading?'" to "Taking the Entrepreneurial Leap."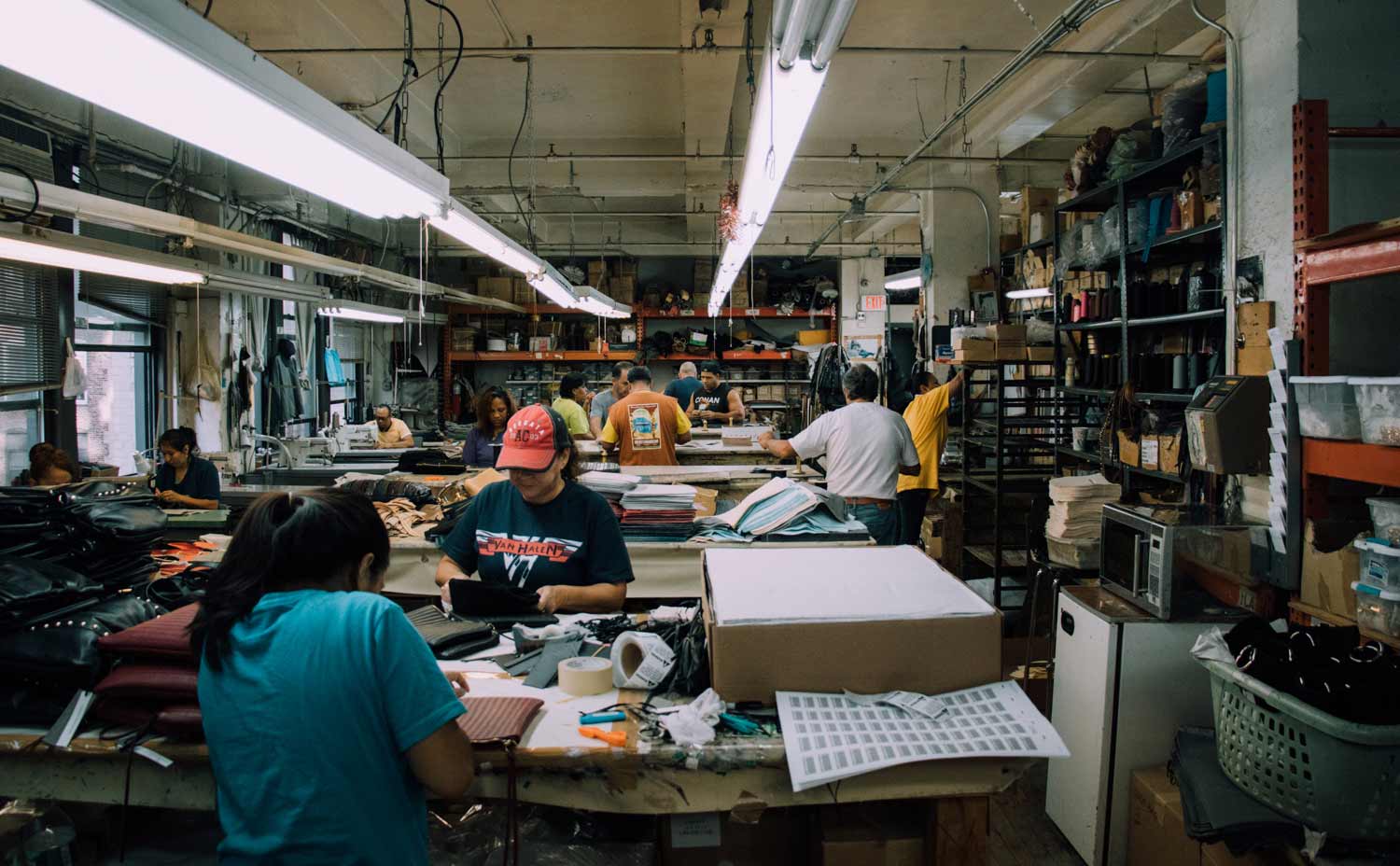 Makers, in turn, can create their own profiles, helping factories find them as they maneuver the process from initial idea to final product. Menendez said Maker's Row fulfills a need in the marketplace, completely transforming the way goods are produced in the U.S.
"Now, we've seen many more of the original products come to life," she said. Over the past year, they've had more than 2 million designs come full turn and seen a 10-fold rise in the number of factories they have cataloged on the site, with representation of more than 10,000 U.S. factories.
"What's really cool is that now manufacturing is more democratized," she said. "People are making solutions for their own problems."
Because members have an instant community, they can take that first, huge step into the world of manufacturing with ease. Menendez said they discovered many first-time business owners simply don't know where to start, but understand that manufacturing a product is truly an investment. In response, the company implemented the Maker's Row Academy, providing email courses in production, sourcing, making a first sample and quality control.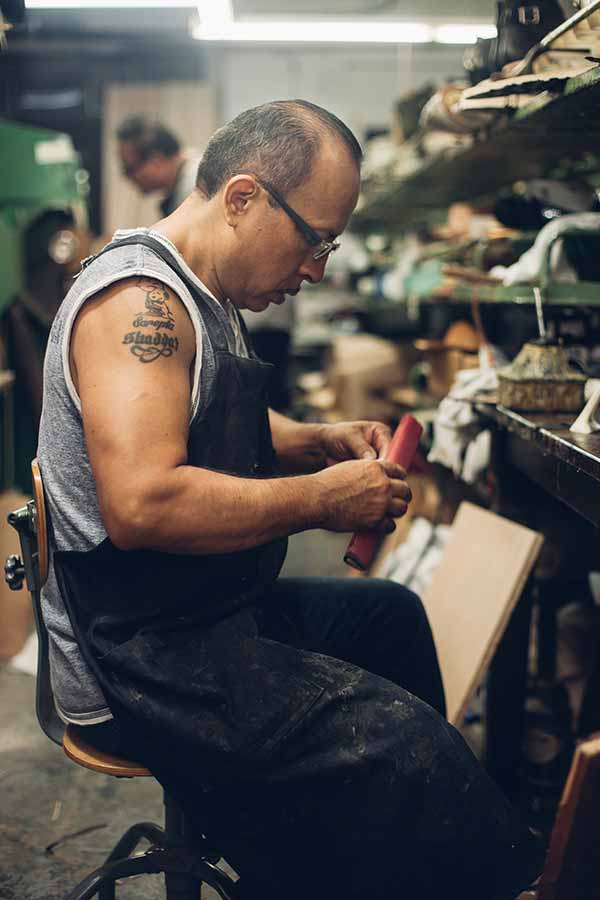 "The biggest thing we realized we needed was to provide the education," she said. "We're teaching people not just to make a product, but to make a business. I think [the Academy] reduces the barriers, because it helps a person get over the initial hump of being scared to enter the field."
And that translates to helping a lot of creative people. Burnett has said that more than 75 percent of first-time entrepreneurs trying to produce a physical product fail before they even get to the prototype phase.
"Entrepreneurs are more likely to be an entrepreneur if they have at least one friend. We're often that one friend," Menendez said.
While many of their members are first-timers, Menendez said they discovered that larger, established businesses were having similar issues finding suitable companies with which to work. Maker's Row was the place where Playboy went to find help for a recent rebrand, and Burberry, Ralph Lauren and Ikea have all done some sourcing through the website.
Now living in Brooklyn, New York, Menendez grew up in the San Francisco Bay Area and came to UC San Diego to study technology and its socioeconomic impacts on small, rural economies. She was a participant in the Mexico Migration Field Research Program, focusing on tech advancements in Oaxaca, Mexico and co-authoring "The Economics of Migration" for the Center for Comparative Immigration Studies. Before Goldman Sachs, Menendez worked for Google, advising on internal system operations.
An early graduate–Menendez completed her degree at UC San Diego in three years–she said she learned at the university not only how to be a consumer of information but also a maker of information. She said she appreciated the versatility her sociology degree gave her.
"I was able to have the flexibility to do research and create my own ideas," she said. "That was really helpful in thinking of entrepreneurship. It's not just to have an idea, but to have an idea and to see it through."
For seeing through their vision of Maker's Row, Burnett and Menendez were named to Popular Mechanics' "25 Makers Who Are Reinventing the American Dream" in 2014. And in 2015, Menendez landed a spot on the "30 Under 30" list from Forbes. Follow her on Twitter @makertanya and learn more about Maker's Row.
Stay in the Know
Keep up with all the latest from UC San Diego. Subscribe to the newsletter today.