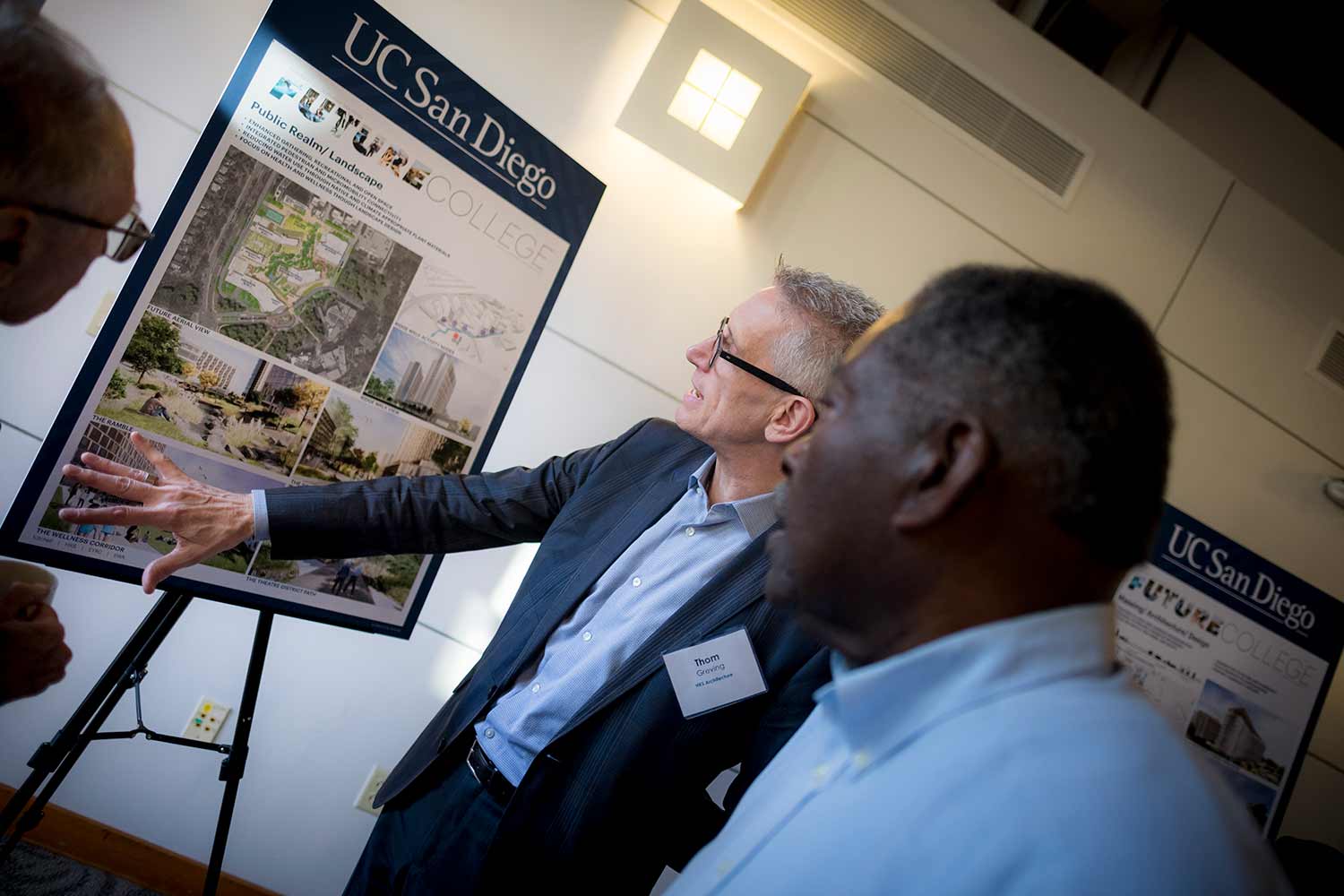 Living and Learning Neighborhoods Come to Life
The UC San Diego campus community learned more about plans for the Future College Living and Learning Neighborhood (FCLLN) at a recent open house hosted by Campus Planning and Capital Program Management.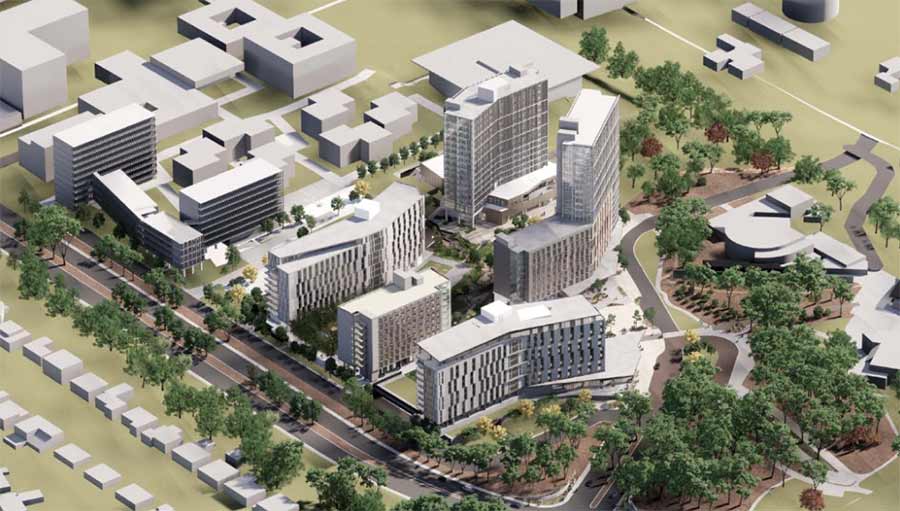 Currently in the design phase, the new neighborhood would add a vibrant mixed-use community on the west campus, south of Revelle College and adjacent to UC San Diego's Joan and Irwin Jacobs Theatre District, home of multiple performance spaces used by both the Department of Theatre and Dance and La Jolla Playhouse.
It has been nearly a decade since the last residential building opened on campus, and the need for more campus housing was identified as a top priority during the campus's first-ever comprehensive strategic planning process in 2012. Since then, the number of undergraduate applications to UC San Diego nearly doubled, spurring a 34 percent spike in undergraduate enrollment and a 41 percent spike in graduate enrollment.
"We knew we had high demand for campus housing and that enrollment would continue to rise," said UC San Diego Chancellor Pradeep K. Khosla. "We knew we had to plan BIG, not only to address current and future demand, but also to seize a once-in-a-lifetime opportunity to enhance the student experience and to further social and cultural enrichment for the larger San Diego community."
The new neighborhood will become the home of a future undergraduate college. This will help to ensure that our students continue to benefit from the smaller, more intimate environment offered by the college system and to meet housing demands as a result of increased enrollment. It also will help address housing shortages faced by the county.
The project will provide housing for 2,000 students, and will contribute to the campus's ultimate goal of providing a four-year housing guarantee for undergraduate students at an affordable rate. The FCLLN also will include retail and dining, parking, classrooms and academic support space, in addition to a significant amount of open space and outdoor gathering areas for all of the campus community to enjoy. A key project design component is to improve the theatre district for its many campus and community events.
"We want to boost both the student and the visitor experience with this project," said Robert Clossin, director of Campus Planning. "For our students, there will be new amenities, better access to services and more on-campus housing. For theatre patrons, there will be new retail and dining options along with urban design and landscape features."
The overall approach of the living and learning neighborhoods is to enhance the student experience, cultivate community, support interdisciplinary research and promote sustainable forms of economic development.
While FCLLN is projected to open in the fall of 2023, faculty, staff and students don't have to wait that long to experience a living and learning neighborhood. In a few short months, the North Torrey Pines Living and Learning Neighborhood (NTPLLN) will come to life. After breaking ground in June 2018, the project is celebrating another significant milestone, topping out—which means reaching its ultimate height—and is on schedule to open in the fall of 2020.
NTPLLN is a definitive step in UC San Diego's physical, cultural and intellectual transformation. The project spans more than ten acres and is designed to encourage the movement of people and bikes through the campus core and to celebrate shared spaces, blending cultural and retail spaces among the classrooms. The project exceeds UC sustainability goals, with the highest possible LEED Certification of platinum, and includes sustainability measures such as reclaimed water and drought-tolerant landscape design.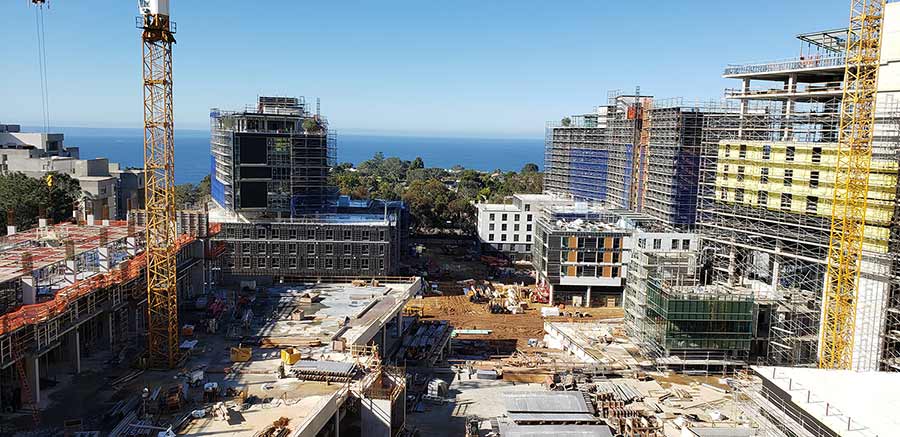 The spaces afforded by the design include extraordinary views, intimate and shared study areas and housing for 2,000 students. The neighborhood will become the new home of Sixth College and two new academic buildings, one for the Division of Social Sciences and one for the Division of Arts and Humanities.
To achieve a key goal of supporting collaboration and interaction, the Arts and Humanities Building will host all three humanities departments—History, Literature and Philosophy—in the same space, a first for the division. The building will also be the home of the Institute of Arts and Humanities and the Analytical Writing Program. Social Sciences' Public Engagement Building will bring together two of the division's outreach-intensive departments—Education Studies and Urban Studies and Planning—with CREATE (the Center for Research on Educational Equity, Assessment & Teaching Excellence) and will also include dedicated collaboration spaces where scholars can come together to work on pressing social and community issues. The academic spaces also provide additional space for instruction, including student-centered, technology-rich spaces designed to facilitate student interaction.
Extending that spirit of exploration, collaboration and connection to the broader community, NTPLLN will include exciting new retail and dining options, and will serve as the new home of the UC San Diego Craft Center. The re-envisioned Craft Center will offer students, faculty, staff and local community members unique opportunities to connect and create in a new 11,000-square-foot facility with direct access to the neighborhood's 1,200 underground parking spaces. The Craft Center's design enables the inclusion of favorite classes from the past, such as ceramics, while welcoming new programs, such as surfboard shaping.
"What's amazing is a project of this magnitude and aspiration is only one part of the overall transformation this campus is experiencing," said Matthew Smith, project manager with UC San Diego Capital Program Management. "With the reimagining of the campus, it feels like such a special time at UC San Diego. We have a proud history of each project improving on its predecessor, and I'm so excited to watch the team take us one step closer to the campus vision of a cultural destination for our region, and a fantastic place for students, faculty and staff."
Stay in the Know
Keep up with all the latest from UC San Diego. Subscribe to the newsletter today.