Published Date
Lewis Judd to Step Down After 36 Years as Chair of Department of Psychiatry
In a career that has spanned almost half a century, most of it at the University of California, San Diego School of Medicine, Dr. Lewis Judd has watched–and to a remarkable degree, helped shape–the evolution of psychiatry from its decidedly charismatic but often controversial past to its empirical present as a data-driven, hard-charging neuroscience.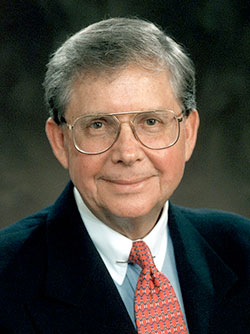 Lewis Judd
For the last 36 years, Judd has served as chair of the department of psychiatry, during which time he has built an organization consistently ranked among the top 10 in the nation, with a research and clinical faculty second to none.
This summer, he plans to step down as department chairman after serving as a department chair longer than anyone at UC San Diego. Indeed, Judd has been psychiatry chair for an astounding 70 percent of the university's existence.
That kind of durability provides extraordinary perspective and a keen sense of history, particularly for someone who has played an active part. Judd was among the first and leading proponents for treating mental disorders like depression as the result of neurological and biological dysfunction, and arguing that they could be effectively treated with appropriate, rigorously developed psychopharmaceuticals.
It wasn't so long ago that this was a novel and highly debatable idea. In 1988, for example, in a Q&A in Parade magazine, Judd was asked whether depression was "an act," that with just a "little willpower," according to the magazine's writer, a depressed person might "become cheerful again."
"It's a real disease, just as a heart attack is real," Judd replied. "Depression produces physical, emotional and thinking symptoms. Without treatment, depression can last for years and can even end in suicide. With treatment, as many as nine out of 10 people recover."
Judd has spent his career–both as an active scientist and as a leader in the profession of psychiatry–trying to prove that point with empirical data. To a large degree, he and like-minded peers have succeeded.
"I'm generally pleased with how the science has progressed," he said.
The most recent edition of the Diagnostic and Statistical Manual of Mental Disorders, better known as DSM 5, is tangible evidence of Judd's and others efforts, a comprehensive (albeit controversial) compendium that defines and diagnoses thousands of recognized psychological conditions, including a deeper and more expansive description of depressive disorders.
The DSM 5 is a work-in-progress; so too is Judd's career.
As a young psychiatrist-in-training in the 1970s, Judd said the profession's emphasis still strongly emphasized the works of Sigmund Freud, Carl Jung and others. It involved exploring a patient's state-of-mind through talk, dreams, free association and fantasies. Successful psychoanalysis relied heavily upon the interpretive skills, imagination and charisma of the practitioner. "It was an art form," said Judd, not a science. The underlying biology of the brain was usually an after-thought.
Judd duly but only briefly pursued psychoanalysis. Quickly, he resolved that psychiatry needed more and better empirical data to become a biology-based science. Part of this motivation grew from early work investigating phenylketonuria (PKU) in newborns, which untreated can result serious neurological problems.
"It's a devastating disease that looks lot like mental illness," said Judd.
In fact, PKU is an inherited metabolic disorder triggered by a gene mutation that renders patients unable to break down the amino acid, phenylalanine, which destructively accumulates. Treatment involves nutrient supplementation and a strict diet limiting consumption of phenylalanine.
The underlying biology of PKU got Judd wondering about real mental illnesses, like schizophrenia and depression. Did biological explanations exist for these conditions? If so, could they be treated with targeted therapeutics developed through science-based, empirical testing?
Judd wasn't alone in asking, but he quickly became one of the leading advocates of evidence-based psychiatry. "There was a lot of resistance," he said. "It seemed like a revolutionary idea. A lot of folks back then looked at mental illness as something people brought upon themselves, rather than as a disease based upon biology."
After receiving his medical degree and psychiatric training at UCLA, Judd joined the department of psychiatry at UC San Diego, which had been created only a year earlier under founding chair Arnold J. Mandell. It was the first medical school psychiatry program in the country to be biologically oriented.
Judd succeeded Mandell as chair in 1977, and has continued to emphasize the department's priority and prominence in research-based psychiatry. "He had an unwavering focus on science," said Dr. Dilip Jeste, distinguished professor of psychiatry and neurosciences, director of the Stein Institute for Research on Aging and president of the American Psychiatric Association. "Any appointments or activity in the department, he ensured that they included the science of psychiatry."
"Lew built this department by choosing independent investigators who could work together," said DR. Igor Grant, professor, executive vice-chair of the department of psychiatry and director of the HIV Neurobehavioral Research Program. "He sought breadth and depth. He wanted people who could further the idea of psychiatry as evidence-based medicine."
"He recognized years ago that academic psychiatry, now and in the near future, will depend importantly on the technique of functional neuroimaging and on the discipline of molecular biology," said Larry Squire, distinguished professor of psychiatry, neurosciences and psychology, "and he has recruited a faculty to reflect these developments."
But Judd's ambitions and goals were not limited to UC San Diego. From 1987-1991, he served as director of the National Institute of Mental Health, where he firmly and for the first time established a science-based charter for the federal agency and helped launch the current, enduring focus and emphasis upon brain research.
"At the time, no one, especially Congress, was quite sure what NIMH did. People thought we studied human behavior," Judd said.
He persuaded Congress and the first Bush administration to jointly declare the 1990s to be the "the decade of the brain" and to invest significant new and unprecedented resources into neurosciences. Today, the National Institutes of Health, through NIMH and other agencies, spends roughly $5.5 billion annually on neurosciences, with an additional $3.8 billion on brain disorders.
Judd is modest about his scientific role.
"I made a contribution to describing mental illness as a chronic, biologically-based condition that requires lifelong care."
He says psychiatry has entered a golden age, spurred by the discovery that genes play a massive and fundamental role in brain function, imaging technologies that allow scientists to watch brain activity in real time and the rapid development of psychopharmaceuticals like selective serotonin reuptake inhibitors, a class of compounds that boost levels of the neurotransmitter serotonin to reduce depression, anxiety and treat some personality disorders.
"The thing I'm most proud of is how psychiatry is becoming increasingly recognized as a real biomedical science," Judd said. "It used to be disdained. A broken mind wasn't as real as a broken bone. We lionized physical medicine, but dismissed brain biology, which has an enormous affect upon not just our behavior, but our bodies as well."
Judd helped change minds.
Stay in the Know
Keep up with all the latest from UC San Diego. Subscribe to the newsletter today.