Leading a Legacy
Stuart Collection welcomes new director.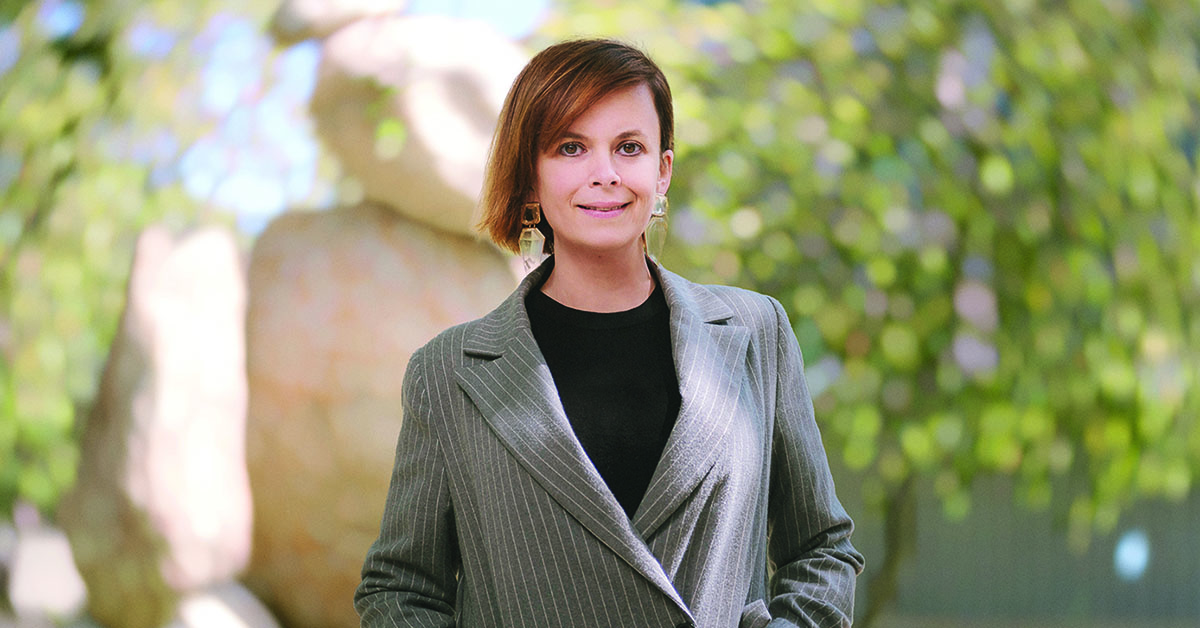 Published Date
By:

Topics:
Share This:
Article Content
This story was published in the Fall 2022 issue of UC San Diego Magazine.
From the second floor of her childhood home, located an hour away from bustling Mexico City, eight-year-old Jessica Berlanga Taylor could hear the animated conversations happening below; painters, sculptors and dancers would stream through her father's photography studio.
Though she was more likely to be found curled up with a book than splashing color on canvas, the stimulating intellectual and creative environment Berlanga Taylor was immersed in as a child helped shape her into the curator she is today. A bicultural and bilingual art professional, she has commissioned more than 40 works of art, 11 of which were created for public spaces in Mexico City. After 15 years of sparking commissions and creating exhibits, many of them through a social justice lens, Berlanga Taylor was named the newest director of the Stuart Collection in April.
And she has inherited quite a legacy. Over the past 40 years, founding director Mary Beebe and project manager Mathieu Gregoire have brought to life more than 20 artworks that many considered to be impossible to realize. Meandering the 1,200-acre UC San Diego campus, you may stumble upon a house precariously perched on the edge of a building, a grove of trees that transform into a leafed choir as the wind blows, or a welcoming teddy bear made of gigantic granite boulders.
Though both Beebe and Gregoire retired from their roles last year, their tenacity and penchant for bold expression will persevere in Berlanga Taylor, along with her colleague and assistant director Jane Zwerneman, who has been part of the program since 2001.
"It is unusual to have an open-air museum within a university campus," explains Berlanga Taylor. "I am grateful for the opportunity to care for the legacy of the Stuart Collection, while also embracing its potential for growth and the expansion of its relevance locally, nationally and internationally."
Throughout her career, she has been especially attuned to how art and the social realm coalesce to strengthen communities. "It is important to consider how a public university can best serve its communities and ensure its members feel like they belong and are accurately represented," she says. "I hope to create connections through art by inviting people into dialogues that address the complexity of the times we are living in."
To encourage an understanding of art as more than just a passing curiosity or Instagram-worthy selfie, Berlanga Taylor strives to inspire students and scholars to see each artwork in the Stuart Collection as a learning environment. As she begins to strategize the future of the collection, Berlanga Taylor plans to embrace themes of social justice and diverse perspectives from international artists.
"We can create very rich conversations right from the beginning," she says. "This can involve diversifying the portfolio of artists we invite for commissions, the issues and themes that we address, the sites where sculptures are placed and communities we collaborate with, both on and off-campus."
Wordplay
A new conversation-starter is currently being constructed that draws upon themes ranging from revolution and environmental activism to cultural mythology and technological advancement. The 800-foot-long pathway titled KAHNOP · TO TELL A STORY is set to become the new entryway to the campus, bisecting the forthcoming Pepper Canyon neighborhood. Conceived during the tenure of director emerita Beebe, the work is being finalized by Berlanga Taylor—an apt metaphor for the transition of new leadership to the collection.
As you walk along the pathway, you will discover a bed of words below your feet. Some words are raised like a rubber stamp, while others are engraved into the basalt stones. Flowing down the center is a spine of words, representing their repeated occurrence in multiple text sources which weave the lines together. Though not a traditional concordance—a tool dating back to the 16th century to index words within a text—the artwork does serve as a link to discovering the writings of some of UC San Diego's most influential people.
Visitors will likely never experience the same stroll twice. Creator Ann Hamilton describes the experience as "Every day your gaze will catch different words or fragments depending on where your eye falls or the state of your own attention."
For passersby who are moved by a particular passage, they can uncover the source through a website created in partnership with the UC San Diego Library. Hamilton worked with the Special Collections & Archives team to identify current and former faculty, university founders, prominent alumni and other innovative thinkers who have ties to UC San Diego. In all, 1,300 quotes from an estimated 300 sources were selected for inclusion.
After learning about the regional history of the Kumeyaay Nation, Hamilton commissioned Eva Trujillo '20, from the Mesa Band of Mission Indians, and graduate student Alexandria Hunter, an enrolled member from Jamul Indian Village, to compose a poem that would anchor the piece in Native culture. Their feminist poem, Yeechesh Cha'alk (A Woman's Heart), is interspersed with words from the Kumeyaay language. "It was a natural choice to share the life of Sinyahow, the first woman, and the essence of what she brings to Kumeyaay women," explained the authors. "Her story is our story, and the events of her life have shaped the ceremonies, oral traditions and cultural lifeways of the Kumeyaay people."
The name of the work itself denotes the collaborative weaving of ideas, experiences and languages that make the work meaningful. The title bridges the two languages, with the Kumeyaay word "kahnop" and its English translation, "to tell a story." Hamilton is thrilled to see it come to life as Pepper Canyon construction concludes at the end of this year.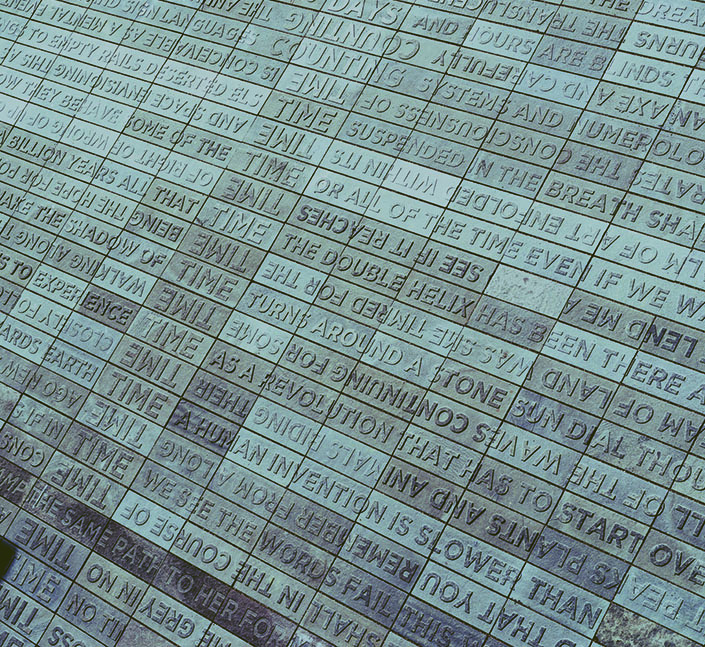 Topics:
Share This:
Stay in the Know
Keep up with all the latest from UC San Diego. Subscribe to the newsletter today.