It's Triton Time: Be a Part of the Action During Homecoming 2022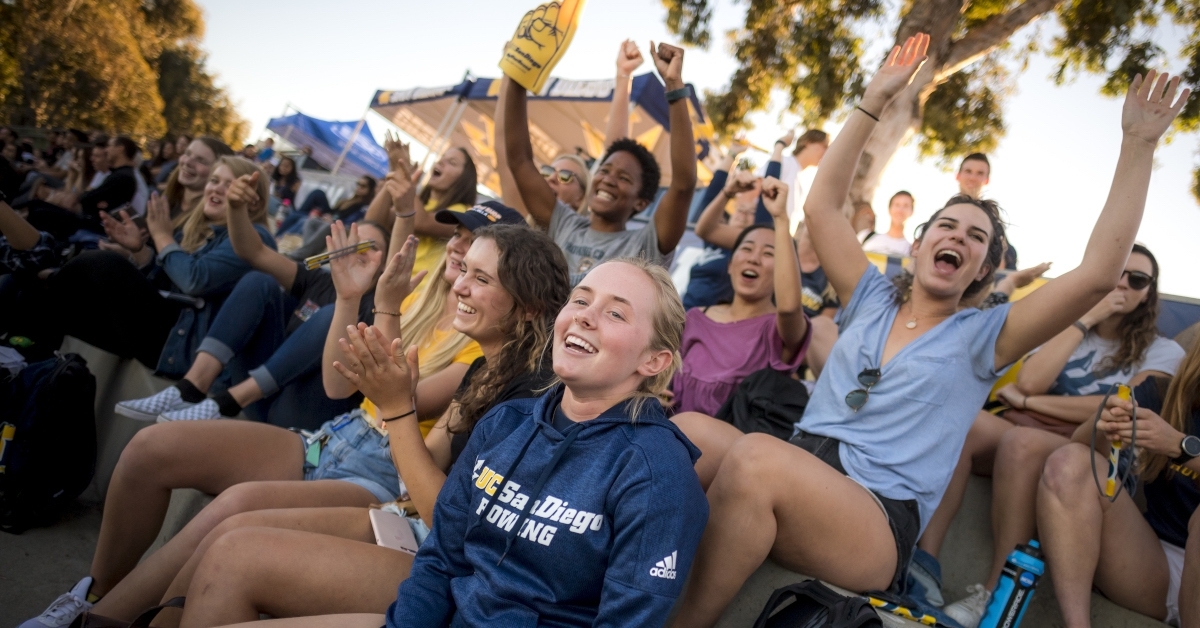 By:
Published Date
By:
Topics:
Share This:
Article Content
With UC San Diego's annual Homecoming just weeks away, the energy across campus is electric as the university gears up to welcome its Triton family home. From Oct. 17-23, sport your blue and gold and join in the action by taking part in a full schedule of events that will include all your old favorites, plus some exciting new surprises. From lively athletic matches and the return of the Triton 5K, to the Triton Tailgate and debut of the Epstein Family Amphitheater, the weeklong all-campus celebration is back and better than ever—and it's guaranteed to be an experience you won't want to miss.
As alumni from around the world return to their alma mater both in person and virtually to reconnect and reminisce, they'll be joined by students, faculty, staff, family members and friends whose enthusiasm is sure to elevate our Triton spirit to an all-time high.
"There has never been a more exciting time to be a Triton," said Chancellor Pradeep K. Khosla. "Nothing compares to the collective energy of our vibrant and diverse UC San Diego community during Homecoming week, as Tritons of all ages gather to cheer on their teams, reunite with old friends and make new memories that will last a lifetime. This year, we celebrate not only our shared Triton pride, but also the close of our record-breaking $3.05-billion Campaign for UC San Diego and the evolution of our campus into a premier destination for the greater community."
A race like non other
Lace up those running shoes and get ready to run, walk or roll across the finish line during the 26th annual Triton 5K, which returns to campus for the first time since 2019. A race like non other, the 5K will kick off at 9 a.m. on Sunday, Oct. 23, and features a brand-new route that showcases philanthropy-powered campus additions like the innovative North Torrey Pines Living and Learning Neighborhood and state-of-the-art engineering facility Franklin Antonio Hall.
As you make your way across campus, keep an eye out for moments along that course that will highlight the transformational impact of the university-wide Campaign for UC San Diego.
At its heart, the Triton 5K, which historically has attracted thousands of participants each year, is all about building opportunities for UC San Diego students. Since its inception in 1996 by former Chancellor Robert C. Dynes, the event has raised more than $4 million in undergraduate scholarship support, with a portion of each race entry helping unlock the promise of possibility for the next generation.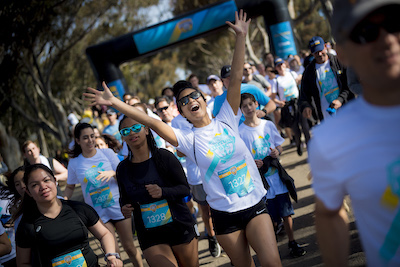 "The Triton 5K has been an important part of UC San Diego's efforts to support student scholarships for the past 25 years, but this year is particularly special," said UC San Diego alumnus Gary Jacobs '79, San Diego regional co-chair for the Campaign for UC San Diego. "Following the recent close of the Campaign, it is an opportunity to bring our Triton community together to celebrate everything we accomplished—especially through our Student Support and Success initiative. And because everyone who participates in the 5K also contributes to scholarships, we are continuing to build opportunities for future generations of Tritons."
For Ping Yeh '99, M.S.'01, who ran the first-ever Triton 5K in 1996 and participated virtually from his home in Minnesota in 2020 and 2021, the in-person return makes this year's race the most exciting one yet. He encourages fellow alumni to help fund vitally important student scholarships by joining him on the course, which he says will reignite their Triton pride and offer a glimpse of the ongoing transformation of the UC San Diego campus.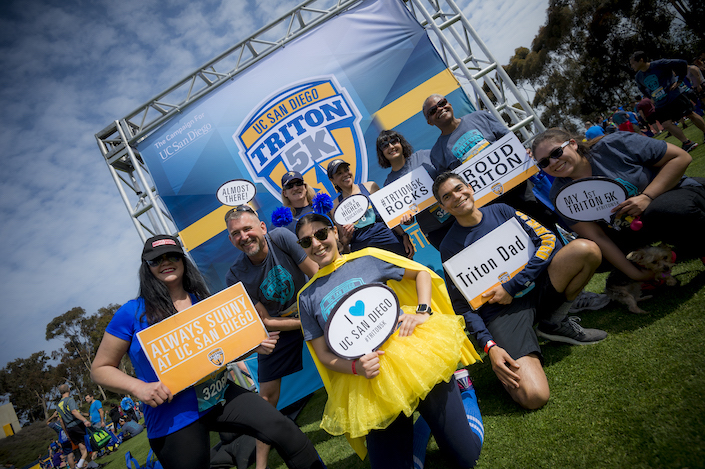 "The energy at the in-person Triton 5K is tremendous," said Yeh, who is currently serving as President of the UC San Diego Alumni Board of Directors. "If you haven't been on campus in the last two years, you may not recognize it. You'll be blown away by what you see on the run—that's how much has changed. The trolley, the new colleges, new buildings, it's just incredible."
Triton 5K campus participants will receive an official finisher's medal. "Tritons in Training" who are 12 years of age and younger can hit the track in a race designed especially for them: the Junior Triton Run, starting at 10:30 a.m. If you can't make it to campus, a virtual option for both races allows you and your family to be part of the action and support student scholarships from anywhere around the globe.
After the race, kick back, catch your breath and cool off on grassy RIMAC Field during a celebratory gathering, complete with refreshments, music and plenty of room to stretch your legs.
Country meets the coast
On Friday, Oct. 21, the can't-miss Triton Tailgate Concert featuring Johnny Cash tribute band Cash'd Out begins at 5 p.m. on RIMAC Field—and for the first time ever, entrance to the Homecoming favorite will be free of charge for all attendees.
As you tap your toes to the music and sing along to familiar tunes, enjoy brews from alumni-founded Protector Brewing and Border X Brewing and tasty cuisine from a variety of food trucks offering options that will suit every palate. Round up your friends for some good-natured competition with lawn games like bocce ball, cornhole and ladder ball. While you're there, don't forget to pick up your official Homecoming fanny pack made of recycled canvas, free for registered guests. The casual night of fun promises to be the highlight of this year's Homecoming celebration.
"I attended the Triton Tailgate Concert last year and it was a fun time bonding with fellow students and alumni," said Sky Yang, President of Associated Students of UC San Diego. "I would encourage everyone to go to the Homecoming events—the concert is so fun and is one of my first great memories at UC San Diego."
Register now and get ready to eat, play and catch up with fellow Tritons and friends.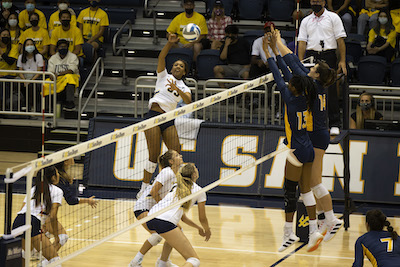 Be the edge
Take your Triton cheers from concert to court as UC San Diego Women's Volleyball takes on Cal Poly at 7 p.m. on Friday, Oct. 21, immediately following the Triton Tailgate. Join the sea of blue and gold in the stands at LionTree Arena to "be the edge" that will help propel your UC San Diego scholar-athletes to victory.
After this season's home opening game against UC Santa Barbara on Sept. 23, which drew a record-breaking crowd, outside hitter Zaria Henderson emphasized that nothing tops the energy she and her teammates feel when the stands are packed with Triton fans. The second-year volleyball powerhouse hopes to see even more supporters come hype up the team during the Homecoming game.
"Cal Poly is a very good team and we're all hoping that our fans show up," said Henderson. "We definitely need the support, and to hear the roar of the crowd after every point is a huge boost for the team. It definitely helps us get through the match."
Last year's Homecoming marked the first in which UC San Diego scholar-athletes competed at the highest level of intercollegiate athletics in NCAA Division I, a transition that amplified the university's voice on the national stage and took Triton pride to the next level.
There is no shortage of opportunities to cheer for your Triton teams during Homecoming week. On Oct. 19, Triton Men's Soccer battles it out in Big West Conference action against CSUN, which overlaps with the Triton Tide Fan Fest, a free student event at the soccer stadium that will include King Triton meet-and-greets, food and more. At Canyonview Aquatic Center on Oct. 21, UC San Diego Men's Water Polo faces off against the U.S. Air Force Academy and Triton Women's Volleyball returns to LionTree Arena with a match against CSU Bakersfield, Oct. 22.
Celebrate the past, present and future of UC San Diego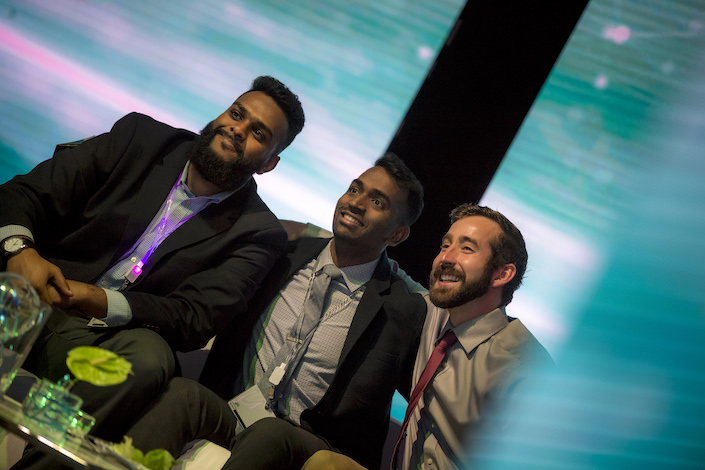 Anyone can take part in Take a Triton to Class, a virtual opportunity to experience current UC San Diego classes alongside today's students and learn from world-renowned faculty working in groundbreaking fields. Held from Oct. 17-21, course topics include "Let's Talk about GMOs" and "Environments: What Will it Take to Colonize Other Planets?"
Throughout Homecoming week, the opening of the Epstein Family Amphitheater will attract members of the community to San Diego's newest performance venue, which boasts 2,650 open-air seats and is designed with entertainers of the highest caliber in mind.
Class reunions will bring a touch of nostalgia to campus during the weeklong festivities, with special events during the Triton Tailgate for those celebrating class years ending in three or eight, plus affinity reunions. On Oct. 22, members of the Class of 1973 will be inducted into the Golden Triton Society and will receive a medallion and commemorative pin.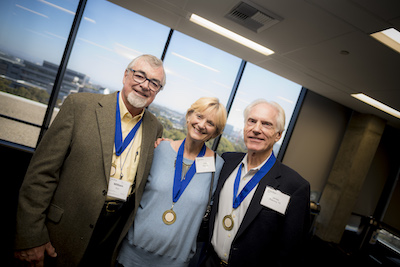 Homecoming is held in conjunction with UC San Diego's Family Weekend, which includes an open house at the university's iconic Geisel Library, free family portraits by a professional photographer, "Bring the Triton Spirit" sessions and a study abroad informational meeting, as well as an afternoon with staff, students and faculty from students' respective colleges.
Get more information about these events and more by visiting the Homecoming website.
Understanding that COVID-19 is still a significant concern in our community, and out of an abundance of caution, we strongly encourage the use of masks at our events, and recommend guests be fully vaccinated and take an antigen test just prior to arrival. To stay up to date, visit the Return to Learn website.
Topics:
Share This:
Stay in the Know
Keep up with all the latest from UC San Diego. Subscribe to the newsletter today.