It's Time to Care About Pronouns
Student founders of the Pronouns Project advocate for gender inclusivity, acceptance and education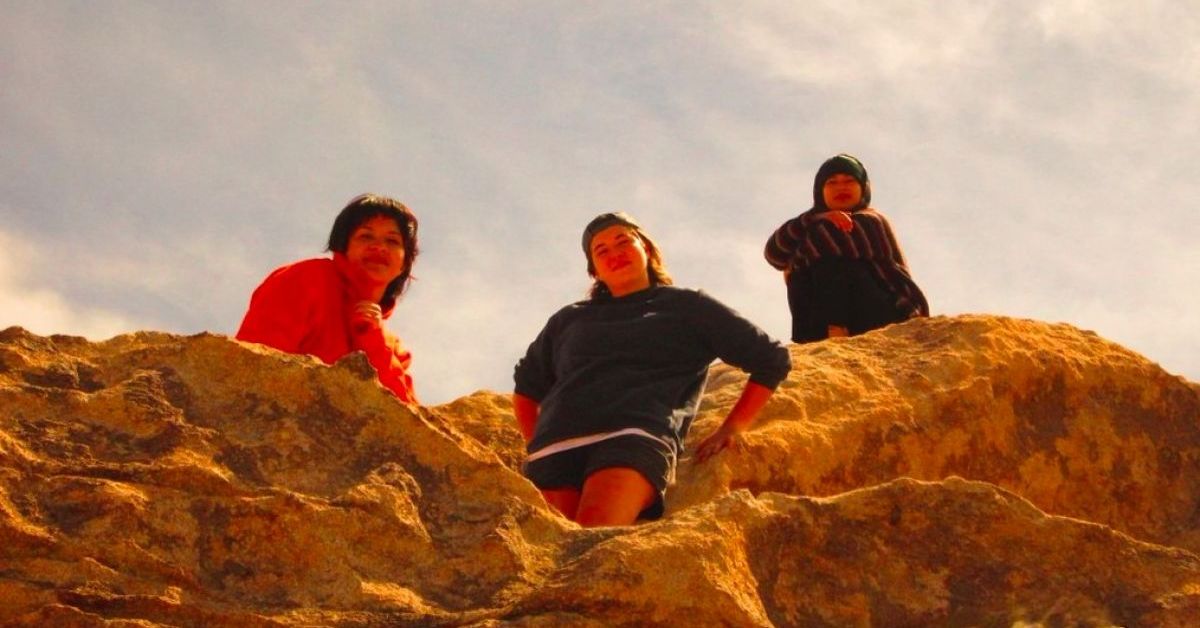 By:
Published Date
By:
Share This:
Article Content
Sometimes, beauty can grow from hardship. The Pronouns Project, a campus advocacy organization focused on gender inclusivity, was born out of friendship and the shared experience of misgendering – being referred to with incorrect pronouns – on campus.
"We were all hurt and angry that people misgendered us and that's how we really bonded," said co-founder Angelina Lopez (who uses they/them pronouns).
Founded in spring 2022 by Lopez, Kyra Black (who uses they/them pronouns) and Aliyah Annis (who uses she/they pronouns), the Pronouns Project aims to center student experiences and amplify student voices in campus conversations around gender diversity. Students can fill out an anonymous form to report misgendering, transphobia or microaggressions that occur on campus. They may also request that the Pronouns Project reach out to the misgendering individual or group on their behalf to hold them accountable, prevent future incidents and provide education.
Lopez and Annis grew up together in Salinas, California, and have been best friends since the fifth grade. Now, Lopez, who is studying international business and critical gender studies, and Annis, a political science/public law major, are roommates. Kyra Black, a marine biology major, met Lopez in last year's cohort of Climate Justice Action Resilience Scholars, where they became fast friends.
I sat down with the founders of the Pronouns Project to learn more about the small but mighty organization, their motivations for creating it and their calls to action for the campus community.
This interview was edited and condensed for clarity.
How and why did the Pronouns Project start?
Black: I came out as nonbinary in February 2022. I was super excited to live my life at UC San Diego as a nonbinary student, but very quickly became uncomfortable in a lot of spaces—even places I'd been before like my work or classes. There was one specific discussion section with another nonbinary student where we kept getting misgendered. We spent a while talking about that and brainstorming what we could do.
Lopez: I'd been out for about half a year before starting with the Pronouns Project last spring. Coming out was a really slow process for me; I wasn't sure who to tell, or what spaces were going to be safe places where I would be respected. I was constantly misgendered at work, school and parties—even if I told people what my pronouns were. When Kyra asked me about creating a survey and accountability measure that provided anonymous feedback to people to remind them to be conscious of pronouns, I was immediately interested.
Black: School is such a large part of our lives as students. If it's not a space where you feel comfortable exploring your gender identity, where else will you be able to do that? Where will you feel safe enough to do that? It's extremely important to have a gender-affirming space.
Annis: I was still in my gender exploration phase when joining the Pronouns Project. I'd just changed my pronouns and realized that I didn't feel fully comfortable being a woman—womanhood doesn't encapsulate the truth I've felt about myself. I go back and forth between identifying as genderfluid and nonbinary; I'm able to do so because I'm now with a group of individuals who respect and affirm me.
Black: I used to feel a lot of shame and embarrassment that I wasn't comfortable correcting most people that misgendered me. It's difficult for gender-diverse students to be that vulnerable in so many spaces that aren't permanent in their lives, and often won't last beyond a ten-week academic quarter. Why would they get into really personal conversations about their identity when nine out of 10 times, they will still end up misgendered? Now, there's an option that doesn't require the same amount of vulnerability or emotional labor. We can do something about it—and we want others to be able to as well.
Annis: My ability to connect with people depends on their ability to respect my peers' gender identity and my own gender identity. It's unfortunate that during those 10 weeks of the quarter, there's often a barrier to closeness with professors or students which prevents me from networking or wanting to participate as much. Finding ourselves in unsafe situations with a lack of respect and visibility is exhausting.
Lopez: On the one hand, the existence of the Pronouns Project shows our pushback against this type of discrimination. On the other hand, waiting to send anonymous messages through our platform shows how scared we are to speak up in the moment. In that sense, the fact that our organization exists really sucks – it's sad that we need another group to intervene on our behalf and take this kind of passive approach. That said, the start of the Pronouns Project gave me the space to be justifiably angry about misgendering and the agency to do something about it.
Annis: How many times have professors corrected you if you haven't referred to them as "doctor?" They earned that title and deserve that respect. When we ask to be referred to in a way that affirms how we were born, why is that any different? We deserve that same level of respect.
What are your goals as an organization?
Black: Inclusivity and accountability—these two things are one and the same. We want gender-diverse students to feel safe, that their identity is validated and celebrated everywhere on campus. We want to put gender inclusivity on people's minds. We want them to try making their spaces more gender-inclusive and try breaking down harmful stereotypes. We want to hold the campus community accountable for making a culture shift at UC San Diego, allowing students to feel accepted and safe in all their identities.
Annis: Without education, gender identity still seems like this new concept that someone just came up with—there's a very categorical and harsh understanding of gender overall. This completely dismisses one aspect of who we are. It's really beautiful that we have the ability to recognize that we don't necessarily belong in the gender identity that we were raised with. But, without our campus community being open to that idea, accepting and loving that aspect of ourselves is difficult. Our campus culture needs to change to be more open to gender diversity.
Validation carries a lot of weight. Without communities that are accepting, it's far too easy for us to internalize feelings that our identity is too much for an individual to understand – that we aren't worthy of trying to be understood and respected. That's not something anyone should have to feel.
Lopez: We are not the first ones to raise this issue on campus. Students have gone to the LGBT Resource Center for years looking for support after misgendering or transphobic incidents. UC San Diego is such a prestigious institution, yet many of our students still feel like their identities are "too much" or too far away from an assumed gender binary system to be accepted on campus. They feel like, by asking for basic respect and inclusion, they are making everyone around them uncomfortable and inconvenienced. How are we too much when there's so much incredible research happening in every department on campus? If we can do all of those things, why hasn't gender diversity become a more well known topic earlier? We want to highlight that students can take ownership of the issues in their community and change them, even if the campus culture is still catching up.
Annis: Our group is entirely student-run, student-created and powered by student advocacy. When we reach out to those who have misgendered someone who filled out our report form, that's not an automated email. We write each email individually based on the information shared in the report form about the specific situation, what tone of voice the reporter would prefer us to use and what kind of future action they hope the misgendering person will take to change their behavior. The responses have been overwhelmingly positive. It's our labor and the labor of other student advocacy groups like QTPoC, oSTEM and Queer@Scripps who are transforming the campus culture around gender diversity and inclusivity.
Lopez: Still, with students performing the labor for our own communities, the lack of professional initiative on campus is clear too. We don't know what will happen after we leave campus. Should the Pronouns Project dissolve after us after we graduate, what is there to replace? We don't know who would continue this initiative, and that is a very pressing fact that is on our minds.
Tell me more about your partnership with Student Health Services (SHS).
Black: A lot of the feedback we received through our report form where students can report misgendering and microaggressions was about SHS. We reached out via email to several departments on campus and were originally directed to give a presentation at an Associated Students town hall with SHS.
Lopez: Before the town hall, we zoomed with Shaun Travers, the director of the LGBT Resource Center, who was super helpful and gave us really awesome feedback about the presentation and what kind of language to use. He also shared some context and background information about previous dialogue between SHS and the LGBT Resource Center. It was clear from talking to Shaun that what students were telling us they were experiencing wasn't some new phenomenon. He explained that he'd had students come directly from their appointments at SHS to the LGBT Resource Center for support after misgendering, and our data captured that.
Black: We asked SHS at the town hall if they would be willing to partner with us to improve gender-diverse student experiences at SHS. I remember leaving that presentation so excited because it seemed like they valued our experience and wanted to change things.
We then started having meetings with SHS. Our gender-diverse patient feedback form went live the first week of March and already has a lot of responses. It's been posted at the Student Health Center and sent out through different campus newsletters. They've been very open to all of our ideas, and we've seen them use our feedback. If an issue gets brought up about a specific provider, they make sure to have it addressed.
Annis: We have a lot of agency in what we're doing with the Pronouns Project at SHS. Other than sharing our survey questions with SHS, we are responsible for what happens next, what we do with the data we gather and what we propose to SHS to improve their services. We are the driving force for this initiative. That's an important designation to make because it is student-centered and student driven.
Stay in the Know
Keep up with all the latest from UC San Diego. Subscribe to the newsletter today.