Introducing Speaker Emeritus and UC Regent John A. Pérez as All Campus Commencement Speaker
Champion of affordability and accessibility of higher education will address UC San Diego graduates at June 17 All Campus Commencement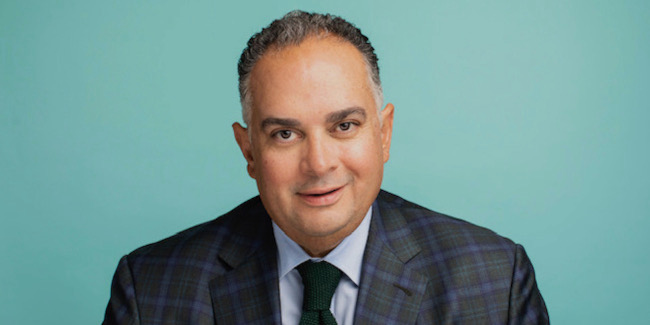 By:
Media Contact:
Published Date
By:
Media Contact:
Share This:
Article Content
California Assembly Speaker Emeritus and University of California Regent John A. Pérez will deliver the keynote address at the University of California San Diego's 2023 All Campus Commencement Ceremony at RIMAC Field on Saturday, June 17 at 9 a.m.
Hailed as a tireless advocate for the people of the diverse state of California, Pérez has long championed the cause of affordability and accessibility of higher education statewide. As one of the longest serving speakers in the era of California's term limits, he brought together his colleagues to end the state's chronic budget deficits that left California's budget imbalanced for more than a decade and authored legislation that created job growth and economic development in the midst of the Great Recession.
Drawing from his experiences growing up in an underserved community and his career in public service, Pérez's commencement address will touch on themes of overcoming adversity, learning from it, and applying those lessons when facing challenges in the future.
"Regent Pérez embodies UC San Diego's foundational principles of excellence, affordability and access," said Chancellor Pradeep K. Khosla. "Through his service in the state legislature, he created opportunities for millions of Californians from diverse backgrounds, helping ensure equal representation in higher education and beyond. We look forward to his insights on perseverance and tenacity as our graduates prepare to go out into the world and make a positive impact."
Ahead of his visit, we sat down with Regent Pérez to discuss what access and inclusion really means; what he wants students to know about his role as a regent; his thoughts on the dynamic growth of UC San Diego over the last decade; and even the story behind his unusual collection of rubber ducks.
The value of a voice
His accolades are many, but for Pérez, serving in public office has never been about making a name for himself. Coming from an underserved community in Los Angeles, he knows firsthand what it means to be without a voice—and what a difference it makes to have one.
"If our democracy works, everybody has to have a voice—not just those you agree with," said Pérez. From his years as a labor activist and union organizer to his election to the California State Assembly in 2008, representing Downtown Los Angeles and communities of East Los Angeles—and his swift rise to the office of Speaker just two years later in 2010—that sentiment has remained central.

One of his proudest moments involves authoring a 2009 bill requiring the public water systems serving the small city of Maywood to conduct a study on the safety of its water, which local residents—the vast majority of whom live under the poverty line—had lobbied for over many years to no avail. Pérez sent a bus to the town to pick up a large group of these constituents and bring them to Sacramento, issuing to each a simple request: bring a bottle of the murky brown water drawn from their tap. Upon the residents' arrival, the California Highway Patrol deemed the water so hazardous that they weren't allowed to bring it into the State Capitol unless it was under control of the police. After the Maywood residents showed the legislators what their water actually looked like, the bill was passed with unanimous bipartisan support.
"The important part of that wasn't just getting the water fixed. It was getting folks who had been working on an issue for over a decade who felt like they were being ignored, felt like they had no voice, to feel that their voice could actually matter," said Pérez.
As the state legislature's first openly gay leader, Pérez also has been a longtime supporter of the LGBTQ+ community and an integral figure in the fight against HIV/AIDS, including serving on the President's Commission on HIV/AIDS under Presidents Bill Clinton and George W. Bush.
"In my mind, basic economic stability, dependable economic opportunities, access to education, access to health care—these are among the basic things that government should do and society should care about," Pérez said.
A commitment to access
During his four-year tenure as Speaker, Pérez authored the landmark Middle Class Scholarship Act in 2012, which brought together thousands of California's students and parents and sought to reduce student fees by two-thirds for middle class families. Adopted in a modified capacity by the 2013 state budget, the effort has provided tuition relief of up to 40 percent for nearly 100,000 California State University and University of California students. It's been a key factor in positioning California as a nationwide leader in the affordability of higher education alongside other state-based financial aid programs such as Cal Grant. Pérez believes the University of California should be proud of the number of Pell Grant and first-generation students that find their home and their path in life at a UC campus.
For Pérez, affordability and access go hand in hand, but there's more work to be done to ensure that race, gender, geography and class all have equal representation in public higher education. This, he says, is how we find true excellence—by having the most expansive look at who can thrive, not only personally, but in a way that helps the UC as an institution grow.
"We as a nation have invested in this notion of public land-grant universities as being the great equalizer, and there's a wonderful history of the difference that it's made to expand access broadly," said Pérez. "In California, the crown jewel of public higher education is the University of California system, where we have the most expansive public research university system not only in the country, but really in the world. And we're unique in the number of our universities that are really considered national gems, UC San Diego key amongst them. But all of this depends on us having a commitment to make sure that the access is real."
On a public-serving mission
Pérez first served on the Board of Regents as an ex officio member during his tenure as Speaker of the Assembly. In addition to the 18 regents who are appointed by the governor for 12-year terms, one is a student appointed to a one-year term and seven are ex officio members, including the Governor, Lieutenant Governor, Speaker of the Assembly, Superintendent of Public Instruction, president and vice president of the Alumni Associations of UC and the UC president.
Then, in 2014, Pérez was appointed to the Board of Regents by then-Gov. Jerry Brown, and served a one-year term as chair beginning in 2019. He now serves as chair of the regents' Health Services Committee. He wants students to know that the regents are more than just the people they write their tuition checks to: they help ensure that big decisions across the UC campuses are looked at from a variety of perspectives, and that they serve not only institutional interests, but the university system's obligation to serve the public.
"We are a public university, which means that we have to do everything that every private university does, plus be focused on a public-serving mission at the same time. So the fact that we're as successful in all of our academic ventures, at the same time as being publicly serving, is really monumental," said Pérez.
Drastic growth at UC San Diego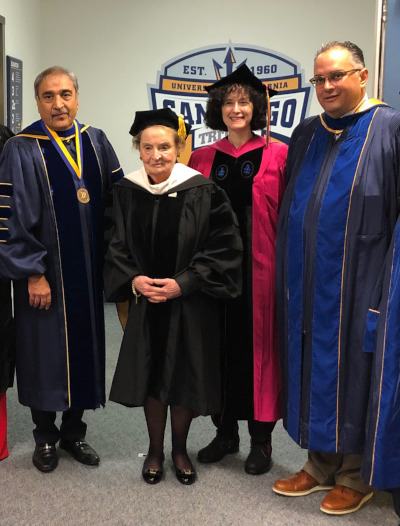 Pérez is energized by watching UC San Diego's research grant funding grow by roughly $750 million a year over the last decade—an increase that he says is greater than the total research funding of the majority of top-line universities in the country. Meanwhile, the campus has grown from roughly 27,000 to 43,000 students. This drastic growth has expanded both access and excellence at the same time, Pérez says.
"That really speaks to an amazing dynamic that's happening at UC San Diego. I can't think of another university in the country that's had that level of expansion of research funding in a decade," said Pérez. "And the fact that it's tied both to an academic mission and a public mission at the same time makes it all that much more interesting. I think UC San Diego is the most dynamic place that we have in the state right now."
The meaning of commencement
Ahead of his June 17 address, Pérez hopes that graduates of the class of 2023 not only look ahead to the future, but also take a moment to reflect on the past. What did they learn from adversity they experienced, and how do they apply that experience to the challenges they want to confront going forward?
"Commencement in and of itself is the beginning," said Pérez. "It's a moment for reflection on what the next step is—a moment to look back at what has been learned, a moment to look back and what's been overcome."
As he plans his remarks, he's inspired by the challenges that this class of graduates have faced: "Not only all of the broad-based societal challenges that we've been looking at, but an academic enterprise that significantly changed right in the middle of their education when the world shut down and they and their faculty had to figure out how to adjust to what it means to learn and teach in a remote environment—how it was that they would adjust to that adversity and still thrive, is really amazing," Pérez said.
A surprising revelation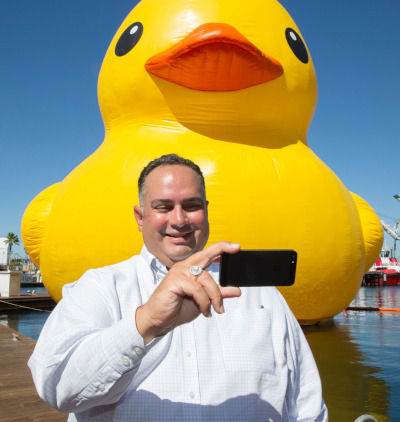 When asked to share something about himself that might surprise UC San Diego students, Pérez revealed that what started as a practical joke more than 20 years ago has grown into a collection of approximately 1,500 rubber ducks from all over the world.
They've been brought to him by celebrities and world leaders and have become an unexpected conversation starter. He doesn't keep them all out on display—but rotates them out of storage, keeping a dozen or two out at any given time.
"It's a weird way to have a conversation in an overly formal space that can be off-putting," said Pérez. "It just kind of cuts through all the pomp and circumstance."
Stay in the Know
Keep up with all the latest from UC San Diego. Subscribe to the newsletter today.