Interdisciplinary Calit2 Institute to Use Groundbreaking Neural Computing Technology
Published Date
Article Content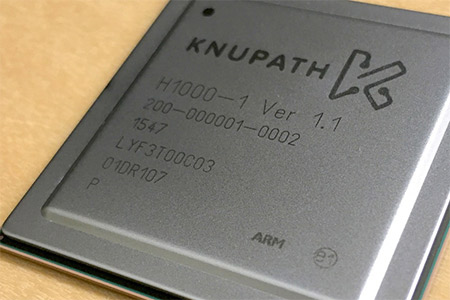 The California Institute for Telecommunications and Information Technology (Calit2) will become an early partner and user of a new computing architecture from KnuEdge, a "startup" that has spent a decade under the radar while developing its first two major technologies announced by the company on June 6. Specifically, the institute will use KnuEdge's KNUPATH LambdaFabricTM neural computing systems. LambdaFabric has a non-von Neumann architecture that is quite distinct from existing computing processors on the market, including GPUs, CPUs and FPGAs.
"Our UC San Diego team is very impressed with the LambdaFabric processor's revolutionary design, which delivers unprecedented levels of performance and scalability," said Calit2 Director Larry Smarr, a Professor of Computer Science and Engineering in UC San Diego's Jacobs School of Engineering. "We plan to incorporate KnuEdge solutions into our newly-created Pattern Recognition Laboratory as we jointly push the boundaries of Big Data analytics."
According to KnuEdge, LambdaFabric is "inherently designed to scale up to 512,000 devices in the most demanding computing environments, has rack-to-rack latency of approximately 400 nanoseconds, and first-generation low-wattage, 256-core processors." [For more details, click here to read the KNUPATH product press release about the neural processor.]
With its divisions on two University of California campuses – the Qualcomm Institute at UC San Diego and Calit2 at UC Irvine – Calit2 is an interdisciplinary research institute at the forefront of technologies including robotics and machine learning, wireless communications, photonics, cyberinfrastructure and nano technologies. The institute advances those technologies and applies them in areas such as health, energy, the environment, culture and other fields to benefit society.
The institute has a longstanding partnership with former National Aeronautics and Space Administration (NASA) chief Dan Goldin, KnuEdge's Founder and Chief Executive Officer.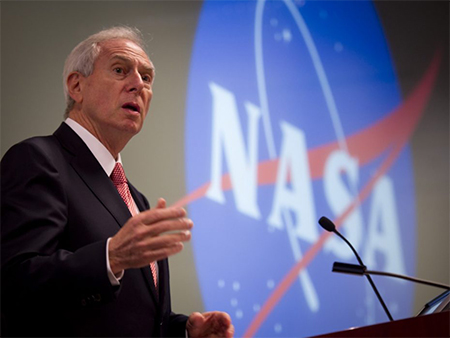 "We collaborated with KnuEdge at the beginning of Dan Goldin's vision to develop an innovative processor, which dramatically pushes the performance envelope for machine learning and artificial intelligence," noted Calit2's Smarr.
Early on, a team of engineers led by Calit2's then-Principal Development Engineer, Doug Palmer, worked in the Qualcomm Institute's Circuits Labs at UC San Diego to develop a new processor architecture designed to go beyond what existing chips could achieve.
"The genesis of KnuEdge's new machine intelligence processor chip was the Gaviota processor that was developed at Calit2," recalled Palmer. "Dan Goldin met with Larry Smarr and appealed for help in developing a more powerful processor to push the envelope in artificial intelligence."
Within three years, added Palmer, "a novel architecture was developed and tested." Eventually, it became necessary to transfer the primary effort to KnuEdge to commercially develop the architecture. So Palmer left Calit2 to become Chief Technology Officer at the company, a position he continues to hold. At KnuEdge, Palmer masterminded the research and development effort on the neural chip architecture.
"It was clear from the start that a completely new approach would be necessary," noted Palmer. "Machine learning and AI were among the primary use scenarios, but in almost every field, the driving forces now require much more powerful processors than ever before, including Big Data analytics, cloud-based machine learning, pattern recognition, even the Internet of Things."
According to Smarr, Calit2 foresees many potential uses of the LambdaFabric technology, including by researchers across the 20-campus Pacific Research Platform (PRP) who will be able to access the KNUPATH processor. "Computational science has always relied on high-performance computing, but with the explosive growth of Data Science, pattern recognition is now becoming as important as solving coupled partial differential equations," said Smarr, who is principal investigator on the PRP. "For that reason, Calit2 recently opened a Pattern Recognition Laboratory, directed by UC San Diego machine learning researcher and Professor Ken Kreutz-Delgado."
Calit2 will add the KnuEdge LambdaFabric chip to its garden of architecture and encourage students to show how it can greatly accelerate a wide class of machine-learning and pattern-recognition algorithms. "We have an extraordinary team of researchers and graduate students who are very knowledgeable about cutting-edge approaches to developing new computational paradigms for implementing machine-learning algorithms," said Pattern Recognition Lab Director Kreutz-Delgado. "They are quite impressed with the capabilities of KnuEdge's LambdaFabric technology and eager to utilize it in the development of advanced applications." Kreutz-Delgado is a professor of Electrical and Computer Engineering in the Jacobs School.
KnuEdge's new computing technology is already winning converts. "Dan Goldin used his experience in transforming technology to charter KnuEdge with a bold idea, with the patience of longer development timelines and away from typical startup hype and practices," said Tirias Research Principal Analyst Paul Teich. "The result is a new and cutting-edge path for neural computing acceleration. There is also a refreshing surprise element to KnuEdge announcing relevant new architecture that is ready to ship… not just a concept or early prototype."
Stay in the Know
Keep up with all the latest from UC San Diego. Subscribe to the newsletter today.