Published Date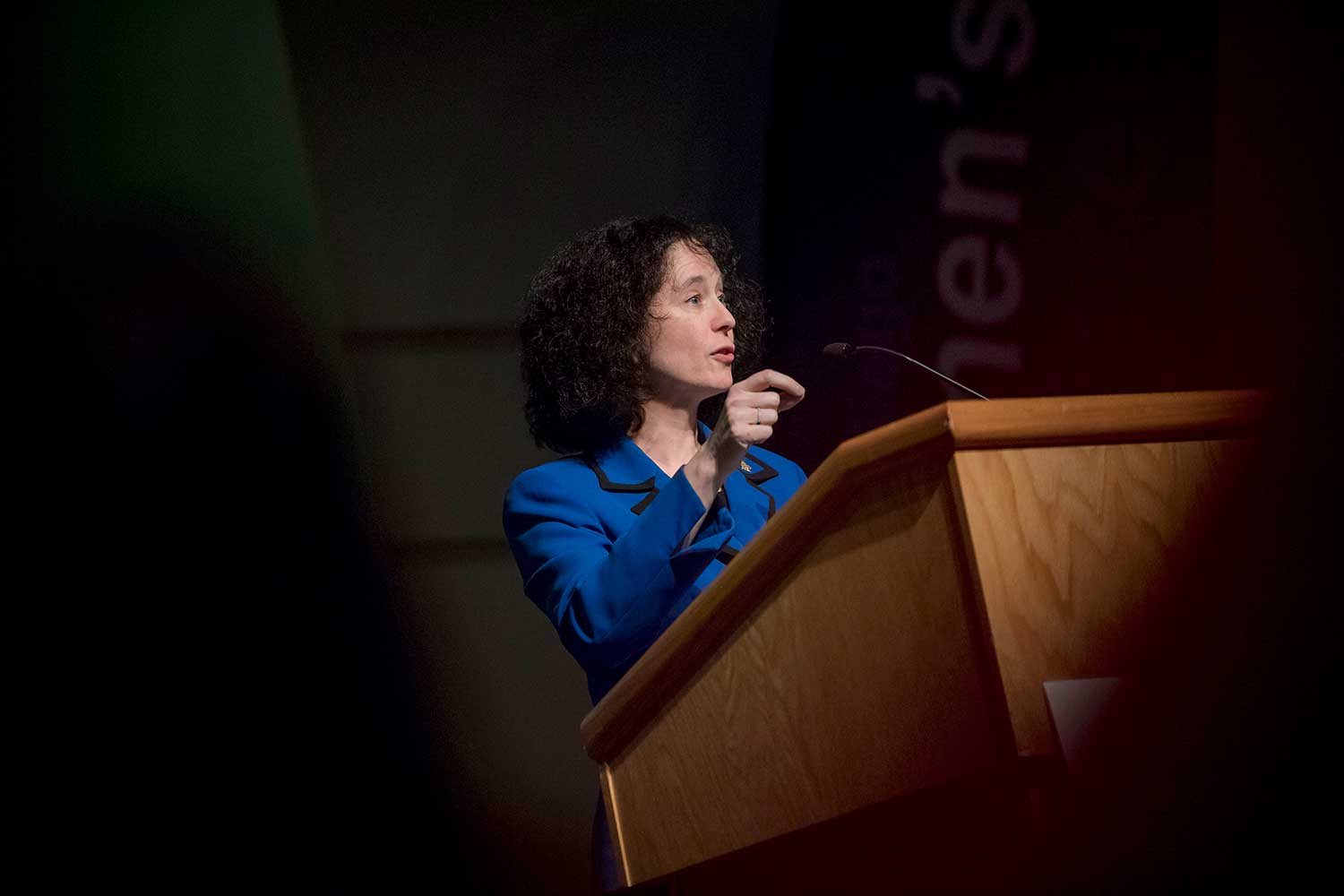 Inspiring Women to Channel Their Inner Leader
Executive Vice Chancellor Elizabeth Simmons shared personal stories of growth as Women's Conference keynote
"You don't look like a physicist." Elizabeth Simmons, UC San Diego's executive vice chancellor for Academic Affairs, has lost track of how many times she has heard this expression. Yet, instead of succumbing to the presence of bias, she decided early on to believe in herself and her potential to thrive as a professor, researcher and leader.
As the keynote speaker at the 9th annual UC San Diego Women's Conference, she shared personal stories of growth and encouraged all women to see themselves as leaders. "There are not as many women leaders as there should be, given that they are half the population," said Simmons. "This creates problems because it means there is a lot of wasted talent that could be making a difference in the world at a larger scale."
Hundreds of staff, students and faculty participated in the Women's Conference on March 8 to network and attend over a dozen workshops on career advancement, wellness, feminism and more. Sponsored by the Office for Equity, Diversity and Inclusion and led by a team of staff volunteers, the goal was to inform, inspire and enrich the personal and professional endeavors of women.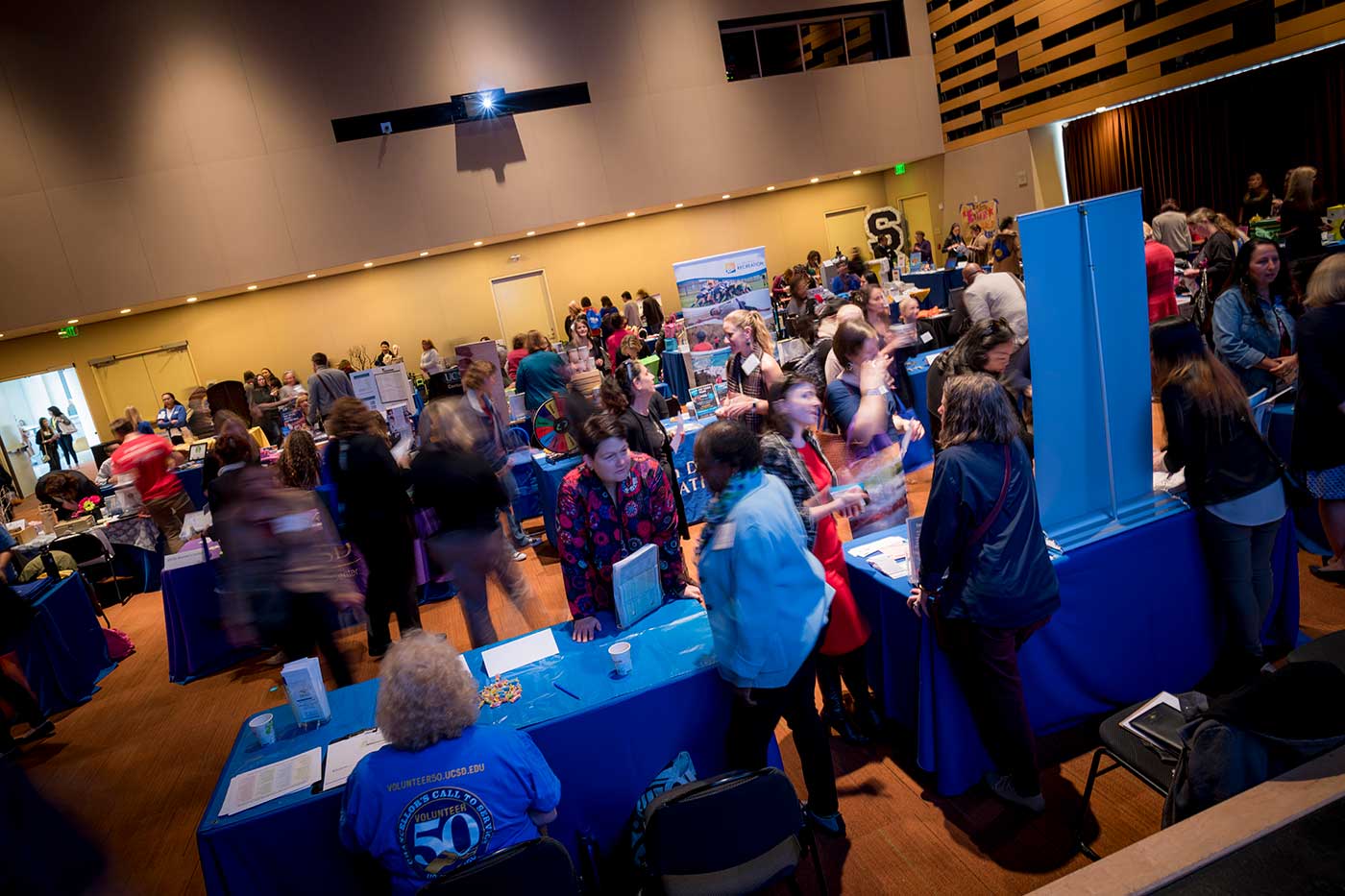 The event kicked off with Simmons' talk, which focused on inspiring all women to channel their inner leader. Simmons, a theoretical physicist who joined UC San Diego in September 2017, recalled her trajectory from a junior faculty member to her new role as executive vice chancellor and chief academic officer. She explained that it is important to set big goals, surround yourself with caring mentors and seek out leadership opportunities, even when you may think there are none.
And most of all, believe in yourself. "You have to suppress that insidious imposter syndrome in the back of your mind that tells you that you aren't good enough, aren't worthy enough, don't know enough," said Simmons.
Why have women remained perpetually underrepresented in leadership positions? According to Simmons, women leaders continue to remain the minority in higher education, health care, technology and business, and other fields. It is our unconscious biases, she says, our pre-programmed thoughts and beliefs that often dictate first impressions, hiring preferences and leadership promotions. While these are timesaving processes in certain contexts, they can also reinforce inequity.
"One of the unconscious biases we tend to have in our society is that women can't take the leap to leadership as readily as men," said Simmons. "This impacts the likelihood that a woman will be hired, or be mentored for a leadership role. And because we are caught in this system, women don't see themselves as future leaders, especially at entry level."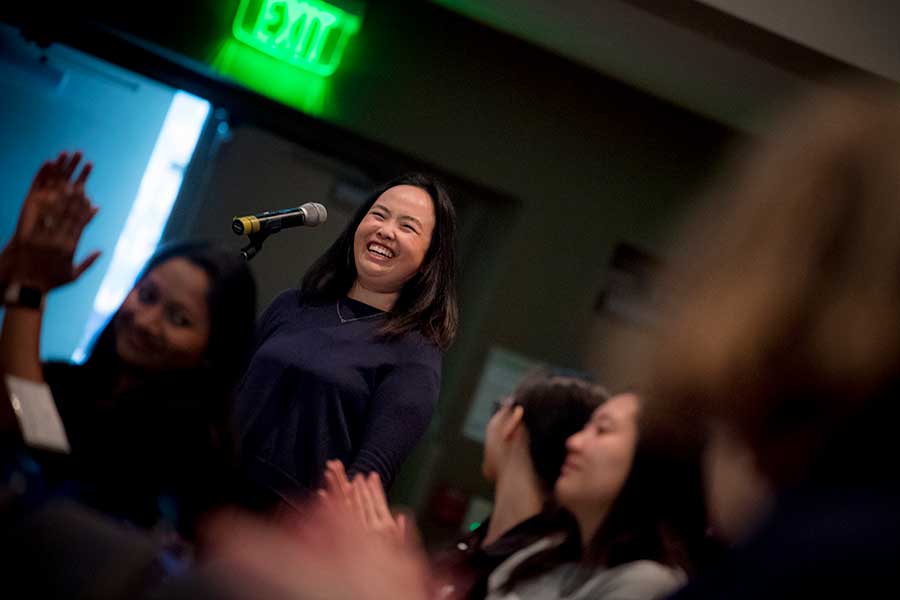 If you are in a leadership position, or even if you aren't, Simmons advocated for all to help identify women around them who have the potential for growth as leaders. For the past six years, Simmons has co-led a career development program for women physicists from Africa, Latin America, the Middle East and Eastern Europe. Many participants represent the only woman in their field at their university and come to connect and find solidarity. They learn how to negotiate pay, design a research program, write a curriculum vitae, and other skills to be competitive in their field.
"We all face barriers in life, walls we have to get over to get to where we want to be next," she said. "In my role, I see myself sitting astride one of those walls, holding my hand out to people on one side to help them cross to the other side."
Afterwards, audience members had the chance to ask Simmons further questions. Numerous staff and students inquired about balancing motherhood and career, how to respond to discriminatory comments and how men can serve as allies to their women colleagues. She spoke openly about how starting a family of her own changed her entire philosophy of teaching by learning how to frame feedback from her student's perspective. She also shared that parenthood prompts you to redefine what it means to be finished with a project so that you have time to spend with family.
"Dr. Simmons really inspired me with her speech, especially her lived experiences as a woman pioneer in her field and leading change for women around the world," said Renee Lee, summer session student affairs manager. "As a staff member and alumna, I have seen the campus change and grow in the last 10 years. I can't wait to see the campus transformations under Dr. Simmons' inspiring leadership."
Stay in the Know
Keep up with all the latest from UC San Diego. Subscribe to the newsletter today.