Inclusive Excellence Awards Applaud Accessibility Innovators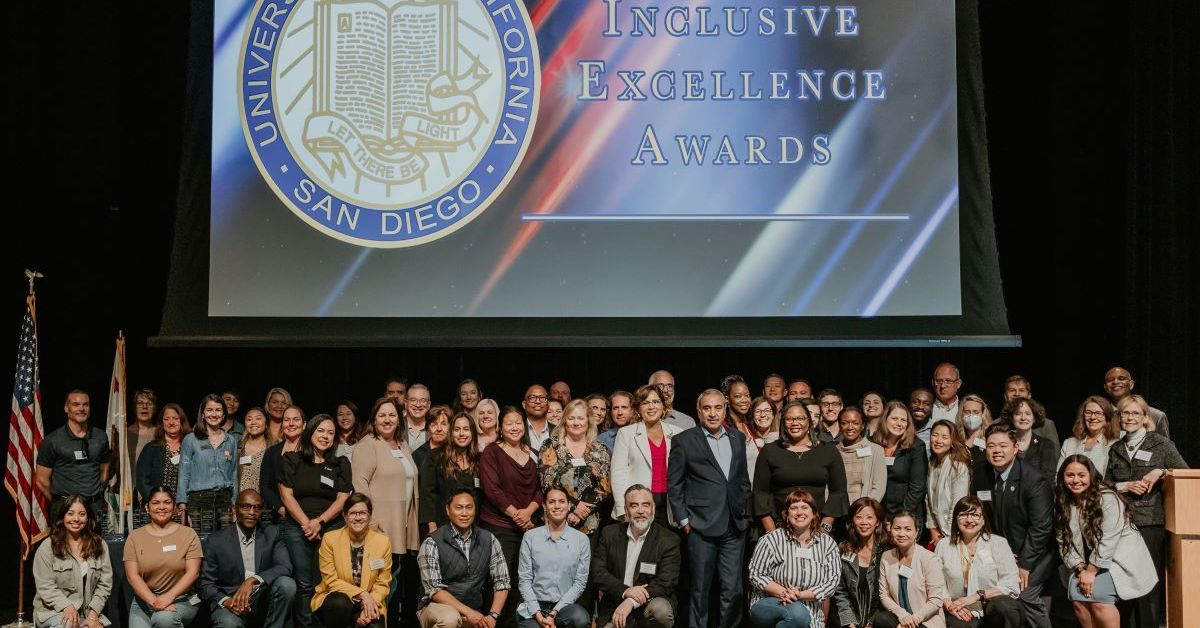 By:
Media Contact:
Published Date
By:
Media Contact:
Topics:
Share This:
Article Content
Blanca Reyes is passionate about something others might find unusual – greater benefits equity. When Reyes, a Senior Benefits Analyst under the Vice Chancellor - Chief Financial Officer, realized that many of the resources available to staff were catered toward native English speakers, she knew something had to change.
"We need a benefits delivery model that addresses the specific needs and challenges faced by the campus Latinx community," Reyes said. She's made it her goal to make that happen, implementing Spanish-language resources like retirement workshops and help desks. She also recently partnered with the Latinx Staff Association to promote financial education with the Latinx/Chicanx staff community.
But Reyes isn't satisfied with just making changes at UC San Diego—she wants to impact the whole UC system through the UC Office of the President (UCOP). As part of her ongoing efforts, she recently volunteered to help translate the UCOP "Preparing for Retirement" webinar, a 79-slide presentation. Her translation is now available to all Spanish speakers across the UC system. "There's still a long way to go," she said, "but little by little we can continue improving the resources available to the Latinx/Chicanx community."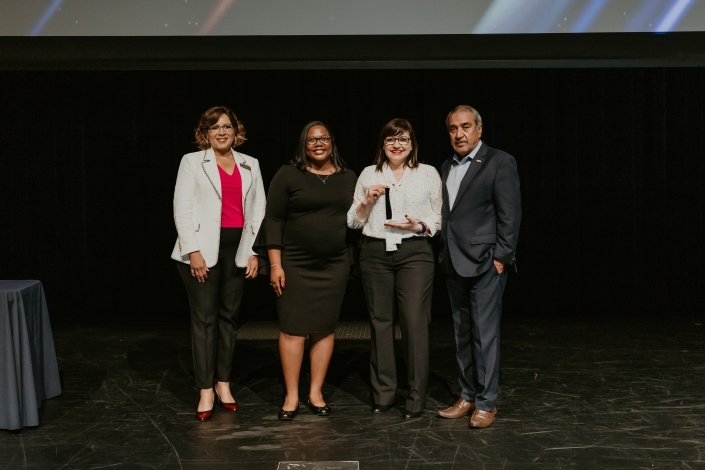 Reyes was one of 16 individuals, departments and campus organizations that were honored on April 26 at the 28th annual Inclusive Excellence Awards ceremony. Recipients were acknowledged for their exceptional commitments to the UC San Diego Principles of Community: recognizing social, historical and divisive biases, promoting cultural diversity and breaking down barriers to inclusivity and accessibility.
"I applaud the efforts of our Inclusive Excellence Award winners; they are creative innovators who have risen to the challenge by developing practices, tools and dialogues that build an enduring, sustainable infrastructure for inclusive excellence at UC San Diego," said Chancellor Pradeep K. Khosla. "It takes everyone in our community to build inclusive excellence. We must continue to be curious and ask the big questions that enable us to develop sustainable frameworks and offer resources that make a real difference in the lived experience of our broad and diverse communities."
Integrating anti-racist practices into STEM
Also praised for their efforts were the Unlearning Racism in Geoscience (URGE) Pod at Scripps Institution of Oceanography, geophysics professor Vashan Wright and Scripps research data analyst Carlene Burton. The Scripps URGE pod actively works to develop, implement and improve anti-racist policies at Scripps and is part of the national URGE program that was founded in 2020 by Wright and co-led by Burton. The URGE program guides pods across the world to retain and expand participation of people of color in geoscience, increase knowledge of the impacts of racism in the discipline, and enact anti-racist policies that may improve belonging, accessibility, justice, equity, diversity and inclusion.
Wright and Burton are part of the URGE team that led the pods through a series of multi-week workshops that culminated in collections of proposed policies that will hopefully shape anti-racist strategies, policies and actions in the coming years.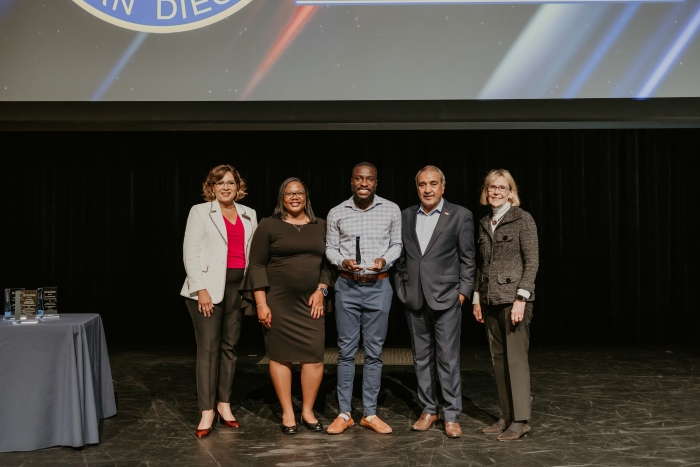 "We really aim to highlight that racism and injustices impacting society are reflected and perpetuated in academia," said Burton, adding that geoscience remains one of the least diverse STEM fields. "URGE has created a path that will not only help bring more diversity to Scripps but also make the experiences of people of color more rewarding."
Outside of URGE, Wright works to design programs and explore theories that provide insights into strategies for and barriers to increasing belonging, accessibility, justice, equity, diversity and inclusivity for people of color in geoscience. His research has focused on ways to teach students of color with frameworks that center diverse cultural contexts. He also studies how the cultural contexts of geoscientists more broadly influence progress on anti-racism. Burton serves as a key member of the Scripps Diversity Initiatives team and created the Exploring our Ocean Planet program, a partnership between Scripps and the Bridge Builders LA Foundation that offers high school programming.
Understanding implicit bias and promoting restorative ways
Resource Management and Planning (RMP) staff members Alyson Hong and Bryan Hooks are also deeply committed to promoting inclusivity in the workplace and encouraging individuals to bring their unique perspectives to the table. As co-chairs of RMP's Inclusion Diversity Equity and Action (IDEA) task group they identified opportunities for the group such as the Diversity, Equity and Inclusion Skillsoft/Percipio online training courses, which all members were required to complete. After completion of the courses, the Task Group agreed and felt strongly that this series would greatly benefit the RMP community and should be shared broadly. They recently established the Workplace Inclusion Diversity Equity Action Practical Series Certificate as part of the UC Learning Center course curriculum for all RMP employees.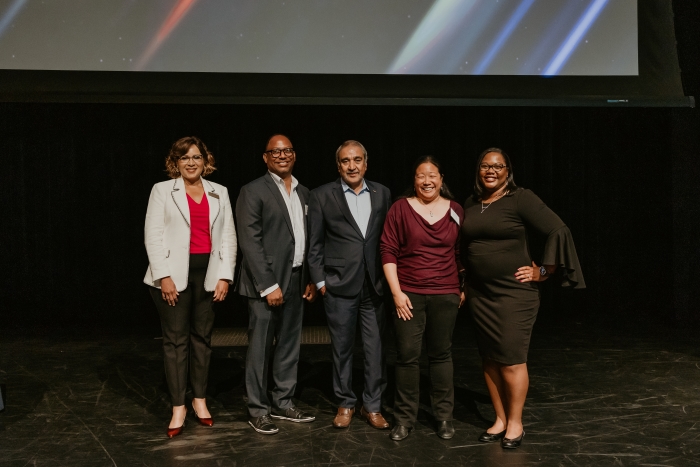 After a successful launch of the certificate program, Hong and Hooks led the Task Group in presenting a "Lunch and Learn" session to RMP supervisors to highlight the program and underscore the value of diversity initiatives in their field of work. The event focused on implementing restorative ways practices in higher education to promote collaborative relationships. Hong and Hooks also spearheaded the effort to secure funds so that RMP supervisors could attend a restorative ways training workshop.
"We wanted to ensure that RMP's IDEA task group had a strong understanding and recognition of implicit biases," said Hooks. "Creating and organizing trainings, as well as, establishing initiatives enabled us to advance meaningful and impactful diversity, equity, and inclusion practices in the workplace which is fundamental to fostering collaborative relationships that contribute to the success of the organization."
2023 UC San Diego Inclusive Excellence Award Recipients
Executive Vice Chancellor and Vice Chancellor Area Recipients
Academic Affairs: Advancing Faculty Diversity Through Cluster Hires Teams
Advancement: Advancement EDI Steering Committee and EDI Working Committee
Chancellor's Office: Ethics & Compliance
Chief Financial Officer: Sheryl Gerbracht
Equity, Diversity, and Inclusion: Kristine Kilanski
Health Sciences: Eric C. Mah
Marine Sciences: Unlearning Racism in Geosciences (URGE), the Scripps URGE Pod, Vashan Wright and Carlene Burton
Research: David Favela
Resource Management and Planning: RMP IDEA Task Group Co Chairs, Alyson Hong and Bryan Hooks
Student Affairs: Andrew Hua
UC San Diego Health: Jodi Traver and Ayelet Ruppin-Pham
University-wide Recipients
Faculty Recipient: Javier M. Duarte
Staff Recipient: Blanca E. Reyes
Student Recipient: Consuelo Sauceda
Department/Organizational Unit Recipient: Culture and Justice Quorum of the Department of OBGYN Reproductive Sciences
Topics:
Share This:
Stay in the Know
Keep up with all the latest from UC San Diego. Subscribe to the newsletter today.