Published Date
Igniting Entrepreneurs
Student innovators make critical connections at 2nd annual Ignite Conference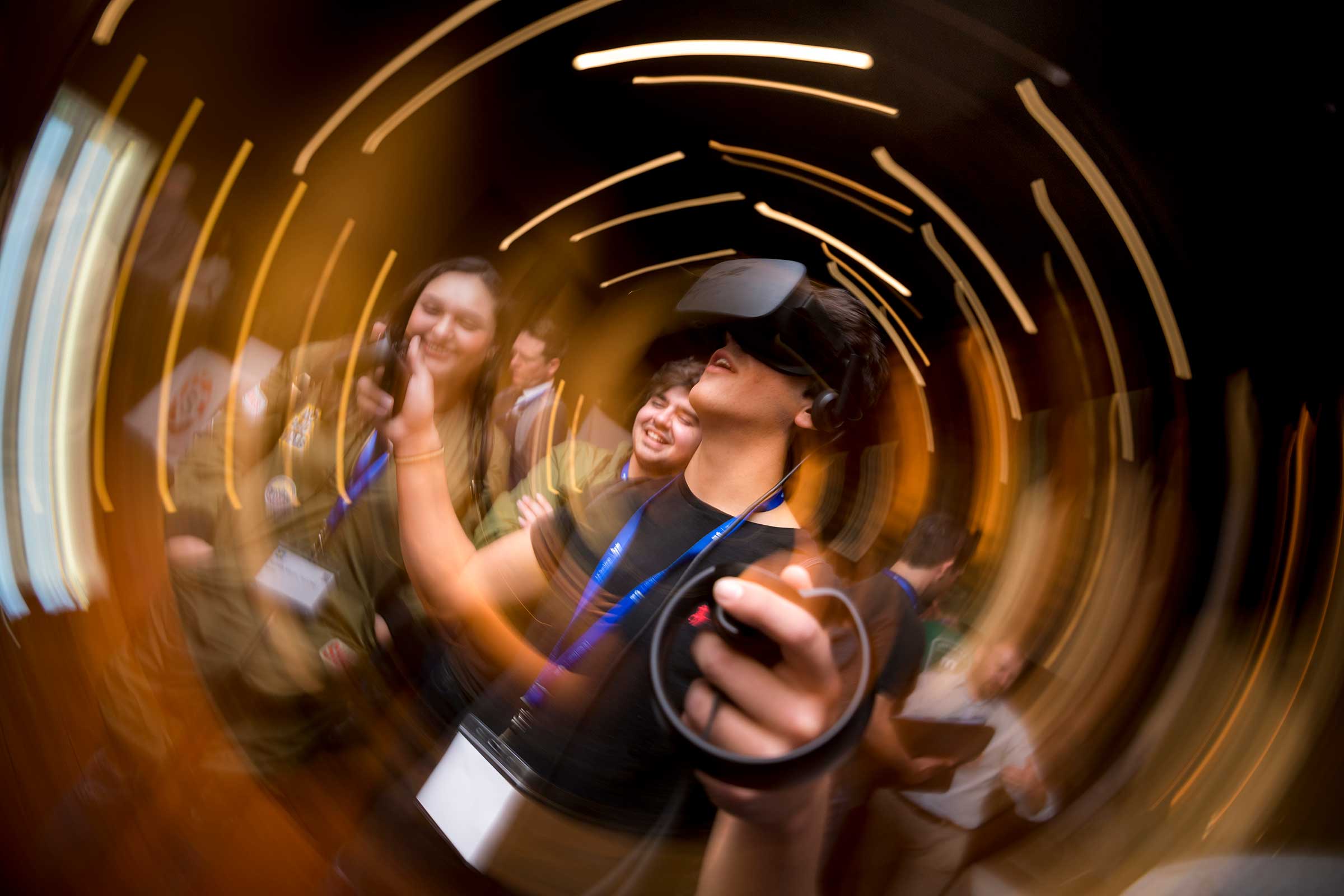 An attendee test drives Nanome's augmented reality technology during Ignite' Startup Fair. Photos by Erik Jepsen/UC San Diego Publications
In an age where college students are launching billion-dollar companies from their dorm rooms, students at UC San Diego have not only embraced entrepreneurism, but are in some respects leading the trend through a professional innovation conference that has become the largest university event of its kind in Southern California.
Called Ignite, the second annual conference lit and fanned the fires of student entrepreneurism last week at the Price Center, where it brought together more than 700 student entrepreneurs, alumni, venture capitalists and full-time entrepreneurs who exchanged ideas and basically networked.
"We're here, partly, to make new connections," said Paul Roben, Associate Vice Chancellor for Innovation and Commercialization at UC San Diego. "I just made a new connection with a very special person. His name is Dill, and he's a middle school student. That's the future. That's what makes me get up in the morning."
"The purpose of the Ignite Conference is to connect entrepreneurs across the Cali-Baja region and beyond with proven entrepreneurial leaders and mentors to inspire the next generation of innovators and changemakers," added Roben.
The conference took place in multiple ballrooms and meeting rooms across the Price Center. The Startup Fair was one of the most popular events, jammed packed with sponsors, regional startups, students and recent alumni-led companies demonstrating their business concepts, plans and technology. Some had augmented reality devices, solar panel optimization technologies, holistic cosmetics, fire-detection radars and wearable technology for health diagnostics.
In the Elevator Pitch Competition, student competitors, some wearing oversized blazers and slacks, confidently pitched their business ideas to a panel of potential investors, actual venture capitalists and angel investors throughout the state.
The conference hosted not only UC San Diego student innovators, but others in the San Diego and Baja region, spanning a broad range of ages.
Busloads of students from schools across the California-Baja region arrived before 9 a.m. outside of the Price Center on the opening day of the conference. Students and staff from San Diego's High Tech High charter school and Mexico's University of Baja California (UABC) were among the groups in attendance.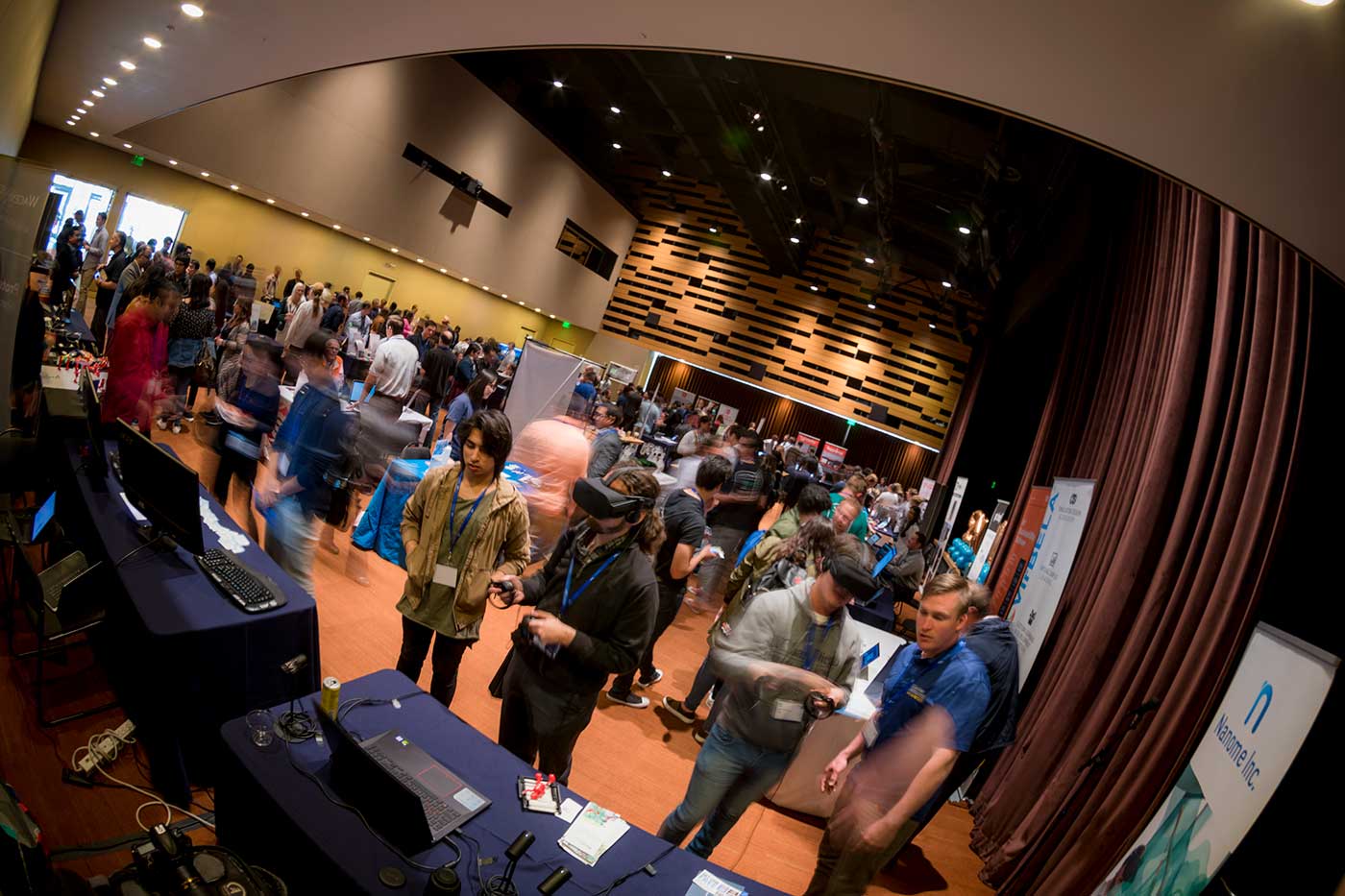 Maria E. Siqueiros is a junior at UABC enrolled in their industrial design program. She said she would be the fourth generation of graduates from the relatively new program. Siqueiros will be entering an industry with limited career options in the Baja region.
"I attended Ignite to learn more about entrepreneurism and about how I can make an impact back home," said Siqueiros. "I want to expand my market and create my own company focusing on graphic design and industrial engineering. We don't have many of those companies where I am from; I want to launch my own."
Ruben Flores, Director of Commercialization and a UABC alumnus, discussed the importance of the Cali-Baja partnership across borders.
"We can learn from each other," said Flores. "The Cali-Baja region keeps growing and by facilitating connections across our borders, we enable business formation and social impact throughout the region."
This is the second year UABC attended Ignite, and Flores said he hopes to continue the dialogue in innovation and changemaking throughout the Cali-Baja region.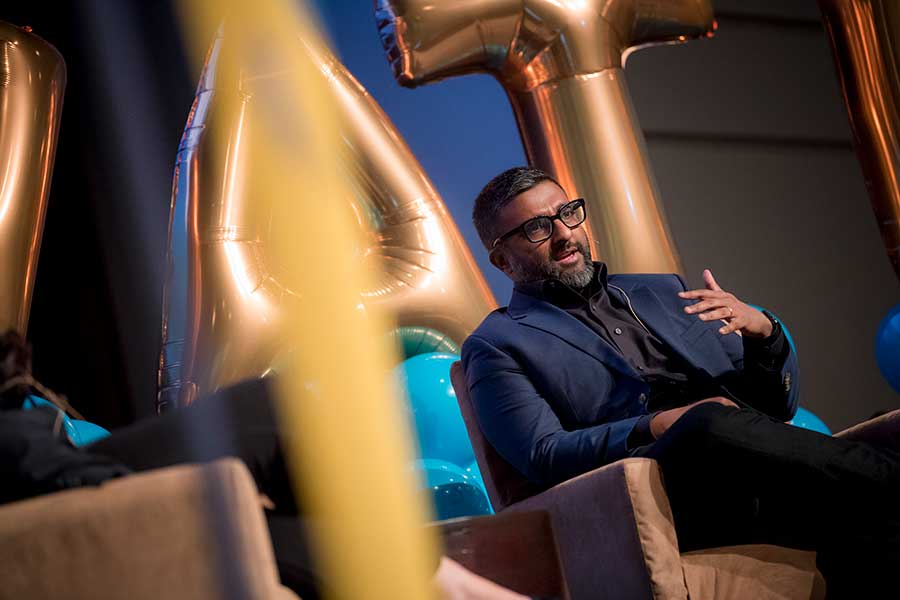 The program's agenda was hosted on a mobile application called Whova, developed by UC San Diego faculty, that was created to encourage collaboration and networking between events and sessions. The two-day program included keynotes from social innovator Todd Grinnell of This Bar Saves Lives; Kimberly Kovacs of Arroyo Ventures; Daniel Friedland of SuperSmartHealth; Susie Harborth of BioInnovation Capital and UC San Diego alumni Ashvin Bachireddy.
Bachireddy is a founding partner of Geodesic Capital, a Silicon Valley-based growth stage venture capital firm and graduated from UC San Diego in 2002. He shared his experience on how he became an investor and the path that led him to invest in Facebook, Airbnb, and Snapchat, but not before he commented on his time at UC San Diego.
"For me, UC San Diego was a place where I could explore everything I wanted to explore," he said. "Everything from track to student organizations, a radio show, but it wasn't until my junior year that I decided I wanted to be a venture capitalist."
Bachireddy set out on his entrepreneurial path in 200. During his keynote, he gave advice about hard work and luck to student entrepreneurs and entrepreneur hopefuls looking to make connections in their industries.
"Try to work hard helping people, not just meeting them," he said. "I believe that if you give positive hard work to the ecosystem, it comes back to you in the form of luck. If there's one thing I would say, if you want to get lucky, work hard every single day. Don't take breaks. Keep working hard, not just for yourself, but for others too."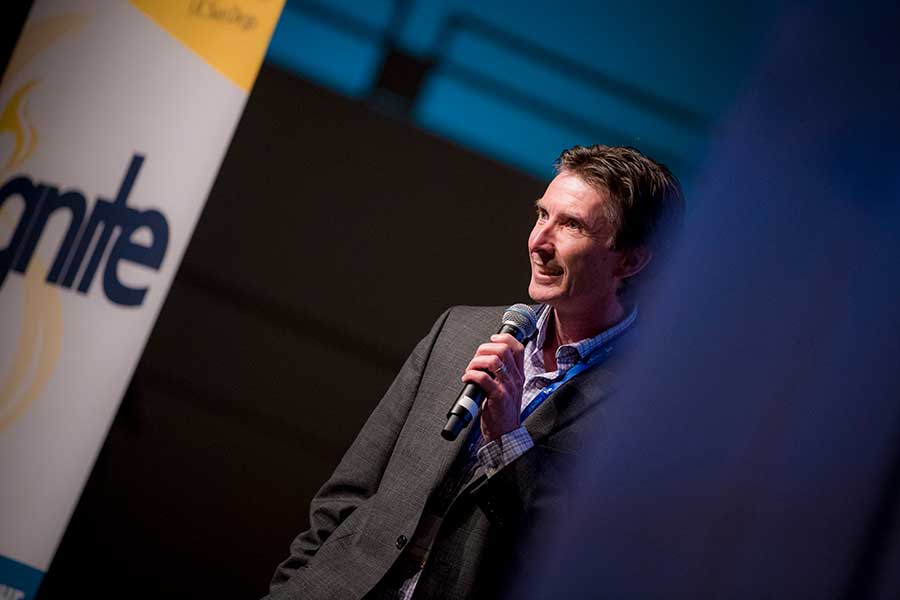 Along with inspiring keynotes from proven entrepreneurs, venture capitalists and angel investors, Ignite gave UC San Diego students an opportunity to shine in panel discussions and breakout sessions. A few students invited to present were selected from a new program on campus hosted by the Office of Innovation and Commercialization called the Student Innovation Ambassador program. It was launched late last year with a group of approximately 28 undergraduate students selected from disciplines across campus for their commitment to innovation and changemaking. A member of the group is bioengineering junior Adriana Guetter, who spoke in a panel discussion on leveraging fear in entrepreneurism.
Guetter co-founded a consulting firm supporting students interested in entrepreneurism across the country called Lumnus Consulting. Guetter said she was honored to be invited as a panelist because the topic resonated with her and her own journey launching her startup. She encouraged fellow students to launch their own companies, even if they don't see the direct benefit to their industry.
"I think that being an entrepreneur is a great starting point, especially as a student," she said. "Real world experience in the corporate world is valuable to marketing yourself as a professional, but if you want to start somewhere why not start with yourself? You have nothing to lose because, worst case scenario, you have your first experience. Companies actually value people who think innovatively. What better way to be innovative than to launch your own idea?"
Regional entrepreneur, student and recent alumni-led startups were invited to present their companies in competitions throughout the conference. The competitions were open to students from all over the nation and abroad. This year's E-Challenge Elevator Pitch Challenge featured more than 30 companies pitching in the span of 90 minutes for $10,000 and in-kind prizes.
The final competition, "The Pitch @ Ignite," originally invited competitors to enter to win more than $15,000 total and in-kind services. But this year's conference implemented an admission fee for attendees. UC San Diego's Startup Advocate and Ignite's Chair, Briana Weisinger, would later announce during the conference that because of the addition of ticket sales, the winning total sum would amount to more than $21,000.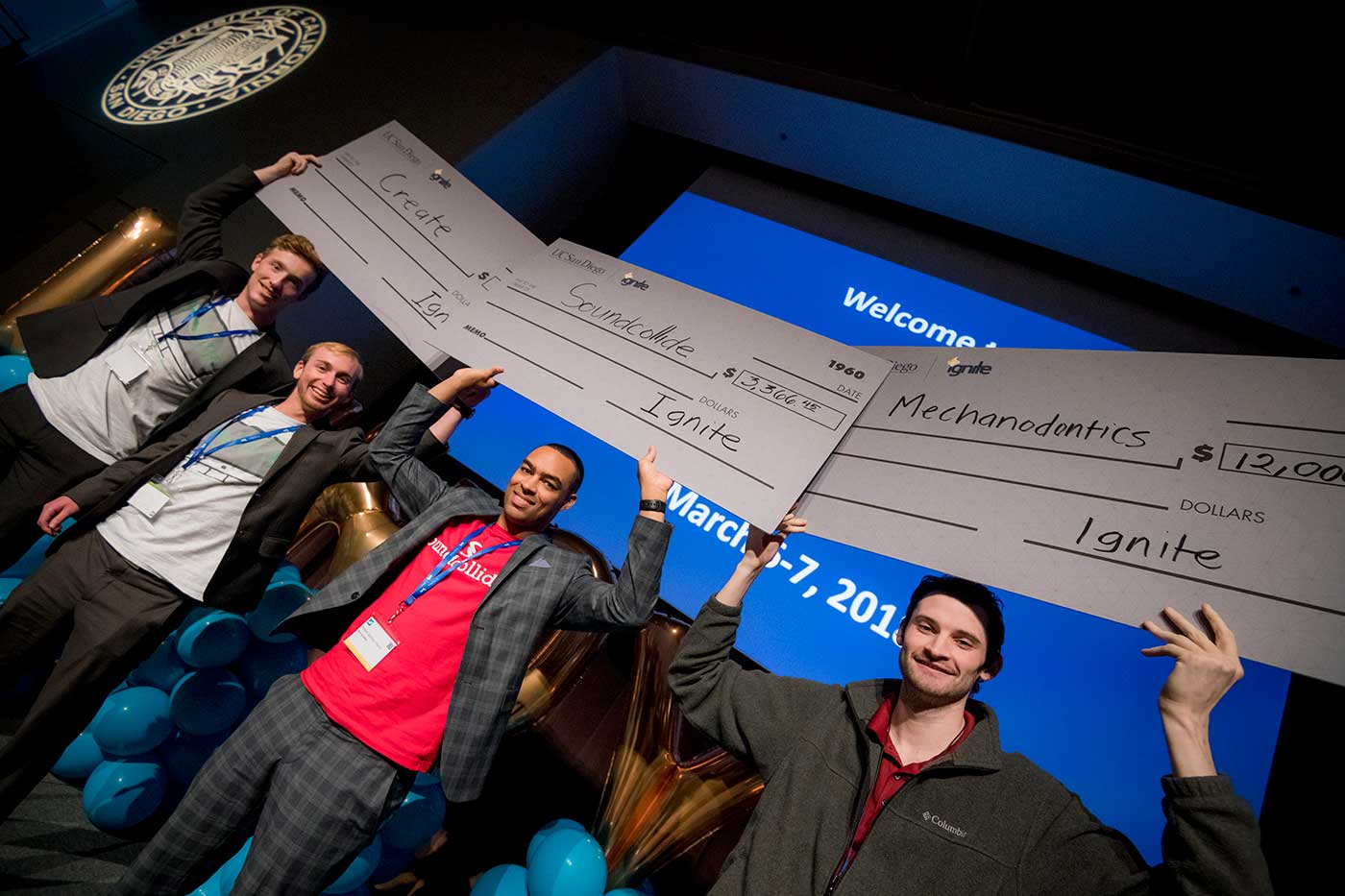 A Georgia State student-led collaborative online recording studio application company called Soundcollide took home $3,366 and the Third Place title for their four-minute pitch. UC San Diego's student-led cardiac resynchronization technology company, CReATE won $6,000 and the Second Place title. University of California Los Angeles' student-led orthodontic company, Mechanodontics, won the First Place prize of $12,000.
Mechanodontics' co-founder James Wratten and his team developed an orthodontic solution created to replace traditional braces, reduce visits and treatment time and optimize oral hygiene. Wratten is a graduate student and said he thought the pitch competition would be a good opportunity to win money to expand their clinical trials and receive feedback on their business model.
"I think most people want to do something that is meaningful," said Wratten. "They want to have an impact. If you have an idea and feel like 'If I didn't do it, no one else will,' then I'd encourage you to launch a startup."
Ryan Fishel's co-founded company CREATe provides a solution to a 50 percent mortality rate in sudden cardiac arrest-related incidents. Fishel's company is new to the UC San Diego student innovation community but his passion for changemaking runs deep.
"Being an entrepreneur, simply put, is fun," said Fishel, a bioengineering student. "I got into it because I have a strong interest in bringing something I am passionate about to people who may not know about it. For us, we have a technology that we truly believe could save lives. That's what keeps us excited about this and it's such a fun ride. I can't imagine not being on it."
The Ignite Conference exemplifies why UC San Diego was recently designated as a Changemaker campus by Ashoka U, an initiative of the world's largest network of social innovators. The prestigious honor recognizes the changemaking efforts taking place on the campus every day.
Stay in the Know
Keep up with all the latest from UC San Diego. Subscribe to the newsletter today.