By:
Erika Johnson

Inga Kiderra
Hitting It Out of the Park with $3M Boost for Scholarships and Fellowships
Alumnus Gary Jacobs and wife Jerri-Ann renew support for UC San Diego Baseball and Social Sciences
Longtime campus champions Gary and Jerri-Ann Jacobs believe in the power of the next generation to make change for the better. And it is imperative, they say, to "create the opportunity for anybody who is eligible and wants to come to UC San Diego to do so." With that in mind, they have boosted their support of education at the university with an additional $2 million in gifts to both Athletics and the Division of Social Sciences.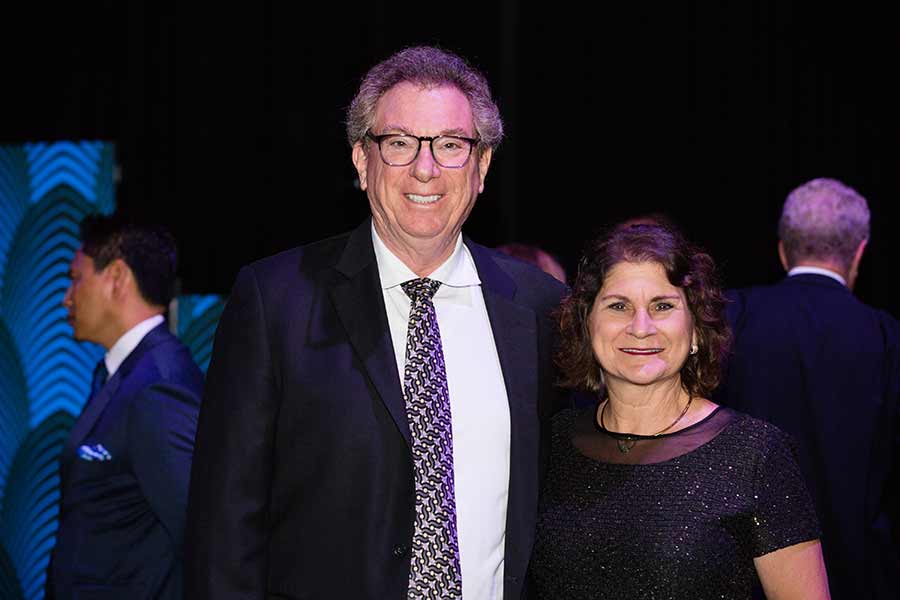 The couple has pledged $1 million more to the Jerri-Ann and Gary E. Jacobs Endowed Fellowship Fund, first established in 2006, for exceptional graduate students in Social Sciences—and $1 million more to the Jerri-Ann and Gary Jacobs Family Baseball Scholarship Endowment, first established in 2019 for remarkable scholar-athletes.
The Jacobs' new gifts in support of graduate and undergraduate education at UC San Diego will be matched through the Chancellor's Scholarship and Fellowship Challenge—which provides a $1 match per $2 of gifts up to $5 million—bringing the total support of the new gifts to $3 million. The gifts contribute to the Campaign for UC San Diego, which will conclude on June 30, 2022.
"At the end of the day, the next leaders of this country, and of the world, are the current students," said Gary Jacobs, a 1979 UC San Diego alumnus. "We need to have a much more diverse range of opinions that come in from these students, make sure they are educated and understand what's going on, and have critical thinking skills so that they can not only identify the problems but have solutions that are a win-win for everybody."
Social justice is key to the future, added Jerri-Ann Jacobs. Supporting students in their educational goals translates, at least in part, to supporting the search for an answer to this vital question: "How do we create a more just society where everyone really does have equal opportunity?"
Beyond their philanthropy, the Jacobs are also generous with their time to the university. They relish the opportunity to get involved, to meet both students and faculty and to hear about their impactful work. Gary has served on the UC San Diego Foundation Board and the Social Sciences Dean's Advisory Council and is a longtime member of the UC San Diego Athletics Board. He is also keen to inspire fellow alumni to reconnect with the university. And both Gary and Jerri-Ann are vice chairs of the UC San Diego Campaign Leadership Cabinet.
"Engaged alumni truly make a difference," said UC San Diego Chancellor Pradeep K. Khosla. "Gary and Jerri-Ann's ongoing commitment to UC San Diego not only changes the lives of promising students, but also inspires other alumni and community members to get involved. Philanthropic support is crucial to achieving our goals to expand access to a UC education and to enhance the experience of our students."
A home run for Social Sciences
Established with one of the largest single gifts given to the division by an alumnus, the Jerri-Ann and Gary E. Jacobs Endowed Fellowship Fund provides an important incentive to attract talented graduate students to the Division of Social Sciences at UC San Diego. A highly competitive award, the fellowship is granted exclusively to top students whose scholastic achievements and commitment to advancing the social sciences is clearly demonstrated.
Gary Jacobs earned a bachelor's degree in management science in the UC San Diego Department of Economics.The department is among the nation's most highly ranked programs in the Social Sciences, along with political science, psychology and more. In U.S. News & World Report's 2022 Best Graduate Schools publication, economics at UC San Diego was ranked 12th in the nation and tied for second place among the nation's public universities. And UC San Diego's graduate education in political science earned the eighth spot in the nation and placed third among public universities.
"The Jacobs' investment in our graduate fellowships is absolutely the reason we can compete at the highest level," said UC San Diego Social Sciences Dean Carol Padden. "We're already surpassing many of our peer institutions, and the new funding will make an enormous difference as we continue to move even higher. Gary and Jerri-Ann's support will enable our graduate students to continue solving social problems and continue doing work that matters."
In recognition of the Jacobs' longstanding relationship with Social Sciences, the division has named a teacher preparation classroom in the Department of Education Studies "The Jerri-Ann & Gary Jacobs Family Education Design Laboratory." A flexible and interactive space in the division's new Public Engagement Building in the university's new North Torrey Pines Living and Learning Neighborhood, the innovative classroom is a fitting tribute to the couple's enduring support for the future of education.
Going to bat for Triton Baseball
July 2020 marked an exciting new chapter for UC San Diego Athletics with the transition to Division I competition. Gary Jacobs understands the magnitude of this move as an alumnus of the university who was involved in intramural teams for baseball, volleyball and soccer as an undergraduate. "Competing at Division I will greatly improve the student experience," said Gary. "Additionally, being able to offer formal scholarships will allow us to continue to grow scholar-athlete diversity and play at a higher level."
The Jacobs' new support of their favorite sport doubles the fund that was previously established in 2019 and continues to be the largest baseball endowment in the school's history.
"We are very grateful to Gary and Jerri-Ann Jacobs for their continued support of our scholar-athletes and our baseball program in particular," said UC San Diego Director of Athletics Earl W. Edwards. "Their commitment to UC San Diego helps ensure that as we continue our transition into NCAA Division I, we will have the resources to attract the best and the brightest to UC San Diego as we compete at the highest level."
Their gift helps kickoff Division I fundraising efforts for a team that continues to shine on the field. In 2021, Triton Baseball played their inaugural D1 season, winning their first-ever Big West Conference series on the road against Cal Poly. After securing victories in 12 of their final 16 games, the team finished in a tie for fourth place. A total of 23 former players have been drafted by Major League teams, most recently Shay Whitcomb by the Houston Astros in the fifth round of the 2020 draft.
Come next spring, when the first pitch of the baseball season is thrown, or the following fall, when a new crop of students start their educational journeys with the help of Jacobs' fellowships and scholarships, you will see Jerri-Ann and Gary cheering on their Triton teams.
The Campaign for UC San Diego, which will conclude on June 30, 2022, is a university-wide comprehensive fundraising effort dedicated to enhancing student support, ensuring student success, transforming our campus, connecting our community and redefining medicine and health care on a global scale. Together with our philanthropic partners, UC San Diego will continue our nontraditional path toward revolutionary ideas, unexpected answers, lifesaving discoveries and planet-changing impact. Visit the campaign website.
Stay in the Know
Keep up with all the latest from UC San Diego. Subscribe to the newsletter today.