Halıcıoğlu Data Science Institute and EnCore with DDS Hosts Python Bootcamp
Halıcıoğlu Data Science Institute (HDSI) and EnCore with the Diversity in Data Science (DDS) Student group hosts its third Python Bootcamp in-person for incoming students for the fall quarter 2022-23.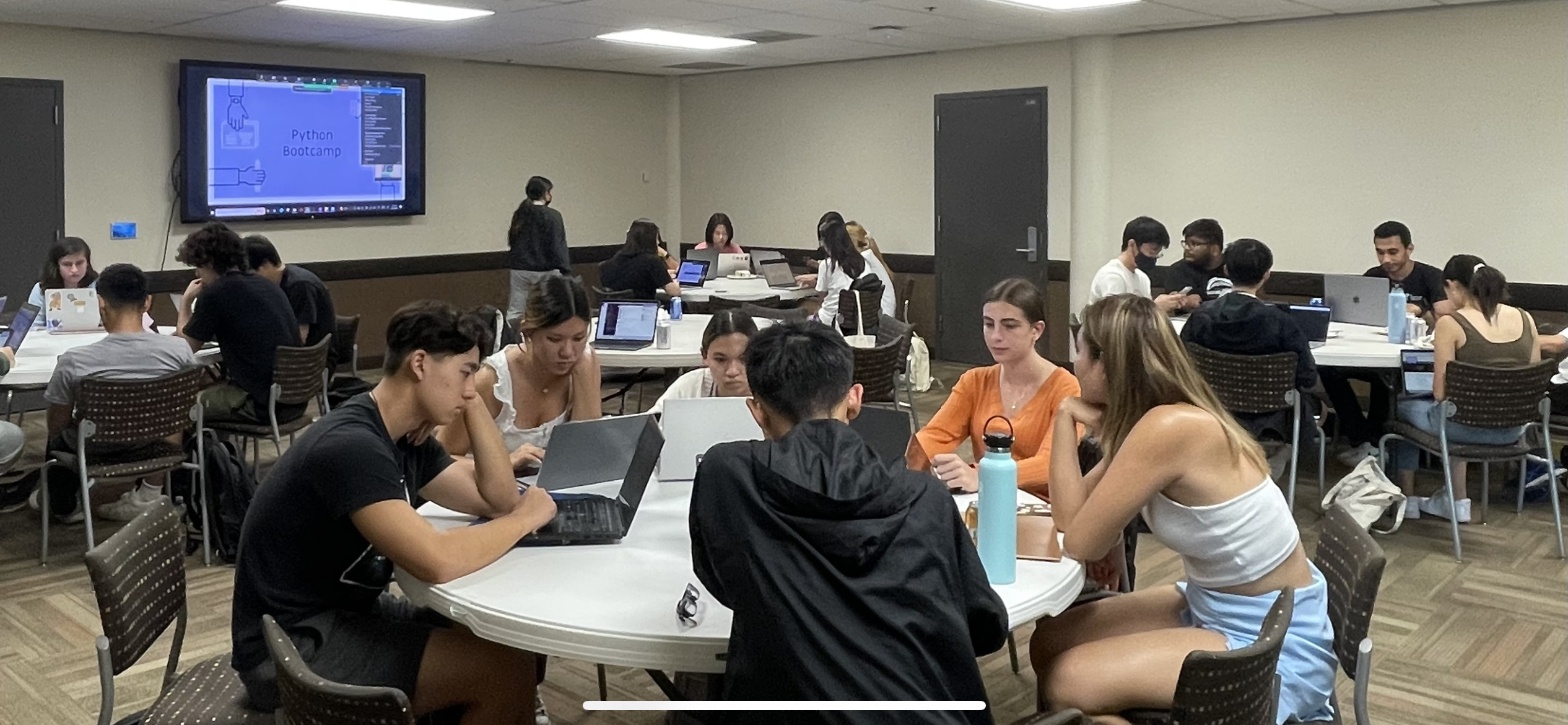 Published Date
By:
Share This:
Article Content
Python, a programming language used across diverse tech industry sectors, and popular among developers and programmers, can be tough for students who have no previous experience with coding. The Python Bootcamp is an opportunity for first-year incoming HDSI students to gain coding proficiency before they begin their courses by gaining intensive skills and knowledge training within a compact time period.
DDS, a campus student group at HDSI, provides support to incoming students of the Data Science program, offered this week-long program to help incoming students taking the course DSC10, Principles of Data Science. The Python workshop was held Monday, Sep 26th, through Friday, Sep 30th.
The first four days were in person at the Bear Room, in the Price Center, and the very last day was virtual. As this can be a student's first look into coding ever, the DDS group wanted to support these incoming students with a group of sessions to provide a basic understanding of background knowledge and have the skills to assist incoming students to feel a little more comfortable as students start their journey into coding.
The Python Bootcamp is a wonderful experience for HDSI and its students getting together to provide an opportunity for students, explained Saura Naderi, director of Outreach at HDSI. "I was able to get support from faculty like Suraj Rampure, Justin Eldridge, and Soohyun Liao when we first started, and we leveraged Justin's DSC10 course notes as a basis. To have the Diversity in Data Science student organization support, modify for their peers, then lead, is a wonderful example of students helping students.
The Bootcamp provides helpful tips for approaching coding and even an overview of the first couple of topics covered in the DSC10 course. DDS has hosted this event for the third quarter and this past event was the first time in person. In previous quarters, DDS advisor, Saura had led the workshop, with DDS members helping students at a more individual level through exercises. "We have grown a lot since the first pilot program, and we were very fortunate enough to have Saura lead."
The event is supported by the NSF Institute for Emerging CORE Methods in Data Science EnCORE.
Stay in the Know
Keep up with all the latest from UC San Diego. Subscribe to the newsletter today.