Graduate Students Recognized as Equity and Diversity Champions
By:
Media Contact:
Published Date
By:
Media Contact:
Topics:
Share This:
Article Content
Five UC San Diego graduate students will soon join the ranks of the Bouchet Graduate Honor Society, a distinguished organization that applauds scholars whose commitment to diversity, leadership and academic excellence pushes the boundaries of doctoral education. As remarkable student leaders in their fields, Bouchet Scholars truly embody the values of Edward Alexander Bouchet, the first self-identified Black American to earn a doctorate degree in the United States and the sixth person ever to earn a doctorate in physics in the Western Hemisphere.
This year's scholars are deeply committed to creating change and have led a wide array of teaching, outreach, service and advocacy efforts aimed at broadening participation in their fields, both on campus and beyond. For some scholars, this also includes using their research topic as an arena to uncover and address inequities.
"Learning about the varied leadership and advocacy efforts that this cohort of Bouchet Scholars is leading is deeply inspiring; they serve as role models not only for other students but for all of us on campus, encouraging us to step up our commitments to creating change in our respective spaces," said Professor Alison Coil, a physicist who served on the review committee. "These students are actively creating the changes we need to make academia more equitable and inclusive."
All Bouchet Scholars are invited to attend the 19th annual Yale Bouchet Conference on Diversity and Graduate Education from March 31 through April 1. This year's conference—held as an in-person event for the first time since 2019—will investigate "The Role of the Academy in Preserving a Democracy."
As one of two West Coast universities who are part of the national society, UC San Diego is excited to celebrate the 2023 Bouchet Scholars. These scholars not only overcome barriers in the pursuit of their graduate education and research studies but also demonstrate a clear commitment to advocating for and supporting others.
The members of this year's cohort are: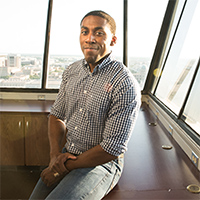 Jeramy Dedrick, Climate Science at Scripps Institution of Oceanography
Jeramy Dedrick's interest in climate change stretches beyond just its scientific elements—he's deeply passionate about community education, mentorship and outreach. His academic interests have inspired him to work with historically underserved communities that are more susceptible to the effects of climate change in the San Diego region and Texas, his home state.
Dedrick's research investigates how complex interactions of manmade and natural aerosols form and alter clouds, as well as their implications in a quickly heating global climate. In the coming year, he'll be actively involved in a year-long experiment at Scripps to study coastal marine clouds, called the Eastern Pacific Cloud Aerosol Precipitation Experiment (EPCAPE). Before coming to UC San Diego, Dedrick earned a bachelor of science in meteorology and a master of science in ocean science from Texas A&M University in College Station. He is currently pursuing a Ph.D. in oceanography with a concentration in climate science at Scripps Institution of Oceanography.
Dedrick serves as an advocate for his community on institutional equity, diversity and inclusion (EDI) committees. Upon graduation, he hopes to use his knowledge to deconstruct systemic institutional barriers to research and higher education and increase the participation of minority students in environmental science fields.
"Scientists of color do not make up a large portion of the climate and geoscience fields," Dedrick explained. "To see a scientist who is passionate about this type of work can serve as an inspiration to students for their own future aspirations."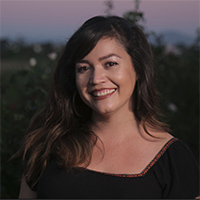 Alexis Meza, History
Although her time at UC San Diego is coming to a close, Alexis Meza has truly made a splash in her department. Meza will complete her Ph.D. in history with a specialization in relational race and ethnic United States history this year. Her research focuses on silence, memory and politics in Los Angeles' Salvadoran diaspora. Meza has been recognized as a Ford Foundation Fellow, a UC San Diego Arts and Humanities Integrated Fellowship Initiative Fellow and a New York Faculty First Look Scholar. She was also honored with a Diversity, Equity and Inclusion Distinguished Teaching Award from UC San Diego.
Meza completed her undergraduate education at UC Santa Barbara, where she was a McNair scholar and received a bachelor of arts degree with honors in history and Latin American and Iberian Studies. She remains deeply committed to teaching and making scholarly contributions to the ethnic studies, Latina/o studies and history fields.
"My work on equity, diversity, and inclusion in the academy will continue as I transition to a faculty position," Meza said. "I look forward to building meaningful relationships with underserved student communities—including first-generation, working-class, LGBTQ and students of color—and encouraging them to commit to integrating an equity-minded lens in their future careers."
Meza is co-author of the chapter titled "No Estan Solxs: Mourning Migrant Suffering and Death through Commemorative Art at the US///Mexico Border'' in the forthcoming anthology Violence, Migration, and Detention during Trump's Reign of Terror and Beyond (University of Arizona Press, 2024).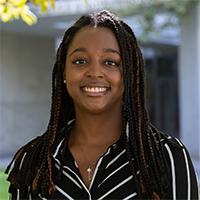 Maya Rowell, Bioengineering
Maya Rowell has a passion for bioengineering, healthcare and accessible, inclusive education. A Ph.D. candidate in bioengineering with a concentration in cancer cell migration, Rowell's research focuses on understanding cancer behavior and metastasis by developing a model system of metastatic cancer. She originally chose to work on cancer research after having loved ones diagnosed with the disease as a child; she's stayed in the field to play a role in finding a cure.
Rowell was recently awarded the Institute of Engineering in Medicine's Galvanizing Engineering in Medicine Inclusion Initiative (GEMINI) Fellowship and became the first GEMINI Fellow at UC San Diego. During the first year of her Ph.D., Rowell received a Quantitative Integrative Biology training grant from the National Institute of Health. She is thoroughly involved with UC San Diego's engineering community and hopes to bring together more engineers of diverse backgrounds.
"I find the connections that I have made with students, faculty and staff the most rewarding part of my work," Rowell said. "The conversations that we've had about being a minority in the field, feelings of not belonging, and our research motivate me to work harder toward my Ph.D. and continue advocating for underrepresented students."
Before coming to UC San Diego, Rowell obtained a bachelor of science in chemical and biomolecular engineering from New York University. There, Rowell received the National Action Council for Minorities in Engineering and University Honors Scholarships.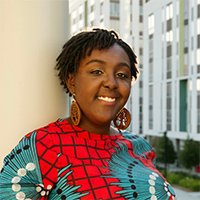 Jada Wiggleton-Little, Philosophy
Jada Wiggleton-Little, a Ph.D. candidate in philosophy at UC San Diego, investigates how pain communication influences racial and gender disparities in pain management. She explained that chronic pain disproportionately affects marginalized communities; often, the disparities in chronic pain management and treatment can be traced to systemic biases and discrimination.
"I think what I find most rewarding about my research is knowing that I am helping to create an experience for others that is different from my own," Wiggleton-Little said. "Even one barrier alleviated is still one step closer to just pain care."
At UC San Diego, she served as a board member of the Black Graduate and Professional Student Association for three years. Prior to coming to UC San Diego, Wiggleton-Little earned a bachelor of arts in philosophy from Davidson College. Her forthcoming articles "Sharing Pain: A Hybrid Expressivist Account" and "Screening Out Neurodiversity," which was co-authored with UC San Diego professor Craig Callender, are set to be published in the Australasian Journal of Philosophy and the Kennedy Institute of Ethics Journal, respectively.
"It feels good to help spread a different societal message around chronic pain," Wiggleton-Little said. "You are seen and you are not alone."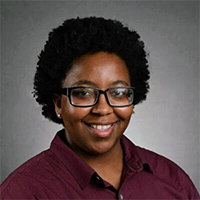 Alicia M. Wright, Anthropology
"There have been parts of my identity that I've had to hide or suppress in order to feel safe in my pursuit of higher education," said Alicia Wright, a Ph.D. candidate in anthropology with a concentration in linguistic anthropology. "I don't want that for others who are coming after me; I want higher education to be a welcoming space for a person's full identity."
Wright's zeal for acceptance and inclusivity shines clear through their academics and service alike. Their doctoral research investigates the relationship between Black Deaf signers and hearing interpreters in the United States through the lenses of identity, ideology, neutrality and language access. While an undergraduate at the University of Chicago, Wright was president and a board member of two LGBTQ+ student groups that created and maintained safe spaces for LGBTQ+ students, particularly LGBTQ+ students of color.
Wright is currently a Sara Clark Kaplan Dissertation Fellow in UC San Diego's Black Studies Program; they were previously named a National Science Foundation Graduate Research Fellow. Before coming to UC San Diego, they graduated with honors from the University of Chicago and earned a double bachelor of arts in anthropology and linguistics. Wright has served as the chair of UC San Diego's Anthropology Graduate Student Association. As a graduate writing consultant, Wright mentors graduate and undergraduate students. They plan to continue serving and advocating for underrepresented students throughout their future career.
Added Wright: "Seeing students from underrepresented backgrounds thrive and succeed means that they received the support and guidance they needed to do well in a system that was not built for them."
Topics:
Share This:
Stay in the Know
Keep up with all the latest from UC San Diego. Subscribe to the newsletter today.