Graduate Students Honored for Inclusive Mentorship
This year, five UC San Diego graduate students will be inducted into the Bouchet Graduate Honor Society, a prestigious organization recognizing scholars who push boundaries through their commitment to social justice, inclusivity and academic excellence. As outstanding student leaders in their respective fields, these scholars exemplify the values of Edward Alexander Bouchet, the first African American to earn a doctorate degree in the U.S. in 1876 and the sixth person to earn a doctorate in physics in the Western Hemisphere.
"Every year, I am amazed at the hearts of these scholars," said Senior Diversity Officer Glynda Davis. "They use their brilliance to give back to their academic communities as well as to other groups that may not have access to the encouragement and support needed to be successful in their chosen disciplines."
Davis went on to say that in mentoring, these students present their authentic selves and share the passion for what they do, "and in doing so help others see how it can be possible for them, too."
"All of the scholars nominated for membership in the Bouchet Graduate Honor Society are outstanding humanitarians," said Davis. "I want to congratulate the recipients and all other nominees, and thank them for their deep commitment to equity, diversity and inclusion. Our hope for the future is in scholars like these."
Bouchet scholars are invited to attend the annual Yale Bouchet Conference on Diversity and Graduate Education in April. This year's virtual conference will focus on "The Future of the Academy in the Midst of Uncertainty," a fitting theme for looking forward after two years of the COVID-19 pandemic.
As one of only 20 universities to be a part of the national society—and one of two on the West Coast—UC San Diego looks forward to uplifting Bouchet recipients. They are:
Andres Nevarez, Biological Sciences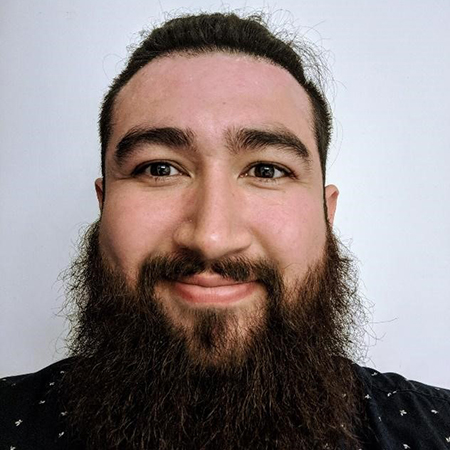 Andres J. Nevarez takes pride in working at the cutting edge of single-cell cancer biology and artificial intelligence technology. His research focuses on using quantitative cell imaging techniques to identify metastasis—the leading cause of cancer-related deaths—early in the process. A Ph.D. student in biology, Nevarez has also been named a Howard Hughes Medical Institute Gilliam Fellow, a National Academy of Sciences Ford Fellow and an F31 Diversity Supplement fellow. During his time at California State University, Fresno, Nevarez was a McNair and Louis Stokes Alliances for Minority Participation scholar. He graduated with a Bachelor of Science in Biology.
Nevarez excels at more than just academics, however. He is known for his mentorship and has dedicated much of his academic career to supporting historically excluded students. Having led three Society for the Advancement of Chicanos/Hispanics and Native Americans in Science chapters across the country, Nevarez works tirelessly to engage his community from middle school to community college. He is also an alumni organizing member of the Diversity and Science Lecture Series and the Delta Alpha Pi Honor Society for students with disabilities. This, combined with his time in the lab, inspires him to provide historically excluded students with the opportunity to perform quantitative biomedical research.
"I have experienced the full support of diversity, equity and inclusion initiatives; they have shaped the leader and advocate I have become for the historically excluded groups in STEM," Nevarez said when asked about what inspires him about his work. "It is rewarding to provide the opportunity for development, growth and maturation for students at a grassroots level. I find satisfaction in being a role model for young Latinx students who want to be scientists despite environments that may not be conducive to this goal."
---
Maribel Patiño, Neurosciences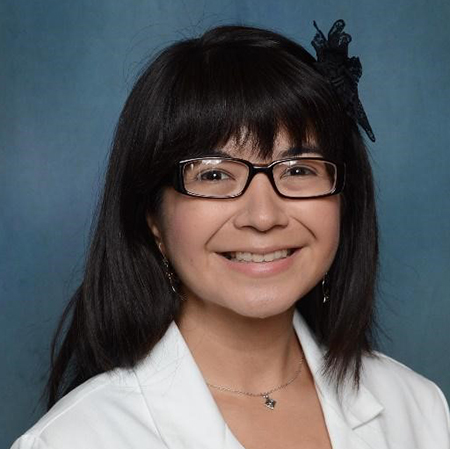 As a dual M.D./Ph.D. candidate and graduate mentor for three organizations—Colors of the Brain, STARTneuro and Chicanos/Latinos for Community Medicine—Maribel Patiño's passion for neuroscience and drive to help others succeed is clear. During her time at UC Berkeley, she was a recipient of the NSF-California Alliance for Minority Participation (NSF-CAMP) Fellowship, the Benjamin A. Gilman International Scholarship and the UC Berkeley Bergeron Scholarship. Upon graduating with a Bachelor of Arts degree in molecular and cellular biology, Patiño was awarded the department's I.L. Chaikoff Memorial Award. In 2020, Patiño was also named a Paul & Daisy Soros Fellow to support work towards a doctoral degree in Medicine and Neuroscience at UC San Diego.
When asked what she found most rewarding about serving as a mentor with multiple organizations, Patino said that it was more than just sharing resources, knowledge and advice with underrepresented students.
"It is also actively investing in the development of the next generation of mentors that will work alongside us in the future to contribute to the creation of a more equitable academy for minoritized scholars," she said. "I have a newfound confidence in my ability to establish, secure funding for and help run new innovative programs for underrepresented students while simultaneously balancing a research and medical career."
At UC San Diego, Patiño played an instrumental role in creating the Colors of the Brain-Kavli Institute for Brain & Mind Scholars Program which provides paid summer research opportunities for minority UC San Diego undergraduates. Currently, her research combines viral tracing with single-cell transcriptomics to develop innovative circuit mapping neurotechnology. Patiño hopes to combine her interests in healthcare and basic science to investigate the mechanisms underlying neurological and psychiatric diseases. And, of course, she plans to continue advocating for STEM diversification and program development.
---
Rochelle McFee, Ethnic Studies
Feminist and social justice activist Rochelle A. McFee is a force to be reckoned with. A Ph.D. candidate in ethnic studies, her career working to end violence and oppression spans over a decade. After graduating from the University of the West Indies Mona, Jamaica with a Bachelor of Science in sociology and criminology with first-class honors and a Master of Science in sociology with distinction, McFee knew she wanted to focus her research on issues close to home. Currently, she studies the ways Black girls, Black women and queer-identified people are codified in the Jamaican legal system and social normativity as violable.
In 2020, McFee was named a Friends of the International Center Fellow and a 2020-21 recipient of the American Association of University Women doctoral fellowship. Through grassroots organizing, she spends much of her time serving her community at home in Jamaica and abroad in the wider Caribbean, the United States, the United Kingdom and Iceland. Whether she is developing decolonial approaches to policy implementation, writing expert witness reports against deportation of queer individuals, or participating in international dialogues on violence against women and girls, McFee always takes an empathetic but efficient approach.
"The most difficult thing about working with Black girls, Black women, queer-identified folk and underrepresented students is knowing that I am doing work that quite possibly will not end and recognizing that systems of oppression are so sophisticated that, even when we think we have found a way out, we can still cause harm," McFee shared. "The reward is just knowing that I am doing this work anyway, and that each community feels seen, heard and protected in our engagements."
McFee is also the author of the book chapter, "On Tambourines, Hashtags and rerooting/rerouting survivor voices in Caribbean Movement Building," published in the Routledge Handbook on the Politics of the MeToo Movement (2021).
---
Taylor McKie, Oceanography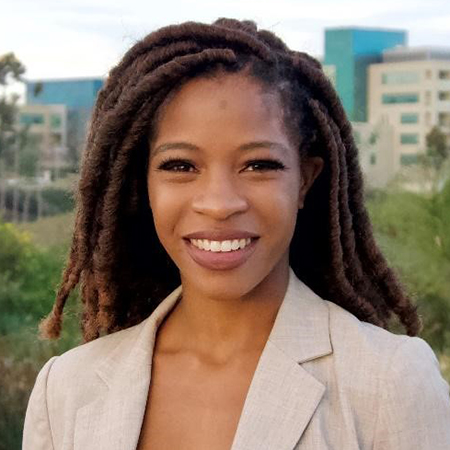 Taylor McKie wouldn't necessarily say she's hopeful about the future of the climate crisis; still, she's not dissuaded from continuing her work in environmental advocacy. Her belief that activism can create a better, more hopeful future only motivates her to keep pushing on. A Ph.D. candidate at Scripps Institution of Oceanography at UC San Diego with a concentration in physical oceanography, McKie's research investigates oceanic boundary layer dynamics. Specifically, she focuses on the interactions between climate, air, sea and small-scale physical processes in salinity-stratified regions. McKie is a Community Science Fellow through American Geophysical Union's Thriving Earth Exchange and is known for her commitment to advocacy for climate action, diversity and inclusion.
"To me, addressing the climate crisis isn't about avoiding the unavoidable; it's about reducing the amount of harm that would be done with inaction," McKie said. "Whether it's advocating for the elimination of fossil fuels, environmental and climate justice or the resilience of communities to climate impacts, any collective action has the potential to change the trajectory of where we're going to where we could be."
Before coming to Scripps, McKie received a Bachelor of Science in environmental engineering from the Georgia Institute of Technology. She is also a recipient of the National Science Foundation Graduate Research Fellowship and the GEM Consortium Graduate Fellowship. Through her service in various student organizations, committees and community groups, McKie continues to demonstrate her commitment to the climate movement and diversity and inclusion. Upon graduation, she plans to use science policy and advocacy to make a positive impact on communities disproportionately impacted by climate change.
---
Tara Spencer, Biological Sciences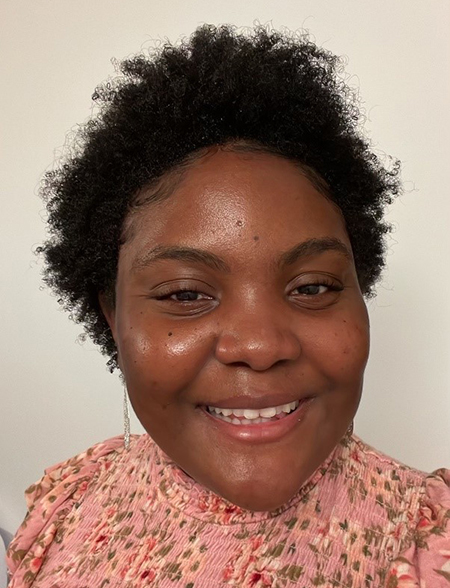 Biology has fascinated Tara Spencer since she was young. A fourth-year Ph.D. candidate in biology, Spencer is governed by two things: her passion for science and her faith. She strives to make scientific knowledge and resources available to all because she firmly believes in science's power to change the world for the better. After moving from her home in Antigua and Barbuda to Washington, D.C. to attend Howard University, Spencer was exposed to the world of biological research. She fell in love with microbial ecology and the rest is history; in 2018, she received her Bachelor of Science in biology before coming to UC San Diego for graduate studies.
Currently, Spencer works in molecular biologist Rachel Dutton's lab, where she studies the mechanics of how microorganisms communicate with each other and assemble into robust communities. In 2021, Spencer and Dutton were selected to receive a Howard Hughes Medical Institute Fellowship, which includes a $50K award for their commitment to building a more inclusive scientific ecosystem. Spencer was also a key founding member of the Biology Undergraduate and Master's Mentorship Program, an organization providing resources to minority students studying biology to ensure post-graduation success, and also works with the UC San Diego Black Resource Center to plan engaging events for Black graduate students.
Regardless of their backgrounds, Spencer wants to see all students thrive and succeed. "The greatest reward in all the work that I do is that I get to see the real-life impact on the students that I serve and that I get to do that with the team I work with," she said. "Everything we do is to see those students be uplifted. When I actually see that happen, my heart becomes full. That is more than enough for me to do what I can to ensure I am my best self for the sake of these students."
Stay in the Know
Keep up with all the latest from UC San Diego. Subscribe to the newsletter today.