From Deployment to Diploma
UC San Diego's military-affiliated students reflect on how serving shaped them into successful scholars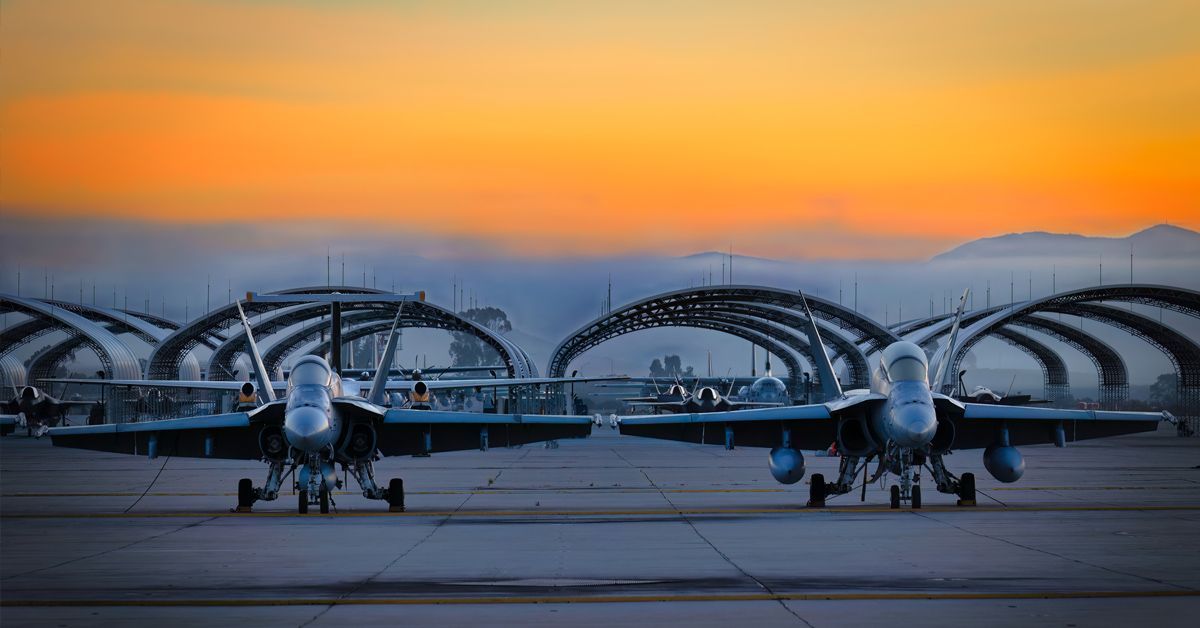 Published Date
By:
Topics:
Share This:
Article Content
You can often hear them before you see them in the sky above La Jolla—the powerful fighter jets taking off from nearby Marine Corps Air Station Miramar. Their presence is a reminder of the vast network of military personnel who live and work in San Diego, the homeport for nearly 60% of the U.S. Navy Pacific Fleet and where half of all Marines complete their basic training.
Given their large impact locally it should come as no surprise that UC San Diego enrolls the most military-affiliated undergraduate students of any University of California campus. Over 100 students are currently serving while obtaining their degree; more than 200 are veterans; and 2,300 are dependents of military service members. There are also 130 graduate military-affiliated students at UC San Diego.
Whether undergraduate or graduate, all of these students find a community of peers with similar life experiences at the Student Veterans Resource Center (SVRC). The center first opened at UC San Diego 10 years ago in response to the advocacy of student veterans who recognized the need for a community space and resources that support the unique experiences and challenges faced by military-connected students.
Located on the second floor of the original Student Center, the program offers military-connected students access to peer mentoring, group study sessions, information and referrals, workshops and more. In addition, campus and community partners provide in-center access to veteran benefits counseling, career advising, disability accommodations, mental health support and more.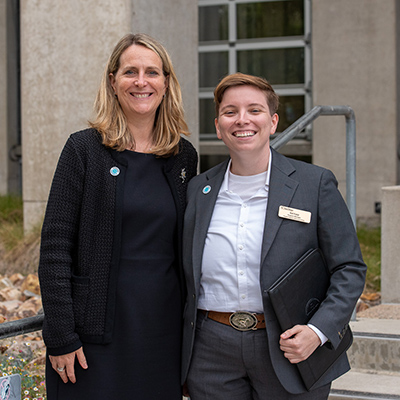 On May 25, a record number of military-connected graduating students took part in a special celebration hosted by the SVRC. The event was held in Matthews Quad, a significant location given its history as the former site of the Marine Corps base Camp Matthews—where over one million recruits were trained between 1917 and 1964 prior to the land being transferred to the University of California.
During the ceremony each scholar received a satin stole embroidered with their branch of the military and their status, whether active duty, veteran or dependent. Their pathways to UC San Diego are diverse – many of them started their college journey later in life and managed different priorities than the typical college student such as caring for their children and working full-time while obtaining their degree.
"Our military-affiliated students bring a wide breadth of life experiences to UC San Diego, with a shared bond based on a desire to serve their community," said Vice Chancellor for Student Affairs Alysson Satterlund, who spoke during the event. "No matter their affiliation, these students face a unique set of challenges that shape them into resilient, driven and adaptable students and professionals. It is an honor to support their higher education ambitions and celebrate with them as they achieve their dream."
On the occasion of their graduation, we reached out to two seniors to learn how serving in the military uniquely prepared them to succeed as a scholar at UC San Diego.
From sailor to student
Growing up in the small desert town of Yuma, AZ, Tom Bowers dreamed of leaving the hot desert in favor of the cool ocean coast. He also recognized that he didn't have the grades or financial resources to apply to colleges outside of his hometown, so he turned his attention to opportunities offered by the U.S. Navy.
The four years he spent in the Navy instilled in him the values and work ethic that would contribute to his success as an undergraduate student at UC San Diego. "Being in the military gave me skills and traits that have been crucial to the success I had in college," shared Bowers, who is earning a bachelor's degree in psychology this June. "Without traits such as time management, a strong work ethic, self-discipline and organizational skills, I would have dropped out of college a long time ago."
During his time at the university, Bowers found a welcoming community of students with similar experiences that he could connect with at the SVRC. "The military-connected community at UC San Diego contributed to my sense of belonging at UC San Diego by giving me a sense of community that I am familiar with and grew accustomed to during my time in the military. Everyone I have encountered at the SVRC has been extremely supportive and kind to me these past couple of years. They made the transition from sailor to student smooth and enjoyable."
This fall Bowers will continue to the University of San Diego to pursue a graduate degree in counseling psychology with a goal of becoming a clinical mental health therapist. He'd like to work with veterans who are struggling with mental disorders such as PTSD and depression. "As a psychotherapist I want to give my all to helping my fellow veterans deal with many problems life tends to throw at us such as drug addiction, homelessness and mental illness," he said. "I want to help this disadvantaged and underserved population by providing a non-judgmental place where they can be seen and heard from someone who can relate to their experience of being in the military and transitioning back to civilian life."
An ocean of determination
When senior Hillary Gnirk was young, her family would vacation in San Diego on summer breaks. During these trips she fell in love with the city and told her parents she wanted to attend UC San Diego after finishing high school. But her dreams were crushed when they did not support her vision. "My mom is an immigrant from Indonesia, and she worked extremely hard to get where she is today as a small business owner, but she didn't believe that higher education was worth pursuing," said Gnirk. "When I told my parents about my aspirations, my mother immediately shot me down; she refused to pay for my college education because she didn't believe it was the path to success. That answer simply wasn't good enough for me."
Determined, Gnirk enrolled in community college for two years before a eureka moment struck—she would join the Navy to help pay for her education. She served as an aircraft mechanic in the U.S. Navy for five years. By that time, she had enough resources to transfer to UC San Diego, her dream school.
During her time as a Triton, Gnirk has channeled her own military experience into helpful advice for other veterans on campus as a student employee at the SVRC. She helps strengthen the community, assists with the center's daily operations and answers questions from peers. "The most satisfying part of my role is helping to foster a sense of belongingness," said Gnirk. "My advice to my peers is to never overlook the value of community. The SVRC makes a big campus small. UC San Diego can feel socially isolating at times, so finding community support is essential to your success as a student and your overall well-being."
After completing her bachelor's degree in urban studies and planning this month, Gnirk plans to attend law school. She would like to become the first in her family to not only graduate from a four-year university, but also obtain a graduate degree. In her work, Gnirk would like to make an impact on environmental regulations to improve the lives of those suffering from lack of access to clean water and clean air.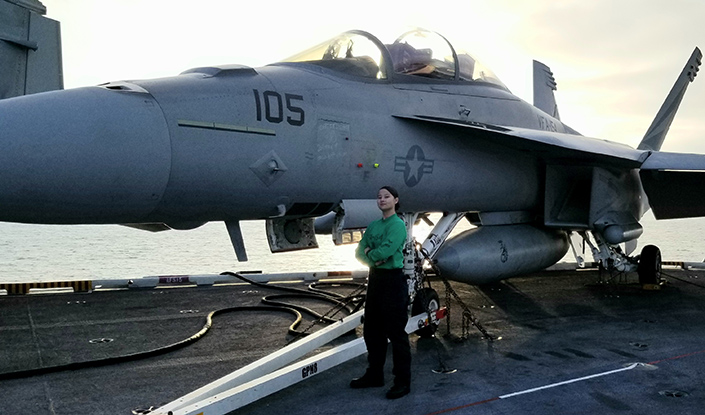 Save the date!
All are invited to join in the SVRC 10th anniversary celebration on Nov. 9, which will include recognition of the achievements of student veterans. For the past decade the SVRC has served UC San Diego's student veterans, active duty servicemembers, reservists, members of the National Guard, ROTC students and their family members.
The SVRC is also proud to be a home to the Student Veterans Organization (SVO), which was recently reestablished as a student organization and promotes a sense of belonging for all military-connected students through peer support and social events.
Topics:
Share This:
Stay in the Know
Keep up with all the latest from UC San Diego. Subscribe to the newsletter today.