Forum Shines Light on Gender-Based Violence Incidents and Solutions
Dozens of organizations address state-wide survey research and qualitative data on violence and health in California
By:
Published Date
By:
Share This:
Article Content
For 10 years, UC San Diego's Center for Gender Equity and Health has been working to make the underrated and underreported issue of gender-based violence visible. A forum last week, brought together dozens of government agencies, nonprofits and community-led efforts across the state to address what data is being collected, how it is being used and what more needs to be done.
A recurring theme among speakers and participants was an awareness that without visibility, prevention efforts will continue to fall short.
"Building Bridges Across the California Ecosystem to Prevent Gender-Based Violence" was held at the Sanford Consortium and Chancellor Pradeep K. Khosla delivered the welcome address. He said that although this form of violence overwhelmingly impacts women and those who identify as LGBTQIA, the problem unequivocally affects us all. The solution, he said, must be multifaceted.
"Improving the human condition is one of our strategic goals, but it is most often interpreted as relating to biology, medicine, cures and therapy. However, it also addresses the lack of understanding that we have for each other be that gender, culture or interpersonal," Chancellor Khosla said. "Working toward a world that prevents the domestic and sexual violence that is being addressed today is part of improving the human condition because it isn't just physical violence. It is influenced by cultural restrictions, the legal system, economics, politics and legislation and it's happening all over the world."
To conclude he said that he didn't come to the forum to explain why violence prevention is an important topic, he said he came to assure attendees that UC San Diego cares about contributing to solutions and the university is uniquely positioned to ensure that all the means of addressing prevention are addressed — scientifically, politically and socially.
"We cannot shy away from talking about difficult issues and what it will take to address them head on," Khosla said. "Gender violence is a difficult subject to discuss, but a critically important one, because it can lead to a great deal of impact on society, on countries around the world, on the way we think about each other and on how we address issues of equality."
One Billion Women Unprotected
In 2006 only 60 countries had specific laws to address domestic violence. That increased to 127 in 2011 and now 144 have legal means in place to combat this type of violence.
"We are making progress, but we still have over 50 countries — 1 billion women who account for over one-quarter of the female population in the world unprotected by domestic violence policy legislation," explained Vice Chancellor for Research Corinne Peek-Asa, a Professor with Distinction of Epidemiology who has spent her research career focused on preventing acute traumatic injuries and violence.
She echoed the Chancellor's sentiment that UC San Diego has a long history of supporting research into this issue and is uniquely positioned to be a leader in moving the conversation forward.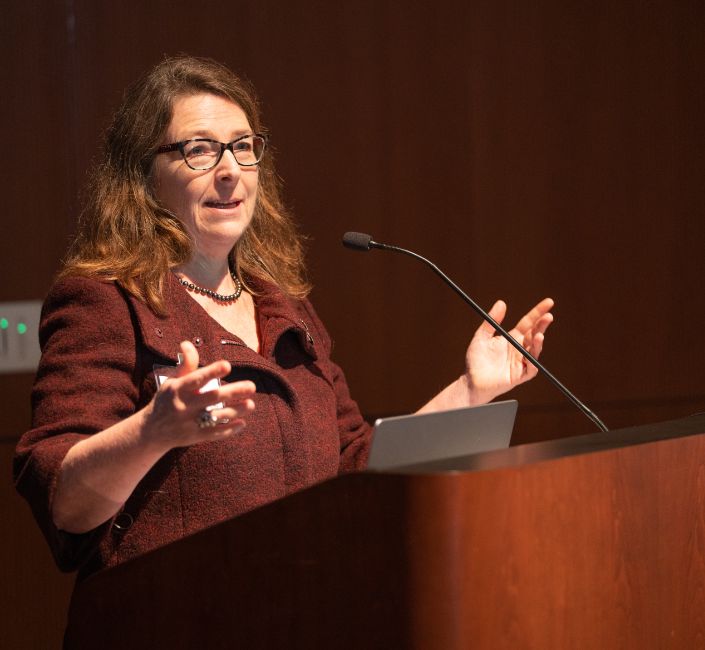 "The world is watching us," Peek-Asa said. "In a country that has acknowledged violence as a priority, in a state that has invested in prevention, and at an institution known for effecting change, the work that you do does not only impact the local community. It affects programs, ideas and networks that can stretch across the world to resolve systemic integrated issues that lead to gender-based violence."
The day-long forum featured Community Spotlights, including San Diego's LGBT Center California Black Women's Health Project, and Asian American and Pacific Islander (AAPI) Perspectives, in addition to panels on the state of gender-based violence in California featuring Dr. Aleese Moore-Orbih of California Partnership to End Domestic Violence, Sandra Henriquez of ValorUS (formerly the California Coalition Against Sexual Assault), and Lucia Corral Peña of Blue Shield of California Foundation.
Panelists and speakers addressed the socioeconomic and social determinant factors affecting violence and programs currently working to disrupt those cycles. The day included some grim topics including homicide by gender related to intimate partner violence and homicides followed by suicide incidents.
One Million Assaulted by Intimate Partners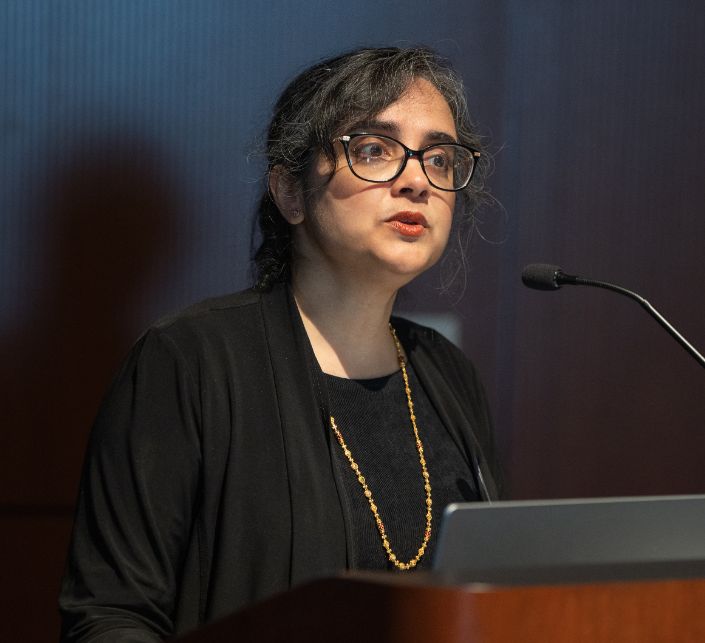 In the past year, more than 1 in 6 Californians (18%) have experienced some form of violence and more than 1.1 million were physically or sexually assaulted by their intimate partner in the past year.
Sobering figures and heart-wrenching stories, but the mood of the gathering was decidedly hopeful. Everyone shared the belief that this problem can be solved.
Anita Raj, director of the Center on Gender Equity and Health is a professor in both the Departments of Medicine and Education Studies. She presented results of last year's California Study on Violence Experiences Across the Lifespan. Data collection, exploration and sharing have put the center at the forefront of making California a leader in data to policy advancements on the intersections of gender-based violence, racial equity and mental health.
CalVEX is the nation's only statewide assessment of violence experiences, offering the region a unique opportunity to understand, track and reduce incidents.
"We need the data to help us understand who is most likely to experience violence and what are the consequences. So far, we are only seeing the tip of the iceberg," Raj said, noting that most violent experiences are never reported (according to CalVEX only 6% of victims reported the incidents). "But creating a record of perpetration and victimization also creates a record of progress and that's important."
Leadership and Change
Raj is leaving her role as director to serve as executive director of Newcomb Institute and Nancy Reeves Dreux Endowed Chair at the School of Public Health and Tropical Medicine at Tulane University. Although she will retain an appointment and remain highly engaged at UC San Diego, Raj will lead a new effort to enrich data collection related to gender-based violence in Louisiana. Her role will continue to expand and leverage the work she's done here in California.
Distinguished Fellow and Senior Strategy advisor Katherine Hay and Associate Professor of Infectious Diseases and Global Public Health, Dr. Rebecka Lundgren, are now leading as the co-directors of the Center on Gender Equity and Health, ensuring a strong leadership transition and continued progress in data collection and sharing.
Without data, Raj said, those who can enact policies and programs to counteract cycles of violence and enact means of prevention and protection won't succeed in properly assessing and addressing the problem.
Data makes the problems, causes, and perpetrators visible and assailable, she said, echoing a repeated refrain from the day. We must know what we are facing in order to defeat it.
"In our work, we see the dark underbelly of society and that can take a toll," Peek-Asa said. "But we have the ability to also see the bright future we are working to create to make things better for our children and their children and their children."
Stay in the Know
Keep up with all the latest from UC San Diego. Subscribe to the newsletter today.