Football Legends Champion Prostate Cancer Research March 21
Pro Football Hall of Fame inductees Mike Haynes and Charlie Joiner, a former Charger, will be keynote speakers at UC San Diego's Breakfast with Champions fundraiser
Published Date
Article Content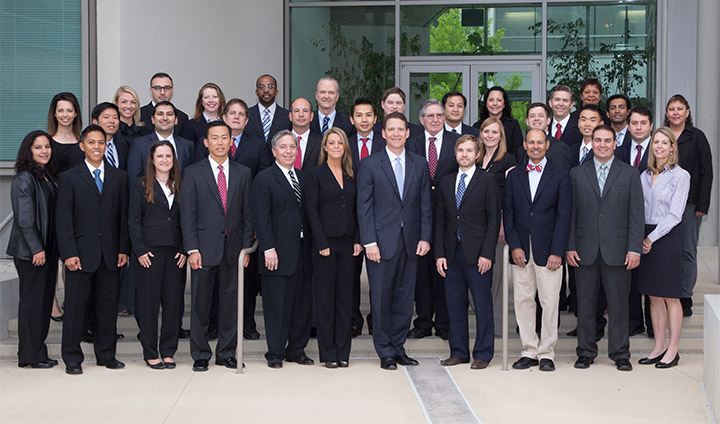 Department of Urology at UC San Diego Health System
The University of California, San Diego will host the second annual Breakfast with Champions on Friday, March 21 from 8 to 10 a.m. at the La Jolla Country Club. The event, which is open to the public, features conversations with Pro Football Hall of Fame inductees Mike Haynes and Charlie Joiner. All proceeds will benefit prostate cancer research at UC San Diego Moores Cancer Center.
At the time of his retirement Joiner, who spent more than 11 seasons with the San Diego Chargers, played in more games and had more career receptions and yards than any other wide receiver in National Football League (NFL) history. Haynes split his time between the New England Patriots and Los Angeles Raiders for a total of 14 seasons, and has been recognized as one of the top 50 NFL players of all time. He is also a prostate cancer survivor.
"My whole experience as a prostate cancer survivor—learning what was going on with my health and about treatment options—and then realizing how little awareness there is among men about this disease, made me want to use my story to make a difference," said Haynes. "I joined forces to help the NFL and Urology Care Foundation to launch the Know Your Stats awareness campaign."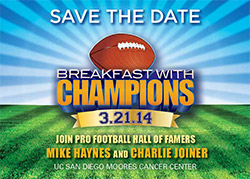 Prostate cancer is the second leading cause of cancer-related death in American men. At UC San Diego School of Medicine, scientists are researching ways to improve treatment options, both in terms of increasing effectiveness and minimizing side effects. Current research includes investigations into which populations of men have the highest genetic risk of prostate cancer, whether diet can improve outcomes for patients and whether immune modulating therapies can help cure prostate cancer.
"The innovative research at UC San Diego is changing prostate cancer care," said Christopher Kane, MD, chair of the Department of Urology at UC San Diego Health System. "Our prostate cancer clinical team holds leadership positions in the national clinical trial and on the guidelines committees, and is dedicated to the expert care of men with all stages of prostate cancer. No San Diegan with prostate cancer needs to leave San Diego to find truly world-class care. It's available at UC San Diego Moores Cancer Center."
Haynes was treated for prostate cancer at UC San Diego Health System in 2009. Since then, he has been dedicated to raising awareness of the prevention and treatment options available for prostate cancer patients.
"I had a lot of help and support from other cancer survivors and it had a huge impact on me," he said. "Now I want to help educate others about the options available, including the exceptional care available at UC San Diego Health System's Department of Urology."
Breakfast with Champions will be held from 8 to 10 a.m. on Friday, March 21 at the La Jolla Country Club. Tickets are $250 per person and sponsorship opportunities are available. For more information and to purchase tickets, visit the Breakfast with Champions website or call (858) 822-1328. To learn more about the UC San Diego Department of Urology, visit urology.ucsd.edu.
Stay in the Know
Keep up with all the latest from UC San Diego. Subscribe to the newsletter today.