First 'Wise Elder Changemaker' Awards Celebrate San Diegans Age 65+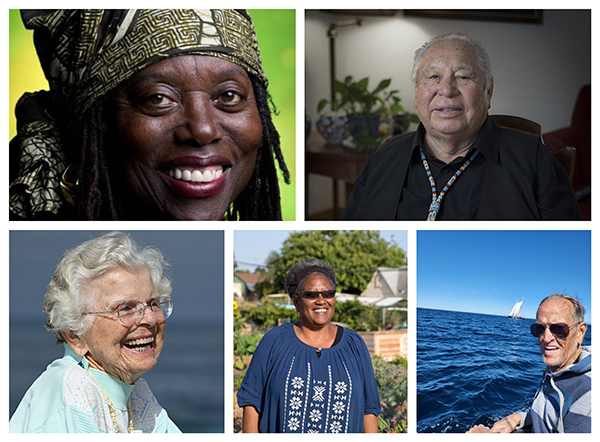 Published Date
Article Content
Five remarkable people are being celebrated by the Life Course Scholars Program at UC San Diego with "Wise Elder Changemaker" awards.
Born out of a desire to highlight the life work and current accomplishments of San Diegans 65 years and older "who have had a significant impact on people, land, communities and movements for change across our region," the inaugural awards recognize changemaking work that ranges from food justice to housing advocacy, from the arts, to gender and racial equity, to community healing.
The 2022 Wise Elder Changemakers are:
Alice Yee, pathbreaker for women's rights (102 years!);
Randy Edmonds, founder of the Indian Human Resource Center, San Diego;
Makeda Cheatom, founding director of the World Beat Center and the Children's EthnoBotany Peace Garden in Balboa Park;
Bruce Carron, member of the HEAL Network and advocate for unhoused seniors; and
Diane Moss, managing director of Project New Village.
A virtual awards ceremony on April 21, 2022, beginning at 4 p.m., will be followed by a conversation with the "Wise Elder Changemaker" award winners and audience Q&A. Please register to attend the event and/or have access to the recording afterwards: https://tinyurl.com/elderchangemakers
"Among this esteemed group of 'Wise Elder Changemakers' are teachers, speakers, bridge-builders, relationship-weavers and leaders helping individuals and communities to achieve health and wellness through reconnecting with nature, cultural traditions and one another. Collectively, through their efforts, they cultivate awareness, compassion, understanding, and tilt the world a little more toward justice, equity, peace, inclusion, sustainability and love," said Leslie Lewis, co-director of the Life Course Scholars Program and a continuing lecturer in UC San Diego's Department of Urban Studies and Planning, which is home to the program.
Nominations for the award were solicited and then selected by students in the Life Course Scholars Program. Now in its seventh year, the program brings together UC San Diego students with elders in the region in project-based learning in order to design communities that are accessible and friendly to all ages.
"The aim," Lewis said, "is to teach students about the diversity of the aging experience, especially as it is shaped by structural, cultural and individual factors, as well as to foster intergenerational exchange, learning and collaboration. Older adults offer perspectives that are profoundly valuable to students. They are able to share wisdom born of diverse life experiences and the emotional resilience that often arises from this. They also tend to be a source of deep inspiration."
In addition to the Life Course Scholars Program, the "Wise Elder Changemaker" awards are supported by UC San Diego's Center for Healthy Aging. Each honoree will be presented with both a physical award and a check for $400 in celebration of their accomplishments. But really, Lewis said, the Wise Elder Changemaker award, is an opportunity to highlight the impactful work of older changemakers across the San Diego region, and to offer lessons and inspiration to aspiring changemakers of all ages.
Stay in the Know
Keep up with all the latest from UC San Diego. Subscribe to the newsletter today.