First Winner of ITA Sally Ride STEM Award Shares Astronaut's UC San Diego Connection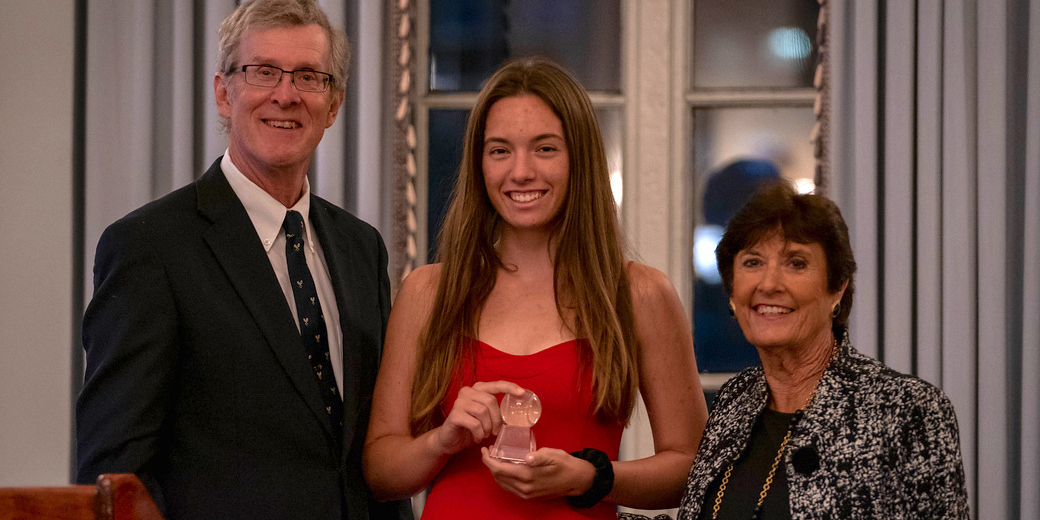 By:
Published Date
By:
Topics:
Share This:
Article Content
Before Sally Ride became America's first woman in space, she was an accomplished college tennis player who considered turning pro. Ride decided instead to earn her doctorate in physics and later to join NASA, but athletics remained important to her throughout her life.
Now Tam O'Shaughnessy, Ride's life partner, has endowed a national award in Ride's name honoring an outstanding scholar-athlete. The Intercollegiate Tennis Association (ITA) Sally Ride STEM Award recognizes a female college tennis player who plans to pursue graduate studies in STEM (science, technology, engineering and math).
Ride would have been delighted with the award's inaugural winner, California Institute of Technology tennis standout and recent grad Anna Tifrea, O'Shaughnessy said.
For one thing, Tifrea got her bachelor's degree in physics, Ride's chosen field. Also, Tifrea is starting the joint MD/PhD program at UC San Diego, an institution where the late astronaut had deep connections. After retiring from NASA, Ride taught physics at UC San Diego. Today the university is home to Sally Ride Science, co-founded by Ride to promote diversity in STEM studies and careers.
"Anna exemplifies what this award is all about – a female student-athlete who has passion and purpose in pursuit of her goals," said O'Shaughnessy, who is co-founder and executive director of Sally Ride Science. "Sally would love that Anna, who loves tennis and physics just like she did, is receiving this award and will be supported in her dreams."
The 2022 ITA Sally Ride STEM Award includes an $8,000 scholarship, plus a $2,000 award for the Caltech women's tennis team in Tifrea's honor. She was a member of the team for four years and captain for two years, although the pandemic interrupted her collegiate tennis career at times.
"To me personally, the award is a big deal because I think Sally is super inspirational," Tifrea said. "One thing it has done is inspire me to follow all of my dreams – to know it is possible to have the tennis aspect and also pursue the career I want."
She is earning a medical degree and a doctorate in biophysics with the goal of working at a university attached to a medical center so she can practice medicine while conducting biophysics research. She's also exploring ways to keep tennis as part of her life.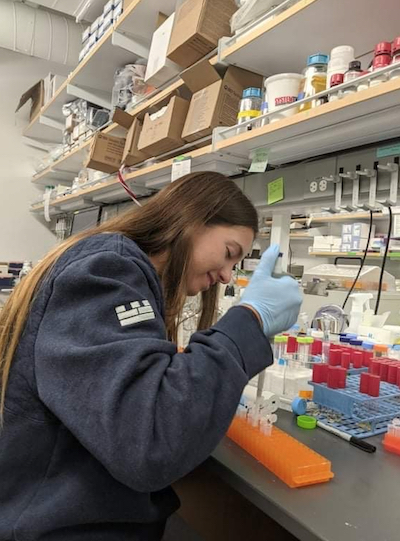 Science runs in the family
Tifrea grew up in Fullerton, the child of Romanian immigrants who both work in STEM fields. Her father is a physics professor at Cal State Fullerton, and her mother is a medical researcher at UC Irvine.
As a girl Tifrea spent summers with relatives in Romania. Her maternal grandparents were medical professionals, and her paternal grandparents were teachers. "I would do math with my grandparents on my dad's side every single morning – I would wake up and then go and do two hours of math," she recalled. "I think most kids would find that boring, but I remember it fondly. That really got me to love math early."
She began playing tennis when she was 10 or 11 under an inspirational coach who remains a mentor. While competing in junior tennis tournaments, she also joined her school's math team and took part in competitions.
She took her first physics class as a junior in high school. "I really loved it because it's very conceptual and math-related, so I think it ties back to my love of math," she said.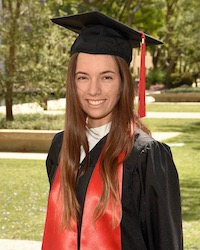 Bridging the gender gap
Tifrea took some time to decide on a college. "Physics is generally a very male dominated field, and it took me a while to realize that I wanted to do physics and that I wanted to go to a school like Caltech that was historically more male dominated," she said. She met the Caltech tennis coach at a recruiting event and later visited the campus and found it to be a welcoming environment.
While attending Caltech, Tifrea balanced tennis with her studies and physics research projects. At one point she took part in a STEM outreach event for high school girls involved in athletics. "I think a lot of girls tend to be scared to go into those fields because they think they won't fit in and that it's not the right place for them," she said. "It was great to show the girls what it could be like and to get rid of those stigmas and fears that they had."
After graduation Tifrea knew she wanted to attend an MD/PhD program. "I always thought that medicine was a noble profession," she said. "I fell in love with research in college and I wanted to keep doing that, but I also wanted to become a physician, so it seemed like the perfect way to combine my interests."
The Medical Scientist Training Program at UC San Diego stood out for several reasons. "I really wanted to find a place that had strong research in my area of interest," she said. "The Biophysics, Bioengineering and Bioinformatics departments at UC San Diego are all very strong, and there are so many amazing faculty members to work with."
Since starting the program in August, Tifrea has spent four weeks in a biophysics lab conducting research on heart arrythmias and has started medical classes. "It has been amazing," she said. "Everyone seems extremely helpful and collaborative, and there are just so many great resources that you can use."
"While medical school and research are highly rewarding, they're also very challenging, so it's important to feel like you have a community," she added. "So far that's definitely happening."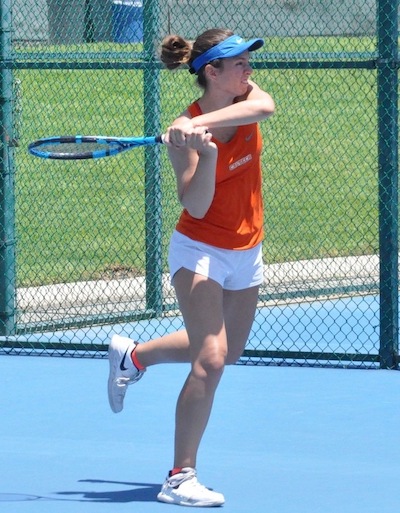 Lessons in life
As a scholar-athlete, Tifrea has often drawn on skills learned from tennis to handle challenges in her studies and other aspects of life. The sport requires determination and resilience, she noted, and it teaches players to cope with stress and to manage their time. And being on a tennis team promotes a sense of teamwork.
She also points to the scoring system of tennis. "Something that's unique about tennis compared to other sports is that you can always make a comeback," she noted. "You need to be able to reset at any point. And that applies to academics and to relationships with other people — there's always a second chance."
As she pursues her studies at UC San Diego in preparation for a career as a physician and researcher, Tifrea knows she will continue to rely on these skills. "Obviously medicine is difficult and it can be super stressful at times. I can definitely apply the skills that I learned through tennis to this," she said.
"Before this award, I didn't realize that sports and academics could be so tied together."
Topics:
Share This:
Stay in the Know
Keep up with all the latest from UC San Diego. Subscribe to the newsletter today.