Published Date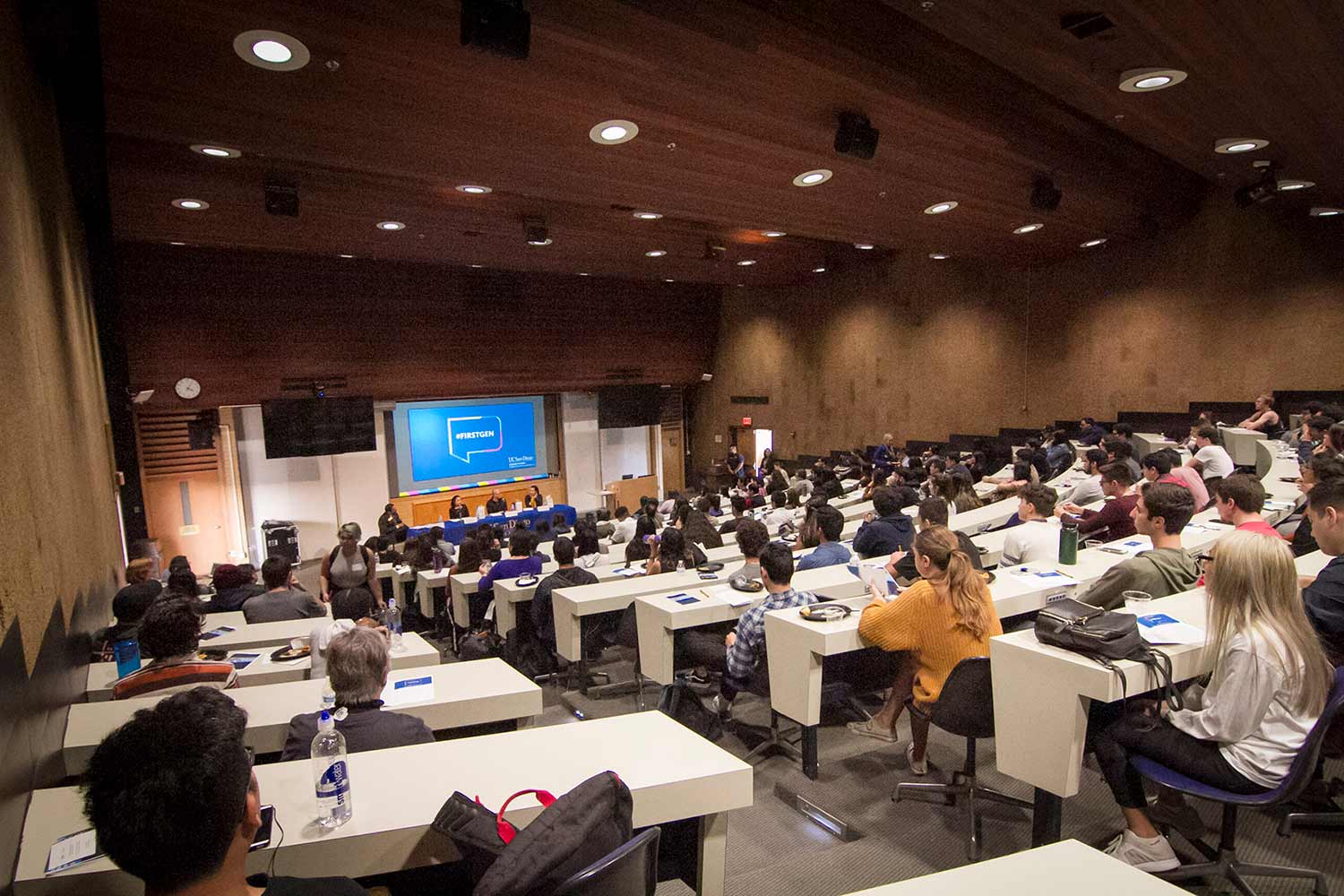 First-Generation Faculty Share Stories of Overcoming Setbacks to Pursue their Passions
Being the first in your family to go to college comes with unique opportunities and challenges. At a recent panel discussion, current first-generation students had the opportunity to hear from faculty members who were once in their shoes.
More than 140 students packed into Liebow Auditorium at the UC San Diego School of Medicine for the discussion entitled "Failing Forward: Bouncing Back and Exploring Your Passions." The panel featured three faculty members who were the first in their families to go to college: Yuliana Gallegos Rodriguez, UC San Diego alumna and assistant clinical professor of psychiatry; Hoang Tan Nguyen, associate professor of literature; and Becky Marquez, assistant professor of behavioral medicine.
The event is part of Triton Firsts, UC San Diego's own version of the UC-wide initiative launched last fall to showcase the stories of first-generation faculty, staff, graduate students and alumni. The initiative aims to build a first-generation community and to send a message to current undergraduates that they are not alone.
"We're all on this journey together, and there are many winding paths to get you to your ultimate goal," said Jeffrey Orgera, assistant vice chancellor for student retention and success, who was also the first in his family to attend college. "Not reaching your goals is scary, but the most important thing is to not let that label define who you are. We all face these challenges."
Touching on everything from mental health to balancing work and school, the panelists spoke earnestly about the obstacles they faced navigating college and graduate school, as well as the surprising turns and invaluable support that led them to where they are today.
"It's hard to envision life as a graduate student," said Eustaquio Aguilar, a second year physics major who attended the panel. "It's helpful to hear from those who have been through it and made it."
What is college, how do I get there, and what does it take to succeed?
Navigating the institution of higher education without parents or older siblings who have been through it is often the first challenge that first-generation students face.
Becky Marquez grew up in East Los Angeles, one of six children raised by a single mother who believed that college was only for wealthy students. A high school counselor encouraged and helped Marquez apply to college and choose a major. That was the beginning of a lifelong willingness to keep an open mind, ask for help and persevere.
"My experience as a first-generation student was a lot of learning and figuring things out," she said. "I think the reason why I'm here today is because I've been open. I didn't have a specific vision of what my life would be."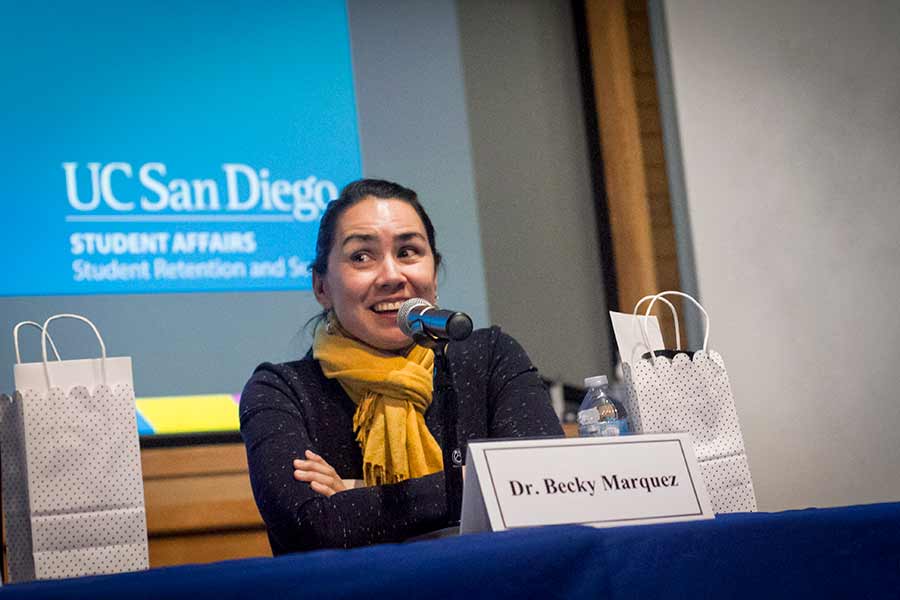 Then there's the challenge of finding a supportive community in an unfamiliar place. Hoang Nguyen was born in Saigon, Vietnam, and left by boat with his family when he was seven years old to escape Communist persecution. Nguyen was shy and introverted when he started as a freshman at UC Santa Cruz. Finding the courage to see his professors during office hours, and to reach out to new friends, were milestones for him.
"Those of us who are first-generation don't have built-in networks," he said. "For me, being queer and Asian it was difficult to connect with my family for a long time. I had to create my own alternative networks and family ties—and those relationships have really sustained me over the years. I've learned that intentionally building community will benefit you for the long term."
The panelists also spoke about balancing family responsibilities and academics, including how to cope with feelings of guilt over leaving home to attend college.
Yuliana Gallegos Rodriguez grew up on both sides of the border. Born in Chula Vista to Mexican parents, she lived in Tijuana and attended school there until seventh grade, when she resumed her studies in San Diego. Leaving home for college was a big deal, she recalls, and being away from family was hard.
"It was difficult trying to negotiate my independence," she said. "My parents didn't understand midterms and why I couldn't attend church or family functions with them on the weekends because I needed to study."
Finding your path…and your passions
As the professors shared their first-generation paths—from their first days as undergraduates, to persevering in graduate school, to landing their first jobs—one thing was clear: it's rarely a straight path from college to career. More often, there are unexpected opportunities, mentors, setbacks and an ongoing process of personal discovery that shapes the journey.
Marquez followed the advice of her high school counselor and started at UC Davis with the goal of becoming a veterinarian. She quickly discovered she enjoyed science, but couldn't picture herself doing the work of a veterinarian. She switched her major to neurobiology and started working in a research lab, where she found mentors who helped her get connected to other undergraduate research opportunities. With the support of mentors, she started graduate school at Cornell with the intention of pursuing basic science research. Instead, after volunteering at a migrant camp in upstate New York, she discovered her passion for public health and behavioral medicine.
"A lot of what leads to success is taking advantage of opportunities, and being willing to put yourself out there and take a risk," she said.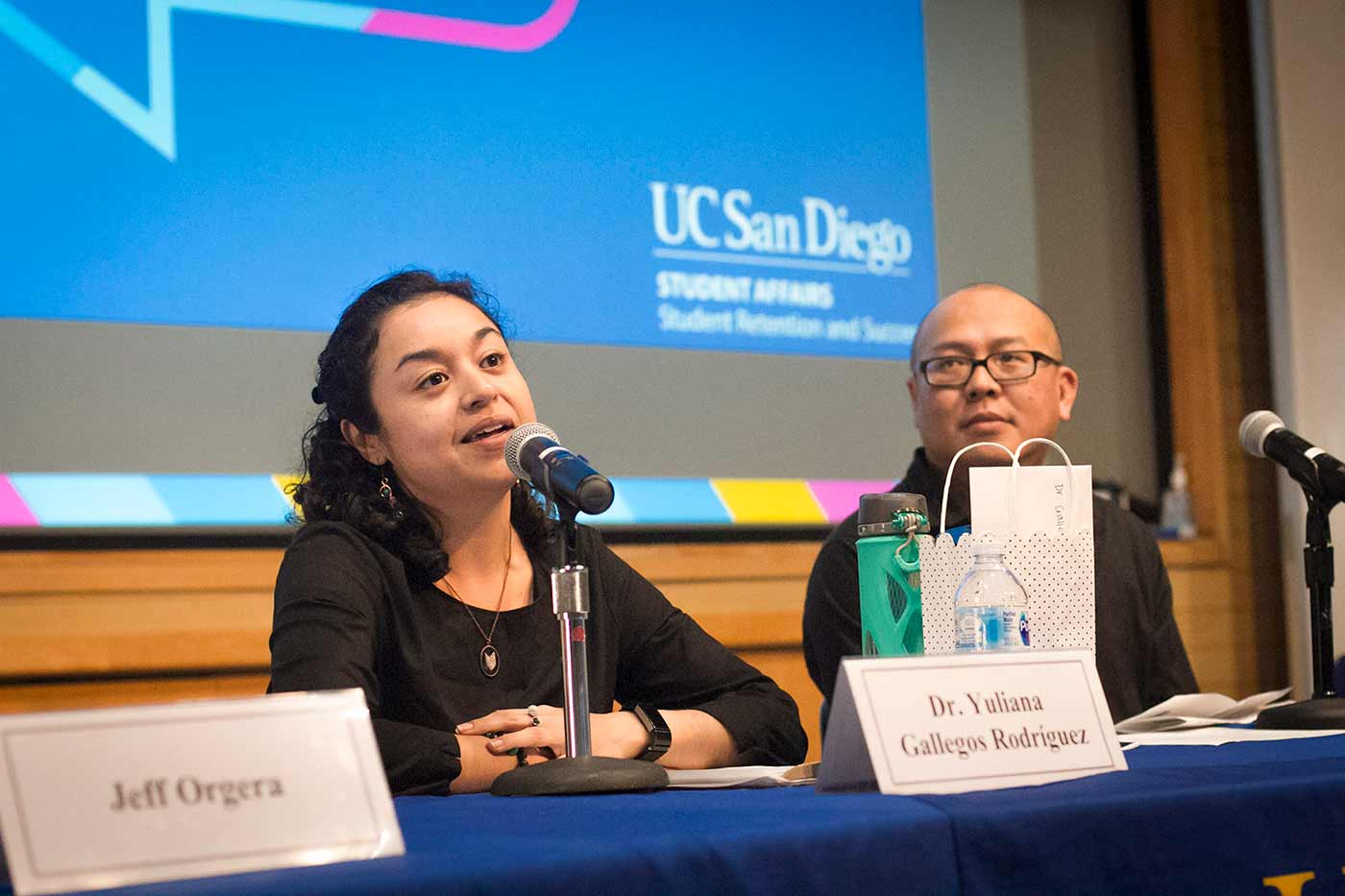 Gallegos Rodriguez didn't feel like she belonged when she first started as an undergraduate at UC San Diego. She didn't drive a nice car, like the ones she saw parked outside the residence halls, and her family still lived across the border in Tijuana. She started her first year at Warren College alongside her best friend from high school, and when her friend left UC San Diego after one quarter, Gallegos Rodriquez considered doing the same. It wasn't until she started volunteering in a psychology lab that she found her place. She loved the research and felt a sense of community with the other students working in the lab.
"For a while I felt like I was a stranger and didn't belong," she said. "Thankfully, I stuck around and had great opportunities that took me where I am today."
For Nguyen, attending UC Santa Cruz was an opportunity to cultivate his passion for art and art history. After graduating, he moved to San Francisco with the goal of becoming a practicing artist. While there, he became active in the gay community and began working with immigrant youth. After working various jobs and trying to make it as an artist—a competitive and difficult endeavor—Nguyen decided to pursue his interest in research. He started graduate school at UCLA, but it turned out to be a poor fit. He left after one year, researched doctoral programs that would better match his interests, and landed at UC Berkeley.
Ask for help when you need it
For all three panelists, reaching out for help and building a supportive community were essential to overcoming setbacks. In their advice to students, they emphasized the value of friendships, family and community.
Gallegos Rodriguez shared how overwhelmed she felt trying to balance school and work as an undergraduate. After living on campus for a little while, she moved back home to Tijuana to be with her family and began commuting to UC San Diego. She also started working to cover her expenses. When her grades started slipping, a guidance counselor told her she needed to quit her job and focus on her studies.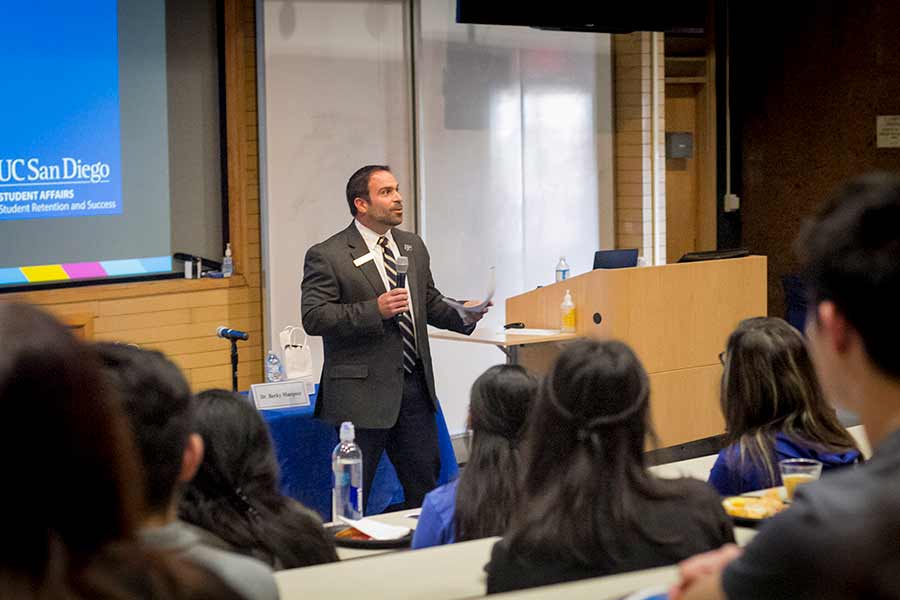 "I remember leaving that office and just crying," she said. "I thought, 'she does not understand, I have to work.' But I think it inspired me to look for alternatives. I started working on campus and building my community at UC San Diego, and it made for a better experience."
Marquez spoke about being at a very low point upon finishing graduate school and deciding to seek help from a therapist—an act that took courage for someone who was raised in a family that didn't talk about mental health. She learned how to address issues of anxiety and depression, and realized she wanted to change her career path.
"Talking to a therapist is something I never thought I would do, but if I hadn't reached out, I don't know where I would be today."
Like his colleagues, Nguyen also experienced his share of struggles during school. During his third year, his advisor left the university for another position. It was around the time he was supposed to take his qualifying exams.
"I had a mini-breakdown," he said. Nguyen was referred to a therapist who helped him re-focus and rebuild his confidence. He also reached out to other graduate students, which made him realize he was not alone in his struggles.
"Because of the support network I had I was able to go through the exams. I was delayed by a semester or two, but I was able to keep going and move forward. Now I tell students that it's okay to take a pause. There's no rush, and sometimes you need a break to take care of yourself before persevering toward your goal."
Stay in the Know
Keep up with all the latest from UC San Diego. Subscribe to the newsletter today.