Epstein Family Amphitheater Debut Events to Showcase Talent from UC San Diego and Beyond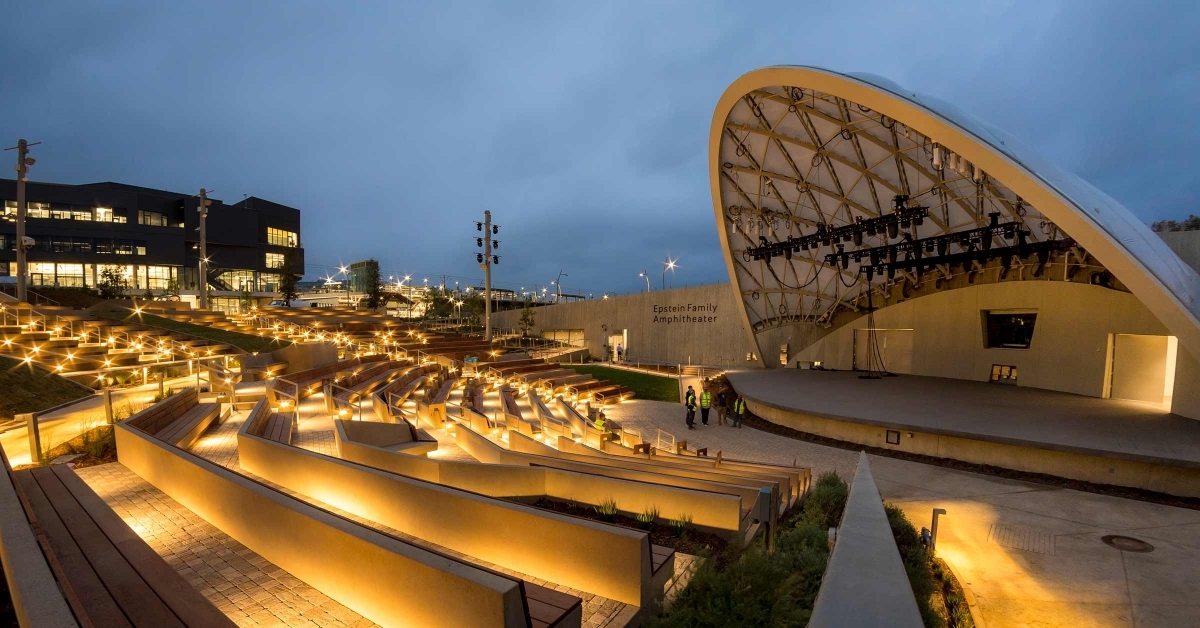 Published Date
By:
Share This:
Article Content
The Epstein Family Amphitheater, a state-of-the-art outdoor entertainment venue at UC San Diego, is less than a week away from its debut. To provide a first look at the amphitheater, which seats nearly 2,500 people, the university has curated an array of debut events for students, staff, faculty and local community members alike.
The lineup of events kick off Oct. 20, giving guests a preview of San Diego's newest destination for arts, culture and entertainment. The audience will enjoy sights and sounds from local and international talent, as well as film screenings, a community marketplace and much more.
"So much time, attention and care from countless individuals have brought this beautiful venue to fruition," said Colleen Kollar Smith, the inaugural Executive Director of the newly created Campus Performances and Events Office. "With the debut events, we are excited to give everyone a taste of the diverse programming that is in the Epstein Family Amphitheater's future."
Among the list of highly anticipated events is An Evening of Celebration with the San Diego Symphony on Oct. 21. Alongside well-loved pieces of classical music from Igor Stravinsky and Samuel Barber, this special engagement will spotlight talent from some of UC San Diego's music faculty and alumni. An amphitheater dedication ceremony will also be held as part of the event.
UC San Diego Distinguished Professor of Music Steven Schick, who held a 15-year tenure as the music director of the La Jolla Symphony and Chorus, has been behind the scenes programming the event.
"It occurred to me—kind of almost immediately—that the best thing we could do would be to unite different parts of the city of San Diego with a celebration of this space," said percussionist and conductor Schick, who invited the San Diego Symphony to participate in the celebration. Acclaimed violinist Paul Huang will also be joining to perform a concerto from Barber.
Importantly, Schick wanted to curate a program that represents "the adventurous and forward-looking musical values of the university." Not only will Australian conductor Elena Schwarz be leading the symphony in a work by Stravinsky, but she also will be at the podium conducting a work titled Bamboo Lights by the Chancellor's Distinguished Professor of Music Lei Liang.
Schick will also be playing percussion in a work from Distinguished Professor of Music Rand Steiger titled Triton's Rise—a new piece from Steiger that will be performed for the first time at the Epstein Family Amphitheater. Afterward, Schick will take the podium for acclaimed Icelandic composer and UC San Diego alumni Anna Thorvaldsdóttir. "Both Rand and I were on her doctoral committee," reflected Schick, "so it just gives us a lot of pleasure to be able to show her to local audiences."
A new hub for arts, culture and entertainment
An array of debut events has been curated to showcase the uniqueness and potential of the Epstein Family Amphitheater, featuring on-campus concerts, events and activities.
Alongside an event calendar filled with happenings ranging from a rock concert to a daylong electronic music festival, the new venue will also be used for UC San Diego's nationally ranked theatre, dance, visual arts and music programs.
The amphitheater offers students another space to perform on campus and gain hands-on experience in the live events industry. It is also a venue that was designed to be used both informally and formally. For example, when a performance isn't going on, guests can come to the lawn to read a book or have lunch on the hill.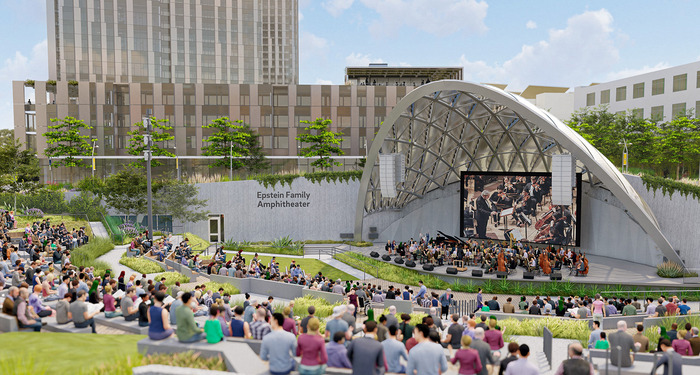 Kollar Smith hopes the amphitheater can become another space for students to find a sense of belonging and home. She shared, "we hope to create and steward a space for every student on campus—those who are already connected to art and those who may not know yet how art fits in their lives."
A full calendar of events and programs can be found on the Epstein Family Amphitheater homepage. All campus community members are encouraged to come and join in welcoming the new venue to campus; tickets and registration links are available online.
A sampling of events for October include:
Niki – The Nicole Tour | Thursday, Oct. 20
UC San Diego's Associated Students Concert and Events Presents Niki – The Nicole Tour. Jakarta-born, LA-based singer-songwriter and producer, NIKI, brings her first North American headlining tour "The Nicole Tour" to the Epstein Family Amphitheater. This concert is now sold out.
An Evening of Celebration with the San Diego Symphony | Friday, Oct. 21
The San Diego Symphony and UC San Diego musicians will be featured in the debut concert held at the Epstein Family Amphitheater. The program will spotlight music from Igor Stravinsky and Samuel Barber, as well as from Professor Rand Steiger and Professor Lei Liang. Australian conductor Elena Schwarz will take the podium, as well as Professor Steven Schick who will lead the symphony in a performance composed by alumnus Anna Thorvaldsdottir. Acclaimed violinist Paul Huang will also be performing in the evening's program.
Death Cab for Cutie with Yo La Tengo | Saturday, Oct. 22
The Grammy-nominated alternative rock band Death Cab for Cutie will be performing at the new amphitheater, with an opening set from indie rock band Yo La Tengo. The group will be touring their album "Asphalt Meadows," which releases in September. This concert is now sold out.
Community Fest and Film Night | Sunday, Oct. 23
Taking place right off the Central Campus trolley station on the UC San Diego Blue Line, enjoy a free daylong community event featuring family-friendly activities, vendors and performances. The amphitheater will come alive with a giant puppet parade presented by the La Jolla Playhouse and Animal Cracker Conspiracy, salsa lessons, and performances by the Young Lions Jazz Ensemble. Vendors will offer fun-for-all-ages activities and delicious food and drinks. At night, guests can enjoy a film screening of the 1984 cult classic, Purple Rain.
Las Cafeteras: Hasta La Muerta presented by ArtPower | Thursday, Oct. 27
A world premiere and part of UC San Diego's Latinx History Month celebration, Hasta La Muerte is an enthralling new production rooted in the indigenous Mexican practice of celebrating Life and Death, universally known as Día de los Muertos. Honoring the ancestors who came before us, Hasta La Muerte is a passionate, multi-dimensional performance filled with song and dance, a traditional altar, as well as original and new music from Las Cafeteras.
Out at the Amphitheater Drag Show | Friday, Oct. 28
The undergraduate colleges, LGBT Resource Center and the university's free event series Triton Fest have teamed up to present a one-of-a-kind Halloween-themed drag show. The event features Lala Ri and Daya Betty from Ru Paul's Drag Race, as well as iconic local talent. The event is free and open to UC San Diego students. Tickets are required for entry and are now available.
Blacktronika: Where I Stand Festival | Saturday, Oct. 29
Blacktronika: Where I Stand Festival will bring together six innovative musical groups ranging from free jazz to cosmic funk to create a full day of sonic cultural expression. Blacktronika is a UC San Diego Music course created by Professor King Britt that honors the innovators of color who have contributed to the global advancement of electronic music. Featured talent for the event includes Irreversible Entanglements, Tyshawn Sorey and King Britt, Xenia Rubinos, Chimurenga Renaissance, Georgia Ann Muldrow and 5hz.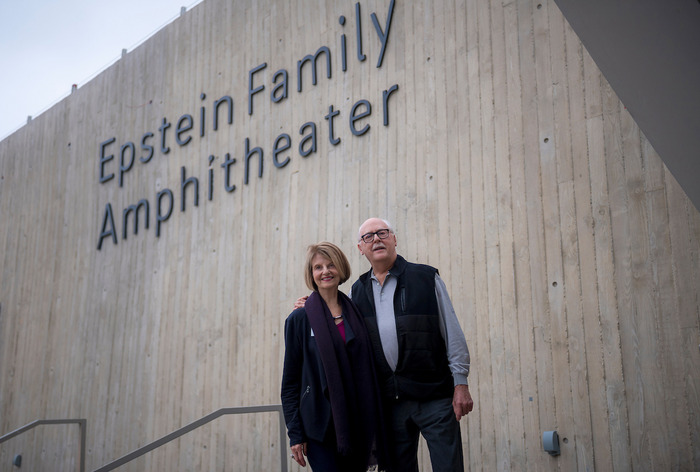 Stay in the Know
Keep up with all the latest from UC San Diego. Subscribe to the newsletter today.