Published Date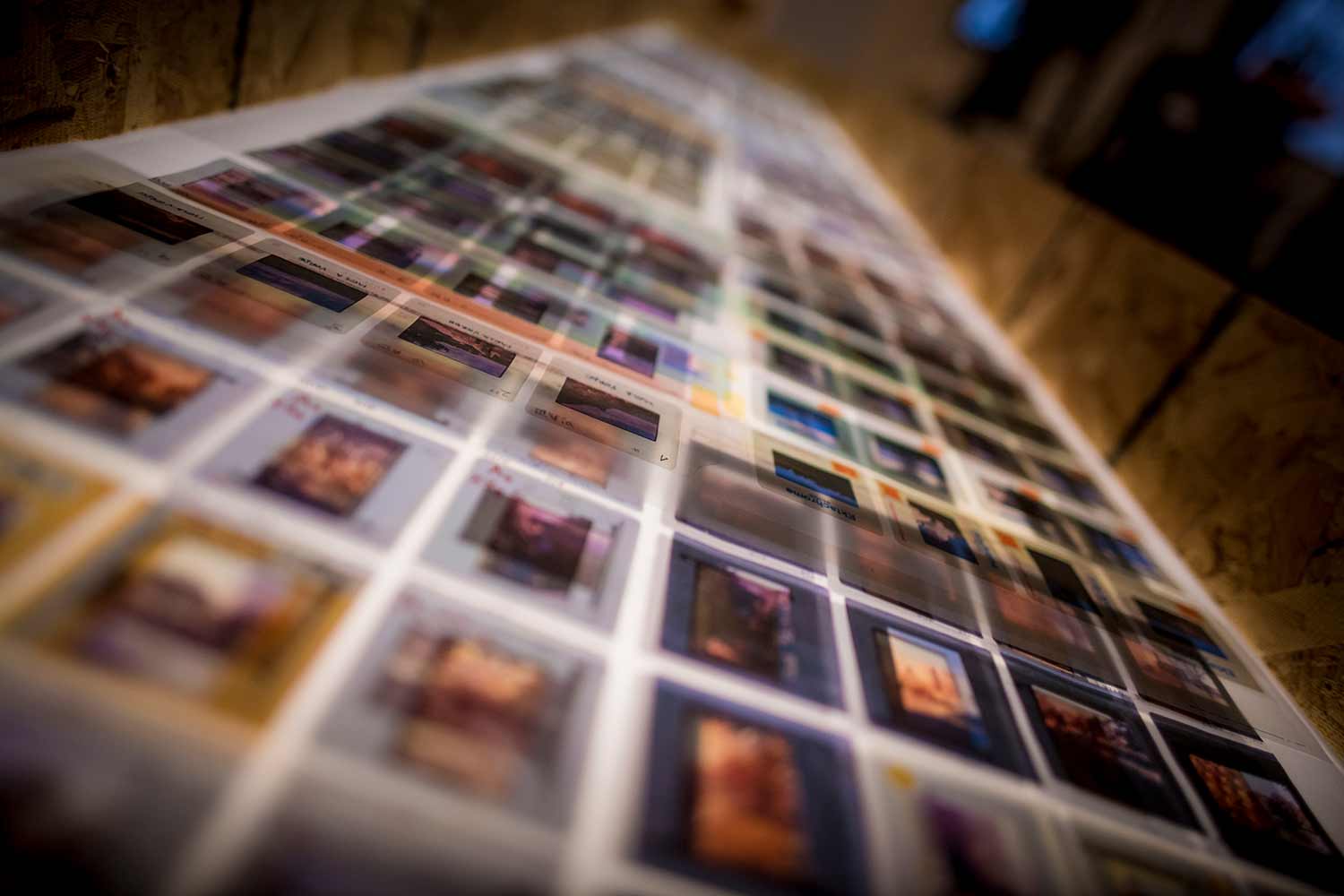 Envisioning the Future of the University Art Gallery
From a place to freely collaborate to existing as a "living laboratory" for students, a new commitment to arts on campus brought the community together Nov. 14 in an effort to help shape the University Art Gallery's exciting—and student-focused—future.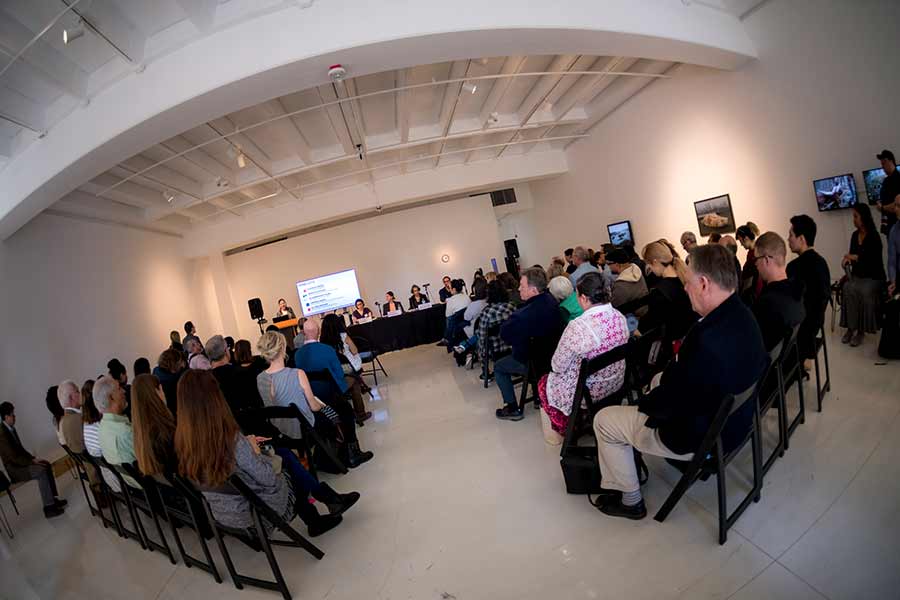 Led by the newly established Arts and Community Engagement initiative, a public discussion was held inside the gallery itself, where five prominent gallery directors from top universities across the nation answered the question "Why is a university art gallery important?"
"Unlike for-profit institutions, university art galleries stand apart uniquely as an experience to benefit the student body first and foremost," said Allyson Unzicker, associate director of University Art Galleries at UC Irvine. "Without university art galleries, we lose a history of exhibition-making wherein the gallery acts as a lab: a site where risks and potential are at the forefront of knowledge."
Unzicker was joined by Elizabeth Chodos of Carnegie Mellon University's Miller Institute for Contemporary Art, Henriette Huldisch of the MIT List Visual Arts Center, Alessandra Moctezuma of San Diego Mesa College gallery, and Lawrence Rinder of the Berkeley Art Museum and Pacific Film Archive at UC Berkeley.
All gave insight into the unique history and experiences of their institutions, and all advocated for centering galleries on the student experience. In addition, Rinder made a special call for administrators to take their commitment to the arts seriously, for the benefit of all students.
"In art museums, students find challenges to their sense of self, cultures and points of view different from their own, engagement with peers and opportunities for peer-to-peer learning, and encounters with works that present cognitive or ethical conundrums, all of which support classroom learning across multiple disciplines," he said.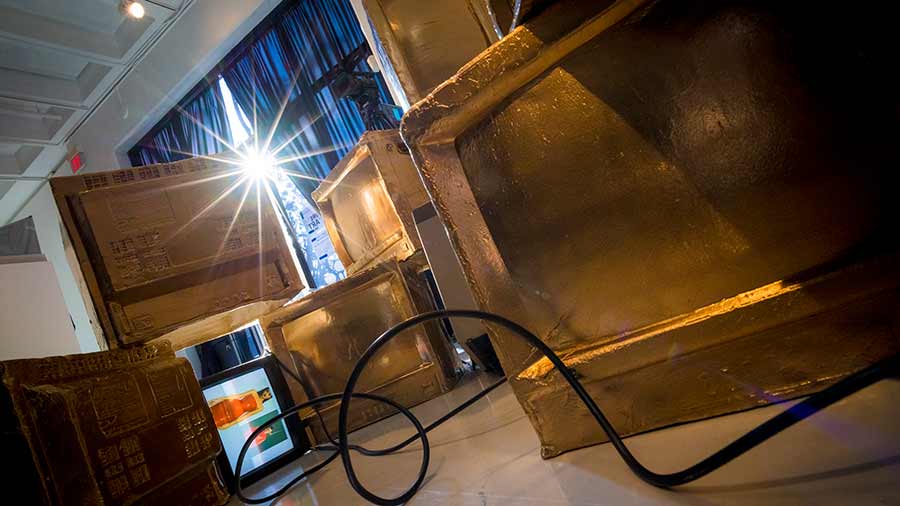 The discussion comes at an important time for UC San Diego. Since 1965, the University Art Gallery has been on the leading edge of artistic practice. Visitors gained insights into the techniques and ideas that shape the cultural landscape, and the gallery itself has benefited from the broader interdisciplinary environment that thrives on campus.
The University Art Gallery is one of multiple galleries at UC San Diego: The Adam D. Kamil Gallery is also located at Mandeville Center, and the Visual Arts Facility has three galleries and a performance space, as well as a sound lab and screening room. There is also a dedicated gallery in both the Structural and Materials Engineering building, and Qualcomm Institute.
Department of Visual Arts professor Grant Kester and current Ph.D. student Alexanndra Nicholls moderated the three-hour discussion, and both expressed a powerful connection between galleries, art production and the valuable insight developed both for and by students.
"University galleries are important because they allow for the tangible expression of critical dialogue and programming that extends outside of the classroom," Nicholls said. "They also provide a space in which objects, people and ideas may come together."
Amy Adler, chair of the Department of Visual Arts, worked closely with Arts and Community Engagement on the selection of panelists, who she says were chosen based on the wide range of university models they represent and her admiration for the success of their leadership and programs.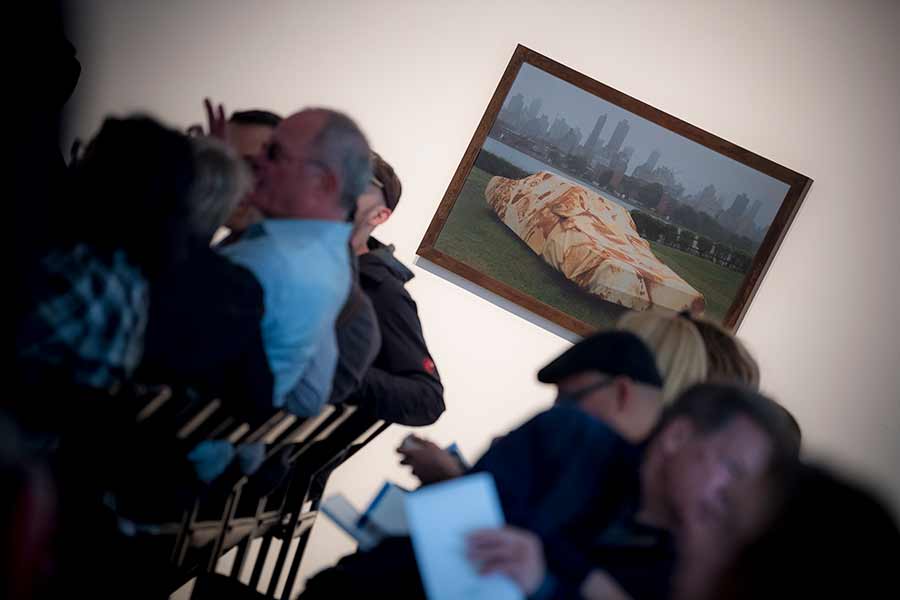 "With the surge in support for the arts on campus, and with the valuable insights of our colleagues at other institutions, we look forward to finding a new path forward for our own University Art Gallery," Adler said.
The current gallery location at Mandeville Center is about to receive a multi-million dollar upgrade as part of a planned renovation of Ridge Walk. In addition to a new design to the gallery's facade that will better welcome visitors, much-needed improvements to the infrastructure are planned that will result in a new, state-of-the-art gallery space.
Adler said she hopes the renovated gallery, with a completion date of early 2021, will "once again provide a valuable service to our students, campus and community, but also be leaders of art research and practice on the global stage."
It is the benefit felt by both students and the greater community that resonated with multiple panelists.
"At their best, university galleries create new knowledge and animate a collective citizenry through dialog and exchange in free and open public space," Chodos said, with San Diego Mesa College faculty member Moctezuma agreeing. Spaces like these are an important hub for the entire region, Moctezuma said, particularly emphasizing the bi-national arts community that travels across the border.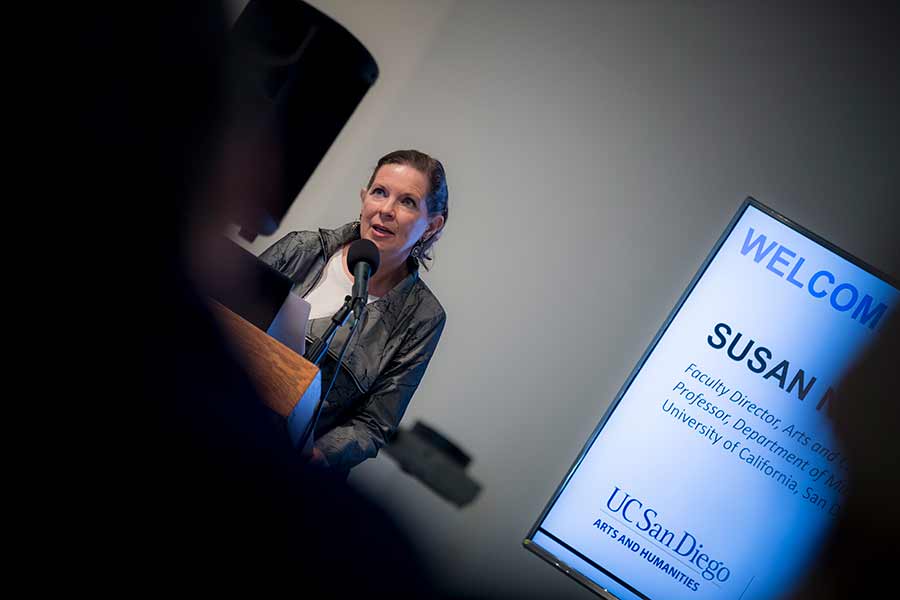 Established by the Division of Arts and Humanities, the Arts and Community Engagement initiative seeks to build community through the arts. The initiative is led by Susan Narucki, professor in the Department of Music and award-winning soprano. Narucki has a long history of advocating for art as a means to engage public dialogue about pressing cultural topics, including the development and production of last year's chamber opera addressing gun violence, "Inheritance."
"Audiences have been drawn to the University Art Gallery for the purposes of encountering work that prompts contemplation, discussion and a deeper awareness of important artistic research on campus as well as in the broader local, national and international community," Narucki said. "This community dialogue is one opportunity to envision the future of the University Art Gallery."
In conjunction with the Nov. 14 forum, an exhibition by artists from the Ph.D. Art Practice concentration in the Department of Visual Arts was on display, surrounding the speakers and guests. Free and open to the public, "A Public Appearance" will be on view at the University Art Gallery through Dec. 6.
"It is an exciting time of transformation on our campus," Narucki said, "and we know that the arts have an essential role to play in shaping what is to come."
Stay in the Know
Keep up with all the latest from UC San Diego. Subscribe to the newsletter today.