Enhancing the Experience of Diverse Asian American and Pacific Islander Students
As an Asian American and Native American Pacific Islander-Serving Institution, UC San Diego is strengthening student support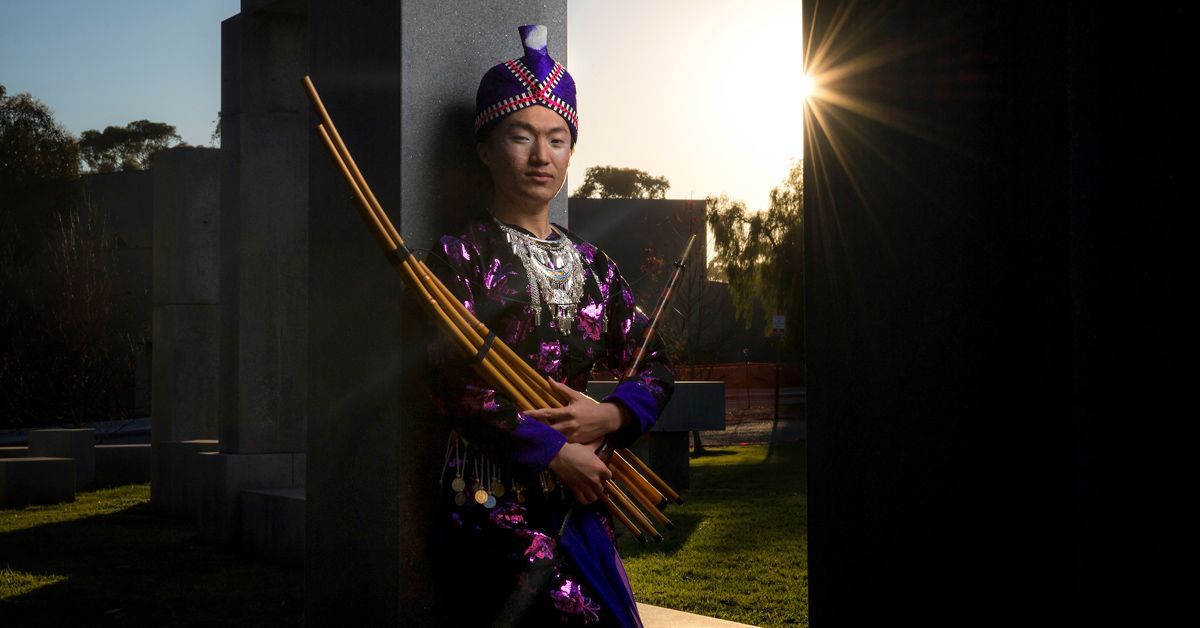 Published Date
By:
Topics:
Share This:
Article Content
There aren't many Hmong students at UC San Diego, but that didn't deter Eugene Tsim Nuj Vang from deciding to enroll. Instead, they treated it as a challenge; how could they grow by being transplanted from their hometown of Merced in the Central Valley of California where they were surrounded by familiar culture and values, into a university where connections with those of their heritage were not guaranteed? For Vang, who's now a senior, the answer was helping to launch a Hmong Student Association to unite the approximately two dozen students who shared their identity. "Connecting with other Hmong students allowed me to find home here on campus."
UC San Diego enrolls more than 13,000 domestic undergraduate students who identify as Asian American, Pacific Islander or Native Hawaiian—about 40% of the total undergraduate population. Yet their diverse identities can become homogenized without an intentional commitment to learning about the needs of their nearly 50 distinct ethnicities.
These ethnic populations vary greatly in size (from under a dozen to over 3,000 students), in family history in the United States, and in levels of access and retention in higher education. Some of UC San Diego's Asian American and Pacific Islander students come from communities that experience opportunity gaps similar to those from other historically marginalized student populations. For Vang, a first-generation student who comes from an immigrant family, belonging and support means having a strong peer community, accessible mental health services and staff mentors to help navigate university resources.
To continue strengthening the student experience for Asian American and Pacific Islander students, UC San Diego has become designated as an Asian American and Native American Pacific Islander Serving-Institution (AANAPISI). This means that UC San Diego is now eligible to apply for competitive federal grants to fortify and expand efforts to address the unique needs of UC San Diego's Asian American and Pacific Islander students.
"UC San Diego and our state serve some of the largest populations of Asian American and Pacific Islander students, so a commitment to promoting equitable access, providing excellent student support programs and ensuring a sense of belonging across all of our diverse student communities is fundamental to our mission," said Chancellor Pradeep K. Khosla. "We are honored to receive this designation and will continue our work to ensure all of our students can thrive."
This designation is one of seven Minority Serving Institution (MSI) designations established by the U.S. Department of Education to support the success of minority students across the nation. Universities can hold more than one designation; UC San Diego is also currently an emerging Hispanic-Serving Institution (HSI).
"It is exciting to see the process our campus has undertaken to achieve multiple designations as an MSI to better represent the demographics of California," said Director of the Raza Resource Centro Gerardo Arellano. "We can be both an AANAPISI and an HSI. We can leverage these designations to strengthen our institutional capacity to support targeted racial and ethnic communities in a way where all enrolled scholars will benefit. In fact, the AANAPISI designation process will help our HSI campus goals by meeting specific precursor federal criteria to become an HSI."

Who are UC San Diego's Asian American and Pacific Islander students?
Growing up, Vang identified first with their Hmong ethnic identity before their Asian American racial identity and Queer identity. Their family was impacted by the CIA's "Secret War" in Laos in the 1960s-70s, forced to flee their homes in Northern Laos to seek refuge and sanctuary in neighboring Thailand. The experiences their family withstood before immigrating to the U.S. serve as inspiration for them to achieve success, wellness and happiness academically and professionally.
"I'm doing this with and for my loved ones; they are my backbone," explained Vang, who is a fifth-year student majoring in ethnic studies and is also studying dance. "There is pressure because I want to do well and make them proud, and I know how much my family and community have endured and overcome. My family's stories of resilience empowers and gives me strength to continue; I am here because of their deep and overflowing love, support, and care. I know that they are all rooting for me."
UC San Diego's Asian American and Pacific Islander domestic students (which comprise the majority of the campus's Asian and Pacific Islander students) are U.S. citizens, permanent residents or undocumented individuals. Their ethnic identities originate from East Asia, Southeast Asia, South Asia and Oceania, which includes indigenous lands that are now U.S. states (such as Hawaii), territories (such as American Samoa) or part of the U.S. governed trust.
To be eligible for an AANAPISI designation, a university must have a minimum 10% population of domestic undergraduate Asian American and Pacific Islander students, at least one-third of whom receive financial assistance through programs such as the Federal Pell Grant and Federal Work Study. The purpose of the designation is to enhance the network of student support services, expand culturally relevant programming, offer professional development to faculty and staff who serve these populations and more.
In fall of 2021, UC San Diego convened a joint Academic Senate-Administration task force to develop recommendations for the university to address the diverse needs of Asian American and Pacific Islander populations through seeking designation as an AANAPISI. The designation centers the needs of these students, with an emphasis on the most vulnerable. The task force produced a report in 2022 with recommendations for university capacity and campus-wide support structures aimed at creating an environment where all students thrive.
"Certain groups of Southeast Asian American and Pacific Islander populations have the lowest higher education access and retention rates of any racial or ethnic group in California," explained Windi Sasaki, associate director of the campus's Asian Pacific Islander Middle Eastern Desi American (APIMEDA) Programs and Services. "A greater understanding of the data for our students can inform the ways that we support these populations so that they can thrive on campus and after they graduate."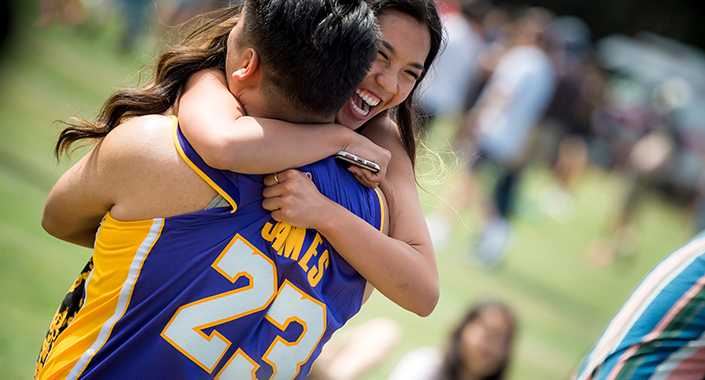 Dismantling the cultural expectations of the 'model minority'
In 2016, UC San Diego created Asian Pacific Islander Middle Eastern Desi American (APIMEDA) Programs and Services to address the needs of Asian American, Pacific Islander and Middle Eastern American students. The program, which is led by the Office of the Vice Chancellor for Equity, Diversity, and Inclusion, helps build community and offers resources for students who are part of the university's large and diverse APIMEDA population. New students are guided in their transition to the university, get access to the APIMEDA Lifebook to connect with services and mentors, and can also participate in educational seminars and professional development. Students can also explore the Asian American and Pacific Islander Studies Minor, an interdisciplinary program launched in 2020.
"As a university we are actively listening to what students need to feel belonging and engagement, with a focus on understanding the unique needs of the multitudes of identities we serve," said Vice Chancellor for Equity, Diversity, and Inclusion Becky Petitt. "This learning is ongoing through programs such as the Symposium on Enhancing the Experiences of Students of Asian, Pacific Islander, and Middle Eastern Descent, first held last year and which will be recurring to continue fostering intentional and sustained action."
These programs actively counter a still prevalent stereotype in our society known as the "model minority." This label connotes ideas such as Asian American people being naturally gifted in STEM fields, having strong self-reliance with little need for assistance and being economically stable. Yet, according to Sasaki, Asian American and Pacific Islander individuals experience discrimination, can be treated as a perpetual foreigner, have low levels of political representation and often feel pressure to achieve without support from others.
"Even as a fourth-generation Asian American person, people sometimes still assume I wasn't born here or that I don't have U.S. citizenship," said Sasaki. "These are things some of our students face from people who make assumptions about who they are just based on the way they look."
Acknowledging that Asian American and Pacific Islander students may face stigma when thinking about reaching out for help, Counseling & Psychological Services has been expanding their team of counselors who focus on issues that relate directly to their culture and values. In addition, programs like the APIMEDA Community Forum offer an informal, safe environment to talk about challenges and victories.
"A lot of students who are second or third generation feel guilty for feeling sad or upset because their parents or grandparents had to work so hard to get through difficult times," said Louie Limas, a CAPS psychologist who serves as the APIMEDA Programs and Services liaison. "They may have been taught that mental health is not real, that they just need to work hard and suck it up. So, they put it all aside and work on academics. We're trying to help students find peace throughout this process."
Finding home at UC San Diego
Simply offering students a time and space to meet and be vulnerable together can be transformative. In 2019, Vang and their friends started the Hmong Student Association as a way to support each other. They shared meaningful experiences on campus eating together, talking about their lived experiences and stories, and even taught each other Hmong dancing, which they performed for other students. They would also journey off campus in search of boba drinks, met for meals on Convoy Street in Clairemont Mesa, and walked down to the beach to be with the ocean and watch the sun set.
Many other students find home through programs led by APIMEDA Programs and Services, which will be moving into its own dedicated space in the summer. They can meet new friends, learn about their identity, find a mentor with a similar heritage or receive academic support. "I loved it here, and I want others to love it here," shared Sasaki, who is an alumna of UC San Diego.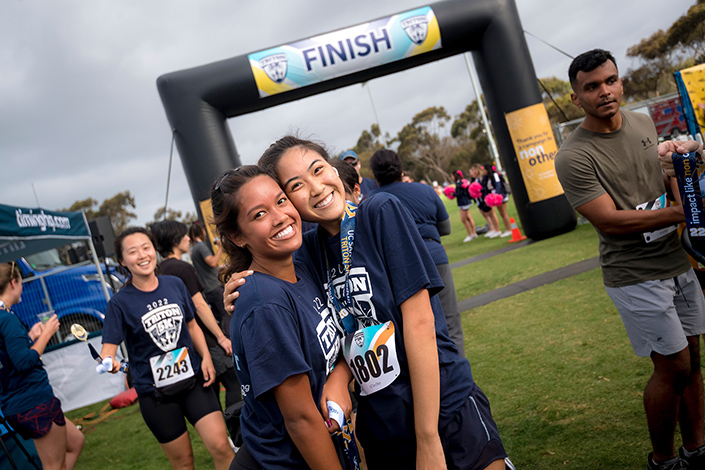 Though UC San Diego has been making strides in strengthening support for the campus's Asian American and Pacific Islander students, there is more work to be done. In addition to seeking grants through the AANAPISI designation, the university continues to work towards understanding student needs and how best to serve them.
This work is also collaborative as other University of California campuses become AANAPISI-designated and expand services. Last fall, representatives from UC San Diego joined an inaugural UC AANAPISI meeting to discuss what it will mean for each UC campus to be an AANAPISI, to support each campus in their progress towards holding dual Minority Serving Institution status as AANAPISIs and HSIs, and to consider ways for each campus to be leaders in serving diverse student populations.
Throughout the process, learning and gaining feedback is crucial. One way UC San Diego approaches this is through the Symposium on Enhancing the Experiences of Students of Asian, Pacific Islander and Middle Eastern Descent, held for the first time last year. Ongoing education through future symposia and APIMEDA Programs and Services' reading groups provide opportunities for the campus to learn more about Asian American and Pacific Islander populations and to consider adjustments to services that best serve all students at UC San Diego.
"The AANAPISI designation is one additional step we're taking as a university to support our Asian American and Pacific Islander students," said Petitt.
Topics:
Share This:
Stay in the Know
Keep up with all the latest from UC San Diego. Subscribe to the newsletter today.