Engineers, Visual Artists and Medical Device Researchers Mix in New UC San Diego Building
Published Date
Article Content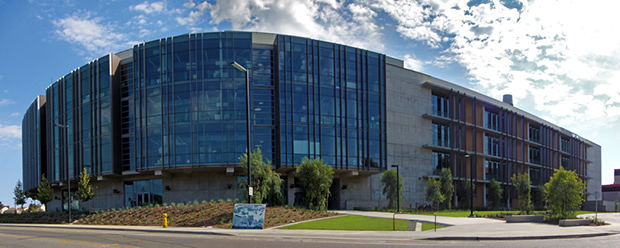 Structural and Materials Engineering Building
Making buildings and bridges safer during earthquakes. Printed 3-D blood vessels and capillaries for regenerative medicine. Safer cardiac pumps for children born with heart defects. Giant art collections sorted with a click. Better composite materials for aircraft. In the new Structural and Materials Engineering building at the University of California, San Diego engineers, artists and medical device researchers who work at different scales and in different fields are pursuing these projects, and many more.
This state-funded, 183,000 square foot building provides the first permanent home for the Departments of Structural Engineering and NanoEngineering at the Jacobs School of Engineering. These engineers share space with Visual Artists, and with medical device researchers from the Institute of Engineering in Medicine.
"The Structural and Materials Engineering building provides yet another example of what makes UC San Diego so exceptional," said UC San Diego Chancellor Pradeep K. Khosla. "Our faculty and students collaborate across departments, divisions and schools, pursuing advances that would not be otherwise possible."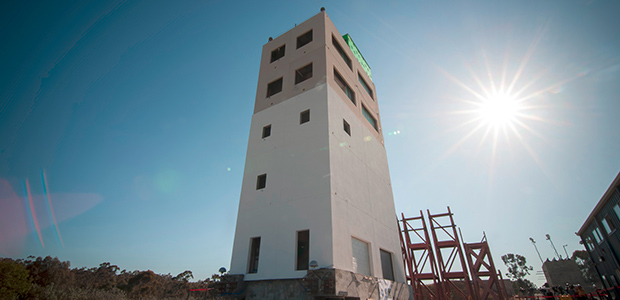 In April 2012, Structural engineers completed an unprecedented series of major earthquake simulation tests to gauge the performance of nonstructural components in a five-story building.
Photo: Erik Jepsen/UC San Diego Publications
"With this building, we were inspired by the Bauhaus movement, which brought art, technology and craftsmanship together and created modern architecture," said Frieder Seible, dean of the UC San Diego Jacobs School of Engineering. "What happens when you create a research environment in which structural engineers, nanoengineers, medical device researchers and visual artists, all working at different scales, come together? What can we expect to emerge from this multi-scale engineering building 10, 15, 20 years from now?" Seible asked.
While only time will tell what ideas, technologies and breakthroughs will arise, science fiction author and UC San Diego alumnus David Brin (Ph.D. '81) will offer his thoughts in an essay – "New Modernism: Blending Engineering, Art and the Human Imagination" – to be delivered at the building dedication on Sept. 14, 2012.
RSVP by Sept. 10 to attend the Structural and Materials Engineering building dedication at UC San Diego.
Seth Lerer, dean of the Division of Arts and Humanities at UC San Diego, believes the hybrid space will both enhance the kind of work the Visual Arts department has been known for from its beginnings – art-making rooted in research and development – and will also nurture interesting, new collaborations.
"By bringing together members of the Visual Arts faculty with researchers and teachers in engineering, we call attention to the ways our creative artists are working with both traditional and innovative materials. In many ways, our Visual Arts department is a group of materials engineers. Our sculptors, our painters, our digital artists and our social theorists all work together to understand the place of engineered materials in culture and the imagination," Lerer said.
NanoMacroMega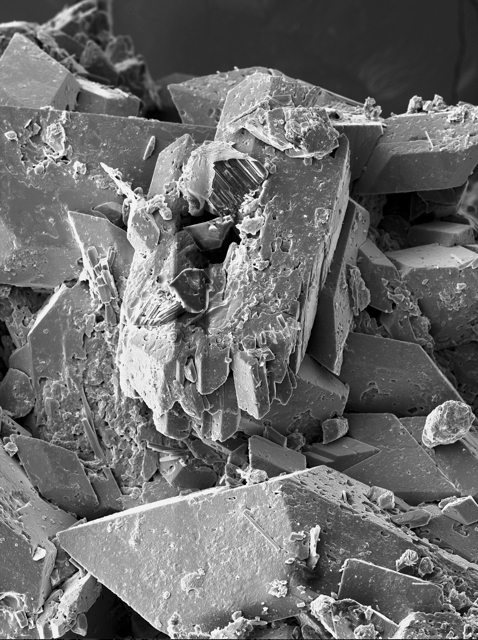 Portion of an electron microscope scan made by Visual Arts professor Anya Gallaccio.
An art exhibition called "NanoMacroMega," opening on dedication day and remaining on view through Dec. 7, will feature some of the UC San Diego arts/engineering projects already under development. These include artist Anya Gallaccio's photographic prints made by using an electron microscope to scan nano and micro particles and Benjamin Bratton's "Nanoskin" project, an examination of the geopolitical implications of nanoengineer Joseph Wang's bioelectronics tattoos. Rubin Ortiz Torres will present a performance of "Hi 'n' Lo," an industrial warehouse lift adapted to dance with movements inspired by low rider cars.
Structural and Materials Engineering Building
The new building houses 62 research and instructional laboratories, 160 faculty, graduate student and staff offices, 12 Visual Arts studios distributed across all four of the building's floors, art exhibition and performance space, and the Cymer Conference Center.
Student enrollment at the Jacobs School has increased by approximately 1,000 students over the last two years – more than 6,800 undergraduate and graduate students are projected to enroll in Fall 2012. The new building provides critical new space for the Jacobs School.
"I would like to thank California State Assembly member Nathan Fletcher, as well as my Council of Advisors for their invaluable help in making this building a reality. It will serve as a valuable resource for the Jacobs School, UC San Diego and the state of California," said Seible.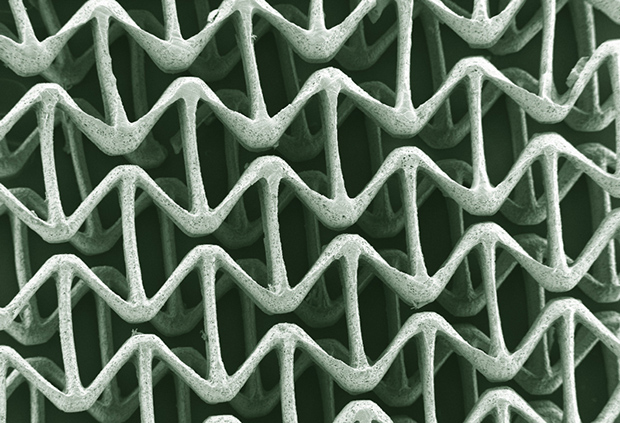 An optical image of a new biomaterial that does not wrinkle when stretched, from the laboratory of NanoEngineering professor Shaochen Chen.
The new building has attracted support from Cymer, a San Diego company co-founded by UC San Diego alumni, Dr. Bob Akins ('74, '77, '83) and Dr. Richard Sandstrom ('72, '76, '79). Enabling the commercialization of today's advanced consumer electronics devices, Cymer is a leading developer of light sources used by chipmakers worldwide. Cymer's generous gift is being used to outfit the building, including the three-story Cymer Conference Center, which will cultivate a hub for industry collaboration and innovation.
"With our own history rooted in the local community, and more specifically, UC San Diego, we remain advocates of how the right educational opportunities and resources can springboard careers," explained Ed Brown, president and chief operating officer of Cymer. "We hope the new Cymer Conference Center will help foster the success of the next generation of talented leaders, while supporting the San Diego-based technology community."
Investigation and Collaboration
Research laboratories, Visual Arts studios and visualization facilities in the building are shared resources – by design – that encourage people working at different scales and in different fields to interact. For example, the Department of Structural Engineering's Composite Aviation Safety Center is a cluster of new labs on the building's first floor. The labs will allow engineers to investigate many aspects of aerospace structures made from advanced composite materials. This includes research on everything from predicting damage, to manufacturing, to the embedding of sensors, to large-scale testing.
In a related project, structural and nanoengineers are investigating how carbon nanotubes could reinforce the resin matrix found in composite materials commonly used in the aerospace, defense, automotive and sporting goods industries. The ultimate goals are to develop a custom-tailored nanoparticle to reinforce the resin matrix and to develop a procedure to place these high-performance particles in critical stress regions.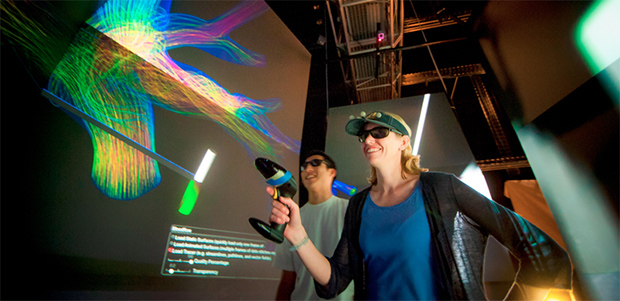 Mechanical engineering professor Alison Marsden and a student explore blood-flow data in a visualization facility at the UC San Diego Division of Calit2. Marsden is one of the medical device researchers moving into the new building.
Photo: Erik Jepsen/UC San Diego Publications
Many of the research projects undertaken by faculty in the new building generate large, complex data sets. Some of the world's leading data visualization experts will work in shared facilities, offering building occupants the opportunity to visualize their data in new ways.
The common areas where students and faculty congregate were designed to inspire collaboration and to relate to the outside with views of Pepper Canyon. The building splits in the middle with the laboratory wing on one side and a curving wing of offices, the Cymer Conference Center and community spaces on the other.
"In keeping with the unique co-mingling of disciplines, the building itself is designed to serve as a mixing chamber that supports cross-collaboration in an inspiring setting," said Robert Hull, Lead Project Architect, The Miller Hull Partnership. "This is most apparent in the protected terrace space which blurs the lines between indoors and out and which provides the backdrop for a range of planned and serendipitous interactions."
"We hope our building design really facilitates the Bauhaus philosophy," said Eric Lindebak, principal with San Diego-based Safdie Rabines Architects which collaborated on the design of the building.
"The glass-decked bridge extends from the grand, second-floor terrace over to a large grassy mound that comes right up into the building and becomes an expansion of Pepper Canyon, providing a reflective space for collaboration and the exchange of ideas."
Building Facts
$83 million project, including design, construction and equipment costs
183,000 gross square feet
1,261 people were directly employed during construction, accumulating 374,515 payroll hours
Construction of the building was funded almost entirely by California General Obligation Bonds
Each year, the faculty in the Structural and Materials Engineering building are expected to bring in approximately $35 million in annual federal grants
Building architects: The Miller Hull Partnership, in collaboration with Safdie Rabines Architects
The building is built with LEED Silver certification in mind. Green building features include:

Recycled condensate water from roof top heating and cooling units irrigates landscaping. Recently, the system has been producing up to 1,000 gallons of recycled water per day.
The building design team used modeling software to determine the placement of horizontal sun shades that allow maximum natural light in laboratories while keeping the labs cool with minimal air conditioning. Low volume air displacement throughout the building – where cooler air is pumped into rooms at lower levels – also minimizes the need for air conditioning.
An exterior blind system is set to a solar clock to keep sunlight from directly hitting the glass while preserving expansive views into Pepper Canyon.
Stay in the Know
Keep up with all the latest from UC San Diego. Subscribe to the newsletter today.