Comforts of Home
Singer-songwriter Em Beihold uses music to get real about mental health.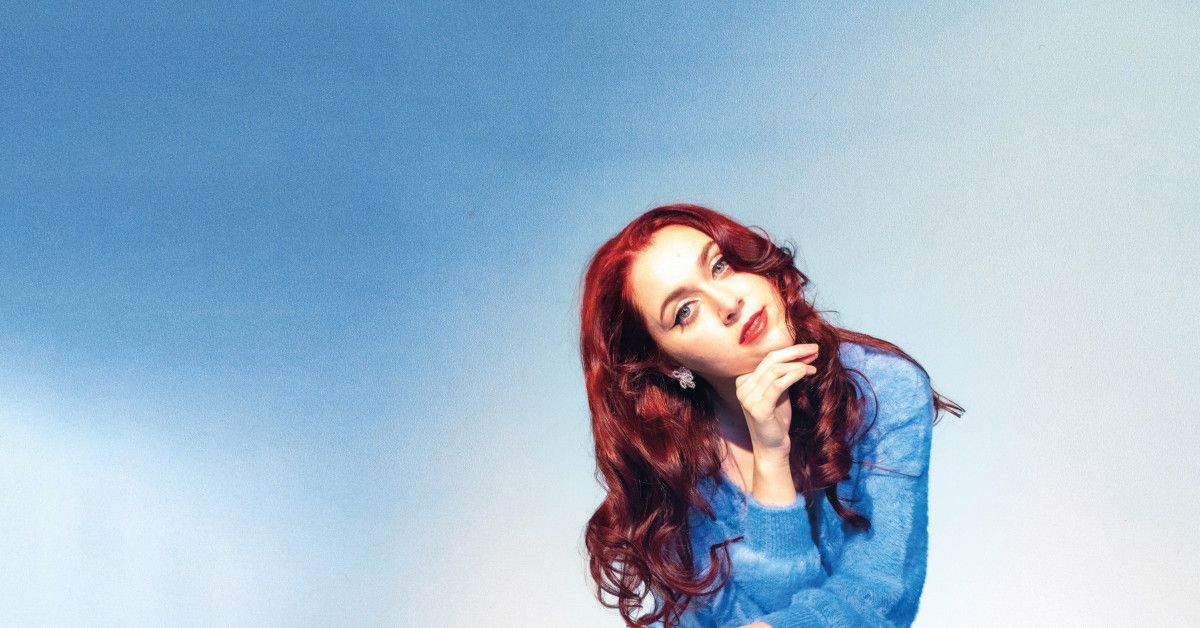 By:
Media Contact:

Published Date
By:
Media Contact:

Topics:
Share This:
Article Content
This story was published in the Spring 2023 issue of UC San Diego Magazine.
Em Beihold '20 won't give up her favorite UC San Diego hoodie, no matter what anyone else says. And yet she certainly wasn't expecting to wear it onstage in front of an audience of 2,000 last fall in Austin, Texas. She had opened for King Princess, the final show of a 13-stop West Coast tour, dressed in a leather corset and black mini, an outfit befitting a pop star. But after the headliner's set, during an unexpected grand finale, she returned to the stage in her well-worn hoodie.
"I wear it so much, people are begging me to stop," she says with a laugh. "My bandmates joke that I have no other clothes."
Beihold says this particular university hoodie is not the first she's owned, and it probably won't be the last. She bought the first one when she was a sophomore majoring in communications and minoring in business and wore it all the time. When she lost it, she replaced it as soon as she could.
This attachment to something soft, comfortable and familiar makes sense, especially as her music and songwriting have catapulted her into the limelight. It also makes sense given the content of her songs. In her breakout single, "Numb Little Bug," she sings about the deadening effect of antidepressants. The song immediately hit No. 18 on the Billboard Hot 100 Chart in January 2022, followed by No. 1 on the Billboard U.S. Adult Top 40 Chart in August.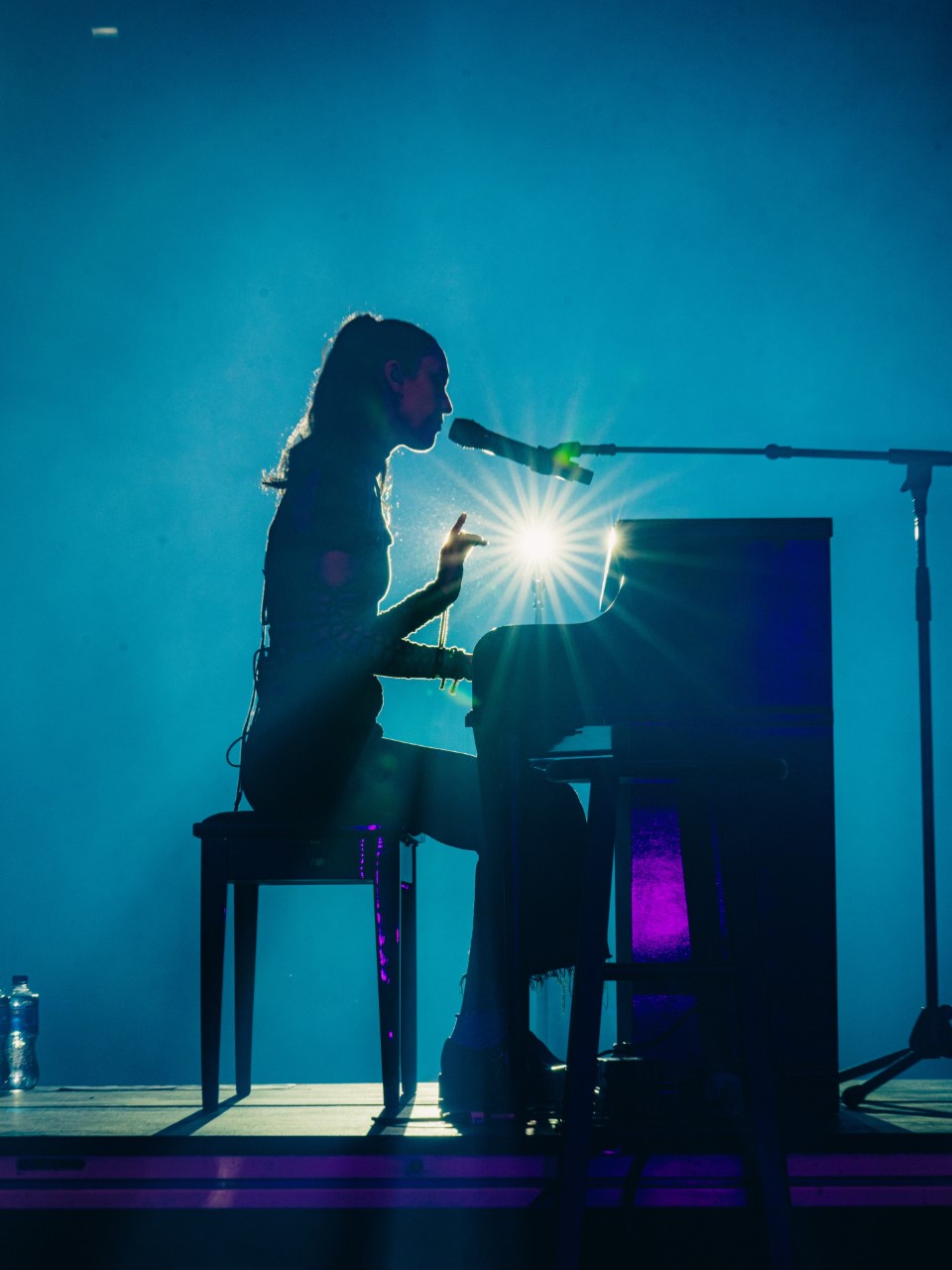 But what makes Beihold and her music so appealing is her personal approach to songwriting and the authenticity of her offstage presence. She's candid about her real-life experiences with anxiety and depression. Her song "12345," a track she released as part of her Egg in the Backseat EP in July 2022, alludes to a therapeutic strategy, or counting method, designed to help manage panic attacks.
She has shared her mental health experiences not only on social media (her Instagram tagline reads, "anxiety but make it pop") but also during interviews, including The Today Show, where she and co-host Carson Daly bonded over their mutual diagnosis of generalized anxiety disorder.
Beihold has been playing the piano and writing her own songs since she was 7 years old. She released her first song in 2015, played her first show in 2016 and launched her first EP in 2017, all while she was still in high school.
"What's happening now is what I've wanted my whole life," she says. "But nothing prepares you for when your music goes viral."
With her viral hit, "Groundhog Day," released in 2021, her life turned upside down with a back-to-back blur of travel, performances, interviews, photoshoots and talk shows.
"It probably all sounds very glamorous and nice, but it's definitely more exhausting than I expected," she says.
Yet there's no doubt that life as a busy college student and competitive athlete helped her prepare for managing the life of a rising pop star.
In 2019, Beihold was recognized with the Chancellor's Scholar-Athlete Award for her academic achievements and competitive fencing at UC San Diego. She received numerous awards in fencing and earned All-America Honors by placing 12th in the NCAA championships. In addition to her full class schedule and 15-plus hours of training each week, she also wrote stories for The Triton student newspaper, completed a communications internship with UC San Diego Athletics and had a part-time job as a fencing instructor.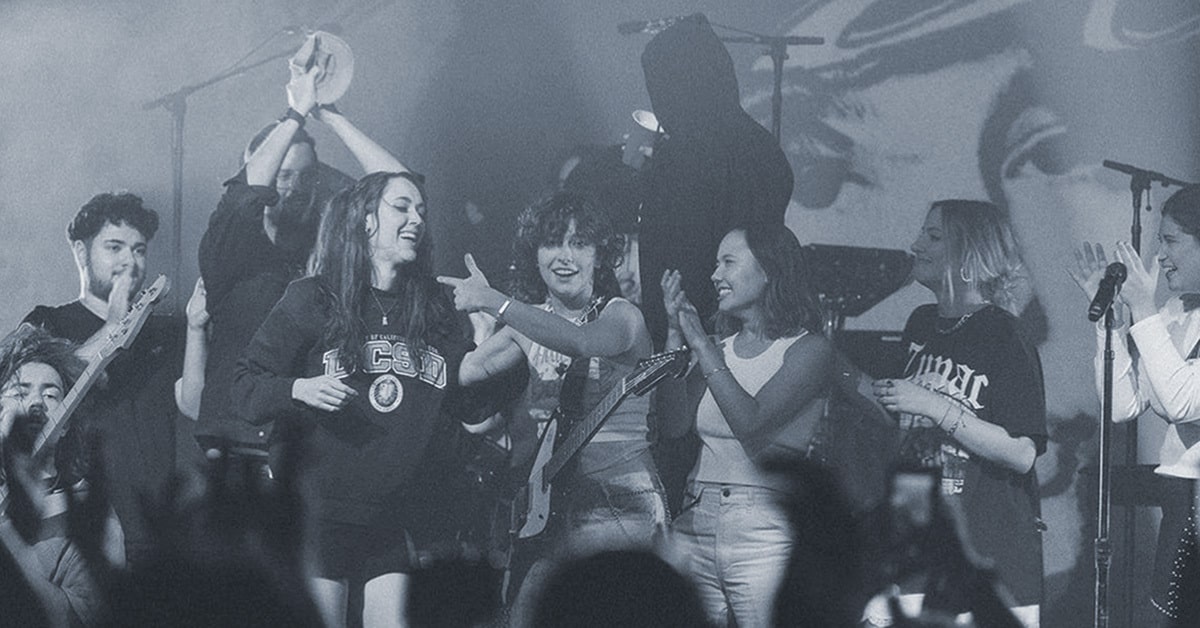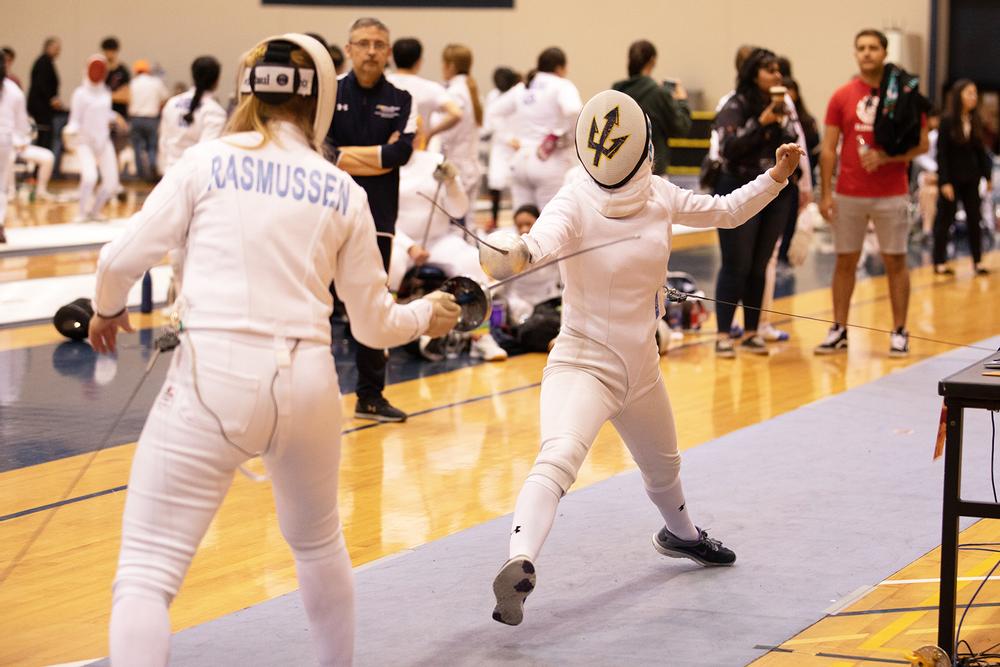 While attending UC San Diego, music was her therapy, as was time spent with friends. She found lifelong friends on the women's fencing squad, and in addition to training, competing and studying together, they cheered for one another, too. In fact, when Beihold's song "Not Who We Were" was featured in the 2019 movie I'm Not Here, starring Academy Award winner JK Simmons, the entire fencing team went to the theater to celebrate this huge accomplishment together.
"When I graduated and looked back, I realized how incredible an experience [UC San Diego] was," she says. "I really missed being around my friends all the time, the routine of being in La Jolla."
Today, as she reflects on her newfound success as a singer and songwriter, Beihold wants to find more balance. She's working on setting boundaries for herself by scheduling more time alone and prioritizing time with friends.
It's an important act of self-care, especially now, when she probably needs a little extra comfort to stay grounded and stay sane through it all.
And maybe that's what the well-loved hoodie is all about.
Stay in the Know
Keep up with all the latest from UC San Diego. Subscribe to the newsletter today.