Ellen Beck, MD, Named 2011 "Health Hero" by WebMD Magazine
Published Date
Article Content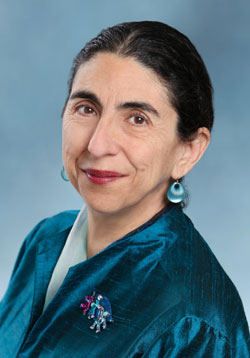 Ellen Beck, MD, 2011 WebMD Health Hero
Ellen Beck, MD, clinical professor of medicine in the UC San Diego School of Medicine's Department of Family and Preventive Medicine, has been named a 2011 Health Hero by WebMD Magazine. Each year, WebMD Magazine "celebrates visionary Americans who have overcome daunting health challenges to give back to others in truly inspiring ways." The Health Heroes are announced in the November/December issue.
In 1996, Beck saw thousands of San Diegans unable to access quality health care due to lack of health insurance. In partnership with a passionate group of medical students and community partners, Beck created an opportunity to serve these communities by developing a new model of care. By January of 1997, the first not-for profit UCSD Student Run Free Clinic Project (SRFCP) opened in the basement of the Pacific Beach United Methodist Church. Recognized nationally for its ability to provide no-cost health care, SRFCP provides "accessible, quality healthcare for the underserved" with a belief that the care should be delivered in a humane and empowering manner.
"It is an honor to receive this award, especially in these financially challenging times for our free clinic project. Programs such as ours are necessary, both to begin to address the enormous gaps and tattered holes in the safety net, and to train and inspire the next generation of healthcare leaders to work with underserved communities," said Beck. "This award honors the enormous commitment of our many volunteers, clinicians, students, and community partners. Thank you, WebMD."
The SRFCP is staffed by medical students from the UCSD School of Medicine under the full supervision of faculty and licensed health care professionals. Students and faculty from the fields of medicine, pharmacy, dentistry, social work, law, nursing, and acupuncture come together to participate in this transdisciplinary model. In its first 10 years of operation, the clinic provided care for over 7,500 underserved patients, with over 25,000 visits. Currently, the SRFCP maintains four clinical sites in San Diego, in partnership with two churches and two inner city elementary schools, and continues to serve upwards of 2,000 patients a year.
The free clinic also has a positive impact on doctors in training. "Our medical students arrive with passion, compassion, and a desire to make a difference for patients," Beck said. "But the medical system often beats it out of them. Our program keeps those dreams alive and gives them the tools to provide that kind of humanitarian care in their own practices."
"Dr. Beck is considered a health hero by all who encounter her—patients and families, students, doctors, nurses and friends," said Thomas E. Jackiewicz, CEO, UC San Diego Health System. "As a teacher and caregiver, she has established a lifesaving model of care that is unique in the nation. We thank Dr. Beck for her tireless efforts and extraordinary dedication to caring for patients in need."
As executive director of the SRFCP, Beck also oversees a national faculty and development program, "Addressing the Health Needs of the Underserved." This program has trained over 135 faculty from all over the country who then return to their communities to transform curricula and programs. The UCSD model has been used by over 15 student-run free clinics across the U.S. Beck also started the first Fellowship in Underserved Healthcare for health professionals who have completed their training and licensing, after which they can devote their careers to working with underserved communities.
Each Health Hero is awarded $2500 by WebMD, which is donated on their behalf to a charity of their choosing. Beck will be donating her award winnings to the SRFCP.
Stay in the Know
Keep up with all the latest from UC San Diego. Subscribe to the newsletter today.